Origin of Bryophytes
The term "Bryophyta" was proposed by "Robert Braun".
The study of Bryophytes is known as Bryology.
Hedwig is considered to be the father of Bryology. But according to some scientist, it is believed that Cavers is the father of Bryology.
Father of Indian Bryology is Prof. Shiv Ram Kashyap.

Bryophyte
Characteristics of Bryophytes

Bryophytes are the first land plant. It is believed that they originated from aquatic plant and they come on land through water because some bryophytes have characteristics similar to aquatic plants.
Example: Presence of air canal.
Bryophytes are known as amphibians of the plant kingdom because they need water to complete their life cycle. Most bryophytes are found on land.
Bryophytes are not considered as successful land plants because vascular tissue is absent and they need water for fertilization. Due to the absence of vascular tissue, bryophytes can not grow very tall. The process of water conduction in bryophytes takes place with the help of parenchyma. Parenchyma is a living tissue.
Roots are absent in bryophytes. The stem and leaves of bryophytes are functionally similar to the stem and leaves of higher plants.
Bryophytes are sciophytes, i.e. bryophytes prefer to grow in moist (wet) and shady places.
Try yourself:Which one of the following is a non-vascular embryophyte
Life Cycle of Bryophytes

The plant in bryophyte is gametophyte. It is haploid.
Sex organs are formed on gametophyte. Sex organs are multi-cellular and jacketed in bryophytes. Male sex organs are called antheridium and female sex organs are called archegonium.
The male gametes of bryophytes are motile. These motile male gametes are called antherozoids. Antherozoids are comma-shaped and biflagellate. The female gamete is called an egg.

Life Cycle of Bryophyte

In Bryophyta, fertilization is performed by zoodiogamy, i.e. male gamete reaches the female gametes and fertilizes it.
As a result of fertilization, a diploid zygote is formed. This zygote initiates the sporophytic generation. Sporophytic generation is a diploid stage.
A zygote is developed by mitosis and forms a sporophyte, which is known as sporogonium or embryo (2N).
During the development first division is transverse in the zygote and the second division is vertical. The third division is also vertical, but at a right angle to the second division, therefore an eight celled embryo is formed.
Now a periclinal division takes place in every cell of eight celled embryones. As a result of it, a 16 celled embryo is formed. Now, these sixteen cells are arranged in two layers.
(i) Outer 8 cells - Called Amphithecium
(ii) Inner 8 cells - Called Endothecium
Now cells of endothecium divide and form many cells which are known as sporogenous cells. Some sporogenous cells become sterile and are called nurse cells. The remaining sporogenous cells function as spore mother cells. Now meiosis takes place in spore mother cells, as result it haploid spores are formed. Nurse cells provide nutrition to spores mother cells.
The germination of spores is direct or indirect. In Liverworts & Hornworts, the germination of spore is direct, i.e. each spore forms a gametophyte after germination, i.e. each spore forms one thallus.
But the germination of spores in Mosses is indirect.
In Mosses, a multi-cellular filament is formed after the germination of the spore. This filament is known as protonema. Now buds are formed on protonema.
Each bud develops and forms a gametophyte plant. Indirect germination is best for survival. Mosses are gregarious in nature because they appear in the group.
Note

Sexual reproduction in bryophytes is oogamous type and life cycle is halplodiplontic type.
In Bryophyta, the sporophyte is dependent on gametophyte. This is a unique character of bryophyta.
Try yourself:Bryophytes are dependent on water because
Classification of Bryophytes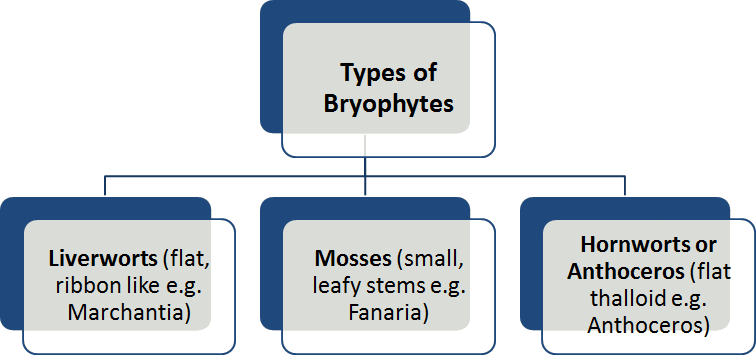 Hepaticopsida (Liver Worts)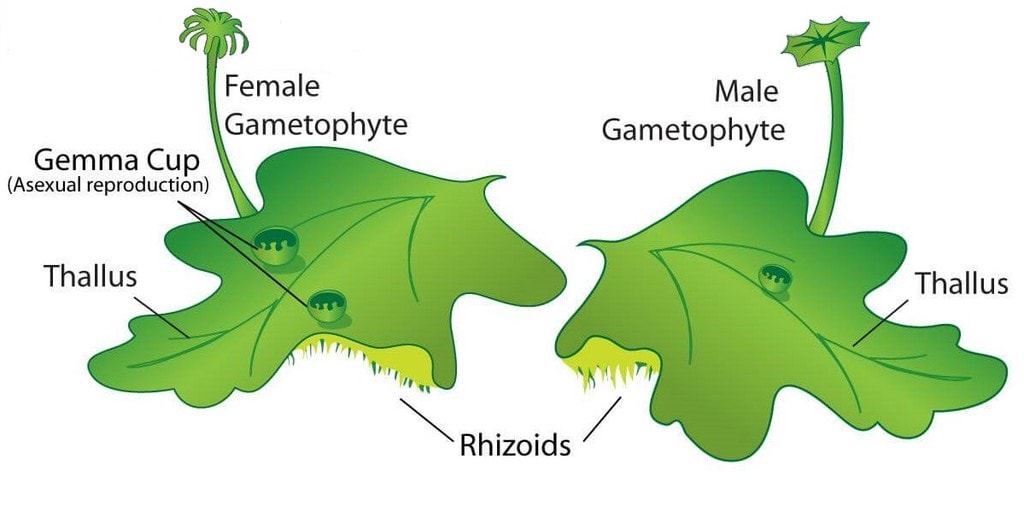 All the bryophytes included in this class have a shape like liver, so they are known as liverworts.
The plant body of this group is like thallus. Rhizoids and scales are present on the thallus. Rhizoids are unicellular and unbranched. Scales are multicellular.
The sporophyte of Liverworts is completely dependent on gametophyte i.e. it is dependent on the gametophyte for food, water and habitat.
The sporophyte of Liverworts is made up of foot, seta and capsule. (Except Riccia sporophyte is made up of the only capsule).
In this class-formation of spores and nurse cells takes place by the cells of the endothecium. Cells of amphithecium form an only a wall of the sporophyte.
Amphithecium = Wall of sporophyte
Endothecium = sporogenous cells = spore mother cells + nurse cells
Elaters are present in the sporophyte of some members of liverworts. (eg. Marchantia - In Marchantia nurse cells are modified into elaters). Elaters are hygroscopic and they help in the dispersal of spores.
Example: Riccia, Marchantia, Cryptothallus, Riella, Pellia, Porella.
Note : In Bryophytes, sporophyte of Riccia is the simplest.
Anthocerotopsida (Hornworts)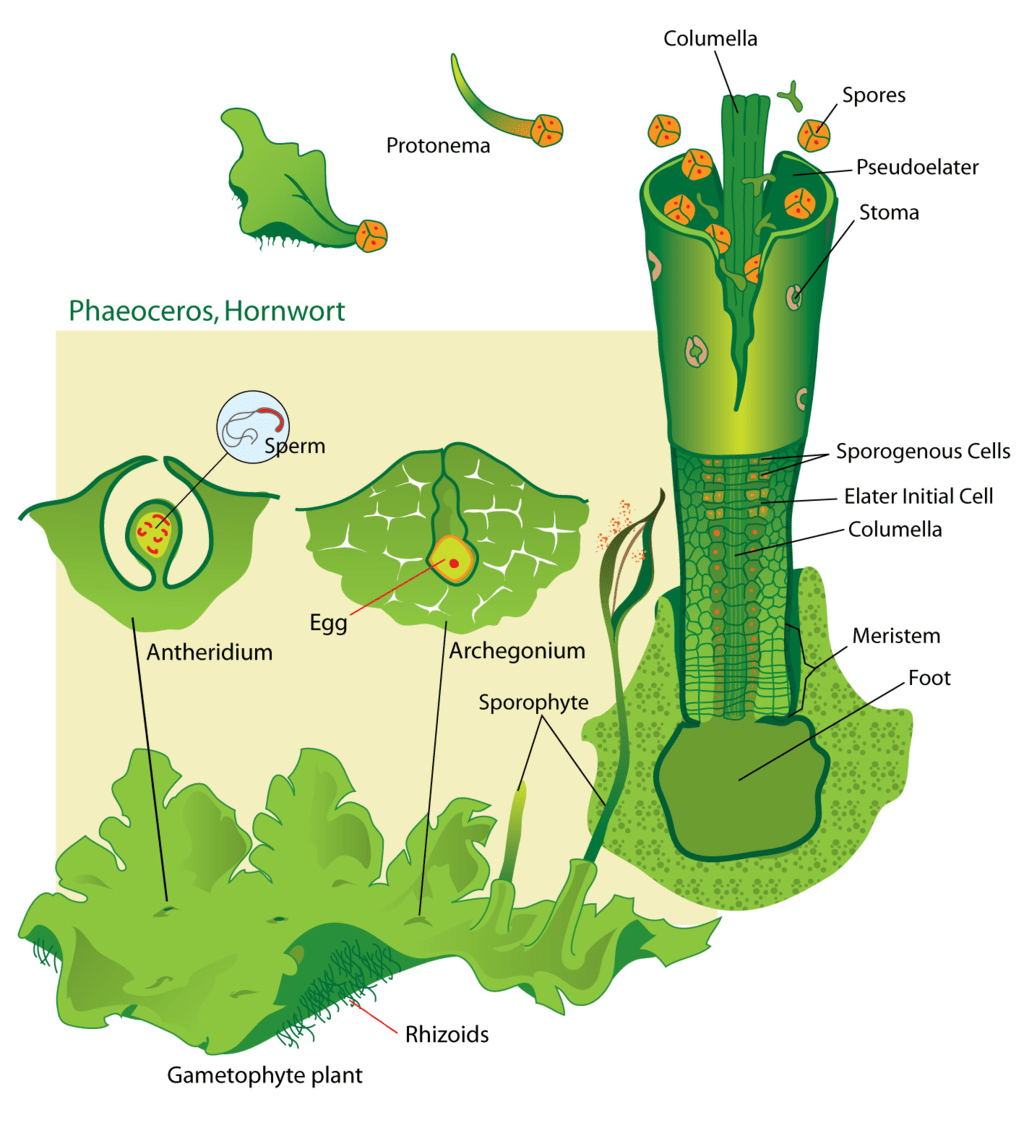 Anthocerotopsida
The plant body of this group is also thallus like. Scales are absent but rhizoids are present on thallus. Rhizoids are unicellular and unbranched.
The sporophyte of Hornworts is divided into foot and capsule.
The sporophyte of Hornworts is not completely dependent on its gametophyte i.e. it is semi-parasite because its sporophyte is photosynthetic therefore it can manufacture its own food. So it does not depend on gametophyte for food, it depends only for water and habitat.
In Hornworts, wall of sporophyte and spores are formed by cells of amphithecium. Cells of endothecium formed only elaters.
Amphithecium = Wall of sporophyte and Spores
Endothecium = Elaters
In hornworts spore-forming cells and elaters forming cells are separate, so elaters are known as pseudoelaters.
Pseudoelaters are structurally and functionally similar to true elaters.
In Hornworts on the basal part of sporophyte, a special, type of meristem is present. Due to the activeness of this meristem, the sporophyte grows rapidly. It grows like the horn of animals.
Example: Notothylus, Anthoceros
Anthoceros have some Algae like characters such as:
Archegonia is jacketless.
In each cell of Anthoceros, only one chloroplast is present which is a character of green algae. In the cells of higher plants, many chloroplast are present.
Pyrenoides (starch storing granules) are present in the chloroplast of Anthoceros, which is an algal character.
Anthoceros shows ancestral characters which prove that bryophytes have originated from green algae.
Note: Due to these reasons, Anthoceros are also termed as synthetic-archegoniatae.
Bryopsida or Musci (Mosses)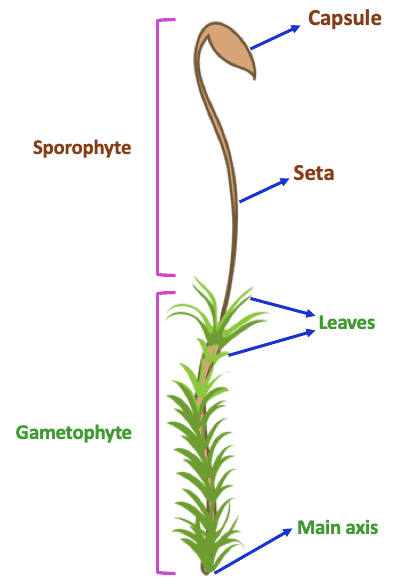 Bryopsida
All the Mosses are included in this class. The plant body of mosses is made up of stem, leaves and rhizoids.
The Rhizoids present in the plants of this class are multi-cellular and branched. These rhizoids have oblique septa.
Note: The presence of leaves in gametophyte is one of the unique character of Moss. In plant kingdom not a single gametophyte has leaves.
The sporophyte of moss in bryophyta is highly developed while the sporophyte of liverwort is the simplest. The sporophyte of moss is divided into foot, seta, capsule.
The sporophyte of mosses is also semi-parasite like, that of Hornworts. i.e. it is photosynthetic. The sporophyte absorbs the water from gametophyte with the help of foot.
Capsule is the fertile part of the sporophyte i.e. formation of spores takes place in it. Foot and seta are the sterile part of the sporophyte.
Seta helps the capsule to remain in the air, due to which the dispersal of spores can take place conveniently.
In bryopsida, cells of amphithecium form wall of sporophyte. Cells of endothecium form spores. Elaters and nurse cells are absent in bryopsida.
Amphithecium = Wall of sporophyte
Endothecium = Spores
Note:
In Riccia, the sporophyte is made up of only capsule i.e. the whole sporophyte is fertile in it.

During evolution there occur gradual sterilization of sporophyte i.e. gradual reduction of fertile part and gradual development of sterile part.
Asexual reproduction in Marchantia takes place by fragmentation of thalli, or by the formation of specialised structures called gemmae (sing. gemma). Gemmae are green, multicellular, asexual buds, which develop in small receptacles called gemma cups located on the thalli. The gemmae become detached from the parental body and germinate to form new individuals.
Examples of Mosses:
Funaria: Rope moss or Cord moss
Andria: Granite moss
Polytrichum: Hair cap moss
Fontinalis: Brook moss
Dawsonia: Australian moss - The highest bryophyte - 45 cm.
Buxbaumia: Saprophytic moss - Photosynthesis absent.
Sphagnum
Habitat of Some Important Bryophytes
Some bryophytes are found in water.
Example: Riccia fluitans, Riccia abuensis, Ricciocarpus natans, Riella, Fontinalis
Some bryophytes are found in epiphytic form i.e. they grow on other plants.
Example: Dendroceros
Some bryophytes are saprophytes (Non-photosynthetic)
Example: Buxbaumia and Cryptothallus.
Difference Between Bryophytes

Importance of Bryophytes
Medicinal uses:
• Sphagnum is used in surgical dressing due to its high absorptive power and some antiseptic property for filling absorptive bandages in place of cotton for the treatment of boils and discharging wounds.
• Marchantia has been used to cure pulmonary tuberculosis and affliction of liver.
• The decoction of dried sphagnum is used in the treatment of acute haemorrhage and eye infections.
• Peat-tar is antiseptic and used as a preservative. Sphagnol, which is a distillate of peat-tar is used to treat skin disease.
• Polytrichium species has shown to dissolve stone in kidney and gall bladder.
• Antibiotic substances can be extracted from certain bryophytes having antibiotic properties.
In research: Mosses and liverworts are used in research in the field of genetics. The mechanism of sex determination in the plant is discovered in liverworts.
Packing material: Dried mosses make an excellent packing material for fragile goods like glassware, bulbs. For trans-shipment of living material such as cuttings and seedlings as they have water retention capacity.
Food: Some mosses provide food for herbaceous mammals, birds and other mammals.
As Indicator plants: Some bryophytes grow in a specialised area and can be used as an indicator for acidity and basicity of the soil. E.g. Polytrichum indicated the acidity of the soil, Tortella species grow well in the soil rich in lime or other bases and occur as calcicoles.
In seedbeds: Because of its water retention capacity, it is used in seedbeds, greenhouses, nurseries to root cuttings. Sphagnum is also used to maintain high soil acidity required by certain plants.
Peat formation: Sphagnum is also known as peat moss. Peat is formed by slowing down the decaying process. The gradual compression and carbonisation of partially decomposed vegetative matter in bogs give rise to a dark-coloured substance called Peat.
• It is used as fuel.
• Lower layers of peat form coal.
• Peat is also used in the production of ethyl alcohol, ammonium sulphate, ammonia, dye, paraffin, tannins etc.
• It improves soil texture in horticulture.
Formation of stone: The travertine rock deposits are extensively used as a building stone.
To practice the questions on the topic "Bryophytes", you just read, attempt the tests given below: