Chains, Branches and Rings


The hydrocarbons may have branched, closed chains or ring or cyclic structures.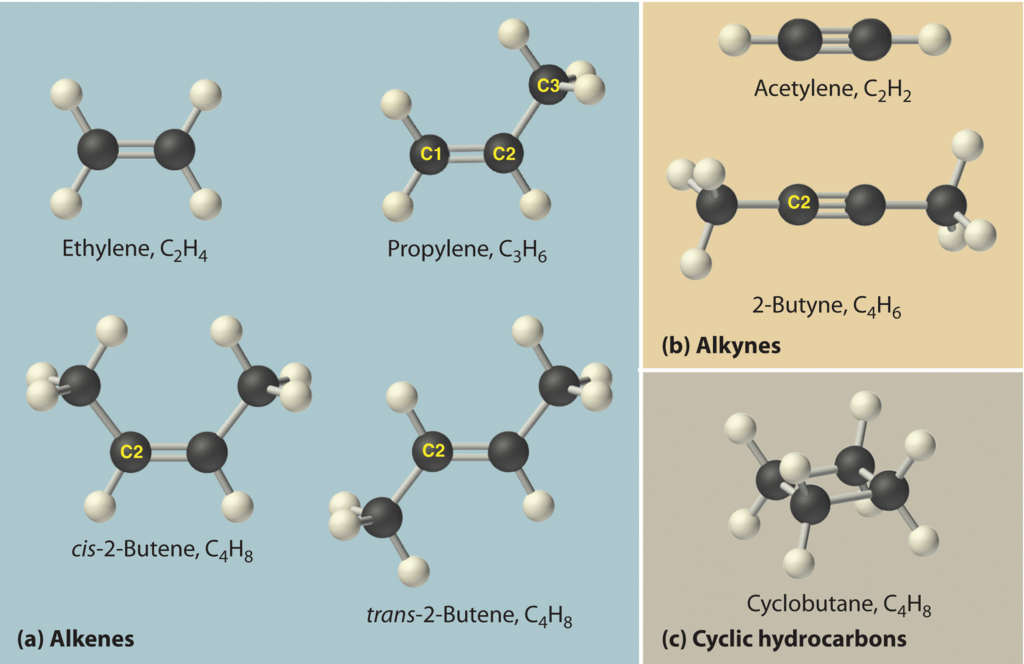 Hydrocarbons
Branched Structure
The alkanes containing three or less carbon atoms do not form branches.
CH4 Methane
CH3-CH3 Ethane
CH3-CH2-CH3 Propane
The alkane containing four carbon atoms (C4H10) has two types of arrangement of carbon atoms.
Question for Chains, Branches, Rings & Homologous Series
Try yourself:
Which of the following hydrocarbons has a branched structure?
Closed Chains or Cyclic Hydrocarbon


These hydrocarbons contain closed chain or rings of atoms in their molecules. These are of two types:
(A) Alicyclic hydrocarbon:
These hydrocarbons contain a ring chain of three or more carbon atoms.

These cyclic compounds are named by prefixing cyclo before the name of corresponding straight chain hydrocarbon.



(B) Aromatic hydrocarbon:
These have at least one benzene ring in their molecules.

It is a special type of ring of six carbon atoms with three double bonds in alternate positions.

These compounds are called aromatic because they have some identific smell.



Fig: Aromatic hydrocarbon
Will you be my friend? (functional group)


Carbon forms many compounds with hydrogen. But carbon also forms bonds with other atoms such as halogen, oxygen, nitrogen and sulphur. Therefore, carbon is said to be a very friendly element.

These compounds are obtained by replacing one or more hydrogen atoms by other atoms such that the valency of carbon remains satisfied. The atom replacing the hydrogen atom is called heteroatom or Functional group.
Different organic compounds having same functional group have almost same properties. These are called families.
Example:


Properties of CH3-OH and CH3-CH2OH are similar and it is due to the presence of -OH (hydroxyl) group.
This group is known as alcoholic group.
Family of compounds having -OH group is called alcohols.
Some Functional Groups in Carbon compounds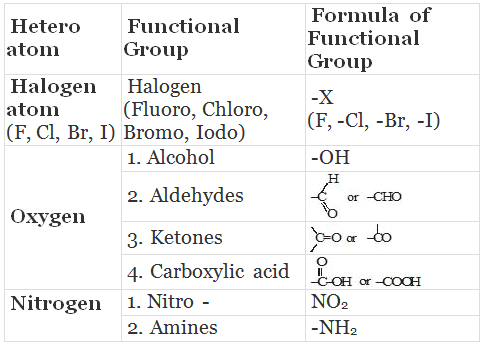 Homologous Series


"A series of organic compounds having similar structures similar chemical properties and same general formula in which the successive members differ in their molecular formula by -CH2 group".
The different members of the series are called homologous.

Fig: Homologous series
Question for Chains, Branches, Rings & Homologous Series
Try yourself:
Which type of hydrocarbon contains a ring chain of three or more carbon atoms?
Characteristics of Homologous Series


All the members of a homologous series can be described by a common general formula.


Example: All alkanes can be described by the general formula CnH2n+2.
Each member of a homologous series differ from its higher and lower neighbouring members by a common difference of -CH2 group.
Molecular masses of the two adjacent homologues differ by 14 mass units, because molecular mass of -CH2 group is 12 + 2 = 14.

All the members of a homologous series show similar chemical properties.

All the members of the series can be prepared by similar methods known as the general method of preparation.

They show change in physical properties with increase in number of carbon atoms.
Table: Some Members of Alkane, Alkene and Alkyne (Homologous Series)



Q. What is a homologous series? Explain with an example.
Solution.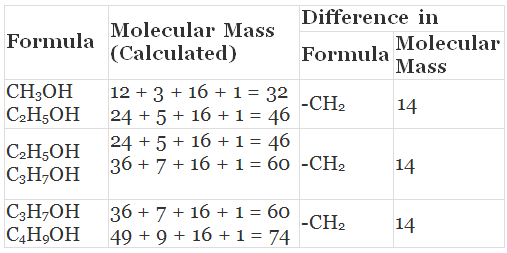 Conclusion:
(i) Yes, all these compounds are the members of a homologous series for alcohols.
(ii) CH3OH, C2H5OH, C3H7OH and C4H9OH -increasing carbon atoms. These four compounds form a homologous series.
Homologous Series containing Functional Groups


Aldehydes:
HCHO, CH3CHO, CH3CH2CHO, CH3CH2CH2CHO
Carboxylic acids: HCOOH, CH3COOH, CH3CH2COOH, CH3CH2CH2COOH
Amines: CH3NH2, CH3CH2NH2,CH3 CH2CH2NH2.
Ketones: CH3COCH3, CH3COCH2CH3, CH3COCH2CH2CH 3
Haloalkanes: CH3X, CH3CH2X, CH3CH2CH2X, CH3CH2CH2-CH2X
Q. How do physical properties change in a homologous series of hydrocarbons?
The physical properties of the various members of a homologous series change regularly with an increase in the molecular mass.
(i) Melting and Boiling Points : Melting point and boiling point of hydrocarbon in a homologous series increases with an increase in molecular mass.
(ii) Physical State:
Hydrocarbons containing lesser number of carbon atoms are gases.
Hydrocarbons containing large number of carbon atoms are solids.
Hydrocarbon containing intermediate number of carbon atoms are liquids.
Example: Hydrocarbon containing 1-4 carbon atoms are gases, these containing 5-16 carbon atoms are liquid and those containing more than 16 carbon atoms are solids.
Nomenclature of Carbon Compounds


Carbon compounds can be called by their common names, but, then remembering millions of compounds by their individual names may be very difficult. Due to this reason, the International Union of Pure and Applied chemistry (IUPAC) has devised a very systematic method of naming these compounds.
Naming a Carbon Compound


The number of carbon atoms in the molecule of a hydrocarbon is indicated by the following stems.
| | |
| --- | --- |
| No. of carbon atom | Stem |
| 1 | Meth |
| 2 | Eth |
| 3 | Prop |
| 4 | But |
| 5 | Pent |
| 6 | Hex |
| 7 | Hept |
| 8 | Oct |
| 9 | Non |
| 10 | Dec |
Example: Saturated hydrocarbon.
Alkane → Meth + ane = Methane
Unsaturated hydrocarbon
Alkene → Eth + ene = Ethene
Alkyne → Eth + yne = Ethyne
In case any functional group is present, it is indicated in the name of compound with either a prefix or a suffix.

Identify the longest continuous chain of carbon atoms. This gives the name of parent hydrocarbon.

In the case any substituent appropriate prefix is added before the name of parent hydrocarbon.

In the case of a functional group, the ending 'e' in the name of the parent hydrocarbon is replaced by the appropriate suffix.
Functional Group
"Functional group may be defined as an atom or a group of atoms which is responsible for most of the characteristic chemical properties of an organic compound".
Prefixes and Suffixes of some Substituents/Functional Group