Soaps and detergents are the substances used for cleaning.

Soap


Soap is the sodium or potassium salt of a long-chain fatty acids (carboxylic acid or glycerol) having cleansing action in water.
Soap has a large non-ionic hydrocarbon group and an ionic group. COONa.
Examples:
(1) Sodium stearate (C17H35COONa)
(2) Sodium palmitate (C15H31COONa)
Soap is basic in nature. Soap solution turns red litmus to blue.
Structure


The hydrocarbon chain is non-polar and water -hating (hydrophobic), while the other part is polar or water loving (hydrophilic).
Hydrophilic part makes the soap soluble in water and hydrophobic part makes the soap insoluble.
A soap molecule contains two parts which interact differently with water, one part is a long hydrocarbon (non-polar) chain, and other belongs to the -COONa group (hydrophilic).
A soap molecule may be represented as:

Question for Cleansing Action of Soaps & Detergents
Try yourself:
Which part of a soap molecule is responsible for its solubility in water?
Preparation of Soap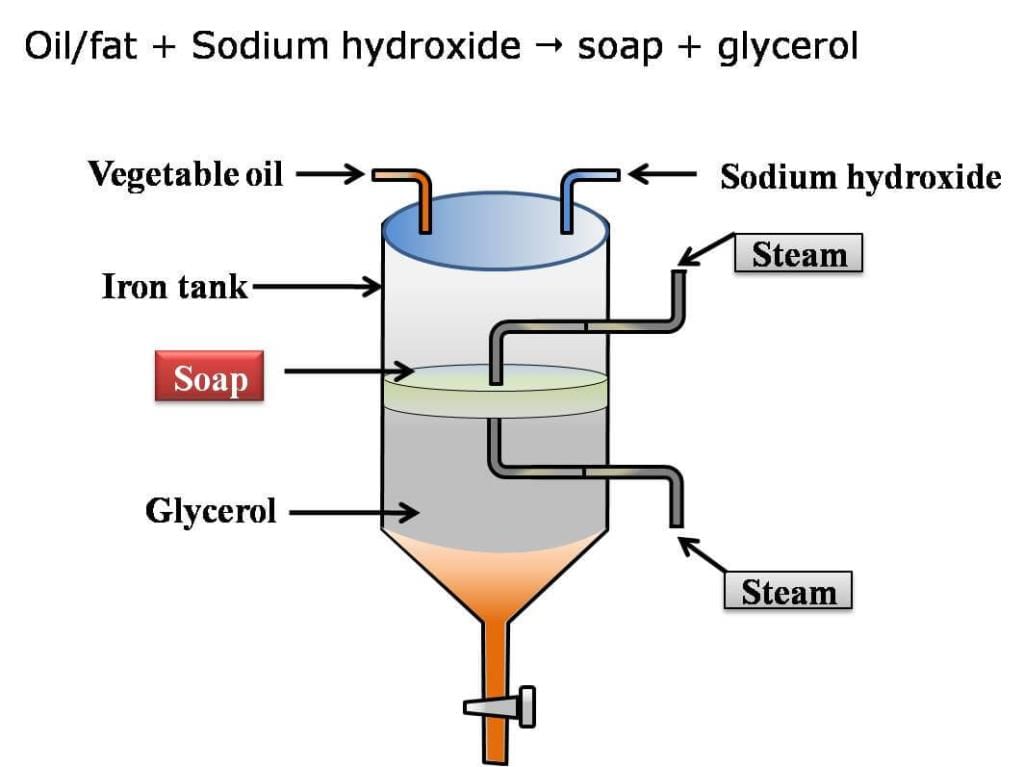 Fig: Preparation of soap

The soap is prepared by heating animal fats or vegetable oils (olive oils, castor oil or palm oil) with sodium hydroxide or potassium hydroxide.
The process of formation of soap by the hydrolysis of fat or oil with alkali is called saponification.
Oil or Fat + Sodium hydroxide → Soap + glycerol
Cleansing Action of Soap


The molecules of soap are sodium or potassium salts of long chain carboxylic acids. The ionic end of soap dissolves in water while the carbon chain dissolves in oil. The soap molecules, thus form structures called micelles where one end of the molecules is towards the oil droplet while the ionic end faces outside. This forms an emulsion in water. The soap micelle thus helps in dissolving the dirt in water and we can wash out clothes clean.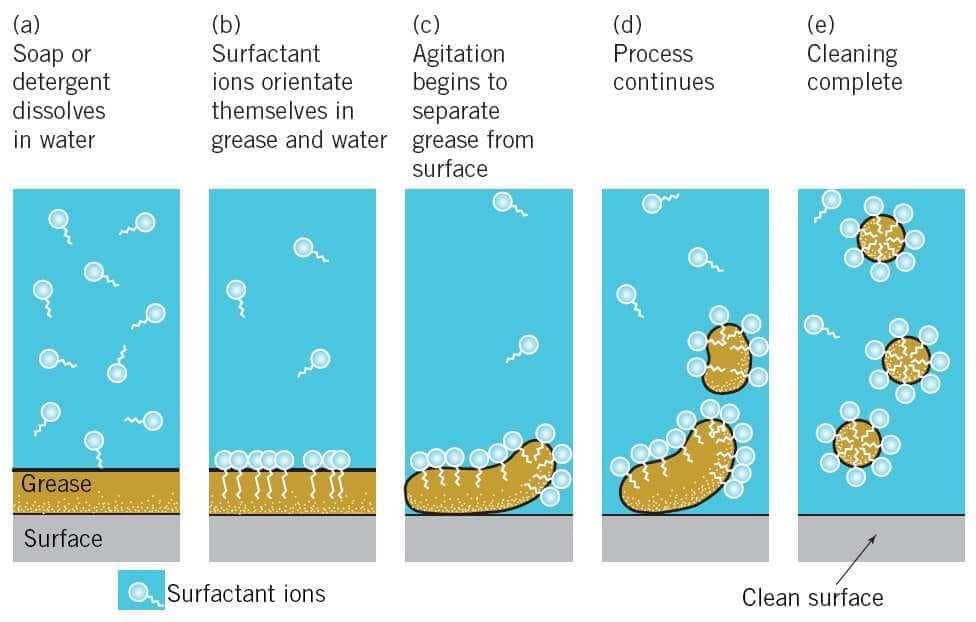 Fig: Cleansing action of Soap
Disadvantage of Soap


Soaps are not effective in hard water: Hard water contains calcium ions (Ca2+) and magnesium ions (Mg2+).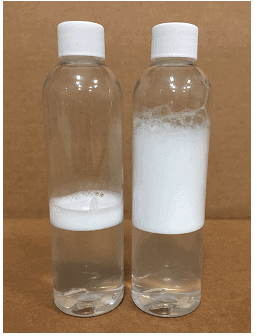 Fig: Soap in hard water
These ions react with the carboxylate ions (RCOO-) of the soap forming an insoluble precipitate called scum. For example, soap like sodium stearate (C17H35COONa) reacts with calcium and magnesium ions as per the following chemical equation.


The scum gets attached to the clothes, utensils and even skin and thus, interferes with the cleansing ability of the additional soap and makes the cleansing of clothes difficult. Moreover, a large amount of soap is wasted in reacting with calcium and magnesium ions present in hard water.
Soaps are not effective in acidic medium: In presence of hydrogen ions (H+ ions), i.e. in acidic medium, the carboxylate ions of soap (RCOO- ion) interact with hydrogen ions (H+) to form undissociated (free) fatty acid as represented below:


As the fatty acids are weak acids, so they do not get ionised and hence, micelle formation is hindered, thus, adversely affecting the cleansing property of soaps.
You will observe that the amount of foam in the two test tubes is different. The foam is formed to a greater extent in test tube 'B' (containing detergent solution), while formation of a curdy white mass will be observed in test tube 'A'. This activity clearly indicates that detergents can be used for cleansing purposes, even with hard water.

Detergents


Synthetic detergents are called soapless soaps because they are not prepared from fatty acid and alkali.
Synthetic detergents are sodium salts of sulphonic acids, i.e. detergents contain a sulphonic acid group (-SO3H), instead of a carboxylic acid group (-COOH), on one end of the hydrocarbon chain.



Properties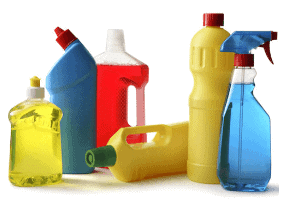 Fig: synthetic detergentSynthetic detergents do not react with the ions present in hard water. Hence, synthetic detergents have no problem in forming lather with hard water, i.e. their efficiency is not affected by hard water.
Synthetic detergents can be used even in acidic solution and sea water, whereas soap cannot be used in the acidic solution (due to precipitation of free acids)
Synthetic detergents do not form insoluble salts of calcium or magnesium with hard water. Hence, lesser amounts of synthetic detergents are required for washing.
Detergents have better cleansing action than soaps: Detergents are generally ammonium or sulphonate salts of long chain carboxylic acids. The charged ends of these compounds do not form insoluble precipitates with the calcium and magnesium ions in hard water. Thus, they remain effective in hard water. Detergents are usually used to make shampoos and products for cleaning clothes.
Question for Cleansing Action of Soaps & Detergents
Try yourself:
Which of the following is a disadvantage of using soap?
Differences between Soaps and Synthetic Detergents
Soap
Synthetic detergents
1. Soaps are sodium salts of long chain fatty acid (carboxylic acids)
1. Synthetic detergents are the sodium salts of long-chain benzene sulphonic acids or the sodium salt of a long - chain alkyl hydrogen sulphate.
2. The ionic part of soap is -COO-Na+
2. The ionic part in a synthetic detergent is -SO3-Na+
3. They are prepared from animal fats or plant based oils.
3. The are prepared from hydrocarbons extracted from coal or petroleum.
4. Their efficiency decreases in hard water.
4. Their efficiency is unaffected in hard water.
5. Soaps take more time to dissolve in water.
5. Synthetic detergents dissolve faster than soaps in water.
6. They are biodegradable.
6. Some synthetic detergents are non- biodegradable.
7. Examples: Sodium stearate, sodium palmitate
7. Example: Sodium lauryl sulphate, sodium dodecyl

benzene sulphonate.