How do Traits get Expressed?
Deoxyribonucleic Acid (DNA)

The expanded form of DNA is deoxyribonucleic acid. It was first isolated by the scientist Frederick Meisher from the nucleus of the pus cells in 1869. He named it as 'nuclein' or nucleic acid because of its acidic nature. Later, it was experimentally proved by the scientists Griffith (1928), Avery, McLeod and McCarty (1944) that DNA is the carrier of the genetic information from generation to generation. It transmits the hereditary characters in a coded language from parents to the offspring (i.e., from one generation to another).
DNA is a macro-molecule or polymer. It is made of very large number of `nucleotide' units and hence is termed as polynucleotide.
Each nucleotide unit in a DNA molecule is made up of three components:
1. Deoxyribose sugar :- It is a pentose sugar.
2. Nitrogenous base :- Each nucleotide unit has a nitrogen containing base. In a DNA molecule, nitrogenous bases are of two types :
(a) Purines :- The purines in a DNA molecule are — Adenine (A) and Guanine (G).
(b) Pyrimidines :- The pyrimidines in a DNA molecule are — Cytosine (C) and Thymine (T).
3. Phosphate group :- The phosphate group contains one phosphorus atom and four specifically linked oxygen atoms.
Double Helical Mode of DNA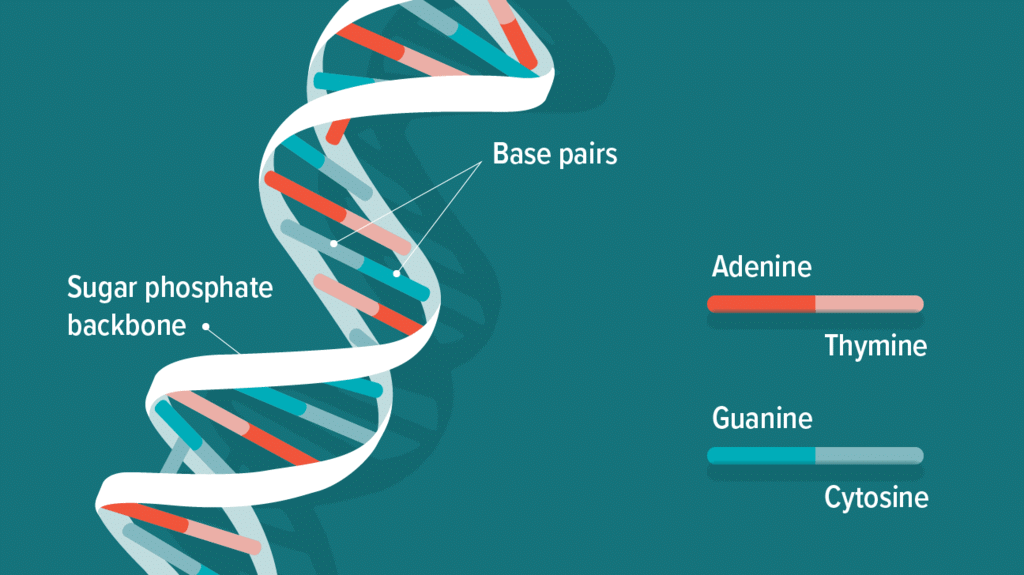 Double Helical Mode of DNA
J. D. Watson and F.H.C. Crick proposed the double helical mode of DNA in 1953. They were awarded the Nobel Prize for this discovery in 1962. The important features of the double helical modes are:
(i) DNA molecule is made up of two long polynucleotide strands forming a double helical structure (double helix) just like a spiral staircase. Each helical turn of the DNA molecule is 3.4 nm in length in which ten nucleotide base pairs are present.
(ii) Deoxyribose sugar and phosphate molecules are joined alternately to form the backbone of each polynucleotide strand. The nitrogenous base of each nucleotide is attached to the sugar molecule and projected towards the interior of the double helix.
(iii) In the interior of double helix, the nitrogenous bases of two polynucleotide strands form a pair with the help of hydrogen bonds. Adenine (A) always pairs with thymine (T) and guanine (G) always pairs with cytosine (C).
Thus, the two polynucleotide strands of the DNA molecule are joined by hydrogen bonds between specific nitrogenous bases. Such a specific pairing of the bases of the opposite strands of the DNA molecule is called complementary pairing. Adenine (A) and thymine (T) are complementary to each other. Similarly, guanine (G) and cytosine (C) are complementary to each other. The hydrogen bonding between the specific nitrogenous bases keeps the two strands held together. Therefore, all the base pairs remain stacked between the two strands.
Blood Groups
Four different types of blood groups in human beings are : A, B, O, AB
O → universal donor
AB → universal recepient
Blood group
Genotype
Dominant
Recessive
Antigen
Antibody

A

IA IA
IAIO
IA
IO

A

B

B

IBIB
IBIO
IB
IO

B

A

AB

IAIB
IA,IB

-

A,B

-

O

IOIO

-

IO

-

AB
Sex Determination
How is the sex of newborn individual determined? In human beings, the sex of the individual is largely genetically determined. In other words, the genes inherited from our parents have assumed that similar gene sets are inherited from both parents. If that is the case, how can genetic inheritance determine sex ?
Al human beings these are 23 pairs of chromosomes are present out of these 23 pairs,22 are autosomes (similar in males and females) and 1 pair is called sex chromosome (different in males and females). In males, sex chromosome are XY and in females, sex chromosome are XX.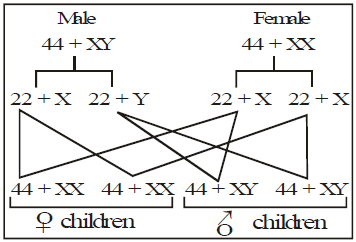 So, it is clear from above that male is responsible for producing male child.
Points to Remember