Thomson's Model of Atom:or Plum Pudding model or Raisin Pudding model or water melon model.
Thomson stated that atom is uniform sphere of positive charge with negatively charged electron embedded in it in such a way that atom becomes electrically neutral.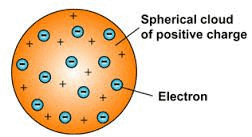 Important features:
It shows electrical neutrality of atom.
The mass of the atom is assumed to be uniformly distributed over the atom.
The model was rejected as it was not consistent with the results of alpha scattering experiment.
Rutherford's Model of Atom:α-particle scattering experiment :-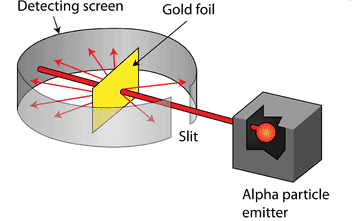 Fig. Rutherford's gold foil experiment
A beam of α-particle was projected towards this gold foil. The foil was surrounded by circular fluorescent ZnS screen which produces flash when α-particle collide with it.

Observations of experiment:
Most of α-particles passed through the foil undeflected or deflected by very small angles [less than 1º].
Few particles were deflected through angles as large as 90º.
Very few particles [ 1 in 20 thousand] bounce back or rejected through an angle almost equal to 180º.
Angle of deflection increases with increase in atomic number.
Conclusions:
Since, most of the α-particles passed through the foil undeflected, therefore there must be large empty space present in the atom.
α-particles are positively charged and having considerable mass could be deflected by only some heavy positively charged centre by repulsion. [Rutherford named this positively charged heavy centre as nucleus].
Since, very few α-particles were thrown back therefore the size of nucleus should be very small and should be rigid because α-particle can recoil back only if it undergo direct collision with the heavy positively charged centre.
Rutherford's model:
On the basis of scattering experiment, Rutherford proposed an atomic model or nuclear atomic model or nuclear model of atoms.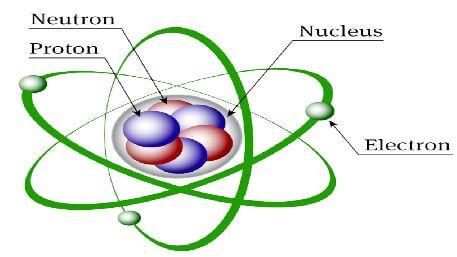 Fig: Structure of atom
The electrons are revolving around the nucleus in circular path and electrostatics force of attraction between the electrons and nucleus is balanced by the centrifugal force acting on revolving electron.
The -ve charge on electrons are equal to the total positive charge on the nucleus and therefore as a whole atom is electrically neutral.
Size of the nucleus is extremely small as compared to size of the atom.
Radius of nucleus:
Radius of nucleus is of the order of 10-15 m and radius of atom is order of 10-10 m.
r = r0 A1/3
A = Mass number = no. of protons no. of neutrons.
r0 = constant = 1.2 × 10-13 cm.
Distance of closest approach:

If the α-particle is projected with some velocity -v from very large distance then at point (1), energy of the α-particle

As the particle is moving closer to the nucleus of other particle, repulsive coulombic force increases (P.E. increases) and velocity of the particle decreases, kinetic energy is converted into P.E.
∴ At point (2) E = K.E. + P.E. =

[As no ext. force is acting, ∴ Total energy of system remains constant].
velocity becomes zero at rmin distance where Coulombic potential energy of repulsion becomes equal to the initial kinetic energy.
At point (3),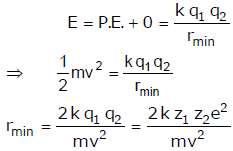 q1 = z1e ; q2 = z2e
e = electronic charge = 1.6 × 10-19 C
z1 = z2 = Atomic number

Drawbacks of Rutherford's Model:
(1) According to Maxwell's wave theory, an accelerated charged particles (like electron) revolving in the field of another charged particle like nucleus looses energy in the form of electromagnetic radiation and if this happen then orbit of the revolving electron should keep on decreasing and ultimately electron should fall into the nucleus and atom should collapse but this doesn't happen actually.
(2) Rutherford's model didn't give any idea about electronic arrangement of an atom and since he didn't mention specific energy levels he couldn't explain the discontinuous atomic hydrogen spectrum.