ETHER
Structure of ether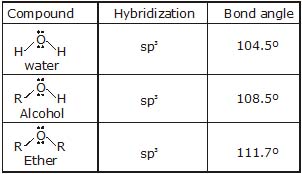 Classification of Acyclic ethers:

IUPAC Nomenclature of ether "Alkoxy Alkane"
| | | |
| --- | --- | --- |
| S.NO. | Compound | IUPAC Name |
| 1 | | 2-Methoxy propane |
| 2 | | Chloromethoxy methane |
| 3 | | Methoxy benzene (Anisole) |
| 4 | | 3-Ethoxy-1, 1-dimethyl cyclohexane |
| 5 | | trans-1-Chloro-2-methoxy cyclobutane |
| 6 | | 2-Ethoxy ethan-1-ol |
Method of Preparation of Ether:
(1) Williamson synthesis-
General reaction:
RX +


R - OR'
e.g. (i) n-PrOH


(ii) MeOH

Me



(iii) t-BuOH

t-Bu

t-Butyl ethyl ether
(This reaction produces a poor yield of ether because of the bulkiness of t-BuO-)
2. Williamson's Continuous Etherification process or by Dehydration of Alcohols-
(i) ROH +


RO +





ROR + H3O+
(ii)





....


e.g.

Mechanism
Step-1:


This is an acid-base reaction in which the alcohol accepts a proton from the sulfuric acid.
Step-2 :


Another molecule of the alcohol acts as a nucleophile and attacks the protonated alcohol in an

reaction.
Step-3 :


Another acid-base reaction converts the protonated ether to an ether by transferring a proton to a molecule of water (or to another molecule of the alcohol).
Only one combination of alkylhalide and alkoxide is appropriate for the preparation of each of the following ethers by Willianson ether synthesis. What is the correct combination in each case ?
3. From alkenes:
(a) By addition of alcohols in alkenes:
When alcohol is added to alkenes in presence of acid, we get ethers.
General reaction:
(I)


carbocation
(II) Carbocation alcohol


e.g. (I)

= CH2 +

(H2SO4)

Me3

(II) Me3

+ EtOH



Me3COEt
(b) Alkoxymercuration - demercuration:





e.g.
(i) RCH=CH2 +R'OH

RCH(OR')CH3
(ii) CH2=CHCH3 +CH3CH(OH)CH 3


(iii) CH3CH=CHCH3 +CH3CH(OH)CH 2CH3


Reactions of ethers:
1. With HX-
General reaction:







X-R X-R'
e.g. (i) CH3CH2CH2CH3

2CH3-CH2Br
2. Reaction with sulphuric acid-
Ethers dissolve in concentrated solutions of strong inorganic acids to from oxonium salts, i.e. ether behave as Bronsted Lowry bases.
R2O H2SO4



R-OH

When heated with dilute H2SO4
R2O H2SO4

2ROH
e.g. C2H5OC2H5 +H2SO4

C2H5OH +C2H5OHSO4

C2H5OH+ H2SO4
3. Autoxidation of ethers :
When ethers are stored in the presence of atmospheric oxygen, they slowly oxidize to produce hydroperoxides and dialkyl peroxides, both of which are explosive. Such a spontaneous oxidation by atmospheric oxygen is called an autoxidation.
General reaction:



+

Ex.
(i)



+

(ii)



4. Reaction with acid chlorides and anhydrides:
Reagent : ZnCl2, AlCl3 etc.
General reaction: (i) R-O-R +R-CO-Cl

R-Cl +RCOOR
Mech.
RCOCl +AlCl3
RCO + AlCl4-
RCO



RCOOR' +


R"Cl + AlCl3
e.g.
C2H5OC2H5 + CH3COCl

C2H5Cl + CH3COOC2H5
(ii) R2O +


2CH3COOR
e.g. C2H5OC2H5 + (CH3CO)2O

2CH3COOC2H5
5. Reaction with carbon monoxide :
Ether react with CO at 125-180oC and at a pressure of 500 atm, in the presence of BF3 plus a little water.
R2O + CO

RCOOR
6. Reaction with halogens :
When treated with chlorine or Br, ether undergoes substitution, the extent of which depends on the conditions.
CH3CH2OCH2CH3

CH3CHClOCH2CH3

CH3CHClOCHClCH3
In presence of light,
(C2H5)2O


Mech.
The reaction proceeds by a free-radical mechanism, and α-substitution occurs readily because of resonance stabilization of the intermediate radical.






, etc.