Exogenetic Forces
THE PROCESS OF GRADATION
The process in which two opposite forces- tectonic or internal forces and erosive or external forces-tend to bring the surface of the lithosphere to a common level. Gradation is achieved by simultaneous processes of degradation and aggradations.
Degradation or Denudation:
The general wearing away of the land surface by external agencies or forces is known as denudation or degradation. It includes the result of weathering, erosion and transportation.
Aggradation or deposition:-
It means the filling up of the depressions on the earth's surface. The agents of aggradation are the same as those of erosion.
WEATHERING
Weathering is disintegration and decomposition of rocks while erosion is the process or removal, transportation and deposition of the weathered particles. These two processes together are known as 'Denudation'. Weathering process brings mechanical disintegration and chemical decaying of rocks. Weather conditions are the most decisive phenomenon so the process is commonly known as weathering. However, the type and rate of weathering are also influenced y rock structure, topography and vegetation. Weathering is a static process. It is also the process of soil genesis. It is of three types:
Mechanical weathering.
Chemical weathering.
Biological weathering.
Mechanical weathering
When a region undergoes mechanical weathering, rocks are broken into small pieces. This mechanical disintegration takes place in different ways.
Frost Action: - In cold climatic region when water fills the pores, cracks and crevices in rocks and freezes, it expands and exert a busting pressure. The rocks are ruptured and fragmented.
Thermal Expansion and Contraction:- In the area of hot deserts, the diurnal range of temperature brings the expansion and contraction of surface rocks, leading to their disintegration into smaller pieces.
Exfoliation:- This is the expansion by unloading process. Unloading occurs when large igneous bodies are exposed through the erosion, removal of overlying rocks and the reduction in the pressure. On being exposed to the surface they expand slightly in volume. This lead to the breaking of thick shells like a onion's layers from the parent mass just lying below.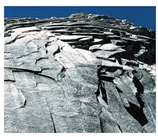 Chemical Weathering
It changes the basic properties of the rock. Principal processes of chemical weathering process are:
Solution: - Here the rocks are completely dissolved. It leads to the evolution of karts' topography where the water dissolves the rock structure of limestone, salt, gypsum, chalk etc.
Oxidation:- the presence of dissolved oxygen in water when comes in contact with material surface it leads to oxidation. Through it is a universal phenomenon but it is more apparent in rock containing iron.
Hydration: - Most of the rocks forming minerals absorb water. This not only increases their volume but also produces chemical change resulting in the formation of new materials which are softer and more voluminous. For example this process converts hematite into limonite.
Carbonation:- water combining with CO2 produces carbonic acid which dissolves several elements of minerals and the rock is weakened and broken into prices.
Biological Weathering:- this type of weathering is performed by the tree, roots, animals and human beings. As the plant roots grow, they wedge the rocks apart and cause the widening of joints and other fractures. Micro animals like earth worms, ants, termite and other burrowing animals move materials to or near the surface where they are more closely subjected to chemical weathering.
EFFECTS OF CLIMATE ON WEATHERING
Physical weathering is more important in hot and dry climatic regions because of high diurnal range of temperature found there.
Intense chemical weathering occurs in hot and humid regions.
Chemical weathering is minimal in deserts and Polar Regions.
The rocks in dry temperate climates are more susceptible to mechanical weathering due to frost action.
Weathering is at its minimum in the Polar Regions due to permanent ice cover.
Carbonate rocks having more soluble minerals are easily affected by chemical weathering.
Climate is thus, single most important factor influencing weathering.
Mass Wasting
Mass wasting is the movement of rock materials under the influence of gravity.
Factors Affecting the Speed of Mass Wasting
These factors include:
The nature of the material
The angle of the slope
Vegetation cover
Earthquakes
Mans activities

Main Types of Mass Wasting

Soil Creep: This is the downward movement of soil
Mudflow: When continued heavy rainfall turns the soil into a semi-liquid state.
Landslide: When large quantities of loosened surface rocks slide down a steep slope.
Rockfall: When rocks fall off a steep cliff