UPSC : Forests in India - Indian Geography, UPSC, IAS UPSC Notes | EduRev
All you need of UPSC at this link:
UPSC
Forests in India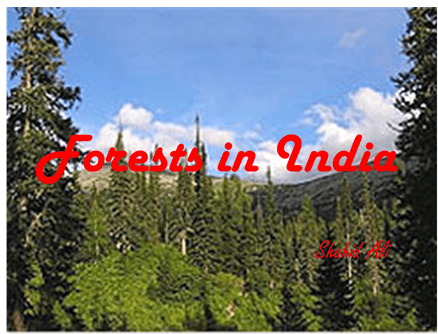 Indian Forest
Forest area is the area recorded as forest land irrespective of the existence of trees, while the actual forest is the area occupied by the forest with canopy
Forest area is based on the record of the State Revenue Department.
Forest area covers 23.28% of the total area of the country
These forests supply a wide variety of resources.
They provide structural timer and wood for making furniture and pulp, match wood, wood for charcoal, gum, resins, canes and fibred.
Beside these, there are may other forest products such as leaves, fruits, tan dyes, medicinal herbs, bee-wax, honey, turpentine oil and lac.
Spatial variation
Forest cover vary from state to state
Lakshadweep has 0% forest area while A&N Islands have 86.93 %
Most of the states with less than 10% of the forest area are : Punjab, Haryana, Rajasthan, Gujarat and Delhi
The NE states have more than 30% of the land under forest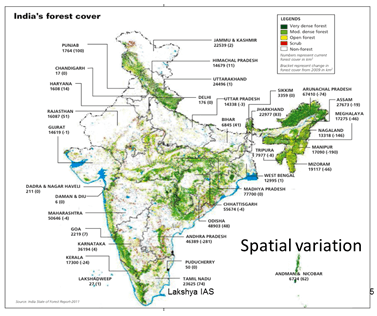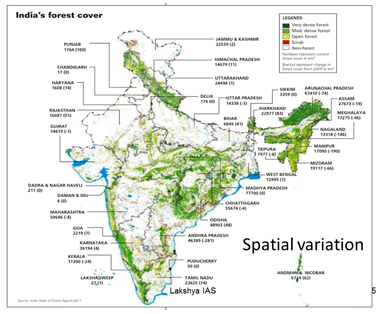 Problems of Forestry and conservation
Over grazing and forest fire often destroy forests.
Reckless cutting of the trees causes forest destruction.
Jhum cultivations destroy forest; it invites soil erosion.
To preserve the forest, the Govt. of India has taken up a series of programmers:
The forests are declared as Reserved Forests.
The government has chalked out a good programme of 'Van Mahatsov'.
The Forest Research Institute has been set up at Dehra Dun for the promotion and preservation the forests properly.
The GoI adopted a forest policy in 1952 which was modified in 1988
The forest policy aimed at:
Forest cover to be increased to 33%
Maintain environmental stability
Conserving the natural heritage of the country
Checking soil erosion
Increasing the productivity of the forests
Crating a massive people movement
Based on the forest conservation policy the following steps were initiated:
Social forestry
Wildlife conservation
Biosphere Reserves
Social forestry
It means management and protection of forests and afforestation on barren lands with the purpose of helping in the environment, social and rural development
National commission on Agriculture has classified social forestry into:-

Urban forestry, Rural forestry & Farm forestry
Urban forestry
It pertains to the raising & management of trees on public and privately owned lands in and around public centres such as green belts, parks, roadside avenues etc.
Rural forestry
It emphasis on Agro-forestry and Community forestry
Agro-Forestry, is the raising of trees and agriculture crops on the same land inclusive of waste patches
Community forestry, involves the raising of trees on public or community lands
Farm forestry: a process under which farmers grow trees for commercial & non-commercial purposes on their farm lands
Wildlife conservation
In 1972 Wildlife Act was enacted with two main objectives-

To provide protection to the endangered species
To provide legal support to the conservation areas of the country classified as National Parks, sanctuaries and closed areas

There are 98 National Parks and 492 wildlife sanctuaries in India
Project Tiger
Implemented in 1973
Main objective is to ensure maintenance of viable population of tigers in India
There are 27 Tiger reserves in 17 states
The tiger population has increased from 1827 in 1972 to 3642 in 2001-02
Biosphere Reserves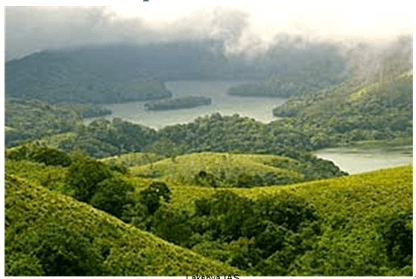 A Biosphere reserve is a unique and representative ecosystem of terrestrial and coastal areas.
These are the areas where every plant and animal is to protected I its natural habitat
It aims at achieving :conservation , development , research & monitoring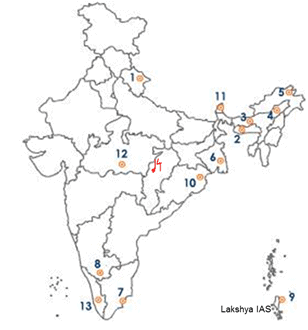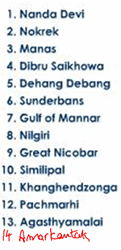 Biosphere reserves recognised by UNESCO namely:

Nanda Devi
Sunderbans
Nilgiri
Gulf of Mannar

Nilgiri Biosphere reserve is the first reserve established in 1986
Biosphere reserves recognised by UNESCO namely:
Nanda Devi
Sunderbans
Nilgiri
Gulf of Mannar
Nilgiri Biosphere reserve is the first reserve established in 1986