Etiology: Etiology is the study of the causation of disease. It may be intrinsic (within the body) or extrinsic (outside the body).
Pathology: Pathology deals with the study of diseases and their causes.
Homeostasis: The mechanism by which the body is kept in equilibrium is known as Homeostasis.
Predisposing Causes: These are those that make the person susceptible to the disease and are also known as remote, distant or preparatory causes.
Pathogenesis: The mechanism by which the causes produce disease.
Symptoms or Signs is the outward manifestations of the patient suffering from disease while alive.
The lesion is the alteration in the structure, detectable macroscopically by the naked eye or microscopically.
The incubation period is the time that elapses between the action of a cause and the manifestation of disease.
Prognosis is the estimation of the probable severity and outcome of the disease.
Morbidity is the percentage of deaths among the population affected by a disease.
An autopsy is seeing with one's own eyes. Also known as necropsy.
A biopsy is an examination of tissues received from the living body.
Causes of Disease
Etiological Factors
The disease-causing agents can be classified as follows:
I. Genetic or Inherited Causes: These causes are transmitted to the offspring through the germplasm.
Lethal factors: Some factors cause death in utero or after birth death
Sublethal factors: Those factors which are inherited and interfere with the function of the body but do not cause death.
Defects that are inherited errors in structure or function
Cryptorchidism: The condition in which one or both testicles do not descend to the scrotal sac and remain in the abdominal cavity. The testicle is complete or partial non-functional in this condition.
Webbed digits: Web-like structures are present in between the digits.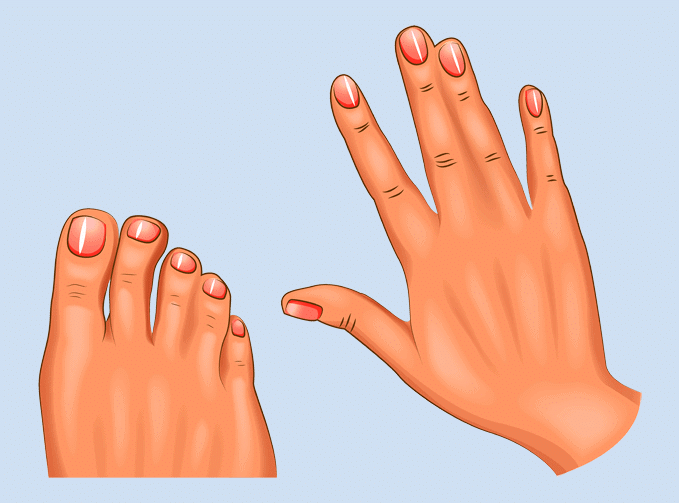 Webbed Digits
II. Non-genetic or Non-inherited Defects: These causes do not transmit through the germplasm.
Anomalies: Developmental defect affecting an organ or part of the body.
1. Disturbances in the development
2. Arrest of development
Agenesia or aphasia: Complete absence of a body part. Agenesia renale—when there is no Kidney in the body.
Hypoplasia: Reduction in size of a body part.
Atresia: Closer of the lumen of a hollow organ or duct - Atresia ani (closure of ana opening)
Fissure: Inability to fuse the part on the median line.
Fusion of paired organs: Horseshoe kidney.
3. Excessive Development
Congenital hypertrophy: Increase in the size of the organ. Example: Ventricular hypertrophy is the hypertrophy of the myocardium of the ventricle.
Increase in number - Example: Polydactyla is the presence of supernumerary digits on the hands or feet.