Introduction
The G-20 is the G-7 plus developing nations such as Brazil, China, India, and Russia. The G-20's members represent two-thirds of the world's people and 85 percent of its economy. Since 2007, the media has covered each G-20 summit. The Group of Twenty is comprised of 19 countries plus the European Union.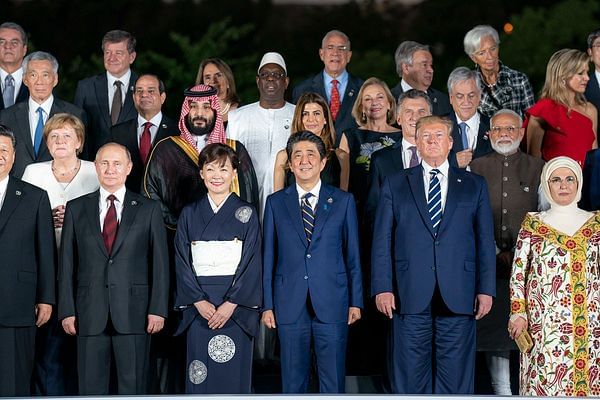 Leaders of the countries part of G20 Summit
The List of Member countries are:
Argentina, Australia, Brazil, Canada, China, France, Germany, India, Indonesia, Italy, Japan, Mexico, Russia, Saudi Arabia, South Africa, South Korea, Turkey, the United Kingdom and the United States of America.
G20 Meetings & their Details:-

Sr.
No.
Summits
Host Country
Host City
Date & Year
1
1st
United States
Washington, D.C.
14–15 November 2008
2
2nd
United Kingdom
London
April 2, 2009
3
3rd
United States
Pittsburgh
24–25 September 2009
4
4th
Canada
Toronto
26–27 June 2010
5
5th
South Korea
Seoul
11–12 November 2010
6
6th
France
Cannes
3–4 November 2011
7
7th
Mexico
San José del Cabo, Los Cabos
18–19 June 2012
8
8th
Russia
Saint Petersburg
5–6 September 2013
9
9th
Australia
Brisbane
15–16 November 2014
10
10th
Turkey
Serik, Antalya
15–16 November 2015
11
11th
China
Hangzhou
4–5 September 2016
12
12th
Germany
Hamburg
7–8 July 2017
13
13th
Argentina
Buenos Aires
30 November – 1 December 2018
14
14th
Japan
Osaka
TBD 2019
15
15th
Saudi Arabia
Riyadh
TBD 2020