GENETIC ENGINEERING
INTRODUCTION :
– Genetic engineering also referred as 'recombinant DNA technology ' or 'gene splicing ' is one kind of biotechnology involving manipulation of DNA.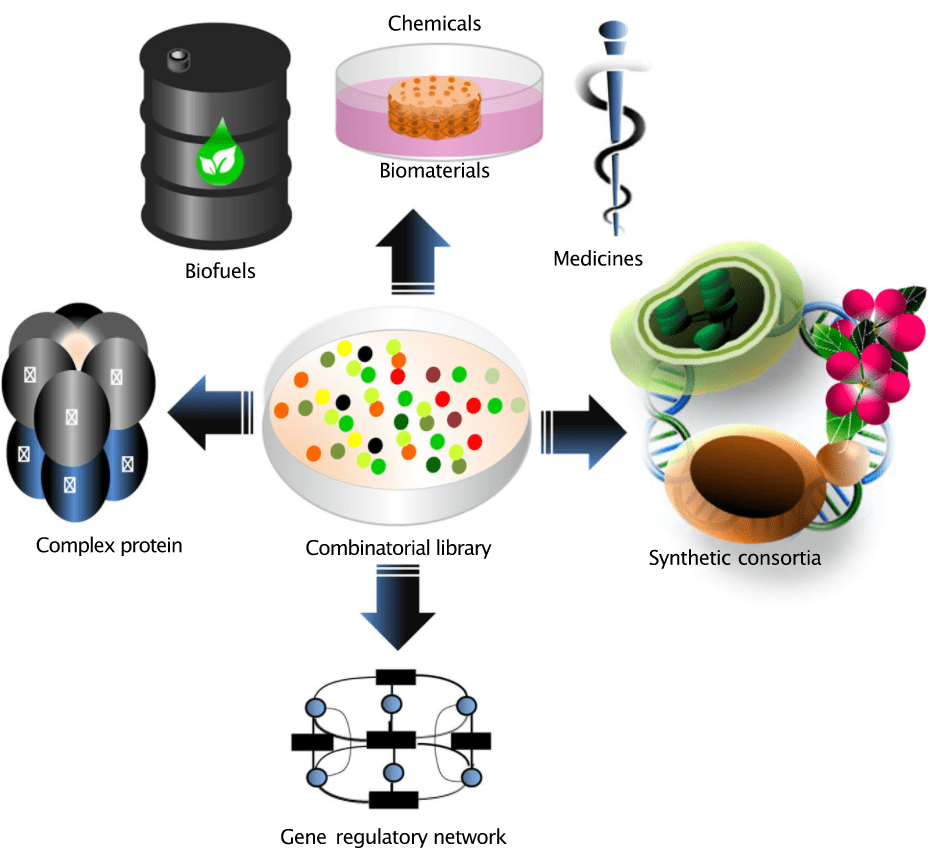 Products of Genetic Engineering
– It deals with the isolation of useful genes from a variety of sources and the formation of new combinations of DNA (recombinant DNA) for repair, improvement, perfection and matching of a genotype.
– Thus, genetic engineering may be defined 'as a technique for artificial and deliberately modifying DNA (gene) to suit human needs'.
– In genetic engineering breakage of DNA molecule at two desired places is done with the help of restriction endonuclease to isolate a specific DNA segment and then insert it in another DNA molecule at a desired position.
– The new DNA molecule is recombinant DNA and the technique is called genetic engineering. Genetic engineering aims at adding, removing or repairing of a part of genetic material. Genetic engineering can be used to improve the quality of human life.
Paul Bergh (Father of genetic engineering). He transferred gene of SV-40 virus (simian virus) into E.coli with the help of l – phage. (Nobel prize - 1980) The concept of genetic engineering was the outcome of two very significant discoveries made in bacterial research. These were–
(i) presence of extra chromosomal DNA fragments called plasmids in the bacterial cell,which replicate along with chromosomal DNA of the bacterium.
(i i) presence of enzymes restriction endonucleases which cut DNA at specific sites.
These enzymes are, therefore, called ' molecular scissors' .
TOOLS AND TECHNIQUES OF GENETIC ENGINEERING
Tools
Genetic engineering involves cutting of desired segments of DNA and pasting of this D.N.A in a vector to produce a recombinant DNA (rDNA). The 'biological tools' used in the synthesis of recombinant DNA include enzymes, vehicle or vector DNA, passenger DNA and alkaline phosphatases.
1. Enzymes. A number of specific kinds of enzymes are employed in genetic engineering.
These include lysing enzymes, cleaving enzymes, synthesising enzymes and joining enzymes.
(i) Lysing enzymes. These enzymes are used for opening the cells to get DNA for genetic experiment.
Bacterial cell wall is commonly dissolved with the help of lysozyme.
(ii) Cleaving enzymes. These enzymes are used for DNA molecules. Cleaving enzymes are of three types; exonucleases, endonucleases and restriction endonucleases.

(a) Exonucleases cut off nucleotides from 5' or 3' ends of DNA molecule.
(b) Endonucleases break DNA duplex at any point except the end.
(c) Restriction endonucleases cleave DNA duplex at specific points in such away that they come to possess short single stranded free ends. For example, a restriction endonuclease ECOR-l (from Escherichia coli) recognize s the base sequence GA ATTC/CTTA AG in DNA duplex and cleaves it's strands between G and A.
Restriction enzymes are obtained from bacteria. They are useful to bacteria because the enzyme bring about fragmentation of viral DNA without affecting the bacterial genome. This is an adaptation against bacteriophages.
Restriction enzyme (Eco R-I) was discovered by Arber, Smith & Nathans (1978 Nobel prize). These enzymes exist in many bacteria beside cleavage some restriction endonuclease, also have the capability of modification.
Modification in the form of methylation, by methylation the bacterial DNA modifies and therefore protects it's own chromosomal DNA from cleavage by these restriction enzymes.
Restriction enzymes are used in recombinant DNA technology because they can be used in vitro to recognize and cleave within specific DNA sequence typically consisting of 4 to 8 nucleotides. This specific 4 to 8 nucleotide sequence is called restriction site and is usually palin dromic , this means that the DNA sequence is the same when read in a 5'-3' direction on both DNA strand


AND MADAM DNA
As a result the DNA fragments produced by cleavage with these enzymes have short single stranded overhang at each end these kinds of ends are called sticky or cohesive ends because base pairing between them can stick the DNA molecule back together again.

Therefore by cutting two different DNA samples with the same restriction enzyme and mixing the fragments together a recombinant DNA molecule can be generated.
Exceptionally, some enzymes cleave both strand of DNA at exactly the same nucleotide position, typically in the center of the recognition sequence resulting in blunt end or flush end.
Sma I (Serratia marcescens)