Group 18:
The 18 group of the Periodic Table consists of colourless, odourless gases at room temperature, isolated by William Ramsay in 1898 from air.
General/Physical Characteristics of Group 18 Elements:
(i) Electronic configuration- Their valence shell electronic configuration is ns2 np6 except He.
| | | |
| --- | --- | --- |
| Element | Atomic number | Electronic configuration |
| Helium (He) | 2 | 1s2 |
| Neon (Ne) | 10 | [He]2s22p6 |
| Argon (Ar) | 18 | [Ne]3s23p6 |
| Krypton (Kr) | 36 | [Ar] 3d104s24p6 |
| Xenon (Xe) | 54 | [Kr]4d105s25p6 |
| Radon (Rn) | 86 | [Xe] 4f14 5d106s26p6 |

(ii) Physical state- They are all gases under ordinary conditions of temperature and pressure.
(iii) Abundance- In 1.0% air, the abundance follows the order-
Ar > Ne > He > Kr > Xe
(iv) Atomicity- The Cp / Cv = 1.67 shows their monoatomic nature.
However under high energy conditions, several molecular ions such as He+, HeH+, HeH2+and Ar2+ are formed in discharge tubes. They only survive momentarily and are detected spectroscopically.
(v) Melting and boiling points- Due to the increase in magnitude of Van der Waals' forces, the melting point and boiling point increases from He to Rn.
(vi) Atomic radii- The atomic radii increases from He to Rn. It corresponds to the Van der Waals' radii. So it has greatest atomic size in respective period.
(vii) Density- The density of noble gases increases down the group.
(viii) Heat of vaporisation- They have very low values of heat of vaporisation due to weak Van der Waals' forces of attraction. The value increases down the group.
(ix) Solubility in water- They are slightly soluble in water and solubility increases from He to Rn.
(x) Liquefication- It is extremely difficult to liquefy inert gases due to weak Van der Waals' forces of attraction among their molecules. Hence, they posses low value of critical temperature also.
(xi) Ionisation energy- All noble gases possess very stable (ns2 and ns2 np6) electronic configuration. Therefore, ionisation energy of noble gases is very high and decreases down the group.
(xii) Electron affinity- Due to the presence of stable electronic configuration, they have no tendency to accept additional electron. Therefore, electron affinity is almost zero.
Chemical Properties of Group 18 Elements:
The noble gases are inert in nature because of their completely filled subshells. In 1962, the first compound of noble gases was prepared. It is hexafluoroplatinate (prepared by Bartlett).
Xe + PtF6 → Xe[PtF6]
Now, many compounds of Xe and Kr are known with fluorine and oxygen.
Preparation of Compounds of Xenon: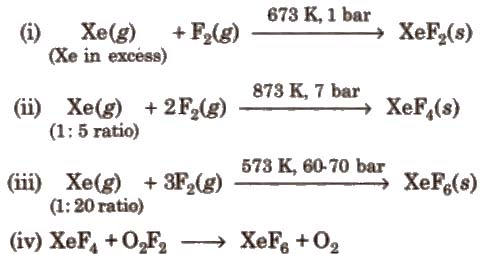 Chemical Reactions of Xenon Compounds: