FRUITS
India is the largest producer of fruits in the world. The availability of fruits, however, is 40 gm per capita per day as against 120 gm recommended by Diet Advisory Committee of ICMR.
India is the largest producer of fruitsThe leading states producing fruits are Karnataka, Tamilnadu, Maharashtra, Himachal Pradesh, Jammu and Kashmir, West Bengal, Uttar Pradesh and Madhya Pradesh. India is endowed with a variety of agro-climatic conditions and soils suited for the production of a variety of fruits such as tropical fruits — mango, banana, coconut, cashew nut, pineapple, orange, etc.; temperate fruits — apple, plum, peach, almond, apricot, grapes; and fruits of arid and semi-arid areas — date palm, custard apple, fig. etc. The total area under fruit production is low, considering India's large population and its rate of growth. Its productivity of fruits and vegetables (barring grape and potato) is also low compared to that of developed countries.
The major constraints to development of fruits are :
(i) Lack of database for identifying the priorities and gaps in perspective planning;
(ii) Inadequate availability of appropriate genotypes and quality planting material;
(iii) Weak post-harvest management infrastructure long gestation period; and
(iv) Heavy initial investment coupled with inadequate finance and high rate of interest.
Plans for the Future
To boost the growth of horticulture, the following points need attention :
(i) A strong research back-up in all the four major constituents of this industry, dissemination of information from laboratory.
(ii) Greater use of modern technology and inputs to increase productivity.
(iii) Training of growers, one-third of the fresh fruits and vegetables are lost at the farm, one-third between farm and road-head, and another one-third between farm and consumer. Training for loss prevention would reduce the losses by 70% to 80%
(iv) Credit facilities at concessional rates to extend the area under horticultural crops and utilise wastelands to some extent.
VEGETABLES
India is the second-largest producer of vegetables after China. Vegetables constitute an important item in the human diet. The daily minimum requirement of vegetables, according to Diet Advisory Committee of ICMR, is 280 gm per capita, i.e. about 20 percent of daily requirement of total food of an adult. However, the availability of vegetables in India is only 120 gm per capita per day. In order to improve the quality of diet of the people it is essential that the production of vegetables should be increased considerably.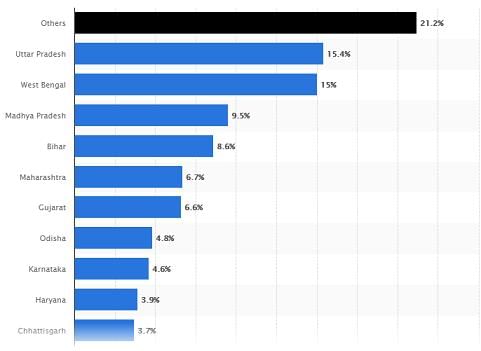 Leading producers of vegetable in IndiaVegetables are grown in India in various ways. There are home and kitchen gardens of urban areas, and market gardens near the metropolitan cities. There is truck farming involving long-distance haulage. There is a specialised and extensive vegetable growing system in different riverbeds. Rainfed cultivation of vegetables is done in Andhra Pradesh, Karnataka, Maharashtra and Tamilnadu. Nearly 60 kinds of leafy fruits and other varieties of vegetables and starchy tubers are being cultivated in India.
Major Constraints
The major constraints to vegetable production are :
(i) Low priority in planning and non-availability of reliable production.
(ii) Low productivity, owing to inadequate supply of inputs, for example, quality seeds and plant protection chemicals, and inefficient marketing system, involving huge post-harvest losses.

More land cannot easily be made available for vegetable cultivation on account of limitation of irrigation facilities, rapid urbanisation and industrial development. Effort should, therefore, be directed at raising productivity levels. The important factors contributing to low productivity are :
(i) Non-availability of adequate quantities of suitable high yielding varieties/hybrid seeds at the right moment;
(ii) Inadequate plant quarantine measure, non-availability of resistant varieties and proven control measures against pests, diseases and weeds; and
(iii) Lack of awareness of new varieties, poor input delivery system, inefficient extension service.

Future Planning
There is enormous potential for tapping 'horticulture power' into a powerful instrument of nutritional security and economic prosperity of small farm families and rural and urban poor. The problems of seed production at the cultivation stage and marketing at the endpoint are equally significant in enhancing vegetable crops productivity and their availability. A national vegetable seed policy and plan for prevention of post-harvest losses should form the strategy in stepping up vegetable production and consumption.

FLORICULTURE
Floriculture refers to cultivation of flower. Flowers, symbolic of beauty, are also important for their economic uses such as for cut blooms and for manufacturing perfumes, cosmetics and other products. As the demand for cut flowers is increasing in the developed countries, floriculture is becoming a potential money-spinner for third world countries. In India floriculture is being viewed as a high growth industry. Commercial floriculture is becoming important from the export angle.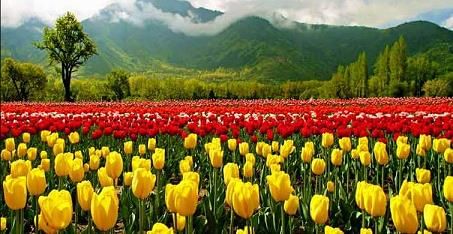 Floriculture in India
India is endowed with diverse agro-climatic conditions which are conducive for growing all kinds of flowers throughout the year.

In addition, skilled and low cost labour is easily available. Major flower producing states are Karnataka, Tamilnadu, Andhra Pradesh, Maharashtra, Rajasthan and West Bengal.
Norway is the largest consumer of flowers and plants followed by Switzerland, Denmark, Sweden and Germany.

The important floricultural crops in the international cut flower trade are rose, carnation, chrysanthemum, gerbera, gladiolus, gypsophila, Liatris, nerine, orchids, archilea, anthurium, tulip, freesia, lilies, iris, alstroemeria, and lisianthus.

India has started making an impact on the world market in cut flowers. India's share in the world trade was only 0.6 percent till 1990 but it has increased after the implementation of government's liberalised economic policies and developmental activities.

Besides cut flowers, floral extracts of rose, jasmine and tuberose, also have good markets.

India can also exploit non-conventional concretes extracted from champaka, parijat, kewada, moulsiri, jasmine and kadamba for export.

Different types of flowers, ferns, leaves and grasses from the Himalayas and deep seas can yield innovative floricultural products for export.

Recently biotechnology has made headway in the production of tissue cultured plants. Tissue cultured plants have good scope for export as they are disease-free.
The greenhouse technology introduced recently in India will make the production of cut flowers cheaper in the country than Europe.
In spite of an abundant and varied production base, India's export of floricultural products is not encouraging due to many constraints including poor production in terms of quality and quantity; lack of planting materials and equipment; high air freight charges; lack of cold storage facilities at airports; inadequate incentives and financial assistance for export; and absence of an organised marketing and monitoring system.