English subject might be ignored by many students as importance is given to other mainstream subjects. But, English is quite an important subject to study especially in the present scenario. It is not very difficult to study but, requires a complete strategy when preparing as it contains quite a few sections that need attention.

English for Class 6 (VI) - CBSE and NCERT Curriculum
Includes 48 docs

English (A Pact with the Sun) for Class 6 (VI)
Includes 20 docs & 53 videos
To help you, here are a few tips to follow while preparing for Class 6 English: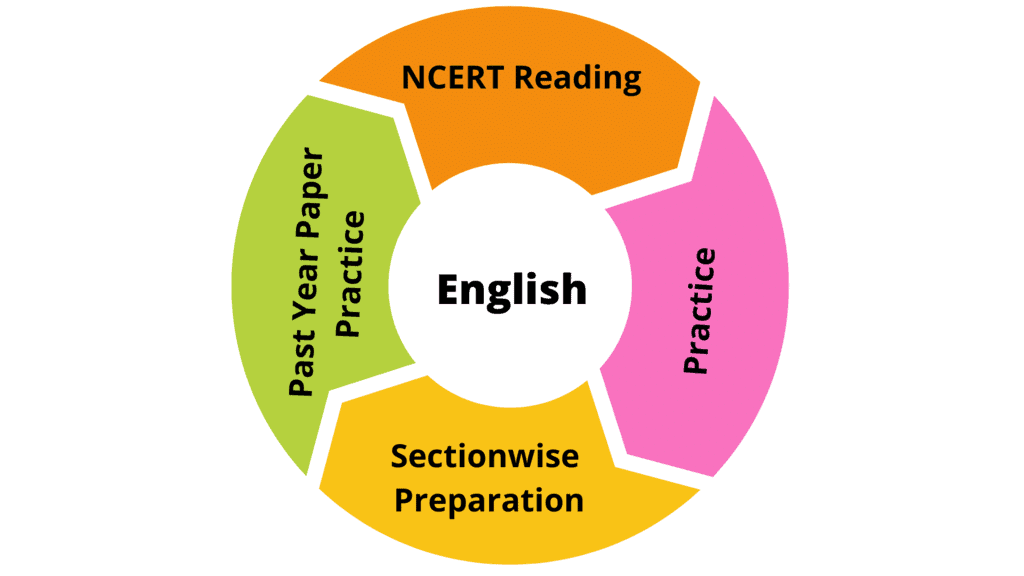 1. Read your NCERT Textbooks thoroughly

You must start with giving a thorough reading to your NCERT Textbooks especially when preparing for Literature section. NCERT Textbooks help in building a base for further learning. Read NCERT books regularly as CBSE board exam question papers are completely based on this book. It is important to read every chapter at least once and answer all the questions given at the end of the chapter. NCERT Solutions will also be of great help here as they contain answers to all questions according to CBSE Pattern.

NCERT Textbooks and Solutions
(a) Honeysuckle
Chapter 1 - Who Did Patrick's Homework
Chapter 2 - How the dog found himself a master!
Chapter 3 - Taro's Reward
Chapter 4 - An Indian-American Women in Space: Kalpana Chawla
Chapter 5 - A Different kind of school
Chapter 6 - Who I Am
Chapter 7 - Fair Play
Chapter 8 - A Game of Chance
Chapter 9 - Desert Animals
Chapter 10 - The Banyan Tree
(b) A Pact with a SunChapter 1 - A Tale of Two Birds
Chapter 2 - The Friendly Mongoose
Chapter 3 - The Shepherd's Treasure
Chapter 4 - The Old-Clock Shop
Chapter 5 - Tansen
Chapter 6 - The Monkey and the Crocodile
Chapter 7 - The Wonder Called Sleep
Chapter 8 - A Pact with the Sun
Chapter 9 - What Happened to the Reptiles
Chapter 10 - A Strange Wrestling Match
2. Practice a lot

Every section in English be it Reading, writing, grammar or literature can be excelled only with a lot of practice. Practice by writing out every answer as writing will help you analyse your grammatical as well as spelling mistakes and help you improve on them. English cannot be studied in a day, practicing it through writing, reading, listening and speaking is the best way to gain mastery over the language.
3. Solve Previous Year Papers

Previous Year question papers are a way of knowing the pattern of the final exam. By solving previous year papers, you will be able to figure out your weaknesses and strengths for various concepts. One must solve previous year papers/ sample papers to get familiar with the questioning pattern and to be able to know how to manage time.
4. Sectionwise Preparation Tips
(a) Reading Comprehension Section
The reading section contains one or two passages and a set of questions based on the passage. Students have to read the passage and answer the questions. So this section essentially checks the attentive reading skill of a student. Passages could be taken from the books, newspapers, journals or any other source and can be based on diverse topics. Hence, a voracious reader is at the benefiting end.
Command in English, as a subject, develops over a period of time. It is not a sudden process of memorisation. Hence, a habit of diverse reading can help students score better. When coping with the examination, time limitation becomes a student's greatest adversary.
In order to strengthen the weak areas, students must keep in mind some tips and tricks:
(i) Special attention should be paid to words that are similar in meaning.
(ii) An eye for detail is necessary in order to grasp the major points of the passage.
(iii) Every passage conveys a hidden message or theme. Try finding that out. This will help you derive meaning of the text easily.
(b) Writing Section
The writing section mainly has two or three sub parts. This section aims to check the student's creative faculty of mind, with a key attention to format and style. This section comprises notice writing, report writing and an essay.
In order to master this section, students must keep in mind following points:
(i) Pay attention to the format, that may carry marks.
(ii) Write short sentences.
(iii) Avoid writing in a passive voice.
(iv) Revise for clarity.
(c) Grammar
The very basic tip to learn grammar is to break a sentence into a few intricate parts and try to explain them to yourself. Grammar primarily consists of conventions and rules, which could be mastered solely by practice. Students must learn grammar with an understanding good enough to explain it to others. This way they will retain more. Hence, group studies are a good idea here.
(d) Literature
Students must read literature with a notion that literature is a way of life. Hence, there is a lot of scope for debate, perceptions and disagreements. There is a lot of scope for creative engagement with the text. To score well, an in-depth knowledge of the text is mandatory. At the same time, students must read a text with an open mind, curiosity and questioning.
The questions in literature section have two or more sub parts. One of them being objective (reference to context) and another being a subjective question (opinion based).
To tackle the first part, students must have a thorough knowledge of their prescribed text. However, reference to context targets the sections of a textbook that are more important as compared to others. For example, a significant conversation between the important characters, a speech or a fight.
While answering subjective questions, students should explore their creative writing skills abundantly, at the same time, validating their answers by referring to the specific text.
Similarly, Prepare For Other Subjects Of Class 6
Social Science Studies (SST) Class 6 (VI) - CBSE, NCERT
Includes 103 docs, 66 videos & 58 tests

Science for Class 6 (VI) - CBSE & NCERT Curriculum
Includes 90 docs, 90 videos & 32 tests

Mathematics Course Class 6- Notes, Questions, Videos & MCQs
Includes 68 docs, 222 videos & 26 tests
Hindi (Vasant) for Class 6 (VI) - CBSE and NCERT Curriculum
Includes 46 docs & 30 videos