INTRODUCTION
Cooperative relations between states are crucial for the harmonious functioning of India's federal system.
Thus, the Constitution makes provisions regarding mutual recognition of public acts etc., inter-state water disputes, inter-state trade and commerce and coordination between states through inter-state councils.
Statutory zonal councils also promote inter-state cooperation and coordination
INTER STATE WATER DISPUTES
Article 262: Adjudication of disputes relating to waters of inter-state rivers or river valleys
Parliament may by law provide for the adjudication of any dispute or complaint with respect to the use, distribution and control of waters of any inter-state river and river Valley
Parliament may also provide that neither the Supreme Court not any other court is to exercise jurisdiction in respect of any such dispute or complaint
Under Article 262, the Parliament has enacted two Laws
(a) The River Boards Act 1956
Provides for establishment of river boards for the regulation and development of interstate river and river valleys
Central government can establish a river board on the request of the states concerned
Till date, no river board has been created
(b) The Inter-State Water Disputes Act 1956
Empowers the Central government to set up an ad-hoc tribunal adjudicating an inter-states water dispute
Section 11 of the Act excludes the SC from jurisdiction in respect of water disputes referred to a tribunal under the Act
The decision of the tribunal is to be final and binding
The tribunal will have powers of a civil court, powers to make schemes for implementing its decisions, etc.
The Inter-states River Water Disputes (Amendment) Bill 2017 is currently pending in the Parliament
Till now, the Central government have set up tribunals, the Central government have set up 8 tribunals.
It has agreed to set up a 9th tribunal for adjudication of dispute on Mahanadi River Waters between the states of Odisha and Chhattisgarh.
INTER-STATE WATER DISPUTE TRIBUNALS SO FAR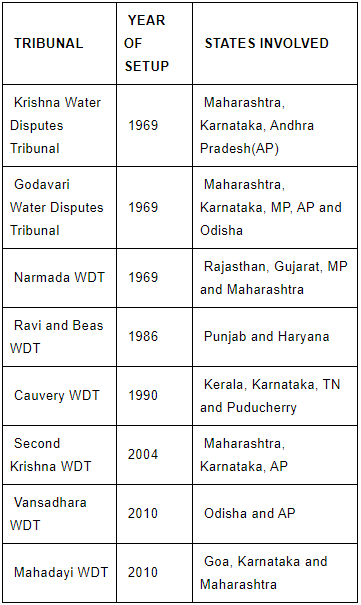 INTER-STATE COUNCILS
Article 263: Provisions with respect to Inter-State Councils
If at any time it appears to the President that the public interests would be served by the establishment of a Council charge with the duty of
(a) inquiring into and advising upon disputes which may have arisen between States;
(b) investigating and discussing subjects in which some or all of the states, or the Union and one or more of the states, have a common interest; or
(c) making recommendations upon any such subject and, in particular, recommendations for the better co-ordination of policy and action with respect to that subject.
It shall be lawful for the President by order to establish such a Council, and to define the nature of its duties to be performed by it and its organisation and procedure.
The Councils duty is complementary to the SC's jurisdiction under Article 131 to settle disputes between the Union and the States or between States.
The Council's function is advisory, unlike the SC's which is binding
The President has established the following councils under Article 263:
(a) Central Council of Health
(b) Central Council of Local Government and Urban Development
(c) Four Regional Councils for Sales Tax for Northern, Eastern, Western and Southern Zones
Sarkaria Commission on Centre-State relations strongly recommended the establishment of a permanent Inter-State Council under Article 263
To be called Inter-Governmental Council
To discharge duties enumerated in Article 263 (b) and 263 (c)
VP Singh (Janata Dal) government established the Inter-State Council in 1990.
Members
(a) PM (Chairperson)
(b) Chief Ministers of all States
(c) Chief Ministers of UTs having legislative assemblies
(d) Administrators of UTs without legislative assemblies
(e) Governors of States under President's Rule
(f) Six Central cabinet Ministers, including Home Minister, rest nominated by the President
(g) 5 Minister of Cabinet rank/Ministers of state to be permanent invitees
This Council to be a recommendatory body on issues relating to inter- state, Centre-state and Centre-UT relations
Promote coordinating
It can also deliberate upon other matters referred to it by the Chairperson
Council has to meet at least thrice a year
Meeting to be held on camera
All questions to be declared & decided by consensus
Council set up a Standing Committee in 1996 for continuous consultation
Members
(a) Union Home Minister (Chairperson)
(b) 5 Cabinet Ministers
(c) 9 CMs
1991: Inter-state Council Secretariat set up, headed by a secretary to the government of India, to assist the council
PUCLIC ACTS, RECORDS AND JUDICIAL PROCEEDINGS
Jurisdiction is each state is its own territory only
Thus, acts of one state may not be recognised in another
To avoid such confusions, the Constitution has a 'Full Faith and Credit' clause (Article 261)
Full faith and credit is to be given throughout the territory of India to public acts, records and judicial proceedings of the Centre and every state,
(a) "Public acts" includes both legislative and executive acts of the government
(b) "Public record" includes any official book, register or record made by a public servant in the discharge of his official duties
Parliament to determine, by Law, the manner in which and the conditions under which records and proceedings are to be proved and their effect.
Final judgements and orders of civil courts in any part of India are capable of execution within India without the necessity of a fresh suit upon the judgement.
INTER STATE TRADE COMMERCE
Articles 301-307
Part XIII
Deal with trade, commerce and intercourse within the territory of India
Article 301: Freedom of trade, commerce and intercourse and guarantees freedom from all restrictions except those provided in other provisions of the Constitution (Articles 302-305)
Article 302: Power of the Parliament to impose restrictions on trade, commerce and intercourse between states or within a state in public interest
Article 303: Restrictions on the legislative powers of the Union and of the states with regard to trade and commerce. Parliament and State legislatures cannot give preference to one state over another or discriminate between state unless there is a scarcity in any part of India
Article 304: Restrictions on trade, commerce and intercourse among States
State legislature can impose reasonable restrictions upon freedom of trade, commerce and intercourse in public interest
A bill for this purpose needs prior sanction of the President before introduction.
State legislature cannot give preference to one state over another or discriminate b/w states.
State legislature can impose on goods imported from other states or UTs to any tax to which similar goods manufactured in that state are subject. Discriminatory taxes cannot be imposed
Article 305: Saving of existing laws and laws providing for certain state monopolies
The parliament or state legislature can make laws for carrying on any trade, business, industry or service, whether to the exclusion, complete or partial, of citizens or otherwise.
Article 306: Power of certain states in Part B of the First Schedule to impose restriction on trade and commerce (Repealed)
Article 307: Appointment of authority for carrying out the purposes of Article 301-304
By Parliament
So far, no such authority appointed
ZONAL COUNCILS
These are statutory bodies under the State's Reorganisation Act of 1956
The act divided the country into 5 zones i.e. Northern, Central, Eastern, Western and Southern and provided a zonal council for each zone
Factors of consideration while forming zones
(a) The natural divisions of the country
(b) The river systems and means of communication
(c) The cultural and Linguistic affinities
(d) Requirements of economic development
(e) Security
(f) Law and order
Members of zonal councils: Have right to vote in meeting
(a) Union Home Minister (common Chairperson of all Zonal councils)
(b) Chief Ministers of all the States in the zone (VC for one year in rotation)
(c) Two other ministers from each state in the zone
(d) Administrator of each union territory in the zone
Advisors of zonal councils (without the right to vote)
(a) A person nominated by the Planning Commission (now NITI Aayog)
(b) Chief Secretary of each state government in the zone
(c) Development commissioner of each state in the zone
Aim: To promote cooperation and coordination between states, UTs and the Centre discuss and make recommendations regarding matters like economic and social planning, minorities, border disputes etc . Only deliberative and advisory bodies
Objectives
To achieve emotional integration of country
To help arrest the growth of acute state- consciousness, regionalism, Linguist, and particularistic trends
To help remove the after-effect of separation in new states the states so that the process of reorganisation, integration and economic advancement may synchronise
To enable the Centre and state to cooperate with each other in social and economic matters and exchange ideas and experience in order to evolve uniform policies
To cooperate with each other in the successful and speedy execution of major development projects
To secure a level of political equilibrium between different regions of the country
NORTH EASTERN COUNCIL
Created by the North-Eastern Council Act of 1971
Members: o Assam, Manipur, Mizoram, Arunachal Pradesh Nagaland, Meghalaya, Tripura and Sikkim
Functions Like that of the other zonal councils
Few additional functions
Formulate a unified and coordinated regional plan covering matters of common importance
Review periodically the measures taken by the member' states for maintenance of security and public order in the region
HEADQUARTERS OF ZONAL COUNCILS