Introduction
Sources
(1) Epigraphic: Fourteen Rock Edicts: found at Manshera (Pakistan), Shahbazgarhi (Afghanistan), Kalsi (U.P.), Girnar (Gujarat), Sopara (Maharastra), Kerragudi (AP), Dhauli and Jaugada (Orissa).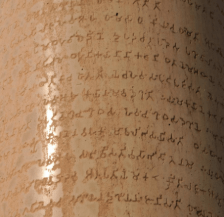 Early Indian Epigraphy
(2) Minor Rock Edicts: Found at Sasharam (Bihar), Roopnath (M.P.), Bairat (Rajasthan) and Brahmagiri (Karnataka).
[A minor rock edict written in Greek and Aramic was found at Kandahar in Afghanistan.]
(3) Seven Pillar Edicts: Lauriya Araraj and Rampurva, Topara, Meerat (U.P.), Lauriya Nandangarh and Allahabad
(4) Four Minor Pillar Edicts: Found at Sarnath, Sanchi and Kausambi.
(5) Bhabru Edict: Found at Bairat.
(6) Two Kalinga Edicts
(7) Barbar Cave Inscriptions
(8) Tazai Pillars
(9) Sannati Rock Edicts: Found at Sannat in gulbarga district of Karnataka.

Categorisation of Inscriptions
(i) 14 Major Rock Edicts: An exposition of Ashoka's principles of government and ethical system.
(ii) Minor Rock Edicts: Throws light on the personal history of Ashoka and summary of Dhamma.
(iii) Seven Pillar Edicts: Appendix to rock edicts.
(iv) Four Minor Pillar Edicts: Refer to penalties for schism in the Sangha.
(v) Bhabru Edicts: Ashoka's reverence for Buddhism.
(vi) Two Kalinga Edicts: The principles on which the newly conquered province of Kalinga was to be governed.
(vii) Barabar cave Inscriptions: Ashoka's toleration.
(viii) Tarai Pillars: Ashoka's respect for Buddhism.
Know the Important Facts

Kautilya gives many details of metallurgical interest and refers to the manufacture of copper, lead, tin, bronze, brass, iron and other wares.

A commentator on Vishnu Purana states that Chandragupta was the son of low born woman, Mura, who is said to be the wife of king Nanda.

In the drama 'Mudrarakshasa' Chandragupta is called both 'Vrishala' and 'Kulahina'.

According to the Buddhist text, 'Mahavamsa' Chandragupta was a scion of the Kshatriyan clan called Moriya.

A Tamil tradition by Mamulanar and Paranar refers to the penetration of the 'Maurya Upstarts' as far as the district of Tinnevelly.

Kautilya contemplates a Nagaraka or Nagaradhyaksa as prefect of the town and under him were the Sthanikas and Gopas.

After Chanakya, Khallataka, mentioned in the Divyavadana, became Bindusara's Prime Minister.

The president of third Buddhist Council was Moggaliputta Tissa, but according to the Northern texts, it was Upagupta.
Archaeological Excavations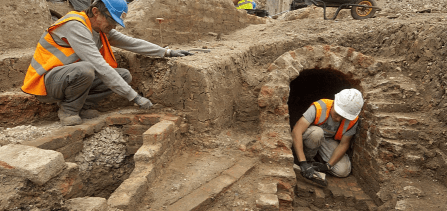 Archaeological Excavation(i) Hastinapur: Made by B.B. Lal
(ii) Taxila: John Marshall
(iii) Ghositearam monastery: by Prof G.R. Sharma
(iv) Kumrahar pillered hall: by A.S. Altekar
(v) Excavations at Rajagriha and Pataliputra

Numismatic
Numismatic evidence is also of value because it throws light on commerce and trade, the prosperity of the age, the metallurgical skills and some common beliefs and concepts of the concerned age.
(i) A large number of coins, mostly of silver, have been found.
(ii) It was in this period that the use of coins became widespread although their first appearance had taken place much earlier.
(iii) The punch-marked coins do not bear names or figure of any kind nor do they carry any date.
(iv) Most of the coins have only symbols like the sun, the moon, tree, and animals etc.
(v) The symbols on these coins are certainly Mauryan official markings.
Some Important Officials

Adhyaksha—The central administration of the Mauryas was conducted by a highly skilled secretariat divided into several departments, each headed by an adhyaksha.

Sannidhata—Chief treasury officer.

Antpala—Governor of frontiers.

Dandapala—Inspector General of police.

Akshapatala—Accountant General

Yuta—A subordinate revenue Officer.

Pradesika—District Officer equivalent to modern District Magistrate.

Vachabhumika—Appointed to look after the rest houses, groves, wells, etc.

Lipikaras—Scribes.

Prativedakas—Reporters etc.

Nagaraka—Officer inchare of a city.
Literary Sources
(1) Kautilya's Arthasastra: It gives a clear and methodological analysis of economic and political conditions of the Mauryan period.
(2) Megasthenese's Indica: Its original is lost, and it has survived only as quotations in the texts of Strabo, Diodorous, Arrian and Pliny.
It refers to Mauryan administration, seven-caste system, absence of slavery and usury in India.
(3) Chankya's Chandragupta Katha: It is a life story of Chandragupta Maurya.
(4) Visakhadatta's Mudra Rakshasha: Deals with the origin of Muryan dynasty and stabilisation of the empire by Chandragupta.
(5) Puranas: They gives us chronology and lists of Mauryan kings.
(6) Buddhist Literature:
(a) Vamsathapakasini gives us information about the origin of the Mauryas.
(b) Digha Nikaya helps in determining the influence of Buddists ideas on Mauryan polity.
(c) Jatakas reveal a general picture of socio-economic conditions of Mauryan period.
(7) Ceylonese Chronicles: Both Dipavamsa and Mahavamsa describe the part played by Ashoka in spreading Buddhism to Sri Lanka.
(8) Tibetan Sources: (a) Divyavadana gives information about Ashoka and his efforts to spread Buddhism.
(9) Parisistaparvan, the Jaina work talks about the conversion of Chandragupta Maurya to Jainism.

Few More Informations

Megasthenes' Indica survived only in the form of fragments in the text by Greek and Roman authors (eg. Arrian)

Arthasastra contains data on the state system, methods of administration, the king's policies, the judiciary, aspects of economy, culture etc.

According to Megasthenes Pataliputra was surrounded by wooden bricks, while Kautilya warned against the use of wood in construction.

Megasthenes had mentioned only five metals, whereas Kautilya knew of many metals and various methods of metal processing.

Megasthenes refers to in his work to a

agronomoi with a wide range of duties where as according to Arthasastra, their functions were performed by different officials.

Megasthenes speaks of six boards, each consisting of five members, which administered Pataliputra where no such information is given in Arthasastra.

A chronicle of the period of Firuz Shah Tughlarecords that on the order of the Sultan, two pillars were brought to his capital.

Two Prakrit Inscriptions in Brahmi one from Mahasthan (Bengal) and the other from Sohgaura (U.P.) describe state assistance to people who had suffered from natural calamities.

The Parisistaparvan of Hemchandra is a biography of Chanakya. It tells about Chanakya's brief stay at Nanda court, his quarrel with the king, and of his vow to revenge.
Know The Important Facts

The empire was divided into a number of provinces, probably, five.

The northern province, called Uttarapatha, had Taxila as its capital.

Western province, known as Avantipatha, had its capital in Ujjain.

Prachyapatha with its capital Toshali (Kalinga) formed the eastern province while Dakshinapatha with its capital Suvarnagiri was the southernmost province.

Central province, Magadha, with its capital at Pataliputra, was the headquarters of the entire kingdom.

According to the Junagadh Inscription of Rudradaman, Saurashtra was governed by Pushyagupta, the Vaishya, at the time of Chandragupta and by the Yavana king Tushaspa at the time of Ashoka.

Taxila was a nigama and issued its own coins.
Dynastic History
(a) I Chandragupta—321 B.C.- 297 B.C. 24 years
II Bindusara — 297 B.C.- 272 B.C. - 25 years
III Ashoka—268 B.C. - 232 B.C.- 36 years
IV Dasaratha—8 years
V Samprati—9 years
VI Salisuka—13 years
VII Devadharman—7 years
VIII Satadhanvan—8 years
IX Brihadratha—7 years
(b) Name of the brothers of Ashoka:
(i) Sumana
(ii) Tisya
(iii) Vitasoka
(c) Wives:
(i) Devi with her full name Vedisa—Mahadevi Sakya Kumari
(ii) Karuvaki called Dvitiya devi Tivalamata
(iii) Asandhimitra designated as agramahisi
(iv) Padmavati
(v) Tisyaraksita
(d) Sons:
(i) Mahendra
(ii) Tivara
(iii) Kunala
(iv) Jalauka mentioned in the Kashmir chronicle.
(e) Daughters:
(i) Sanghamitra
(ii) Charumati
(f) Son-in-Laws:
(i) Agnibrahma—Husband of Sangamitra
(ii) Devapala Kshtriya—Husband of Charumati
(g) Grandsons:
(i) Dasaratha
(ii) Samprati
(iii) Sumana, son of Sanghamitra.

Menial staff of the King
(i) Kanchuka
(ii) Ushnishi
(iii) Kalpaka
(iv) Prasadhaka
(v) Sanapaka
[Suda & Aralika: Cooks for preparing varieties of food and beverage.]

Code of Conduct (Dhamma)
Susrusha—Obedience to father, mother, elders, teachers and men of high caste.

Apachiti—Respect of pupils and gurus.

Sampratipatti—Proper treatment of ascetics, relations, servants, and dependents, the poor and miserable, friends, etc.

Danam—Liberality towards ascetics, friends, and the aged.

Avihimsa—Abstention from slaughter of living beings.