Irrigation
Irrigation &
Multi-Purpose projects
Irrigation is an artificial supply of water to meet hr moisture requirements of plants.
As the Monsoon is erratic and is adequate only over 1/3rd of the country it becomes necessity.
Thus it is essential to overcome spatial and temporal variations of rainfall
Sources of Irrigation
Mainly three types of sources are used for irrigation purposes in India.
These are:
Wells (including tube wells),
Canals and
Tanks
Well irrigation
50% of the total irrigated area is irrigated by Wells (Including tube well and pumping sets)
Suitable for areas with permeable rock structure and level topography
Sources of Irrigation
Mainly three types of sources are used for irrigation purposes in India.
These are:
Wells (including tube wells),
Canals and
Tanks
Well irrigation
50% of the total irrigated area is irrigated by Wells (Including tube well and pumping sets)
Suitable for areas with permeable rock structure and level topography
Top 5 states using Well irrigation
Gujarat
Uttar Pradesh
Rajasthan
Punjab
Maharashtra
Canal irrigation
Canals irrigate about 40% of the total irrigated area of India
It is possible in area with extensive plains and are drained by well distributed perennial rivers
Its operational cost is minimum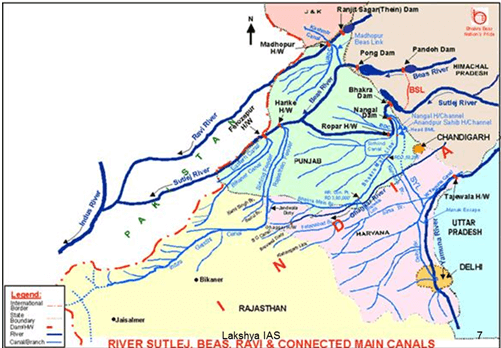 Canal irrigation is important in
Punjab
Haryana
Western U.P
Assam,
W.B
Coastal Orissa and A.P
Canals are absent in Northeast states
Drawbacks
Cause salinisation of soil cover
Saturation of water leads to water-logging
Tanks contribute 10% of the net irrigated area in the country.
Prevalent in uneven and relatively rocky plateau of peninsular India
Prevalent in Tamil Nadu, Andhra Pradesh, Maharashtra
Drawbacks
It renders vast fertile land around tank useless
Loss of water due to evaporation
Not a perennial source
Multipurpose Projects
A multipurpose project is a river valley project which serves a number of purposes all at once, such as:
1) Eliminates or reduces flooding
2) impounds water for later use - irrigation, human consumption, industrial consumption
3) lake fisheries
4) power generation
5) transportation
6) recreation
1) displaces many people
2) loss of arable land
3) salinisation of irrigated land
4) damages riverine ecologies
5) may damage river and estuary fisheries
6) reduces water flow and thus may impede down river simple irrigation
7) may increase pollution
Bhakra Nangal Project
it is the largest in India on Sutlej River. It's a joint venture of Punjab, Harayana and Rajasthan.
it has five purposes: Two dams at Bhakra and Nangal Nangal hydel channel Powerhouse of 1, 204 MW Electric transmission Bhakra canal system for irrigation Bhakra Dam is near Roopnagar, Ropar dist.
The dam is 226m in height, 518m in length, 312m in width; behind it is Govind Sagar Lake.
Nangal Dam 13 km from Bhakra dam, its height is 29m, length 305m, and width 121m.
Damodar Valley Project
Damodar is a tributary of Hughly river in Bengal and has four dams. It was setup on 19th Feb 1948 .
The four dams are:

Tilaiya dam on Basakar River
Konar dam on Konar River is in Hazarihagh
Maithan dam on the confluence of Basakar and Damodar Rivers
Panchet hill dam on Damodar river, completed in 1959
Indira Gandhi Canal Project
It is the world's largest irrigation project to provide irrigation to semi arid and arid regions of Rajasthan.
Water from Pong barrage built over Beas River is being utilized.
It has two stages, in the first stage construction of the Rajasthan feeder, 189 km long Rajasthan main and about 3, 183km long distribution have been taken. The second stage comprises the construction of the remaining part of the Rajasthan main canal and 5, 409km long distributaries.
Hirakund project
Hirakud Dam: 61m high, 4801m long, on Mahandi rivers (orissa)
It is the largest dam in India and one of the largest dams of the world.
Kosi Project
It was started in 1955 with given objectives of Irrigation, Flood control, Power generation, Land reclamation, Fishing and Navigation
There are three units at this Kosi Project

A barrage near Hanumannagar (Nepal),
Flood embankments, built in 1959, 270km
Eastern Kosi canal, 43.5km long,
a powerhouse of 20 MW, has been installed, which is shared by both India and Nepal.
Rihand Valley Project
on river Rihand a tributary of Son, near Pipri in Mirzapur
Govind Ballabh PantSagar, is the largest map made reservoir in India.
Chambal Valley Project
It is a joint venture of M. P and Rajasthan started in 1954 on Chambal River (tributary of Yamuna)
In the first stage the dam was 64m high and 514m long, was called Gandhi Sagar Dam, it is in chaurasigarh near Bhanpura, built in 1960.
In the second stage, one more dam was built which was 54m high and 1143m long was named Ranapratap Masonry Dam.
In the third stage, the dam was 548m long and 45m high called Jawahar Sagar dam at Kota Dam, constructed in 1971.
Tungbhadra Multipurpose Project
It is a joint venture of Karnataka and Andhra Pradesh
The dam is 50m high and 2, 441m long on Tungbhadra River (a tributary of Krishna)
It is built in Bellary dist. Of Karnataka
Gandak Project
Joint venture of Bihar and U. P
This project has 7.47m long and 9.81m high barrage at Bhansolotan in Valmikinagar in Bihar
The project was completed in 1966-67
Head Regulator is at Triveni
The barrage has four canal two each for India and Nepal
Narmada Valley Project
The project aims to have 29 major and 3, 000 small dams-The project was concieved in 1945-46.
The largest project is Sardar Sarovar Project has the capacity of 77 lakh hectare and will provide is irrigation to 17.92 lakh hectares in Gujarat.
Two power stations will produce 1, 450 MW of hydroelectricity
Second major project is Narmada Sagar project started in 1984.
Nagarajuna Sagar Project
Started in 1955-56, the dam is on Krishna River in Nalgonda dist
Its height is 124.7m and length is 1450m.
It has two canals Jawahar on the right and Lal Bahadur canal on the left
Vyas Project (BEAS)
It is a joint venture of Punjabi, Haryana and Rajasthan
It has two parts, Beas Sutlej link and Pong dam
Beas Sutlej is 61 m high and is in Pandoh (H. P), and Pong is 116m, high at Dhauladhar in Pong near Beas.
Ramganga Project
Ramganga is a tributary of Ganga
Aim of the project is to provide irrigation facilities in western U. P, to supply drinking water to Delhi and to control the floods in western and central U. P
This project includes:
A dam across the Ramganga river and a Saddle dam of height 75.6m across the Ghuisot steam near Kalagarh in dist of Garhwal .
A feeder canal, 82km in length originating from Hereoli River Remodelling of 3388km of existing dam and 3880km long new branch canals .
Mayurakshi Project
Mayurakshi is a tributary of the Hugli River
Purpose behind this project is four fold- Create irrigation potential, Generate power, Control floods and Control erosion
A barrage is constructed across the Mayurakshi River at Tilpara.
Two irrigational canals are attached with the Tilpara barrage with total length of 1367 km and providing irrigation in West Bangal and Bihar 4, 000 KW of electricity is supplied to Birbhum, Murshidabad and Santhal Pargana, which is generated by this project.
Tehri Dam Project
Alaknanda is the river on which this dam is being constructed in Tehri district of Uttranchal
Motives behind this project is to collect the flood water of the Bhagirathi and the Bhilangana rivers in a large reservoir behind the dam Hydroelectricity generation, To provide irrigation facilities to agricultural land in the westem U P
Tehri dam has a distinction of highest rock fill dam in the country
Farraka Barrage Project
River Navigation and to augment the water flow river is the main objective of this project.
A barrage across the Ganga River, 2, 240 in length to maintain 271 lakh cu sec of flood discharge
60, 000 cusec of floodwater flow to be maintained by a barrage across the Bhagirathi river length will be 213 m.
A feeder canal 38.38km in length to divert 40, 000 cusecs of water to Hugh River Providing infrastructure to develop river navigation and To build a rail cum road bridge to connect West Bengal with North East India.
Some other Projects
Ukai Project: On River Tapti in Gujarat.
Periyar Project: On River Periyar in Kerala.
Tawa Project: On Tawa River. M P
Mata Teela Dam: On River Betwa, Jhansi; U. P
Salal: On River Chenab
Kalindi: Karnataka
Naptha Jhakri: Himachal Pradesh.
Dulhasti: Jammu and Kashmir on river Chenab.