Introduction
The tiger reserves of India were set up in 1973 and are governed by Project Tiger, which is administrated by the National Tiger Conservation Authority. Until 2018, 50 protected areas have been designated tiger reserves.
India is home to 80 percent of tigers in the world. In 2006, there were 1,411 tigers which increased to 1,706 in 2010, 2,226 in 2014 and 2,967 in 2018.[2] The Indian increase played a big role in driving up global populations as well; the number of wild tigers globally rose from 3,159 in 2010 to 3,890 in 2016 according to World Wildlife Fund and Global Tiger Forum.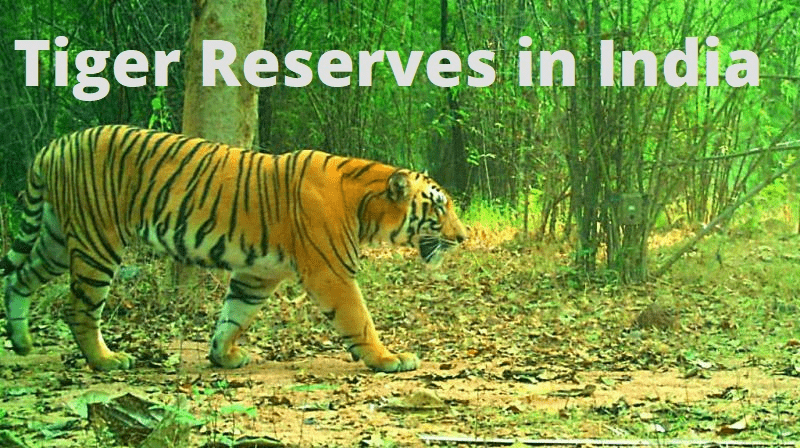 A protected area statutorily designated for the conservation of the striped big cats is referred to as Tiger Reserve.
Important Points
Try yourself:

_________ is the largest tiger reserve in terms of Area.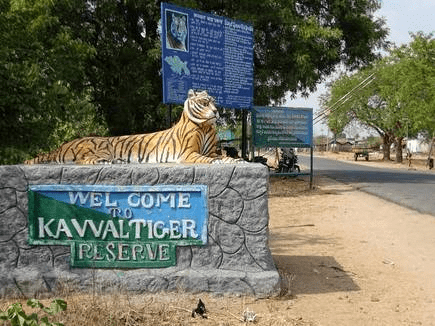 Kawal Tiger Reserve is located at Jannaram mandal of Mancherial District
List of Tiger reserves in India
SR.

No.

Tiger Reserve

State

Total Area (km2)

1

Bandipur

Karnataka

1456

2

Jim Corbett

Uttarakhand

1288

3

Kanha

Madhya Pradesh

2052

4

Manas

Assam

3151

5

Melghat

Maharashtra

2769

6

Palamau

Jharkhand

1130

7

Ranthambore

Rajasthan

1411

8

Similipal

Odisha

2750

9

Sunderbans

West Bengal

2585

10

Periyar

Kerala

925

11

Sariska

Rajasthan

1213

12

Buxa

West Bengal

758

13

Indravati

Chhattisgarh

2799

14

Namdapha

Arunachal Pradesh

2053

15

Dudhwa

Uttar Pradesh

2202

16

Kalakkad-Mundanthurai

Tamil Nadu

1602

17

Valmiki

Bihar

899

18

Pench

Madhya Pradesh

1180

19

Tadoba

Maharashtra

1728

20

Bandhavgarh

Madhya Pradesh

1598

21

Panna

Madhya Pradesh

1579

22

Dampa

Mizoram

988

23

Bhadra

Karnataka

1064

24

Pakhui

Arunachal Pradesh

1198

26

Nameri

Assam

344

27

Satpura

Madhya Pradesh

2133

28

Anamalai

Tamil Nadu

1480

29

Udanti-Sitanadi

Chhattisgarh

1843

30

Satkosia

Odisha

964

31

Kaziranga

Assam

1174

32

Achanakmar

Chhattisgarh

914

33

Kali

Karnataka

1098

34

Sanjay-Dubri

Madhya Pradesh

1675

35

Mudumalai

Tamil Nadu

689

36

Nagarahole

Karnataka

1206

37

Parambikulam

Kerala

644

38

Sahyadri

Maharashtra

1166

39

Biligiriranga

Karnataka

575

40

Kawal

Telangana

2019

41

Sathyamangalam

Tamil Nadu

1408

42

Mukandra Hills

Rajasthan

760

43

Nawegaon-Nagzira

Maharashtra

1895

44

Nagarjunsagar-Srisailam

Andhra Pradesh

3296

45

Amrabad

Telangana

2611

46

Pilibhit

Uttar Pradesh

730

47

Bor

Maharashtra

816

48

Rajaji

Uttarakhand

1075

49

Orang

Assam

492

50

Kamlang

Arunachal Pradesh

783
Try yourself:Kawal tiger reserve is located in ______