Mineral Resources in India
Mineral Resources in India
A naturally occurring substance that has a definite chemical composition is a mineral.
Minerals are formed in different types of geological environments, under varying conditions.
They are created by natural processes without any human interference.
They can be identified on the basis of their physical properties such as colour, density, hardness and chemical property such as solubility.
Types of Mineral Resources
Minerals
Metallic Minerals: The metallic minerals contain metal in raw form. Metallic minerals may be ferrous or non-ferrous.

Ferrous Minerals: Ferrous minerals like iron ore, manganese and chromites contain iron.
Non ferrous minerals: A non ferrous mineral does not contain iron but may contain some other metal such as gold, silver, copper or lead.
Non-Metallic Minerals: The non-metallic minerals do not contain metals. Limestone, mica and gypsum are examples of such minerals
Distribution of Minerals in India
The North-Eastern Plateau Region
This belt covers Chotanagpur (Jharkhand), Orissa Plateau, West Bengal and parts of Chhattisgarh.
It has variety of minerals viz. iron ore coal, manganese, bauxite, mica.
The South-Western Plateau Region
This belt extends over Karnataka, Goa and contiguous Tamil Nadu uplands and Kerala.
This belt is rich in ferrous metals and bauxite.
It also contains high grade iron ore, manganese and limestone. This belt packs in coal deposits except Neyveli lignite.
This belt does not have as diversified mineral deposits as the north-eastern belt. Kerala has deposits of monazite and thorium, bauxite clay.
The North-Western Region
This belt extends along Aravali in Rajasthan and part of Gujarat and minerals are associated with Dharwar system of rocks.
Copper, zinc have been major minerals. Rajasthan is rich in building stones i.e. sandstone, granite, marble.
Gypsum and Fuller's earth deposits are also extensive.
The Himalayan belt is another mineral belt where copper, lead, zinc, cobalt and tungsten are known to occur.
Assam valley has mineral oil deposits.
Besides oil resources are also found in off-shore-areas near Mumbai Coast (Mumbai High).
Mineral resources in India
Iron: Orissa, Bihar, Madhya Pradesh, Jharkhand, Chhattisgarh, Tamil Nadu, Karnataka, Andhra Pradesh, Kerala, Goa.
Copper: Jharkhand,Andhra Pradesh, Gujarat, Karnataka, Rajasthan, Madhya Pradesh, Uttar Pradesh, Sikkim.
Coal: Bihar-Bengal- Jharkhand coal belt, Madhya Pradesh, Chhattisgarh, Orissa, Maharashtra, Andhra Pradesh.
Petroleum Assam, Gujarat, Maharashtra.
Lead and Zinc Rajasthan, Jharkhand, Gujarat, West Bengal, Andhra Pradesh, Meghalaya, Sikkim.
Nickel Orissa, Jharkhand.
Manganese Maharashtra, Madhya Pradesh, Goa, Orissa, Karnataka, Rajasthan.
Chromite Orissa, Maharashtra, Jharkhand, Karnataka, Tamil Nadu, Madhya Pradesh, Chhattisgarh, Manipur.
Tungsten Rajasthan, Maharashtra, Haryana, West Bengal, Andhra Pradesh.
Gold Karnataka, Andhra Pradesh.
DISTRIBUTION IN INDIA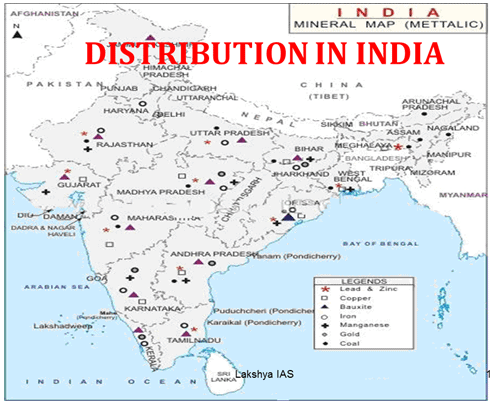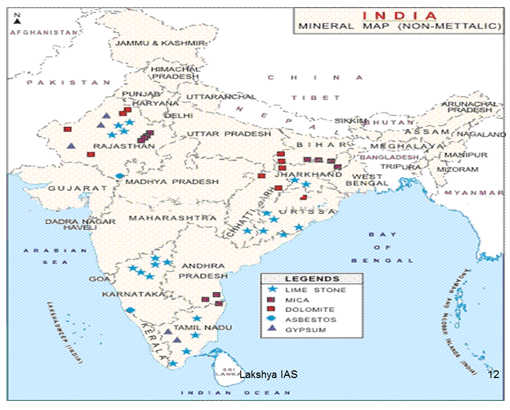 Iron:
India produces four types of iron ores Haematite, Magnetite, Limonite and Siderite.
Total iron ore reserves 2,158.3 crore tonnes.
The mineral is found mainly in Jharkhand, Orissa, Chhattisgarh, Madhya Pradesh, Goa, Maharashtra and Karnataka.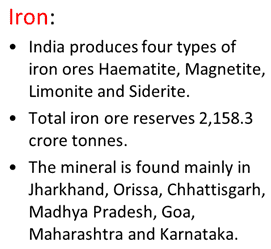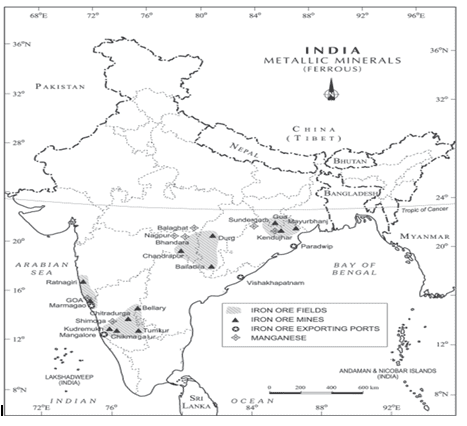 Manganese: India's manganese deposits lie in Maharashtra, Madhya Pradesh, Chhattisgarh, Orissa, Karnataka and Andhra Pradesh.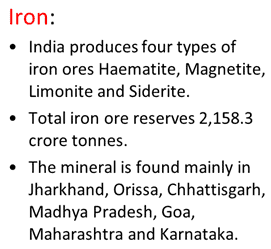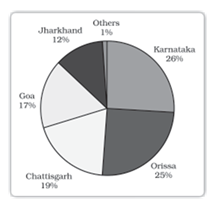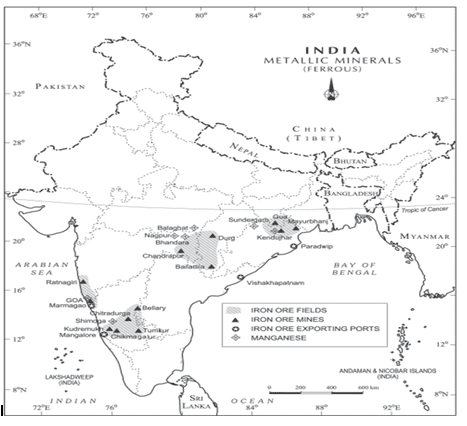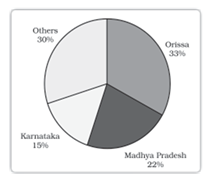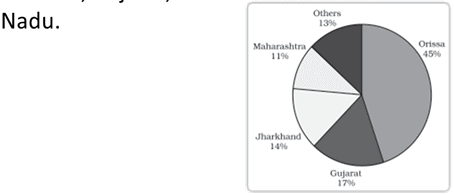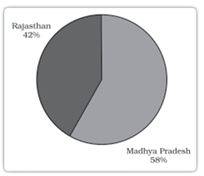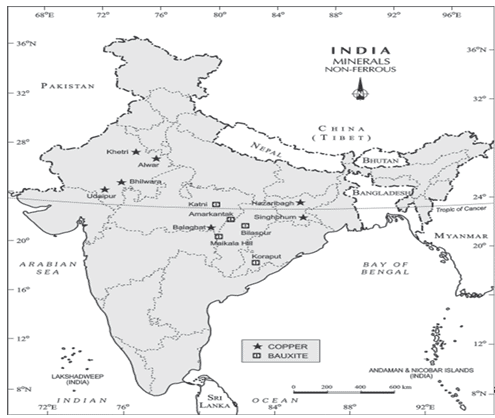 Mica: Mica deposits mainly occur in Jharkhand, Bihar, Andhra Pradesh and Rajasthan. India is the largest producer and exporter of mica in the world.
Limestone:
Major limestone producing states in India are Bihar, Jharkhand, Orissa, Madhya Pradesh, Chhattisgarh, Rajasthan, Gujarat and Tamil Nadu.
Gold: Kolar in Karnataka has deposits of gold in India. These mines are among the deepest in the world which makes mining of this ore a very expensive process.
Salt: It is obtained from seas, lakes and rocks. India is one of the world's leading producers and exporters of salt.

Energy resources in India
POWER RESOURCES
Power or energy plays a vital role in our lives.
We also need power for industry, agriculture, transport, communication and defence.
Power resources may be broadly categorized as conventional and non-conventional resources.
Conventional Sources
Conventional sources of energy are those which have been in common use for a long time.
Firewood and fossil fuels are the two main conventional energy sources.
Coal
Coal is a one of the important minerals which is mainly used in the generation of thermal power and smelting of iron ore.
Coal occurs in rock sequences mainly of two geological ages, namely Gondwana and tertiary deposits.
About 80 per cent of the coal deposits in India is of bituminous type and is of non-coking grade.
The most important Gondwana coal fields of India are located in Damodar Valley.
Tertiary coals occur in Assam, Arunachal Pradesh, Meghalaya and Nagaland.
Besides, the brown coal or lignite occur in the coastal areas of Tamil Nadu, Pondicherry, Gujarat and J&K.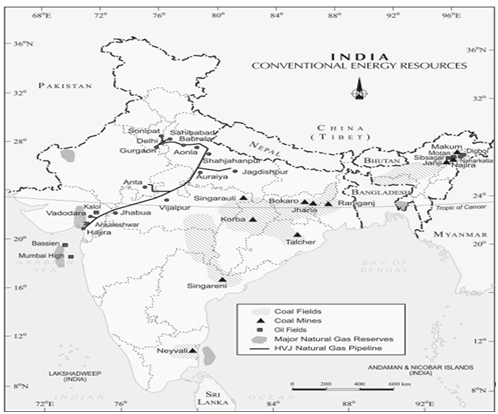 Solar Energy
Solar energy trapped from the sun can be used in solar cells to produce electricity.
Many of these cells are joined into solar panels to generate power for heating and lighting purpose.
Solar energy is also used in solar heaters, solar cookers, solar dryers besides being used for community lighting and traffic signals.
The western part of India has greater potential for the development of solar energy in Gujarat and Rajasthan.


The Ministry of non-conventional sources of energy is developing wind energy in India to lessen the burden of oil import bill.
The country's potential of wind power generation exceeds 50,000 megawatts, of which one fourth can be easily harnessed.
In Rajasthan, Gujarat, Maharashtra and Karnataka, favourable conditions for wind energy exist.
Wind power plant at Lamba in Kachchh in Gujarat is the largest in Asia. Another, wind power plant is located at Tuticorin in Tamil Nadu.
Geothermal Energy
Heat energy obtained from the earth is called geothermal energy.
This heat energy can successfully be tapped and converted to electrical energy.
In India, geothermal plants are located in Manikaran in Himachal Pradesh and Puga Valley in Ladakh.
TIDAL ENERGY
Energy generated from tides is called tidal energy.
Tidal energy can be harnessed by building dams at narrow openings of the sea. During high tide the energy of the tides is used to turn the turbine installed in the dam to produce electricity.
Gulf of Kachch in India have huge tidal mill farms.
BIOGAS
Organic waste such as dead plant and animal material, animal dung and kitchen waste can be converted into a gaseous fuel called biogas.
The organic waste is decomposed by bacteria in biogas digesters to emit biogas which is essentially a mixture of methane and carbon dioxide.
Biogas is an excellent fuel for cooking and lighting and produces huge amount of organic manure each year.
This will improve economic life of rural areas in developing countries, reduce environmental pollution, enhance self-reliance and reduce pressure on fuel wood.
One such project converting municipal waste into energy is Okhla in Delhi.
Conservation of Mineral Resources
There is an urgent need to conserve the resources.
The alternative energy sources like solar power, wind, wave, geothermal energy are inexhaustible resource.
These should be developed to replace the exhaustible resources.
In case of metallic minerals, use of scrap metals will enable recycling of metals.
Use of scrap is specially significant in metals like copper, lead and zinc in which India's reserves are meagre.
Use of substitutes for scarce metals may also reduce their consumption.
Export of strategic and scarce minerals must be reduced, so that the existing reserve may be used for a longer period.