MINISTRY OF COMMUNICATION AND IT
H.1. NATIONAL OPTICAL FIBRE NETWORK
Department of Electronics and IT
Objective

Intended beneficiary

Salient features

 To provide broadband connectivity to over two lakhs Gram Panchayats through optical fibre network.

 To provide a minimum bandwidth of 100 Mbps to each of the 2.5 lakhs GPs.

 Link 600 million rural citizens of India across 2.5 lakhs Gram Panchayats of India.

 Landmark initiative in taking forward the vision of Digital India

 A digitally empowered society and knowledge economy.

 100 Mbps bandwidth to every GP, thereby facilitating delivery of e-governance, e-health, e-education, e-banking, public internet access, G2C, B2B, P2P, B2C etc., weather, agricultural and other services to rural India.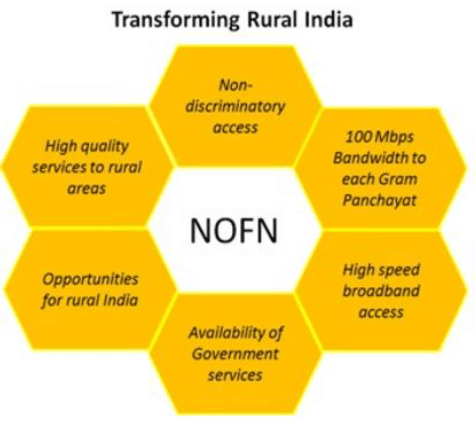 H.2. NATIONAL SCHOLARSHIPS PORTAL
Department of Electronics & Information Technology
Objective

Intended beneficiary

Salient features

 To ease scholarship process right from submission of student application, verification, sanction and disbursal to end beneficiary

 A platform for disbursal for all the scholarships provided by the government of India.

 Students

 Institutions

 State government departments

 Central ministries /departments

Simplified process for

 The students common application form for all scholarships

 Onetime registration of students based on eligibility criteria,

 System itself suggests the schemes for which a student is eligible

Improved transparency

Elimination of duplicate applications
Release of scholarship amount directly to bank accounts of students through DBT

SMS and e-mail alerts at every step of scholarship process
Serve as a decision support system (DSS) as up-to date information is available on demand
Scalable and configurable platform
H.3. JEEVAN PRAMAAN
Department of Electronics and IT
Objective

Intended beneficiary

Salient features

 To facilitate on-line submission of Life Certificate by pensioners

 To streamline the process of getting Life certificate and making it hassle free and much easier for the pensioneRs.

 Pensioners

 AADHAR Biometric Authentication based digital life certificates for Pensioners.

 It will do away with the requirement of a pensioner having to submit a physical Life Certificate in November each year, in order to ensure continuity of pension being credited into their account.

 Submission of Digital Life Certificate also ensures authenticity of pension payments.
Production Linked Incentive (PLI) Scheme For Promoting Telecom & Networking Products
The PLI Scheme is being launched by DoT with the objective to boost domestic manufacturing in the telecom and networking products by incentivising incremental investments and turnover with total outlay of ₹ 12,195 crore. The scheme is effective from 1st April, 2021. Investment made by successful applicants in India from 1st April, 2021 onwards and up to FY 2024-25 shall be eligible, subject to qualifying incremental annual thresholds. The support under the Scheme shall be provided for a period of five (5) years, i.e. from FY 2021-22 to FY 2025-26.
As per Scheme and Scheme Guidelines, a total of 31 companies, comprising of 16 MSMEs and 15 Non-MSMEs (8 Domestic and 7 Global companies) have been found eligible and are being given approval under Production linked Incentive (PLI) Scheme of Department of Telecommunications (DoT), Ministry of Communications. The eligible MSME companies are:
(i) Coral Telecom Limited
(ii) Ehoome IoT Private Limited
(iii) Elcom Innovations Private Limited
(iv) Frog Cellsat Limited
(v) GDN Enterprises Private Limited
(vi) GX India Private Limited
(vii) Lekha Wireless Solutions Pvt Ltd
(viii) Panache Digilife Limited
(ix) Priyaraj Electronics Limited
(x) Sixth Energy Technologies Private Limited
(xi) Skyquad Electronics and Appliances Private Limited
(xii) STL Networks Limited
(xiii) Surbhi Satcom Private Limited
(xiv) Synegra Ems Limited
(xv) Systrome Technologies Private Limited
(xvi) Tianyin Worldtech India Private Limited
The eligible domestic companies under Non MSME category are
(i) Akashastha Technologies Private Limited,
(ii) Dixon Electro Appliances Private Limited,
(iii) HFCL Technologies Private Limited,
(iv) ITI Limited,
(v) Neolync Tele Communications Private Limited,
(vi) Syrma Technology Pvt Ltd,
(vii) Tejas Networks Limited and
(viii) VVDN Technologies Private Limited.
The eligible global companies under Non MSME category are
(i) Commscope India Private Limited,
(ii) Flextronics Technologies (India) Pvt Limited
(iii) Foxconn Technology (India) Private Limited,
(iv) Jabil Circuit India Private Limited,
(v) Nokia Solutions and Networks India Private Ltd,
(vi) Rising Stars Hi-Tech Private Limited,
(vii) Sanmina-SCI India Private Limited.
As per commitments given by applicants, these 31 applicants are expected to invest ₹ 3345 crore in the next 4 years and generate incremental employment of more than 40,000 people with expected an incremental production of around ₹ 1.82 Lakh Crore over the scheme period. The scheme is expected to boost domestic Research & Development of new products on which 15% of the committed investment could be invested.
Bharat Net Project
Recently, the Union Cabinet approved a Viability Gap Funding support of up to Rs. 19,041 crore (Out of the total expense of Rs. 29,430 crore) for the implementation of the BharatNet project through Public-Private Partnership model.
Public-Private Partnership (PPP) involves collaboration between a government agency and a private-sector company that can be used to finance, build, and operate projects. The PPP Model in this critical infrastructure of Telecom is a novel initiative.
Viability Gap Funding (VGF) means a grant one-time or deferred, provided to support infrastructure projects that are economically justified but fall short of financial viability.
Key Points
About:

It is the world's largest rural broadband connectivity programme using Optical fibre. And also a flagship mission implemented by Bharat Broadband Network Ltd. (BBNL).
BBNL is a Special Purpose Vehicle (SPV) set up by the Government of India under the Companies Act, 1956 with an authorized capital of Rs 1000 crore.
It is a highly scalable network infrastructure accessible on a non-discriminatory basis, to provide on demand, affordable broadband connectivity of 2 Mbps to 20 Mbps for all households and on demand capacity to all institutions, to realise the vision of Digital India, in partnership with States and the private sector.
It is being implemented by the Department of Telecommunication under the Ministry of Communications.
National Optical Fibre Network (NOFN) which was launched in October 2011 was renamed as Bharat Net Project in 2015.
NOFN was envisaged as an information superhighway through the creation of a robust middle-mile infrastructure for reaching broadband connectivity to Gram Panchayats.
In 2019, the Ministry of Communications also launched the 'National Broadband Mission' to facilitate universal and equitable access to broadband services across the country.

Funding:

The entire project is being funded by Universal service Obligation Fund (USOF), which was set up for improving telecom services in rural and remote areas of the country.

Objective:

The objective is to facilitate the delivery of e-governance, e-health, e-education, e-banking, Internet and other services to rural India.

Phases of the Project:

First Phase:

Provide one lakh gram panchayats with broadband connectivity by laying underground Optic Fibre Cable (OFC) lines by December 2017.

Second Phase:

Provide connectivity to all the gram panchayats in the country using an optimal mix of underground fibre, fibre over power lines, radio and satellite media by March 2019.

Third Phase:

From 2019 to 2023, a state-of-the-art, future-proof network, including fibre between districts and blocks, with ring topology to provide redundancy would be created.

Current Extension of BharatNet:

The project will be extended to all inhabited villages beyond the gram panchayats in 16 States which are:
Kerala, Karnataka, Rajasthan, Himachal Pradesh, Punjab, Haryana, Uttar Pradesh, Madhya Pradesh, West Bengal, Assam, Meghalaya, Manipur, Mizoram, Tripura, Nagaland and Arunachal Pradesh.
The revised strategy will include creation, upgrading, operation, maintenance and utilisation of BharatNet by the private sector partner, who will be selected by a competitive international bidding process.
The selected private sector partner is expected to provide reliable, high speed broadband services as per predefined Services Level Agreement (SLA).

Significance of PPP in BharatNet:

Faster Roll Out: The PPP Model will leverage private sector efficiency for operation, maintenance, utilisation and revenue generation and is expected to result in the faster roll out of BharatNet.
Increased Investment: The private sector partner is expected to bring an equity investment and raise resources towards capital expenditure and for operation and maintenance of the network.
Better Access: Extension of BharatNet to all inhabited villages will enable better access to e-services offered by various governments, enable online education, telemedicine, skill development, e-commerce and other applications of broadband.
National Broadband Mission
Objectives
Broadband access to all villages by 2022
Laying of incremental 30 lakhs route km of Optical Fiber Cable and increase in tower density from 0.42 to 1.0 tower per thousand of population by 2024.
Creation of a digital fiber map of the Digital Communications network and infrastructure, including Optical Fiber Cables and Towers. Significantly improve quality of services for mobile and internet.
Develop a Broadband Readiness Index (BRI). Address policy and regulatory changes required to accelerate the expansion and creation of digital infrastructure and services
The Ministry of Communications has launched 'National Broadband Mission' that will facilitate universal and equitable access to broadband services across the country, especially in rural and remote areas.
The Mission is part of the National Digital Communications Policy, 2018.
The vision of the Mission is to fast-track growth of digital communications infrastructure, bridge the digital divide, facilitate digital empowerment and inclusion, and provide affordable and universal access of broadband for all.
It can be noted that through BharatNet, broadband services have reached in as many as 142,000 village blocks, and the latest mission aims to offer broadband for all by 2022 including remotely-located hospitals, schools and post offices.