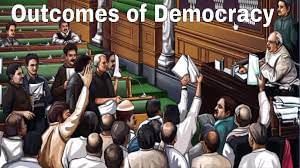 Q1. How does democracy produce an accountable, responsive and legitimate government?
Ans:
In a democracy, people have the right to elect their rulers and participate in decision making that affects them all. The government thus is accountable to the citizens and responsive to their needs and expectations.
Democracy is based on the idea of deliberation and negotiation, though it results in delays. It ensures that decision making is based on norms and procedures and allows transparency. Develops mechanisms for citizens to hold the government accountable.
Set up following practices and institutions: regular, free and fair elections; open public debate on major policies and legislations; and citizens' right to information about the government and its functioning.
It may be reasonable to expect from democracy a government that is attentive to the needs and demands of the people and is largely free of corruption. Though the record of democracies is not impressive on these two counts.
Democratic government is a legitimate government. It may be slow, less efficient, not always very responsive or clean, but is people's own government. People wish to be ruled by representatives elected by them.

Q2. What are the conditions under which democracies accommodate social diversities?
Ans: Democracies respect differences and evolve mechanisms to negotiate the differences as was done in Belgium.
Democracy is best suited to accommodate social diversities but the example of Sri Lanka reminds us that this democracy must fulfil the following two conditions:
The majority always needs to work with the minority so that governments function to represent the general view.
Rule by the majority should not become rule by majority community in terms of religion, or race or linguistic group. Democracy remains democracy only as long as every citizen has a chance of being in majority at some point of time.

Q3. Give arguments to support or oppose the following assertions:
(a) Industrialised countries can afford democracy but the poor need dictatorship to become rich.
(b) Democracy can't reduce inequality of incomes between different citizens.
(c) Government in poor countries should spend less on poverty reduction, health, education and spend more on industries and infrastructure.
(d) In democracy all citizens have one vote, which means that there is an absence of any domination and conflict.
Ans:
(a) Democracy ensures political equality and therefore the poor might have a say in the allocation of economic resources by the government. This may allow for equal distribution of wealth by the government thereby allowing the poor to also become rich.
(b) Democracy primarily means political equality. Every citizen has the right to vote and stand for election. Economic inequality can only be reduced if there is an expansion of economic opportunities for all. Reducing economic inequalities requires the creation of more jobs especially in manufacturing and services. This in turn will require access to health and education facilities so that they can participate and contribute to the modern economy. Requisite of redistribution of income from the rich to the poor through progressive taxation and targeted subsidies cannot be denied. Democracy by itself cannot achieve these objectives although it is a significant part of the attempt to reduce economic inequality.
(c) This option is not a wise option. Poverty reduction would allow the poor better access to civic amenities such as health services thereby improving their standard of living. By spending on quality education, informed and productive citizens will emerge and add to the development of the country. A healthy and educated citizen will allow the effective functioning of industries and infrastructure.
(d) One vote ensures only equal political opportunity to elect. Democracy is mean and it depends upon the people to have the desired end. Democracy ensures the means of resolution of conflict but not its absence; similarly, it ensures means of political accommodation but not political freedom.

Q4. Identify the challenges to democracy in the following descriptions. Also, suggest policy/institutional mechanism to deepen democracy in the given situations:
(a) Following a High Court directive a temple in Orissa that had separate entry doors for Dalits and non-Dalits allowed entry for all from the same door.
(b) A large number of farmers are committing suicide in different states of India.
(c) Following allegation of killing of three civilians in Gandwara in a fake encounter by Jammu and Kashmir police, an enquiry has been ordered.
Ans:
(a)
(i) The challenge relates to social diversity. There are separate doors for Dalits and Non-Dalits to enter the temple.
(ii) To deepen democracy, there should be a law banning discrimination on account of caste, religion or other factors. People should also be encouraged to come forward and support abolishing this practice.
(b) This relates to economic inequalities with special reference to the poor condition of farmers in different states of India. The government should take the following steps to improve their condition:
(i) To give financial help or loans for the purchase of seeds, urea etc.
(ii) Irrigation and other facilities should be increased to avoid the situation of droughts.
(iii) MSP of crops should be increased.
(c)
(i) Dignity and freedom of citizens has been challenged.
(ii) There should be transparency in the working of the police departments to avoid fake encounters. Only then there will be trust of the people in the government's activities and democracy will be deepened.

Q5. In the context of democracies, which of the following ideas is correct - democracies have successfully eliminated?
(a) conflicts among people
(b) economic inequalities among people
(c) differences of opinion about how marginalised sections are to be treated
(d) the idea of political inequality
Ans: d the idea of political inequality

Q6. In the context of assessing democracy which among the following is odd one out. Democracies need to ensure:
(a) free and fair elections
(b) dignity of the individual
(c) majority rule
(d) equal treatment before the law
Ans: c. majority rule

Q7. Studies on political and social inequalities in democracy show that
(a) democracy and development go together
(b) inequalities exist in democracies
(c) inequalities do not exist under dictatorship
(d) dictatorship is better than democracy
Ans: b. inequalities exist in democracies

Q8. Read the passage below:
Nannu is a daily wage earner. He lives in Welcome Mazdoor Colony, a slum habitation in East Delhi. He lost his ration card and applied for a duplicate one in January 2004. He made several rounds to the local Food and Civil Supplies office for the next three months. But the clerks and officials would not even look at him, leave alone do his job or bother to tell him the status of his application. Ultimately, he filed an application under the Right to Information Act asking for the daily progress made on his application, names of the officials, who were supposed to act on his application and what action would be taken against these officials for their inaction.
Within a week of filing application under the Right to Information Act, he was visited by an inspector from the Food Department, who informed him that the card had been made and he could collect it from the office. When Nannu went to collect his card next day, he was given a very warm treatment by the Food and Supply Officer (FSO), who is the head of a Circle. The FSO offered him tea and requested him to withdraw his application under the Right to Information, since his work had already been done.
What does Nannu's example show? What impact did Nannu's action have on officials? Ask your parents their experiences when they approach government officials to attend to their problems.
Ans: (a) Nannu's example shows that ordinary people should be aware of their rights. They should exercise their rights without any fear as has been done by Nannu.
(b) Nannu's action has a significant effect on the officials who not only made his ration card but also offered him a cup of tea at the office of the Food and Supply Officer. He was given proper respect. However, the Food and Supply Officer requested him to withdraw his application because his ration card had been prepared.
(c) The experiences of the parents are not satisfactory. Generally the govt, officials do not bother about the people who visit them. Their problems are not solved. They are asked to come again and again. However now there is some improvement due to Right to Information.