Page No 71:
Question 1: Learn New Words
A) Shady
B) Bellowed
C) Twitched
D) Pounced
E) Grunt
F) Game
G) Glistened
H) Roared
I) Pheasant
J) Fowl
Answer:
A) Shady: full of shade Example sentences:
1) We were walking on a shady road.
2) I saw a tiger hiding in the shady woods.

B) Bellowed: a roaring shout or sound Example sentences:
1) I bellowed in pain at home.
2) The bull bellowed during the fight.

C) Twitched: to give a sudden jerk Example sentences:
1) Her mouth twitched after hearing the news.
2) Our car twitched in the midway.

D) Pounced: to attack suddenly Example sentences:
1) The tiger pounced on the deer.
2) The dog pounced hurriedly over the cat.

E) Grunt: short, deep sound Example sentences:
1) The pig grunts in hunger.
2) He grunts for the permission from his mother.

F) Game: an interesting activity to be played with others Example sentences:
1) We won the game by two runs.
2) Indoor games are better than outdoor games.

G) Glistened: to shine with a sparkling light Example sentences:
1) His cheeks glistened with tears suddenly.
2) My eyes glistened with joy.

H) Roared: a full deep cry Example sentences:
1) The lion roared in anger.
2) Reeta roared for approval.

I) Pheasant: a long tailed bird hunted for food Example sentences:
1) The pheasant population is decreasing day by day.
2) Pheasant gives eggs.

J) Fowl: a domestic bird for eating or producing eggs. Example sentences:
1) We domesticate fowl for food.
2) My father went to hunt fowl early in the morning.

Question 2:
1. Tick the right answer
i. Where did the mother tiger and her small tiger cub live? a. near a river b. near a mountain c. near a forest d. near a sea
ii. What did the mother tiger hunt when the sky was dark? a. sheep and goats b. fish and frogs c. deer and pigs d. donkeys and horses
iii. What did the tiger cub catch one night? a. a deer b. a frog c. a pig d. a cat
2. What happened to the little tiger cub when he chased the frog?
Answer:
1. (i) a (ii) c (iii)b
2. The frog hopped away when the little tiger cub chased the frog.
Page No 72:
Question 1: Match the animals with their young ones.
Disclaimer: Kindly refer the textbook for the images.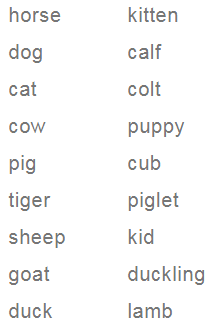 Answer: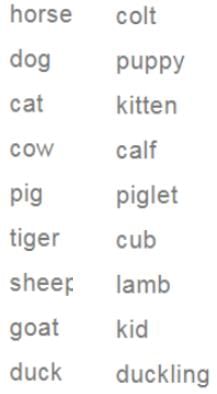 Page No 73:
Question 1: Word Game: Can you place these letters in their right order to form the names of animals?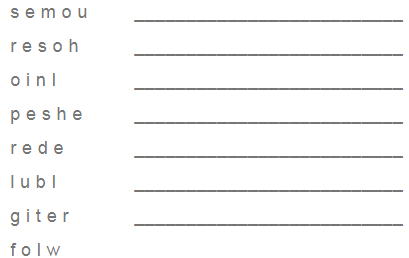 Answer: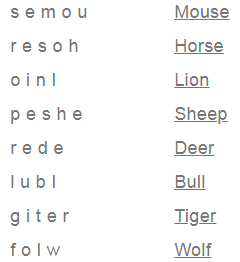 Question 2: The animals/birds in Column A have to reach their homes in Column B. Find out where they live.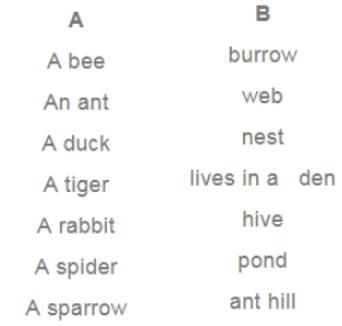 Disclaimer: Kindly refer the textbook for the images.
Answer: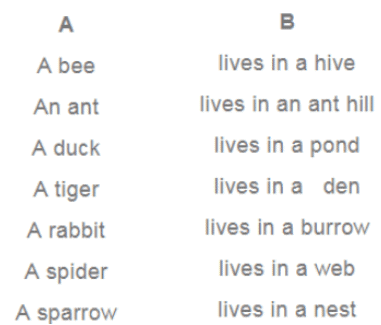 Page No 74:
Question 1: Now write six sentences from the above pictures. One has been done for you. A tiger lives in a den.
Answer: A tiger lives in a den.
1) A sparrow lives in a nest.
2) A rabbit lives in a burrow.
3) A duck lives in a pond.
4) A spider lives in a web.
5) An ant lives in an ant hill.
6) A bee lives in a hive.

Question 2: The little tiger cub slipped away when his mother was asleep. He soon got into trouble. Tell the class about a similar incident when you did not listen to your parents and found yourself in trouble.
__________________________________________
__________________________________________
Answer:
One day it was raining heavily outside. I wanted to go out and play with my friends in the evening. I asked my mother, but she refused to let me go. After half an hour, I slipped away from home and went outside to play. When I went inside the park, the guard locked the door from outside and went back away. I got very scared, as I was not able to see anyone nearby. I started roaring and crying. My mother came running away to the park to search me. I felt guilty and said sorry to her.
Disclaimer: This is a sample answer. Students are advised to write the answer based on their own personal experience and observation.

Question 3: Make groups. One person from each group should act like:
1. The mother tiger
2. The cub
3. The large male tiger
4. The frog
5. The sambhar/kakar deer
6. The langur monkey Now act out the story, first in your own language and then in English.
Answer:
Disclaimer: This is a group activity in which you have to role play and act like the different animals mentioned in the story. This activity should be performed along with your friends in the classroom.

Question 4: Say aloud


Who am I? Look at the pictures and read the clues. Then complete this crossword puzzle. The first clue is done for you.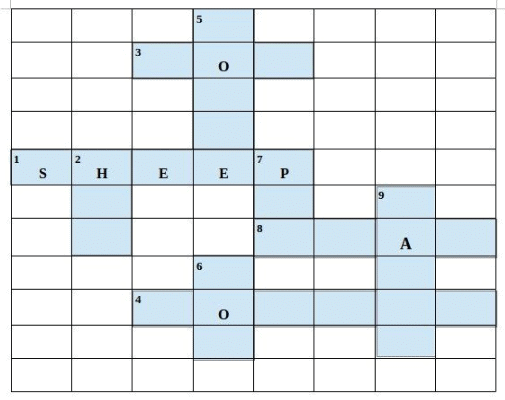 1. I give wool
2. I lay eggs
3. I give you milk
4. I carry loads
5. I neigh
6. I am man's best friend
7. I live in a sty
8. I bleat
9. I am the Ship of the Desert
Disclaimer: Kindly refer to the textbook for the images.
Answer:

1. I give wool - Sheep
2. I lay eggs - Hen
3. I give you milk - Cow
4. I carry loads - Donkey
5. I neigh - Horse
6. I am man's best friend - Dog
7. I live in a sty - Pig
8. I bleat - Goat
9. I am the Ship of the Desert - Camel