Farm Forestry
Farm forestry is a term applied to the process under which farmers grow trees for commercial and non-commercial purposes on their farm lands.
Wildlife
Wildlife of India is a great natural heritage. It is estimated that about 4-5 per cent of all known plant and animal species on the earth are found in India. There are certain species that are at the brink of extinction.
Some estimates suggest that at least 10 per cent of India's recorded wild flora and 20 per cent of its mammals are on the threatened list.
Let us now understand the different categories of existing plants and animal species.
Based on the International Union for Conservation of Nature and Natural Resources (IUCN), we can classify as follows
Normal Species: Species whose population levels are considered to be normal for their survival, such as cattle, sal, pine, rodents, etc.
Endangered Species: These are species which are in danger of extinction. The survival of such species is difficult if the negative factors that have led to a decline in their population continue to operate.
The examples of such species are black buck, crocodile, Indian wild ass, Indian rhino, lion tailed macaque, sangai (brow anter deer in Manipur), etc. Vulnerable Species: These are species whose population has declined to levels from where it is likely to move into the endangered category in the near future if the negative factors continue to operate. The examples of such species are blue sheep, Asiatic elephant, Gangetic dolphin etc.
Rare Species: Species with small population may move into the endangered for vulnerable category if the negative factors affecting them continue to operate. The examples of such species are the Himalayan brown bear, wild Asiatic buffalo, desert fox and hornbill, etc.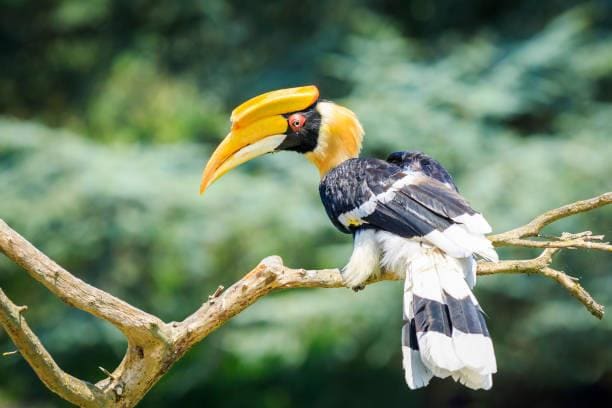 Endemic Species: These are species which are only found in some particular areas usually isolated by natural or geographical barriers. Examples of such species are the Andaman teal, Nicobar pigeon, Andaman wild pig, mithun in Arunachal Pradesh.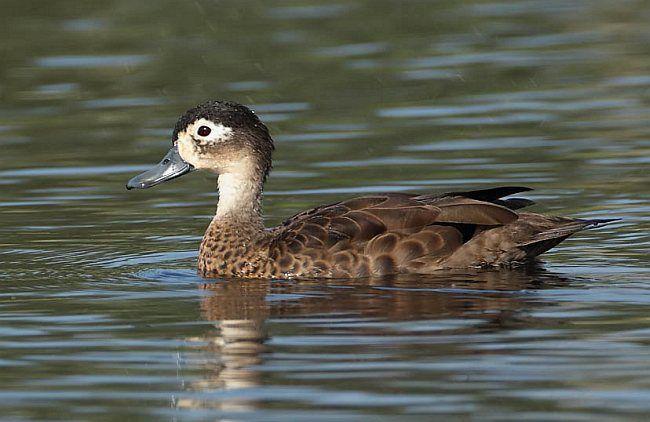 Andaman teal
Extinct Species: These are species which are not found after searches of known or likely areas where they may occur. A species may be extinct from a local area, region, country, continent or the entire earth. Examples of such species are the Asiatic cheetah, pink head duck.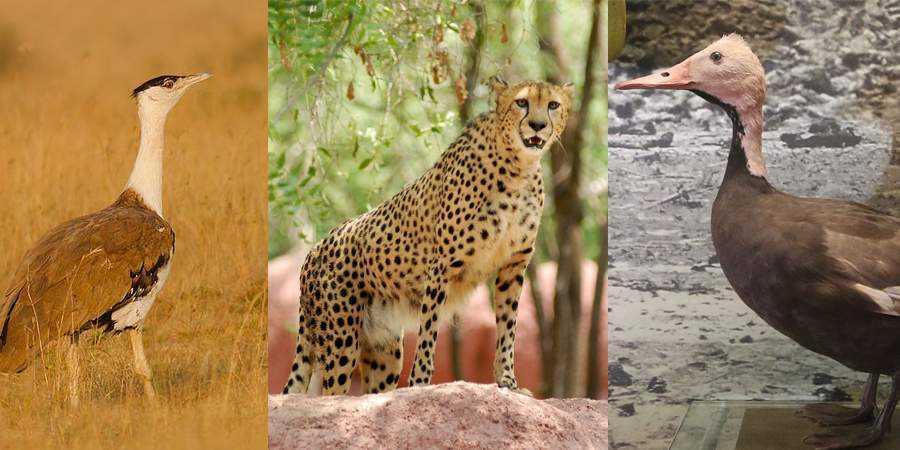 Extinct species in India
Wildlife Conservation of India
The protection of wildlife has a long tradition in India. Many stories of Panchtantra and Jungle Books, etc. have stood the test of time relating to the love for wildlife. These have a profound impact on young minds. In 1972, a comprehensive Wildlife Act was enacted, which provides the main legal framework for conservation and protection of wildlife in India. The two main objectives of the Act are; to provide protection to the endangered species listed in the schedule of the Act and to provide legal support to the conservation areas of the country classified as National parks, sanctuaries and closed areas.
This Act has been comprehensively amended in 1991, making punishments more stringent and has also made provisions for the protection of specified plant species and conservation of endangered species of wild animals. There are 92 National parks and 492 wildlife sanctuaries covering an area of 15.67 million hectares in the country. Wildlife conservation has a very large ambit with unbounded potential for the wellbeing of mankind. However, this can be achieved only when every individual understands its significance and contributes his bit.
For the purpose of effective conservation of flora and fauna, special steps have been initiated by the Government of India in collaboration with UNESCO's 'Man and Biosphere Programme'. Special schemes like Project Tiger (1973) and Project Elephant (1992) have been launched to conserve these species and their habitat in a sustainable manner.
Project Tiger has been implemented since 1973. The main objective of the scheme is to ensure maintenance of viable population of tigers in India for scientific, aesthetic, cultural and ecological values, and to preserve areas of biological importance as natural heritage for the benefit, education and enjoyment of the people. Initially, the Project Tiger was launched in nine tiger reserves, covering an area of 16,339 sq. km, which has now increased to 27 tiger reserves, encompassing 37,761 sq. km of tiger habitats distributed in 17 states. The tiger population in the country has registered an increase from 1,827 in 1972 to 3,642 in 2001-2002.
Project Elephant was launched in 1992 to assist states having free ranging population of wild elephants. It was aimed at ensuring long-term survival of identified viable population of elephants in their natural habitat. The project is being implemented in 13 states. Apart from this, some other projects such as Crocodile Breeding Project, Project Hangul and conservation of Himalayan Musk deer have also been launched by the Government of India.
Biosphere Reserves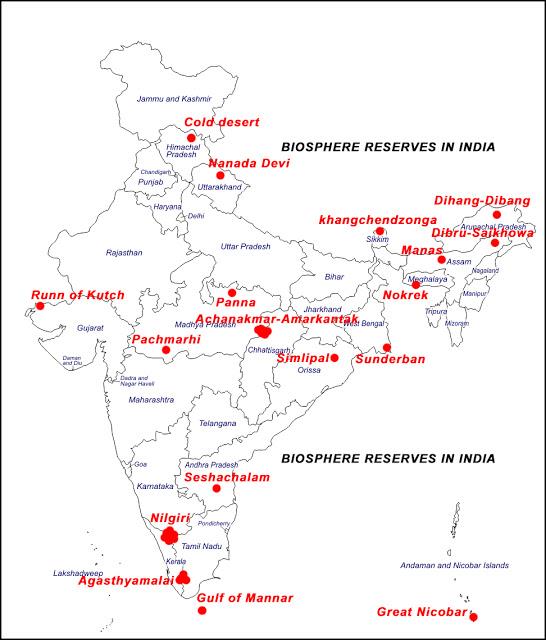 A Biosphere Reserve is a unique and representative ecosystem of terrestrial and coastal areas which are internationally recognized within the framework of
UNESCO's Man and Biosphere (MAB) Programme. The Biosphere Reserve aims at achieving the three objective as depicted in Figure. There are 16 Biosphere Reserves in India. Four Biosphere Reserves. Namely
(i) Nilgiri;
(ii) Nanda Devi:
(iii) Sunderbans; and
(iv) Gulf of Mannar have been recognized by the UNESCO on World Network of Biosphere Reserves.
(i) Nilgiri Biosphere Reserve: The Nilgiri Biosphere Reserve (NBR), the first of the fourteen biosphere reserves of India, was established in September 1986. It embraces the sanctuary complex of Wayanad, Nagarhole, Bandipur and Mudumalai, the entire forested hill slopes of Nilambur, the Upper Nilgiri plateau, Silent Valley and the Siruvani hills. The total area of the biosphere reserve is around 5,520 sq. km. The Nilgiri Biosphere Reserve possesses different habitat types, unspoilt areas of natural vegetation types with several dry scrubs, dry and moist deciduous, semi evergreen and wet evergreen forests, evergreen shoals, grasslands and swamps. It includes the largest known population of two endangered animal species, namely the Nilgiri Tahr and the Lion-tailed macaque. The largest south Indian population of elephant, tiger, gaur, sambar and chital as well as a good number of endemic and endangered plants are also found in this reserve. The habitat of a number of tribal groups remarkable for the traditional modes of harmonious use of the environment are also found here. The topography of the NBR is extremely varied, ranging from an altitude of 250 m to 2,650 m. About 80 per cent of the flowering plants reported from the Western Ghats occur in the Nilgiri Biosphere Reserve.
(ii) Nanda Devi Biosphere Reserve: The Nanda Devi Biosphere Reserve situated in Uttarakhand includes parts of Chamoli, Almora, Pithoragarh and Bageshwar districts. The major forest types of the reserve are temperate. A few important species are silver weed and orchids like latifolie and rhododendron. The biosphere reserve has a rich fauna, for example the snow leopard, black bear, brown bear, musk deer, snowcock, golden eagle and black eagle.
Major threats to the ecosystem are the collection of endangered plants for medicinal use, forest fires and poaching.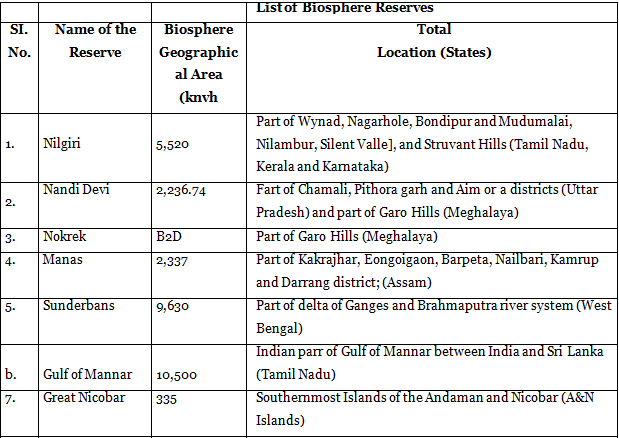 (iii) Sunderbans Biosphere Reserve: It is located in the swampy delta of the river Ganga in West Bengal. It extends over a vast area of 9,630 sq. km. and consists of mangrove forests, swamps and forested islands. Sundarbans is the home of nearly 200 Royal Bengal tigers. The tangled mass of roots of mangrove trees provide safe homes for a large number of species, from fish to shrimp. More than 170 birds species are known to inhabit these mangrove forests. Adapting itself to the saline and fresh water environment, the tigers at the park are good swimmers, and they hunt scarce preys such as chital deer, barking deer, wild pig and even macaques. In the Sunderbans, the mangrove forests are characterized by Heritiera fomes, a species valued for its timber.
(iv) Gulf of Mannar Biosphere Reserve: The Gulf of Mannar Biosphere Reserve covers an area of 105,000 hectares on the southeast coast of India. It is one of the world's richest regions from a marine biodiversity perspective. The biosphere reserve comprises 21 islands with estuaries, beaches, forests of the near shore environment, sea grasses, coral reefs, salt marshes and mangroves. Among the Gulf's 3,600 plant and animal species are the globally endangered sea cow (Dugong / dugon) and six mangrove species, endemic to Peninsular India.