Q.1. Which of the following pairs is of unicellular algae? (2020)
(a) Anabaena and volvox
(b) Chlorella and spirulina
(c) Laminaria and Sargossum
(d) Gelidium and Gracilaria
Ans. (b)
Sol. Chlorella and spirulina are unicellular algae, rich in proteins is used as food supplement even by space travellers. These algae also produce a nutritional biomass that astronauts could eat.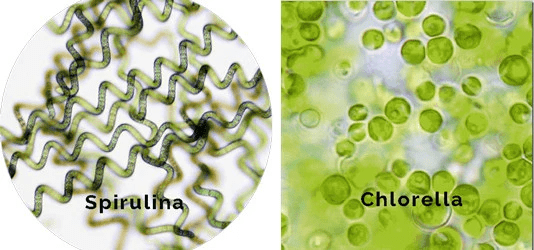 Q.2. Strobili or cones are found in: (2020)
(a) Marchantia
(b) Equisetum
(c) Salvinia
(d) Pteris
Ans: (b)
Sol. Strobilus is structure present on many land plant species consisting of sporangia bearing structure densely aggregated along a stem. Equisetum produces strobili.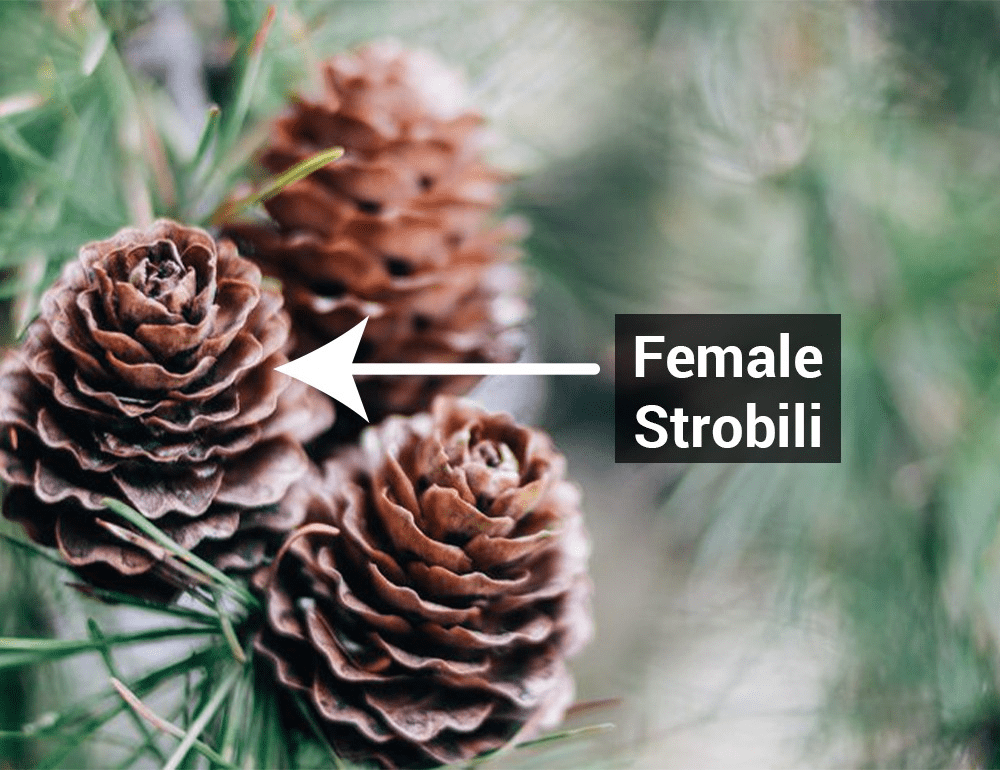 Q.3. Pinus seed cannot germinate and establish without fungal association. This is because: (2019)
(a) Its seeds contain inhibitors that prevent germination
(b) Its embryo is immature
(c) It has obligate association with mycorrhizae
(d) It has very hard seed coat.
Ans. (c)
Sol. Pinus has mutualistic association with fungus in the form of mycorrhizae. The fungi help the plant in absorption of essential nutrients from soil and plant provides fungi with high energy yielding carbohydrates.

Q.4. From evolutionary point of view, retention of the female gametophyte with developing young embryo on the parent sporophyte for some time, is first observed in______. (2019)
(a) Gymnosperms
(b) Liverworts
(c) Mosses
(d) Pteridophytes.
Ans. (d)
Sol.
Pteridophytes like Selaginella and Salvinia produce two kinds of spores, known as heterosporous. The megaspores and microspores germinate and give rise to female and male gametophytes respectively.
The female gametophytes in these plants are retained on the parent sporophytes for variable periods. The development of the zygotes into young embryos take place within the female gametophytes.
This event is the precursor to the seed habit which is considered as an important step in evolution.
Q.5. Which of the following statements is correct? (2018)
(a) Ovules are not enclosed by ovary wall in gymnosperms.
(b) Selaginella is heterosporous, while Salvinia is homosporous.
(c) Horsetails are gymnosperms.
(d) Stems are usually unbranched in both Cycas and Cedrus.
Ans. (a)
Sol. Gymnosperms have naked ovule. Selaginella and Salvinia both produce two kinds of spores, macro (large) and micro (small) hence, called heterosporous. Equisetum (horsetail, scouring rush) is a pteridophyte. Stems are branched in Cedrus but unbranched in Cycas.

Q.6. Which one is wrongly matched? (2018)
(a) Uniflagellate gametes - Polysiphonia
(b) Biflagellate zoospores - Brown algae
(c) Gemma cups - Marchantia
(d) Unicellular organism - Chlorella
Ans. (a)
Sol. A non-motile male gamete or spermatium is the characteristic feature of Polysiphonia.

Q.7. An example of colonial alga is: (2017)
(a) Volvox
(b) Ulothrix
(c) Spirogyra
(d) Chlorella
Ans. (a)
Sol.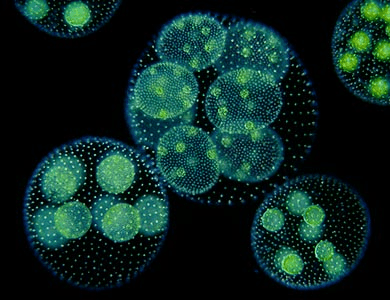 Volvox
Q.8. Select the mismatch. (2017)
(a) Cycas - Dioecious
(b) Salvinia - Heterosporous
(c) Equisetum - Homosporous
(d) Pinus - Dioecious
Ans. (d)
Sol. Pinus is a monoecious plant, i.e., in Pinus male and female cones or strobili arc borne on the same plant.

Q.9. Zygotic meiosis is characteristic of (2017)
(a) Fucus
(b) Funaria
(c) Chlamydomonas
(d) Marchantia
Ans. (c)
Sol. In Chlamydomonas zygote divides by meiosis. It exhibits haplontic type of life cycle.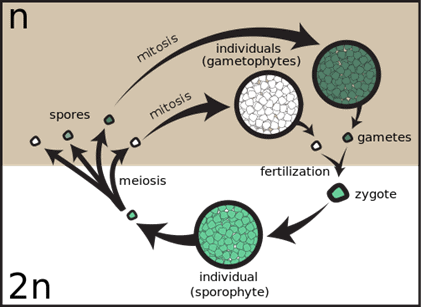 Meiosis
Q.10. Life cycles of Ectocarpus and Fucus respectively are: (2017)
(a) Diplontic, haplodiplontic
(b) Haplodiplontic, diplontic
(c) Haplodiplontic, haplontic
(d) Haplontic, diplontic.
Ans. (b)
Sol. Ectocarpus possesses haplodiplontic whereas Fucus possesses diplontic life cycle.

Q.11. Conifers are adapted to tolerate extreme environmental conditions because of (2016)
(a) Broad hardy leaves
(b) Superficial stomata
(c) Thick cuticle
(d) Presence of vessels.
Ans. (c)
Sol. Needle like leaves with thick cuticle and sunken stomata are xerophytic adaptations of conifers for tolerating extreme environmental conditions.

Q.12. Which one of the following statements is wrong? (2016)
(a) Algae increase the level of dissolved oxygen in the immediate environment.
(b) Algin is obtained from red algae, and carrageenan from brown algae.
(c) Agar-agar is obtained from Gelidiam and Gracilaria.
(d) Laminaria and Sargassum are used as food.
Ans. (b)
Sol. Alginic acid is obtained from brown algae whereas carrageenan is obtained from red algae.

Q.13. Select the correct statement. (2016)
(a) Sequoia is one of the tallest trees.
(b) The leaves of gymnosperms are not well adapted to extremes of climate.
(c) Gymnosperms are both homosporous and heterosporous.
(d) Salvinia, Ginkgo and Pinus all are gymnosperms.
Ans. (a)
Sol.
Sequoia sempervirens is the tallest gymnosperm.
The leaves of gymnosperms are well adapted to extremes of climate. This is the reason for gymnosperm to flourish in cold areas where instead of rain, snow is the source of water.
Gymnosperms are heterosporous, i.e., produce two different kinds of spores-microspores and megaspores. Salvinia is an aquatic pteridophyte.
Q.14. In bryophytes and pteridophytes, transport of male gametes requires (2016)
(a) Birds
(b) Water
(c) Wind
(d) Insects
Ans. (b)
Sol. The sperms of bryophytes and pteridophytes are flagellated and hence require an external supply of water to reach archegonia.