Naming Alicyclic Compounds
For alicyclic compounds, prefix cyclo is used e.g.,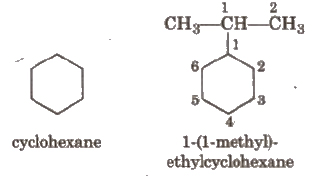 If the alkyl chain contains a greater number of C-atoms than the ring, the ring is designated as substituent. e.g.,

If side chain contains a multiple bond or a functional group, the ring is treated as a substituent. e.g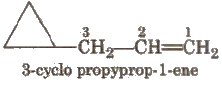 Other examples are:
Naming Spiro Compounds:
Prefix 'spiro' is used for the compounds in which one carbon is present between two rings;
Here, smaller ring is numbered first, e.g.,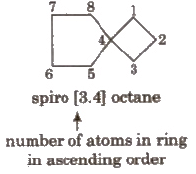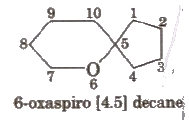 Naming Bicyclo Compounds:
Prefix 'bicycle' is used for such compounds e.g.,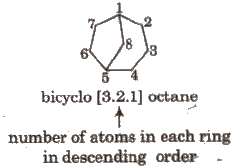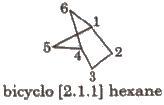 In bicycle compounds, numbering is done first in larger ring, then in smaller ring.
Naming Aromatic Compounds
IUPAC accepted their common trivial names e.g.,