UPSC : Natural Disasters - Indian Geography, UPSC, IAS. UPSC Notes | EduRev
All you need of UPSC at this link:
UPSC
Natural Disasters
Natural Disasters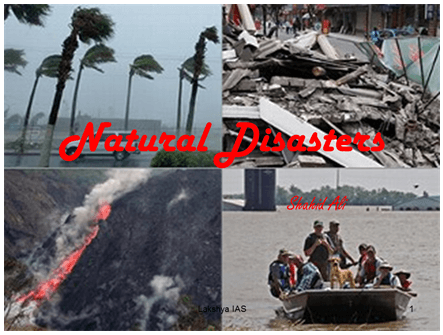 Types
Earthquakes
Tsunami
Cyclones
Floods
Droughts
Earthquakes
Mainly caused by tectonic movements which were discussed in "Basics of Geography"
Indian has been divided into five earthquake zones:

Very high damage risk zone
High damage risk zone
Moderate damage risk zone
Low damage risk zone
Very low damage risk zone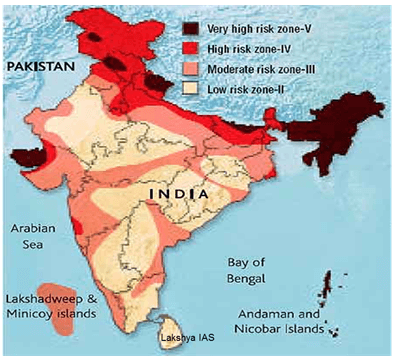 Effects of earthquake
Damage and destruction of settlement, industry , infrastructure
It renders people homeless
Landslides, sometime resulting into floods
Tsunami
Mitigation
Establishing earthquake monitoring centres
Preparing a vulnerability map of the country
Modifying house types and building designs
Tsunami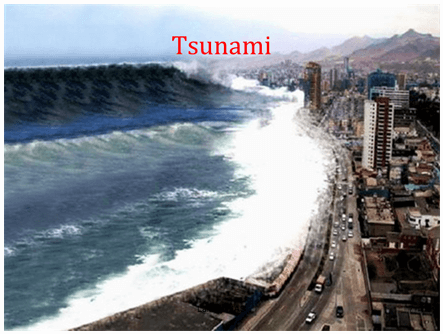 Tsunami
Tsunami is a Japanese word which means sea-waves
Earthquakes and volcanic eruptions that cause the sea-floor to move abruptly resulting in sudden displacement of oceanic water in the form of high vertical waves are called tsunami
The speed of the waves depends on the depth of water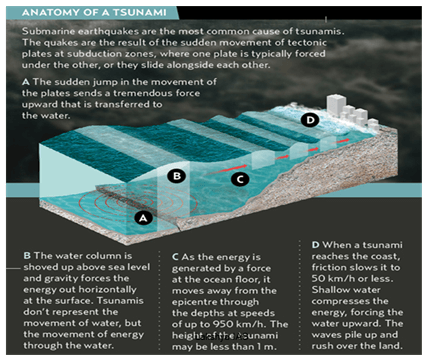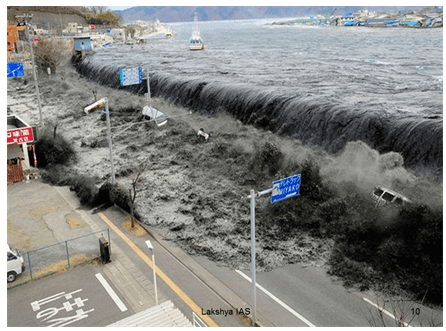 It is more in the shallow than in the deep water
So the impact of the Tsunami is less in the ocean than in the shallow water near the coasts
In the deep sea the Tsunami has a very long wave-length and limited wave height
As against it the wave height increases in shallow water
Areas of occurrence
Tsunamis are frequently observed along the Pacific ring of fire, coasts of Alaska, Japan, Philippines and other islands of Southeast Asia, Indonesia, Malaysia, Myanmar, Sri Lanka and India etc.
Effects & Remedies
The energy stored in water destroys settlements, buildings results in the loss of life and property.
It result in spread of diseases
It is beyond the capacity of govt. to mitigate the damage.
Early warning is the only way to deal with it.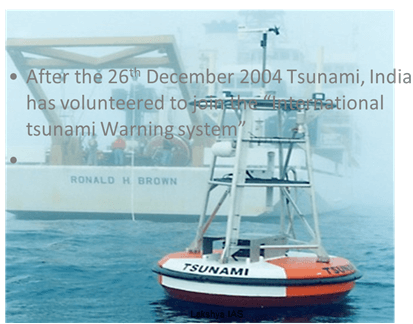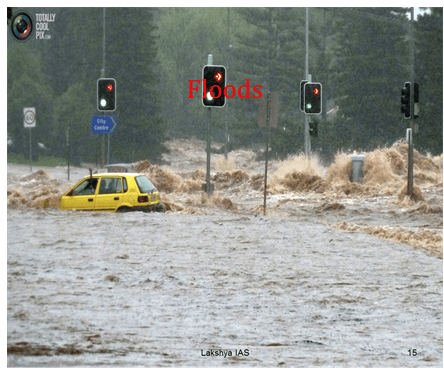 Floods
Causes
Storm surge in coastal areas
High intensity rainfall for long period
Poor drainage due to silting of rivers
Besides, human activities like deforestation, colonisation of flood plains play an important role in increasing the intensity of floods
Control of floods
Construction of river embankment
Construction of dams
Afforestation
Marking of flood zones
Establishment of cyclone centres in coastal areas
Droughts
It is applied to a period when there is a shortage of water availability due to inadequate precipitation, excessive evaporation and over utilisation of water
In India nearly 19% of the area suffers fron drought
Drought Phone Areas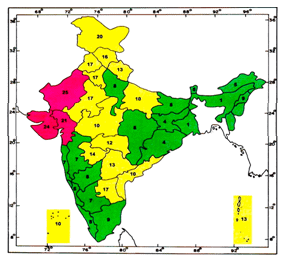 Consequences of drought
Crop failure leading to scarcity of foodgrains
Shortage of water
Large scale death of cattle and other animals
Spread of many waterborne disease
Remedy
Identification of ground water potential in the form of aquifers
Transfer of river water from surplus to deficit area
Construction of reservoirs and dams
Dissemination of knowledge about drought resistant crops
Rainwater Harvesting can also be effective