NDMA Guidelines for Crowd Management
Planning the strategy for management
1. Understanding visitors
2. Understanding stakeholders
3. Crowd Management strategies
Capacity planning
Understanding Crowd behavior
Crowd disaster process
Crowd control
Stakeholder approach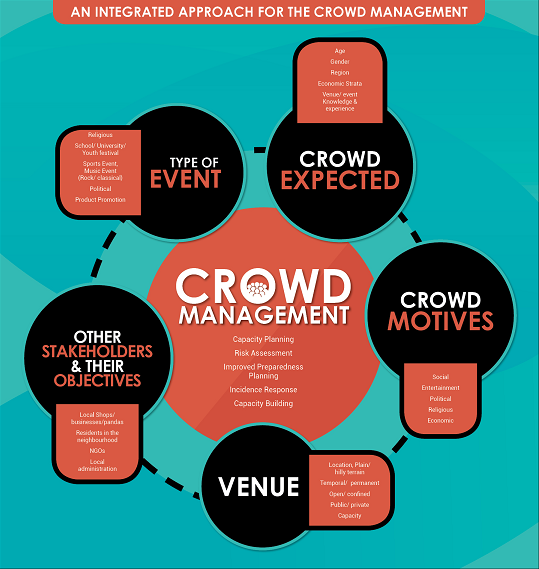 4. Risk analysis and preparedness
Identify threats or causes
Risk assessment
Planning
Develop a course of action
5. Information management and dissemination
6. Safety and security measures
7. Medical Emergency Services
Role of Media
Broadly we can categorize the role of media in the following way:
Educational
Critical
Suggestive
Before a disaster:
Bring to the attention of the authorities
Prepare the community and making them aware of Do's and Don'ts
Keeping a watch on anti-social elements, thereby helping in maintaining the law and order situation
During a disaster:
Broadcasting accurate information to stop rumors and hence reduce panic
Make people aware of their Do's and Don'ts to reduce further damage of a probable secondary risk
Can assist the authorities in reaching out to the victims and their families
Facilitate resource mobilization (funds) for relief operations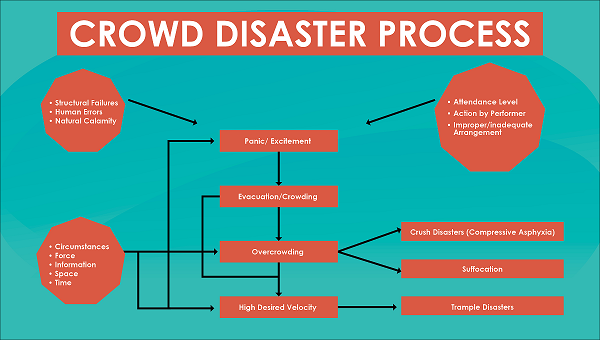 After a disaster:
Informing the people about the post-disaster rehabilitation measures for putting pressure on the authorities
Provide aid in investigating the causes of the disaster
Can help generate expert opinion through debates/discussions for better preparedness levels in future
Role of Science and Technology Disaster Mitigation and Prevention
Geographic information system
Radiofrequency identification
Radio, Television, SMS, etc.
These all including other technologies and methods help in creating early warning systems, information dissemination, search and rescue, insurance processing, etc.
Legal Provisions
Disaster Management Act, 2005
The Police Act, 1961
Kerala Police Act, 2011
UP Melas Act, 1938
Cinematograph Act, 1952
Delhi Cinematograph Rules, 1953
Disaster Prevention and Mitigation
Proper planning and mitigation measures can play a leading role in risk-prone areas to minimize the worst effects of hazards such as earthquakes, floods, and cyclones. These are the key areas which should be addressed to achieve this objective:
Risk Assessment and Vulnerability Mapping: Mapping and vulnerability analysis in a multi-risk structure will be conducted utilizing Geographic Information System (GIS) based databases like the National Database for Emergency Management (NDEM) and National Spatial Data Infrastructure (NSDI).
Increasing Trend of Disasters in Urban Areas:- Steps to prevent unplanned urbanization must be undertaken, with the plan of action formulated being given the highest priority. State Governments/UTs concerned on the other hand focus on urban drainage systems with special attention on non-obstruction of natural drainage systems.
Critical Infrastructure:- Critical infrastructure like roads, dams, bridges, irrigation canals, bridges, power stations, railway lines, delta water distribution networks, ports and river, and coastal embankments should be continuously checked for safety standards concerning worldwide safety benchmarks and fortified if the current measures prove to be inadequate.
Environmentally Sustainable Development:– Environmental considerations and developmental efforts, should be handled simultaneously for ensuring sustainability.
Climate Change Adaptation:-. The challenges of the increase in the frequency and intensity of natural disasters like cyclones, floods, and droughts should be tackled in a sustained and effective manner with the promotion of strategies for climate change adaptation and disaster risk reduction.