Introduction
Handicrafts
(i) An amalgamation of all the things that are crafted by a man/woman's hands. Different states in India have their own handicrafts
(ii) They reflect skill and artistic proficiency.
(iii) Unique kind of craft - are solely handmade without the use of any machine.Are used in India to earn their livelihood but also have to be preserved
(iv) Hold special importance to tribal and rural communities who depend on them for their livelihood.
Some of the major handicrafts of India are:
Other Tie and Dye, Cloth Painting and Cloth Printing varieties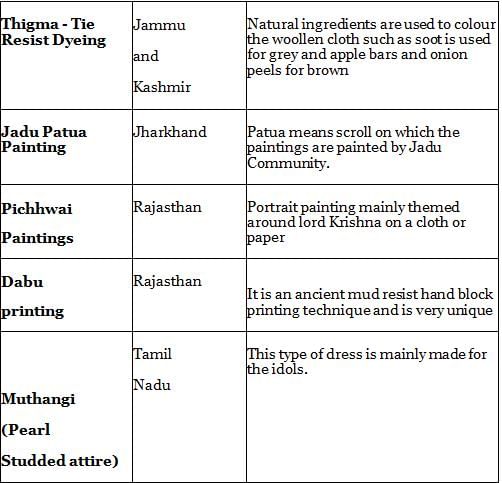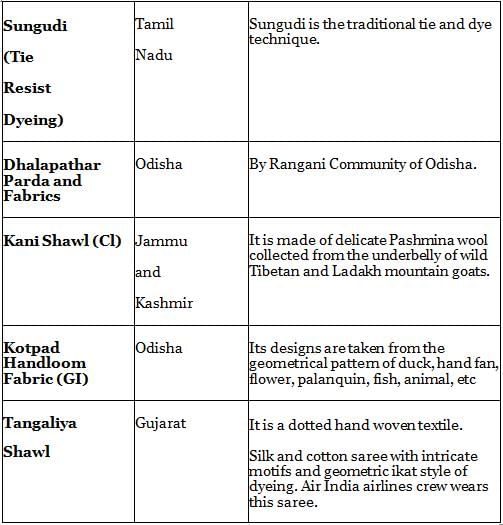 Glassware
It's first reference- found in Mahabharata.
No material evidence of glass bead- in the early Harappan civilisation.
Its first material evidence- found in the form of beautiful glass beads from
Painted Grey Ware culture of the Ganges Valley (c.1000 BC).
Satapatha Brahmana (Vedic text), term for glass- kanch or kaca.
Archaeological evidences- of glass industry in Brahmapuri and Kolhapur in Maharashtra- operational between 2 B.C.-2 A.D. & produced specialised glassware, called lenticular beads.
References to spectacles made in Sanskrit text- Vyasa yoga charita.
Archaeological evidence- in southern part of India- a glass at Maski, which is a Chalcolithic site in Deccan.
Other sites/evidences of glass are- Ahar (Rajasthan), Hastinapur and Ahichchatra (Uttar Pradesh), Eran and Ujjain (Madhya Pradesh), etc
Medieval period- Mughals gave patronage to this art & utilised it as decoration like the Sheesh Mahal.
Mughals also manufactured- glass hukkas, perfume boxes or ittardans and engraved glasses.
Most famous facets of this- glass bangles.
Most exquisite ones (made in Hyderabad)- are called 'Churikajodas'.
Firozabad- famous for glass chandeliers and other decorative pieces.
Saharanpur, UP- produces 'panchkora' or glass toys for children.
Patna, Bihar- produces a peculiar kind of decorative glass beads called 'Tikuli'.
This craft- almost lost because of industrialisation.
But still worn by- Santhal tribes of Bihar.
Handicrafts on Cloth
Technique of tie and dye- gives beautiful designs on fabrics.
Many different techniques in India.
Bandhani or Bandhej
(i) One of the most important art
(ii) A technique of 'Tie and Dye'
(iii) Still in use in Rajasthan & Gujarat.
(iv) Popular in Andhra Pradesh & Tamil Nadu.
(v) Also called resist dyeing process because portions tied don't take on the colour, in which fabric is dipped.
(vi) Making a series of knots, it is dipped in the colour and the artists design the fabric.
Laharia- special kind of tie and dye that leads to ripples or wave like patterns in the fabric & made in Jaipur and Jodhpur.
'Ikat'- another kind of tie and dye - also called 'resist dyeing' method because resist dying on mm is repeatedly applied before the cloth is woven. Its major centres- Telangana, Odisha, Gujarat and Andhra Pradesh.
Kalamkari- hand painting on fabrics using vegetable dyes o f deep colours & practiced in Andhra Pradesh.
Batik Art- technique of fabric decoration. One end of fabric is permeated with molten wax and then dyed in cold to produce batik sari; famous in Madhya Pradesh and West Bengal.
Tanchoi weaving- derived from Chinese inspiration. Came to Surat in Gujarat via the trading communities.
Jamdani (West Bengal)- weaves muslin with opaque patterns on a transparent background in different styles.
India has a plethora of regional handicrafts based on different varieties of fabric.
Traditional Regional Sarees of India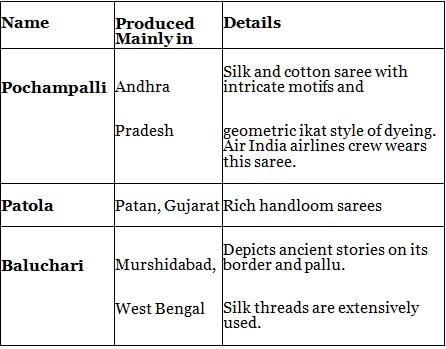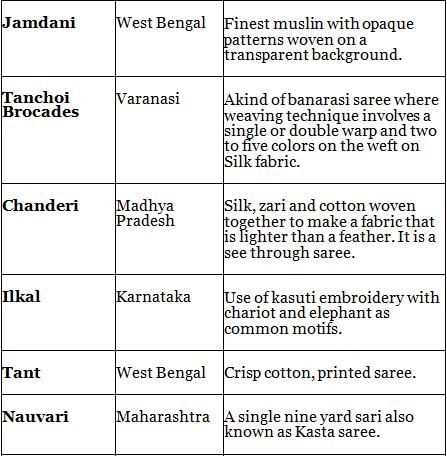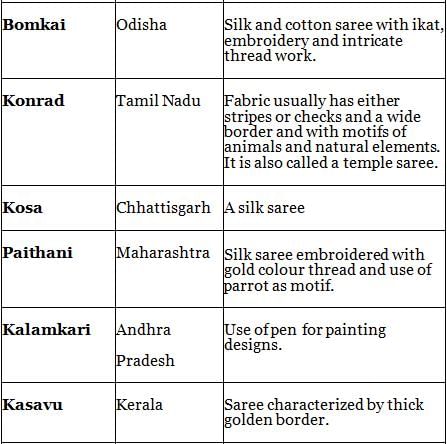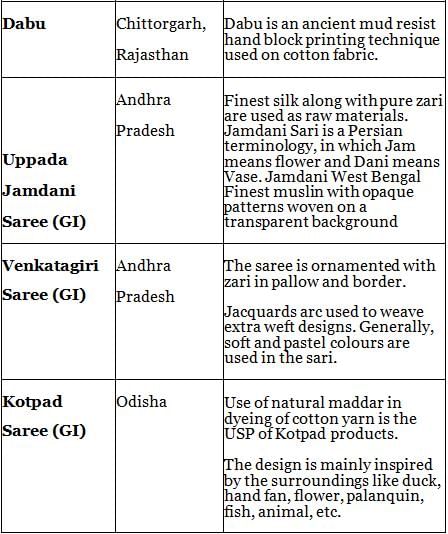 Variety of Weavings in India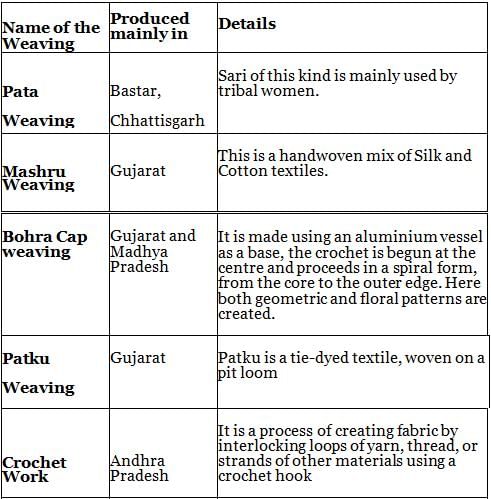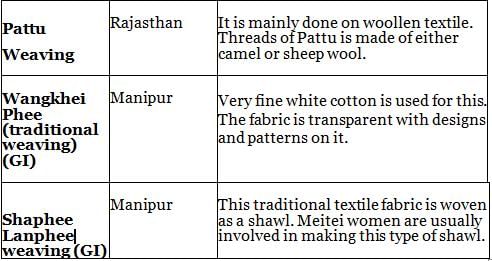 Durrie (Floor mat) Weaving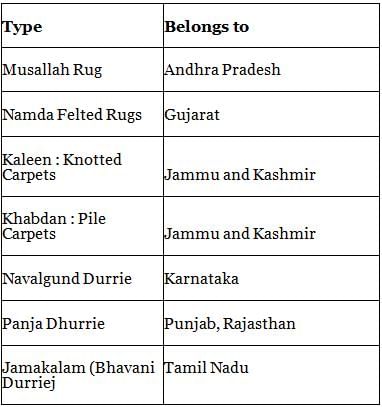 Ivory Crafting
Prevalent in India since Vedic period
Was then referred to as 'danta'- a signifier to elephant's tusk (source of ivory).
Harappan period- ivory and ivory objects like ivory dice, etc. were exported from India to Turkmenistan. Afghanistan and parts of Persian Gulf.
Sanchi Inscription (2 BCE) - mentions guild of ivory workers hailing from Vidisa and carved sculptures in the Sanchi Stupa.
Archaeological remains of an ivory comb from Taxila
Hence these conclude that Ivory was in vogue even in 2 A.D.
Mughal period- many ivory artifacts - combs, dagger's handles and other ornaments.
Traditional centres for ivory carving- Delhi, Jaipur & parts of West Bengal.
Beautiful objects of art, caskets, palanquin and the famous Ambari Hathi- have been produced.
Other specialist areas are:
(i) Kerala: painting on ivory.
(ii) Jodhpur: Ivory Bangles
(iii) Jaipur: ivory jali work used in homes & small art objects.
Terracotta Crafts
Terracotta- means 'Baked earth' & is a type of ceramic clay that has been semi-fired.
After process becomes waterproof & hard, hence perfect for use in sculpting & architectural edifices.
Extensively used- pottery and bricks.
Its best specimens- Bankura Horse, Panchmura Horse and Terracotta temples in Bankura, West Bengal.
Best specimen of terracotta art in India- Buddhist viharas (Ancient Pala period)
Silver Jewellery
Most famous techniques used by these artists- Filigree work.
Odisha- well known for silver anklets called painri and paijam. They have uniquely knitted ornaments of silver called gunchi.
Bidri work (Bidri village, Karnataka)- very famous for its beauty. It uses silver to create inlay work against dark backgrounds.
Clay and Pottery
Known as 'Lyric of handicrafts' — molded like a poetic composition and has a sensual appeal to the senses.
Has been one of the earliest crafts begun by man.
Earliest evidence - in Neolithic site of Mehrgarh (now in Pakistan). The remnants show that clay pottery was highly developed in 6000 BC.
Most famous pottery from ancient period- Painted Grey Ware pottery- typically grey in colour & was related to Vedic period (1500-600 BC).
Evidences of red and black- found in some parts of country (large parts of West Bengal) - dated from 1500- 300 BC.
Another ancient pottery- Northern Black Polished Ware- made in two phases: 1st in 700-400 BC & next in 400-100 BC. Both phases partially coincided with the Mauryan period.
'Roulette Pottery'(200-100 BCE)- southern parts of India- evidences found from Arikamedu near Puducherry.
After the beginning of Gupta period (300-600 AD)- newer decorative techniques like embellishments, painting, stamping and molding found.
With coming of Indo-Islamic traditions- evidences of glazed pottery.
Currently, every part of India- specialises in a particular type of clay work, as depicted in following table-


Bronze Crafts
Ancient India- metals were used for spears & arrows than for art.
Metal casting- was useful for craftsmanship for more than 5000 years.
Oldest art form of bronze work- bronze statue of a Dancing Girl from Mohenjodaro, dated around 3500-3000 BCE.
Earliest non-ferrous metals used by man- copper & tin (mixed to form Bronze).
Matasya Purana- earliest literary evidence about different methods of casting bronze
Later texts like Nagarjuna's Rasa Ratnakar- mentioned metal purity and distillation of zinc.
Uttar Pradesh takes precedence amongst bronze craft producing areas & has major centres like Etawah, Sitapur, Varanasi and Moradabad.
They produce decorative items (flower pots, images of Gods & Goddesses) and ritual objects like tamrapatra, kanchantal and panchpatra.
Another major centre- Tamil Nadu- produces beautiful ancient statutes resembling the art forms from Pallava, Chola, Pandyan and Nayaka period.
Important centres of Brass work are:

Crafts from Metals
Metal casting- can be achieved in iron, copper, bell metal, etc.
Creating ornamentation on metal using techniques like engraving, embossing and damascening makes these crafts unique.
One of the most famous techniques- Marori work of Rajasthan- uses metal to create etchings on the base metal and filling the gaps with resin.
Embossing or repousse- a technique that creates a raised design in relief.
Technique of engraving- created by scratching and cutting lines into the other metal.
Metal work- used for making pots and pans- like badla, which are semi-circular or rounded pots made in Marwar region of Rajasthan by using zinc.
Moradabad- perfects the technique of Baarik Kaam or delicate work & uses the Nakasshi style or the engraving style to create pots.
Tarkashi (Rajasthan)- a technique of using fine copper or brass wires to create patterns in finely chiseled grooves in the metallic base.
Technique of Koftagiri or damascening (Rajasthan) - involves inlaying a light metal on a dark side and usually made by artists in Jaipur & Alwar

Leather Products
Art of leather tanning - existed since 3000 BCE.
First few animals whose skins were tanned- tigers and deers, camels (most popular for skinning). In ancient period- rishis or wise men used animal skins as mats.
Leather- used in the Mughal period.
Difficult to find material evidence for leather- because of its degenerative nature.
Leather - used to make footwear, bags and wallets.
Biggest market of leather- Rajasthan- camel leather is used to make bags.
Jaipur & Jodhpur- famous for Mojadis, a specific type of leather footwear.
Kanpur, Uttar Pradesh- its economy is sustained by leather & tanned products.
Maharashtra- kolhapuri chappals.
Chennai & Kolkata- major centres for leather bags and footwear.
Punjabi juttis- famous as they use applique technique on footwear, that makes them very beautiful.
Bikaner- Manoti Art, which involves decorating articles with camel skin.
Various Regional Footwears in India


Wooden Work
India has a large forest cover and wood is one of the major products derived from forests.
Furniture- biggest commodity from wood.
Exquisitely carved woodwork furniture- found in sheesham wood, pinewood, etc.
Kashmir
(i) One of the largest centres for making wooden furniture, since 13th century.
(ii) Walnut & deodar wood extensively used.
(iii) Artists- adept at making wooden houses, houseboats, etc owing to the cold and wet climate.
(iv) Most exquisite woodwork - Kashmiri lattice work such as acche-dar, khatamband and azlipinjra.
Another major centre- Gujarat- wooden latticework is used on windows and wooden doors.
Hilly areas, having access to abundant wood, excel at carving techniques.
Example, Brahmour and Chatrahi in Himachal Pradesh- excel at woodcarving techniques used in temples like naghbel, kutheriphool, jali and dori.
Other major centres for woodwork are:






Various Types of Toys
Toy making- an art & a flourishing business.
First evidence for toy carts- Harappan civilisation & continue till the early historic period.
Sites from which toy carts of copper, bronze and terracotta can be made- several archeological sites belonging to Harappan period like Alamgirpur, Ambkheri, Kalibangan &Lothal.
Cart models- found in early historic sites like Atranjikhera, Nagarjunakonda, Sambhar, Sonapur, Ujjain and Brahmpuri.
Ancient & medieval period- toys were made of clay, paper, papier-mache and painted or lacquered wood.
Beautiful dolls- made of Red wood, example Tirupati dolls of Andhra Pradesh.
Rajasthan - dolls and stuffed toys made of colourful cloth are famous.
Assam- traditional dolls made out of pith or Indian cork.
Southern Indian states- make toys out of different types of wood.
Mysore & Chennapatna- toys of lacquered wood are substituted for crafts as they are exquisite.
Kondapalli, Andhra Pradesh- local soft wood called ponki is used to make a very popular toy called Amhari Hathi.
Stoneware
Stone masonry and crafting - one of the most popular art in India.
Best examples of stonework - in South Indian towns where a range of stones like soft-brittle sandstone to patchy red stone to hard granite were used to create lifelike structures that resemble natural postures.
Evidence of sculptures & architectural facade- can be seen from the Mauryan Period; examples- rock-cut caves of Ajanta and Ellora, the erotic sculptures of Khajuraho, Buddhist carvings of Sanchi and Bharhut.
Monolithic carving of the rock cut temple- Masrur in Kangra district.
In Mughal period
(i) Trend changed from stone to marble stonework.
(ii) Focused on inlay work with colourful stones on marble known as Pietra Dura Work.
(iii) Built lot of monuments using sandstone.
(iv) Made grandest monuments of white marble- Taj Mahal & Itmad-ud-Daulah's tomb.
Main centres of procuring marbles:
(i) Rajasthan- produces 'Saitg-e- Marmaf or white Makrana marble.
(ii) Jhansi (Uttar Pradesh)- makes articles out of dark brown stone called Sang-e Rathak.
Embroidery Crafts
Is the art of working raised designs using threads or wooden blocks.
Can be performed by using threads of gold, silver, silk or cotton on cloth using needles.
Types of embroidery arts:
(a) Applique or Pipli
- Practiced in Pipli village in Odisha.
- A type of patchwork made of embroidered colourful fabric, sewed together Used to make beautiful lamps.
(b) Phulkari
- Means 'making flowers'.
- Uses technique of darning to create colourful flower like patterns on the cloth.
- Produced in Punjab, Haryana and Delhi
(c) Bagh
- Medieval yet innovative technique
- Uses silk threads to embroider on a green cloth to make flower like patterns.
(d) Gota
- Rajasthan
- Uses gold threads to embroider and create applique like patterns on the cloth.
(e) Zari work
- In Khandela and Jaipur
(f) Karchobi
- Related to Zari
- In Rajasthan
- Created by sewing flat stitches on cotton stuffing to create a raised zari like metallic thread pattern.
(g) Chikankari or Chikan embroidery
- In Lucknow.
- Uses white thread to make flowers and other beautiful patterns.
- Can be done on clothes like cotton, mulmul ka cotton, polyester and voile.
(h) Kashida embroidery
- In Kashmir
- Done on famous Cashmere Shawls.
(i) Banaras Brocade
- Famous for silver & golden zari on sarees.
- Have floral motifs and generally silk sarees are used.
- Takes 2-8 weeks to make them.
(j) Himroo
- Muslim rulers in medieval period, used himroo material for royal dresses and shawls.
- Himroo shawls- very popular today.
- Made in Aurangabad (Maharashtra).
(k)

Maheswari sarees
- Madhya Pradesh
Mixture of cotton & silk yarns.
- Embellished with golden zari work.
- Famous for reversible borders, that can be worn either side.
(l) Chamba Rumals
- Handkerchiefs of Himachal Pradesh
- Show the influence of Chamba Pahari painting
- Delicately embroidered in shades of green, yellow and ochre with themes of Krishna's tales.
- Used as gift item during marriages.
- Nature including trees, flowers etc. are depicted in these.
(m) Mirror work embroidery
- Kutch in Gujarat is known for it.
- Called Shisha, in which tiny pieces of mirror are fixed to the fabric using herringbone and satin stitch.
(n) Kanthas
- In West Bengal and Odisha
- Layers of old pieces of cloth are stitched together & embroidered.
- Used in homes for different purposes like cushion covers, etc.
- Also used old saris and cloth for making some different item of use.
- Valued as decorative pieces, today.
(o) Muga Silk Thread Embroidery
- In Manipur
- In dark colours is done on borders of phaneks (traditional shawl) worn by women during occasions like marriages.
(p) Kasuti,
- Beautiful geometrical motifs are created in cross stitch in folk embroidery of Karnataka.
- Are hand-made
- Belong to Chalukyan era.
A list of embroideries in India





Floor Designs
They have a universal appeal.
This diverse art form is seen in many states.
Made during religious or family auspices.
Designs are made freehand, beginning at the centre with a dot and then expanding in concentric patterns of geometrical shapes of circles, squares, triangles, straight lines and curves.
Natural materials & colours, which do not stain the floor and can be easily erased are used.
They aren't meant to be permanent.
For white colour- dry white chalk or lime powder (limestone/chuna), powdered marble or a mixture of rice powder and lime is used.
Chowkpurna (Punjab & Uttar Pradesh) and Aipan (Himachal Pradesh)- adopt squares, circles and triangles as the basic motif.
Word chowk (square)- derived from chowki (seat) of Lakshmi (goddess of wealth and prosperity) and are made during auspicious festivals and occasions.
Mandana (Rajasthan & Madhya Pradesh)- means mandan (decoration) and includes squares, hexagons, triangles and circles. For making it, ground is cleaned with cowdung & finished with crimson red which is obtained by mixing reti (red earth).
Mandanas of Madhya Pradesh- use a variety of shapes & designs according to the occasion.
Santhias (Gujarat) - to decorate the entrance of houses on important occasions.
Rangoli (Maharashtra) - uses elegant shapes and motifs like lotus, swastik, etc.
Kolam designs (South India)
- Drawn to link an array of dots which vary in number, combination and form.
- Thin lines are done with powdered rice or the white powder of crashed stone on a wet ground.
- Are outlined with red gera.
- Also called Hase in Karnataka, Muggulu in Andhra Pradesh, Golam in Kerala.
- Cosmological bodies- especially Sun and Moon are also drawn.
- Mandapa Kolams- large floor designs drawn exclusively for marriage ceremonies. Are made with wet rice paste.
- Graha Kolam- made to sanctify place of worship.
Jhonti (Odisha) and Aripana (West Bengal and Assam) are highly stylised as they use conch shells, fish motifs, serpents, flowers, etc.
Designs are drawn on floor with chalk powder and filled with coloured powder or rice paste; coloured with alta (sindoor) for red and turmeric for yellow and is customary to place a flower before each Aripana design.