UPSC : Physiography of India(Part - 2) - Geography, UPSC, IAS UPSC Notes | EduRev
All you need of UPSC at this link:
UPSC
Physiography of India (Part - 2)
Deccan Plateau has the following features:
The Deccan Lava Plateau Region
Telangana Plateau
The Karnataka Plateau

The Deccan Lava Plateau Region
The northwestern part of Deccan Plateau is the region of basaltic lava.
It includes the Western Ghats north of 160N latitude, plateau of Maharashtra (except the east of Nagpur) and the adjoining parts of Madhya Pradesh, Karnataka and Andhra Pradesh.
Telangana Plateau
Part of the Deccan Plateau comprises of the interior region of Andhra Pradesh.
North of Krishna River is the plateau of Telangana.
South of the Krishna River, lying in the Rayalseema plateau region.
The Karnataka Plateau
Situated to the south of Deccan Lava Region.
Malnad and Maidan are two physiographic regions of Karnataka Plateau.
(i) Malnad
Hilly and dissected plateau region about 35 km wide lying close to the Western Ghats. The highest hills is the Bababudan group.
(ii) Maidan
Situated in the eastern part of Malnad, relatively large rolling plains with low granitic hills.
Plateau
It is an extension of main peninsular plateau
It includes Meghalaya and karbi-Anglong plateau
Meghalaya plateau is further sub-divided into Garo hill, khasi hill & Jaintia hills
this plateau is highly eroded because it is high rainfall area
Coastal Plains
This is a narrow belt and provides natural conditions for the development of the ports & the harbours.
From Gujarat to Kerala they can be divided into kutch & Kathiawar coast, Konkan coast and Malabar coast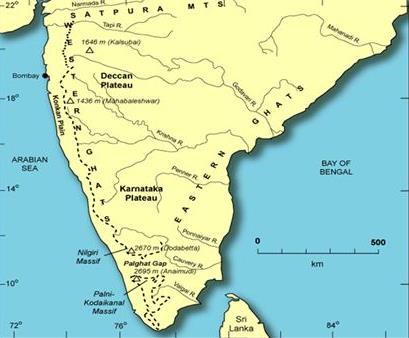 Coastal plains
On the basis of location, the plains can be divided into :
The western coastal plains
The eastern coastal plains
KATHIAWAR COAST
Extends from Rann of Kutch to Daman in the south

THE ISLANDS
There are two major groups of the island in India
Bay of Bengal group
Arabian Sea group
Bay of Bengal
This group consists of 572 islands
The group is divided into Andaman in the north & Nicobar group in the south
They are separated by "ten degree channel"
Bay of Bengal islands
These are believed to be the extension of Arakan Yoma mountain
Barren island, the only active volcano is situated in the Nicobar island
The Pamban Island, situated between India and Sri Lanka, has a rocky surface, is an extension of the peninsular surface in Ramnad district of Tamil Nadu.
Arabian sea islands
This group include the Lakshadweep and Minicoy islands
There are approx. 36 islands
These are built of coral deposits
Arabian sea islands
Minicoy is the largest island
The group is divided by 11 degree channel, north of which is the Amini island and to the south is the Cannanore island