Facts about types of Pollen grains –
(1) In Asclepiadace ae (Calotropis ) and Orchidaceae family, all the pollen grains joined together to form " Pollinium ". Pollinium of Calotropis is also called "Translatorapparatus".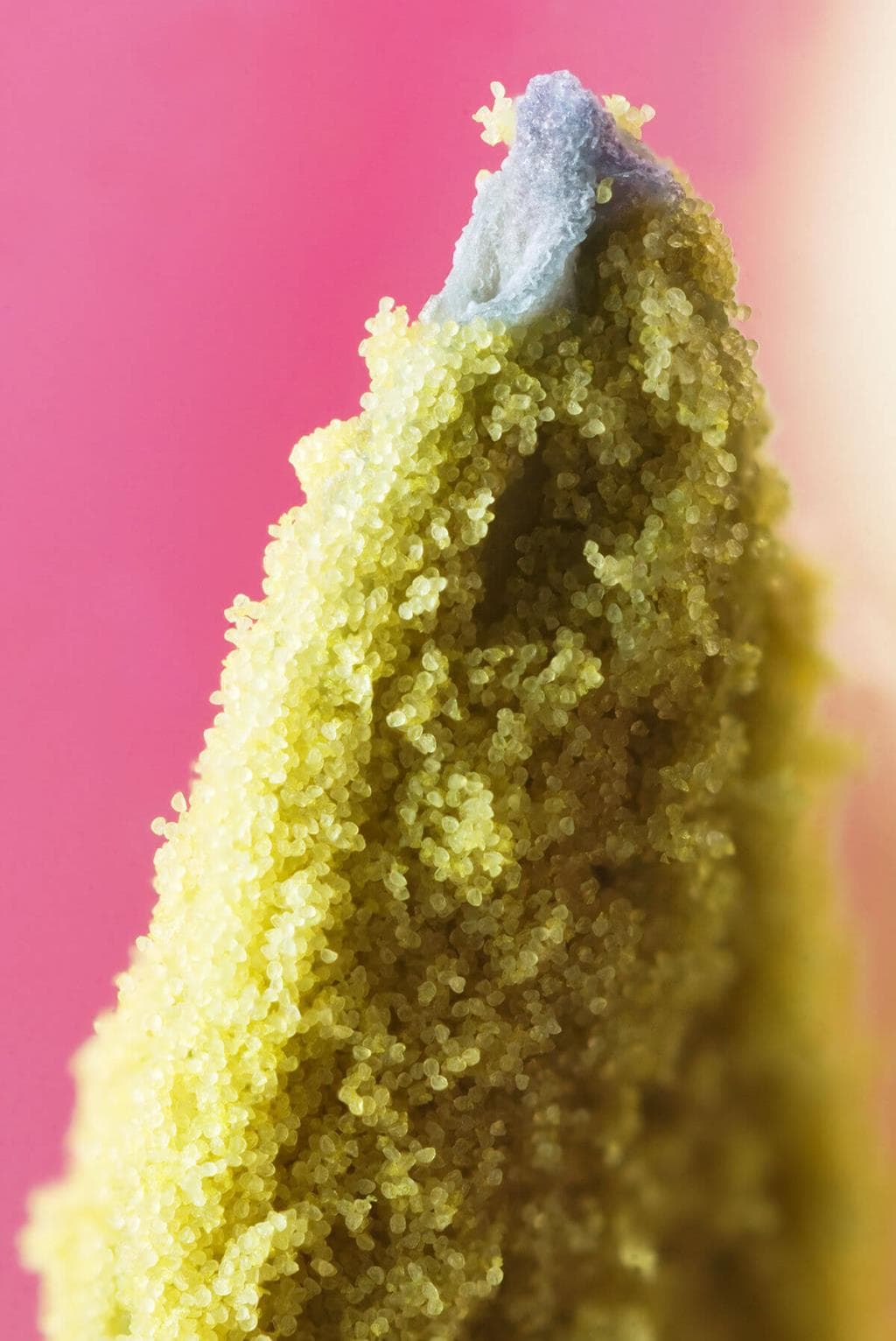 Fig: Pollen
( 2 ) More than four pollen grains are found inter-trade called " Polyspory " e.g. Cuscuta .
( 3 ) In some plants, four pollens of tetrad join together permanently are called "Compound pollens " e.g.
Drosera, Typha, Drimys and Elodea .
(4) Compound pollens of Mimosaceae (Mimosa) family contains 6-8 or 64 pollen grains stick together to form a small unit that is cal led " Massullae " e.g. Mimosa and Neottia plants.
(5) Pollengrains of some plants present in air cause allergy are called "aeroallergens " e.g.-Chenopodium, Parthenium, Sorghum , and Amaranthus . ["Hayfever" is caused by pollens of Ambrsia .]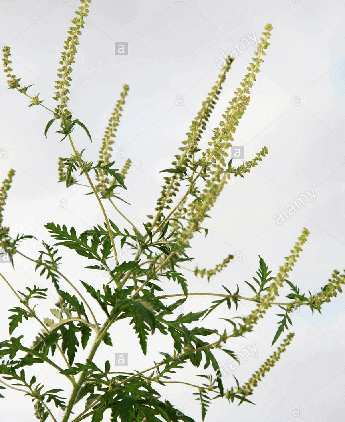 Fig: Ragweed (Ambrosia). The pollen causes hay fever
( 6 ) Pollen grains of many plants are rich in nutrients. It has becomes a fashion in recent years to use pollen tabletes as food supplements. In western countries, a large number of pollen products in the form of tablets and syrups are available in the market. Pollen consumption has been claimed to increase the performance of athletes and race horses.
(7) In Cyperaceae family only one pollen grain is formed from pollen mother cell. e.g., Cyperus .
(8) Largest pollen - Mirabilis .
(9) Smallest pollen - Myosotis.
(10) Longest pollen – Zostera (Fili form pollen)
(11) Eight nucleatedembryosac type of pollen is found in Hyacinthus . This type of pollen grain discovered by Nemec . So it is called Nemec phenomenon.
(12) Dumble shaped pollens are found in Vincaherbacea .

STRUCTURE OF MICROSPORE OR POLLEN GRAIN :
Pollen grain is the first cell of a male gametophyte.
Pollen grain is termed as immature male gametophyte .Usually, they are in round shape. Pollen grain surrounded by two distinct layers . The outer layer (wall ) is thick, rigid and ornamented , called exine . This layer is formed by cutin and sporopollenin . Sporopollenin is highly resistent material . It is non-biodegradable.
Due to the presence of sporopollenin, fossils of pollengrain are always found in good condition . The presence of fossils of pollengrains can forecast the presence of natural resources like petroleum , coals etc. in the earth.
The internal layer is thin, soft and elastic in nature. It is called intine. It is made up of pectin and Cellulose or pecto- cellulose.
Usually, at few place s on outer surface exine is absent or present in the form of thin layer. These thin places are called germpore. The intine comes out through the any one germpore during the germination of pollen grain in the form of pollen tube .
The number of germpore , structure and ornamentation of exine is a significant feature of taxonomy .
A detail study of pollen grains is called Palynology.
Three colpus type (slit type) of germpore are present in pollen grain of most of the dicots (Capsella) . This type of pollen grains are called tricolpate . Only one germ pore is present in monocots and pollen grain is called monocolpate.
The plants in which pollination takes place by insects , their pollen grains having oily layer around the pollen grain. It is called pollen -kitt. It is composed of lipids and carotenoids.
Function of pollen kitt :-
(i) This oily layer protects the pollen grain from the harmful ultraviolet rays.
(ii) Its sticky surface helps to attach with the insects.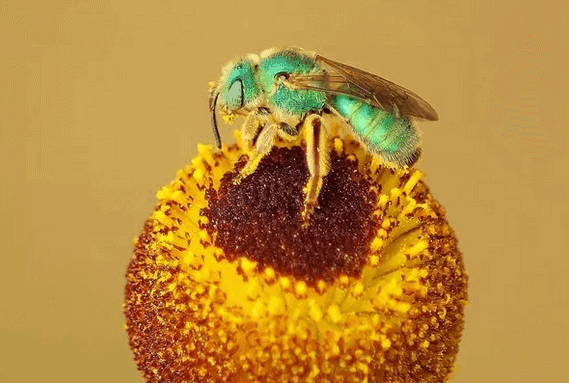 Fig: An insect on Pollen kitt(iii) Its yellow colour attracts the insects. Pollen kit is present on the pollens of Capsella.
[D] DEHISCENCE OF ANTHER :
During the maturation of anther, various changes are takes place in walls of anther.
In the beginning, middle layer degenerates due to absorption
When the micropores are formed inside the pollen sacs, at the same time ubisch bodies are formed in cells of tapetum, then after it degenerates. Ubisch bodies participate in the formation of exine of pollens.
In this way, in a mature anther only two layers epidermis and endothecium are present in the form of outer covering.
The sterile tissues are present between both the pollen sacs of each anther lobe degenerate. So both pollen sacs of the each anther lobe fuse together to form single pollen sac
Therefore, in the T.S. of mature anther only two pollen sacs are present.
Dehiscence of anther takes place during the dry season. Due to the hygroscopic nature of endothecium, loss of water takes place from the cell of endothecium.
Walls of endothecial cells try to contract due to the loss of water but inner and radial walls do not contract due to presence of fibrous thickening whereas outer thin walled cells of endothecium contract and become concave or incurved.
Incurving of outer walls exert pulling force or tension over the entire surface of anther. Due to tension, thin walled stomial cells breaks off and dehiscence of anther takes place and pollen grains are present in pollen sacs released into the atmosphere.
Dehiscence of anther in Angiosperms either longitudinal or Apical pore, or Transverse or Valvular type. Dehiscence of anther of Capsella is longitudinal.
MICRO- GAMETO GENESIS OR DEVELOPMENT OF MALE GAMETOPHYTE :
In flowering plants , pollen grain or microspore considered as first cell of male gametophyte . Germination or development of pollen grain takes place before dehiscence of anther. So it is called as precocious development . Development of pollen also takes place at mother place [inside pollen sac of anther] is called In-situ development.
( i ) Pre-Pollination development – In the beginning of the the process, only nucleus of pollen grain divided by unequal mitotic division , resulting two unequal size of nucleus are formed. Small nucleus present near the wall is called generative nucleus and large nucleus present inside the cytoplasm is called Tube or Vegetative nucleus .
Both the nucleus surrounded by cytoplasm and it becomes dense, then followed by unequal cytokinesis , resulting two unequal size of the cells are formed. larger cell in which large nucleus is present known as Vegetative cell and smaller cell in which small nucleus is present , called generative cell .
Now pollen grains come in bicelled and binucleated stage . In 60% of Angiosperms pollination of pollen grains take place in bicelled and binucleated stage and in 40% of angiosperms pollination occurs at 3-celled stage. In this generative cell divides and form two male gametes. The development gametophyte take place inside the sporangia is also known as endosporic development .
This stage of pollen grain is called immature or partially developed male gametophyte .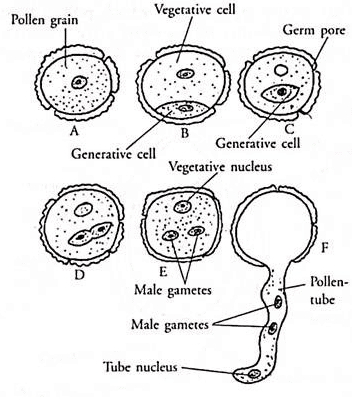 Fig: development of male gametophyte
Generative cell detached from the wall and changed into vermiform or spindle shaped structure and enter inside the vegetative cell.
(ii) Post Pollination development – Further development of pollen grain [Immature male gemetophyte] takes place on the stigma of Carpel after pollination. Pollens absorb moisture and sugar content from the stigma. Due to this volume of internal contents of cytoplasm increased. It exerts pressure on the both outer layers. Because of this pressure intine comes out through any one germpore in the form of tube like structure called pollen tube .
First of all vegetative nucleus enter into the pollen tube and as sumes terminal [tips] position. This spindle shaped generative now enter into the pollen tube. Inside the pollen tube, generative cell divides mitotically and to form a two non motile male gametes . Now male gametophyte comes in three celled structure in which one vegetative cell and two male gametes are present.
This three celled stage represents the mature male gametophyte of Angiosperm [Capsellaalso]. Male gametophyte is highly reduced and completely depends on sporophyte.
First of all pollen tube discovered by G.B. Amici in Portulaca plant .
Longest pollen tube is found in Zeamays .