Communism vs. Socialism
In both communism and socialism, the people own the factors of economic production. The main difference is that under communism, most property and economic resources are owned and controlled by the state (rather than individual citizens); under socialism, all citizens share equally in economic resources (Collective ownership) as allocated by the government.
Table: Difference between Communism and Socialism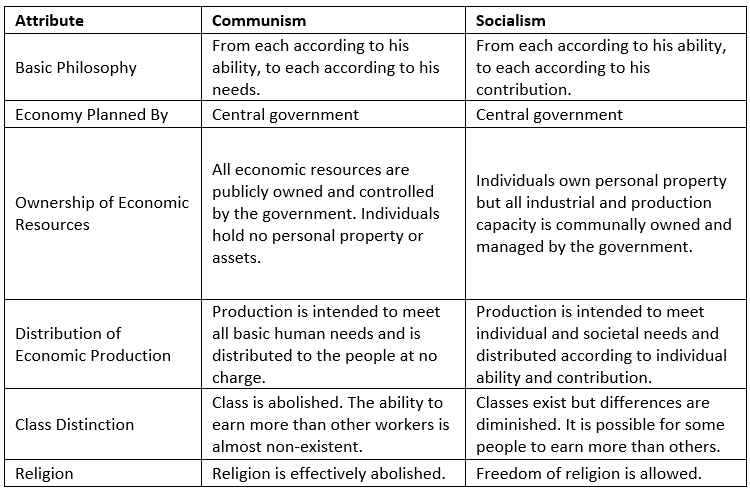 Table: Advantages and disadvantages of Command economy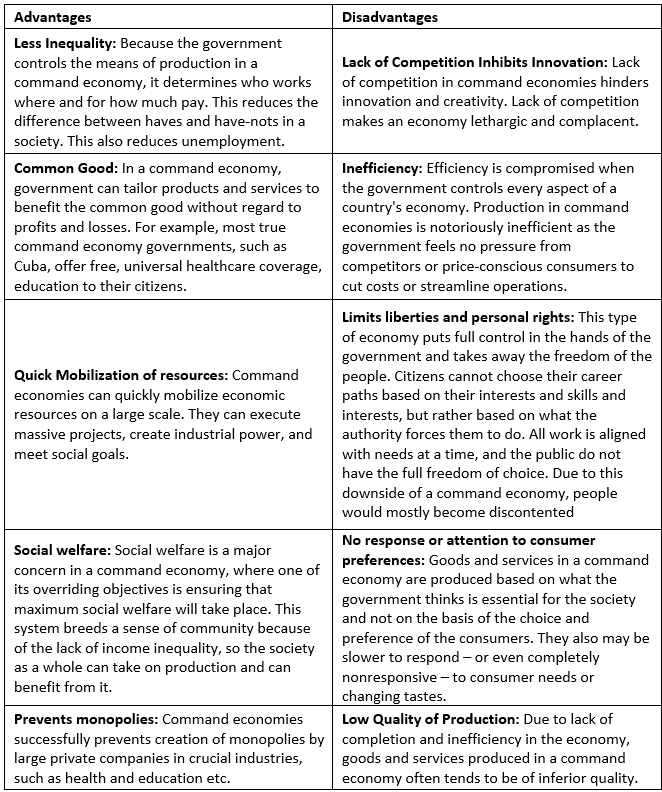 3. Mixed Economic System
The concept of mixed economy evolved on the basis of ideas proposed by British economist John Menard Keynes in his seminal work' The general theory of Employment, Interest and Money' published in 1936.
J.M.Keynes
After the Great American Depression, it was agreed by many economists that neither of the economic systems (Market economy and Command economy) are free from flaws and certain changes were necessary.
Keynes suggested a new set of economic policy approach which included combining or synthesizing the positive features of both Market economy and Command economy which came to be known as mixed economic system.
The idea behind a Mixed Economy is to tackle the demerits of both a market economy and command economy and come up with a unique system. It appreciates the concept and the freedom of private ownership of properties and resources. But at the same time, it understands the disadvantage of unchecked capitalism. Hence it proposes government oversight and economic planning so there is no discrimination against the poorest citizens.
Mixed Economy= Market economy + Command economy.
Features of Mixed Economic System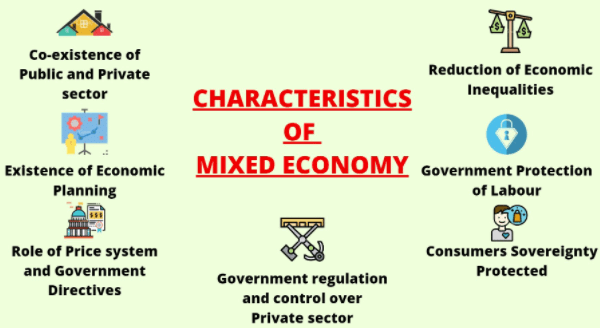 Coexistence: In a mixed economy, both public and private sector exist side by side. Economic activities are carried out by both private individuals and government. Private sector plays its role in those sectors which are profitable. Government engages itself in the sectors which are considered as unprofitable by the private enterprises or which are beyond their capacity. Government also controls strategic and essential areas of the economy such as defense, atomic energy etc.
Regulation: To keep a check on monopolistic practices and discrimination of the lower sectors of society the state maintains control and regulates the economy whenever it is deemed necessary.
Freedom: In a mixed economy all individuals have the freedom to produce goods and products, choose their occupation and choose or demand products/services they want.
Both public and private ownership of factors of production and economic enterprises.
Economic Planning: In a mixed economy, some type of central planning exists. All sectors of the economy follow the economic plan of the state to achieve various targets and goals. The plan is not rigid but more of a general guideline for economic growth and prosperity of the nation.
Social Welfare: One of the main aims of a mixed economy is social welfare. It aims to reduce the wealth gap in the country and fight the inequalities of our society. The aim is to reduce poverty and unemployment. And at the same time also improve social security, public health care, public education system, etc.
Table: Advantages and disadvantages of Mixed economy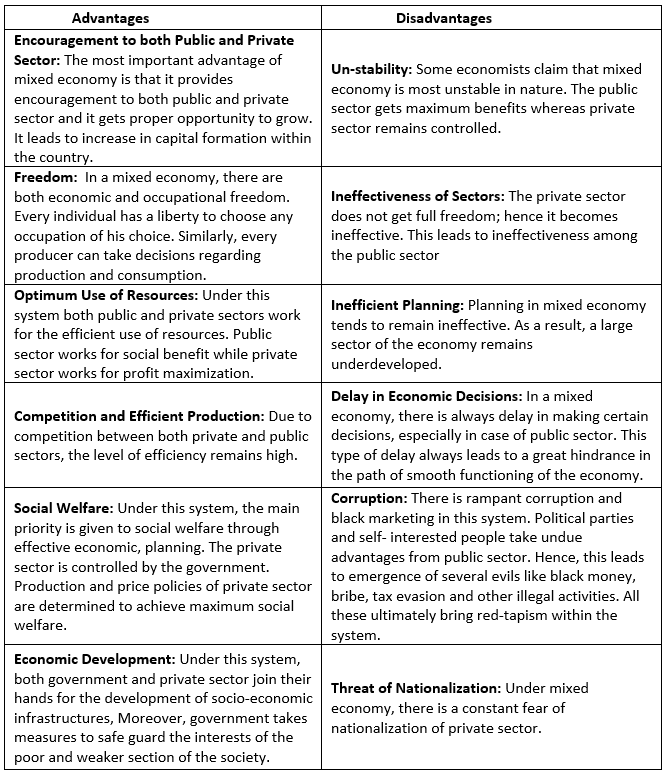 Sectors of an economy
Economic activities in a country are broadly divided into three main sectors.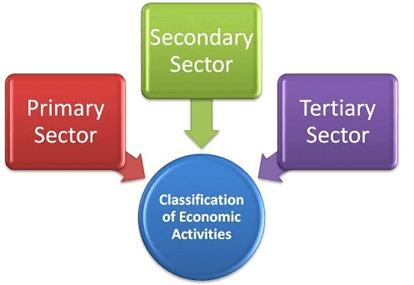 1. Primary Sector: The primary sector of an economy includes those activities which produce goods through direct utilization of natural resources.
This includes agriculture, animal husbandry, forestry and fishing, horticulture, beekeeping etc.
Primary sector
It is called as primary sector because it forms the base for all other products. Since most of the natural products we get are from agriculture, dairy, forestry, fishing, it is also called Agriculture and allied sector.
The primary sector is usually most important in less developed countries, and typically less important in industrial countries.
When primary sector contributes more than half of the national income and livelihood in a country, it is called an agrarian economy.
It should be noted that even though in many countries, mining and quarrying is considered as primary sector activities, in India it is included in secondary sector.
2. Secondary sector: It includes those activities where finished products are made from materials produced in the primary sector.
Since this sector is associated with different kinds of industries, it is also called industrial sector.
Example: Industrial production, cotton fabric, sugar cane production, food processing etc. comes under this sector.
Secondary sector
People engaged in secondary activities are called blue collar workers.
When secondary sector contributes more than half of the national income and livelihood in a country, it is called an industrial economy.
3. Tertiary sector: The tertiary sector is the segment of the economy that provides services to its consumers. It is also known as the tertiary sector or service industry/sector.
Examples of tertiary sector include transportation and communication, such as railroad or trucking, taxi services, city bus systems, hospitality industries, such as hotels and resorts, as well as food service providers, such as restaurants, financial institutions, such as banks and Hospitals, clinics, veterinarians and other medical service facilities etc.
This sector jobs are called white collar jobs.
4. Quaternary Sector: Known also as 'knowledge' sector, the activities related to education, research and development, etc. come under it. The sector plays the most important role in defining the quality of the human resources an economy has.
5. Quinary Sector: All activities where top decisions are made fall under it. The highest level of
decision makers in governments (inclusive of their bureaucracy) and the private corporate sector
fall under it. The number of people involved in this sector is very low rather they are considered
the 'brain' behind socio-economic performance of an economy.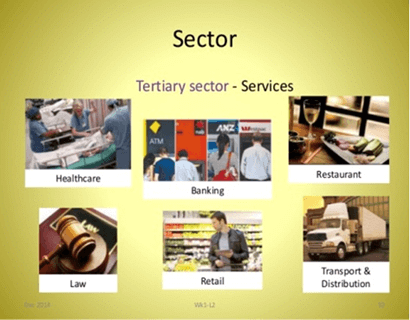 Tertiary sector
Contribution of various sectors to Indian economy in 2021-22: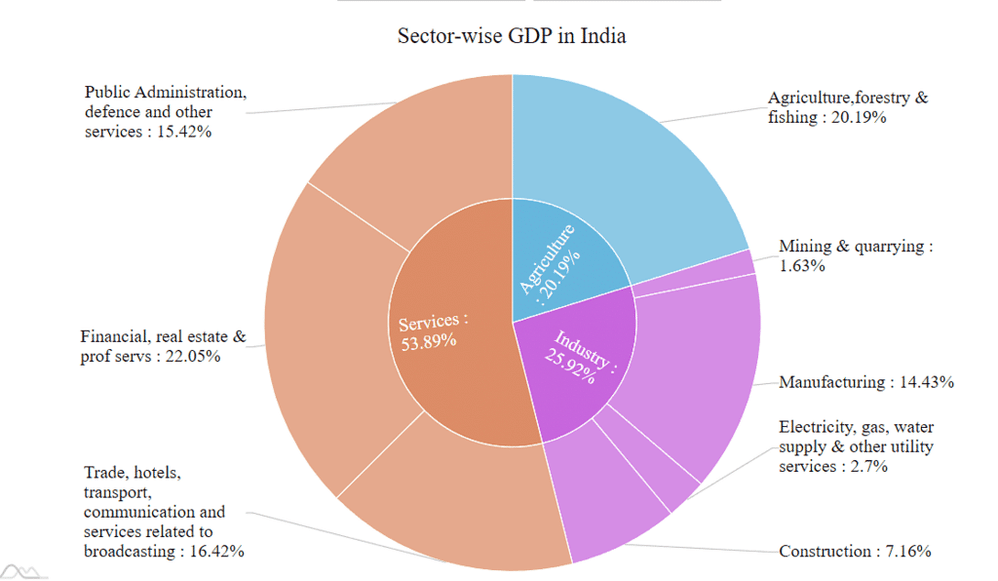 Sectorwise GDP contribution to Indian economy 2021-2022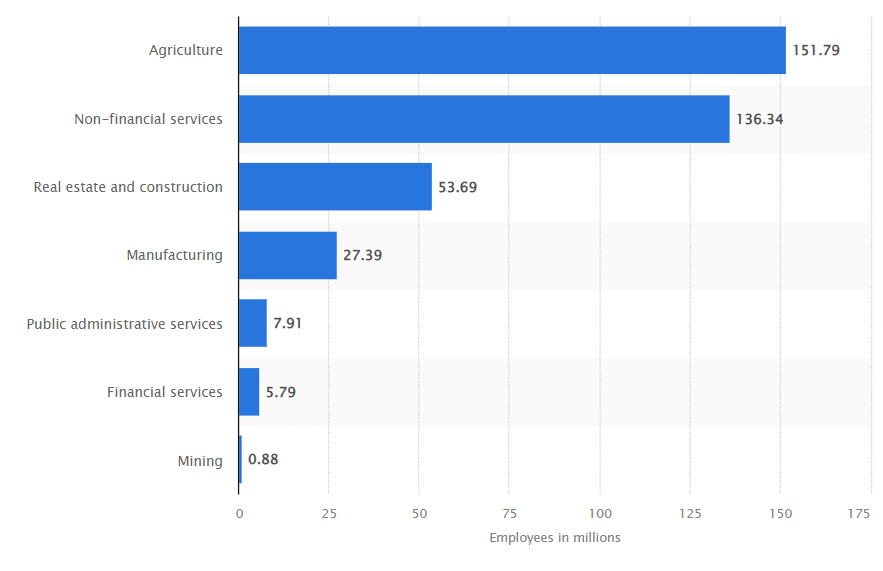 Number of people employed across major sectors in India in financial year 2021-22