UPSC : Seasons in Indian (Part - 2) - Geography, UPSC, IAS. UPSC Notes | EduRev
All you need of UPSC at this link:
UPSC
Seasons in Indian

JET STREAM IN SUMMER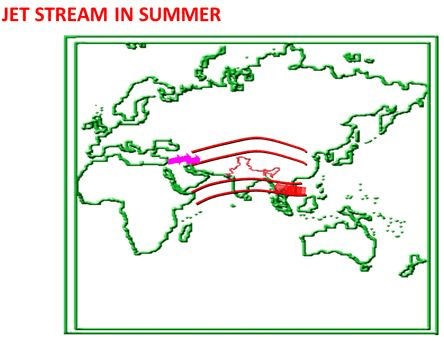 Southern branch blows south of the mighty mountains.
A high pressure system gets formed south of the jet stream over Afghanistan and NW Pakistan where air tends to subside leading to atmospheric stability and dry conditions there by causing NE winter monsoons.
The jet stream helps disturbances in the NW of the subcontinent, which tend to follow paths immediately beneath the jet stream.
These disturbances move long the eastern Mediterranean and into NW India appearing here as waves rather then as well developed frontal cyclones.
During summer season as sun falls vertically over the Tropic of Cancer the polar surface high pressure is weakened and upper air circum polar whirl shift northward as a result of which the upper air westerly jet are also withdrawn from southern slopes of the Himalayas.
The removal of jet stream to north of the Tibetan plateau results in reversal of the curvature of How of free air to the north and north west of the subcontinent.
This event may well be the trigger that sets off the 'burst' of the monsoon.
Tibet Plateau:
In 1973, the Monsoon Expedition (MONEX) was organized under the joint auspices of the erstwhile Soviet Union and India.
Experiments concluded that summer time heating of Tibetan Highland plays a dominant role in the origin of Monsoon circulation.
Due to its protected height Tibetan plateau receives 23° C more insolation than the neighboring areas.
The plateau affects the atmosphere in two ways:

as a mechanical barrier
as a high level heat sources. Infact the plateau accentuates the northland displacement of the jet stream. The summer time heating of the Tibetan Plateau makes it a high level heat source, which produces thermal anticyclone over this region, thereby weakening the western subtropical jet stream south of the Himalayas and intensifying the move of S. W monsoon.
ONSET OF SW MONSOON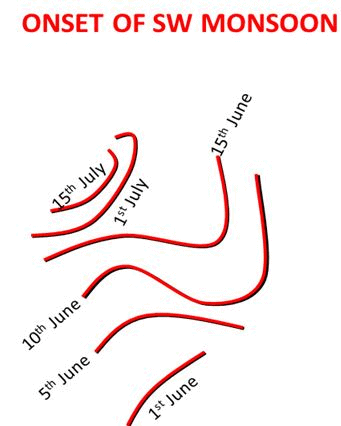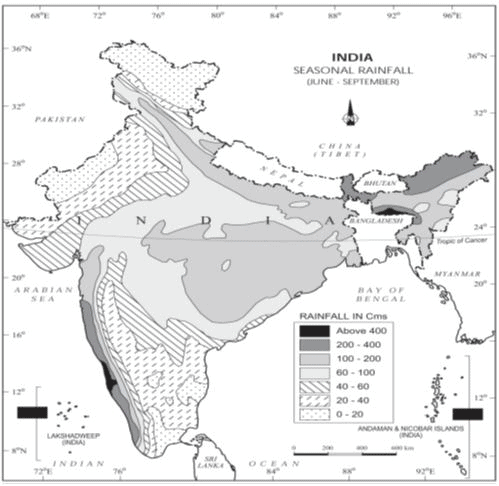 RETREATING MONSOON SEASON
It extends from October to November
Vertical sun rays start shifting towards Northern hemisphere.
Low pressure region shift from northern parts of India towards south.
Owing to the conditions of high temperature and humidity, the weather becomes rather oppressive.
This is commonly known as the 'October heat'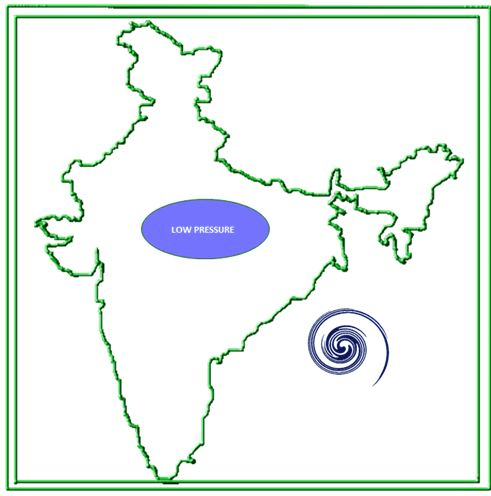 WITHDRAWAL OF MONSOON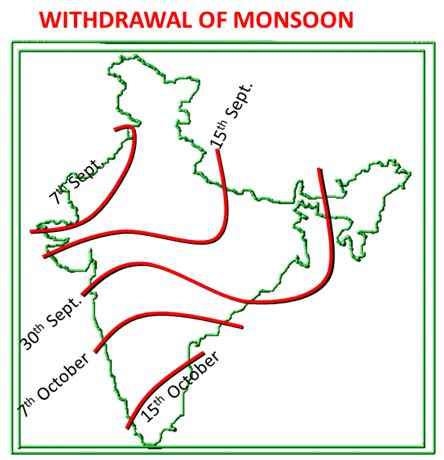 DISTRIBUTION OF RAINFALL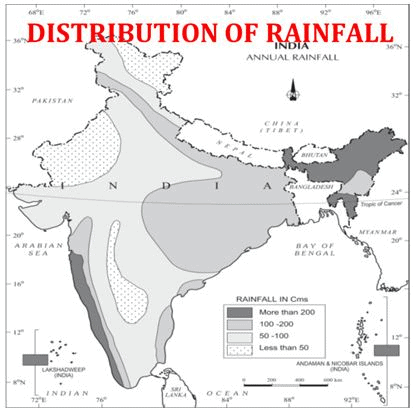 VARIABILITY OF RAINFALL
The variability of rainfall is computed with the help of the following formula:
C.V.= Standard Deviation/ Mean * 100
Variability of less than 25% exist in Western coasts, Western Ghats, northeastern peninsula, eastern plain of the Ganga, northern India, Uttaranchal, SW J & K & HP.
Variability of more then 50% found in Western Rajastan, J & K and interior parts of Deccan.
Region with high rainfall has less variability.