Sher Khan
Sher Shah Suri was the son of a small Afghan Jagirdar near Jaunpur. The title of 'Sher Khan' was given to him by his patron for killing a tiger. He joined Babur's army and studied the methods of Mughal warfare. He defeated Humayun and came to power.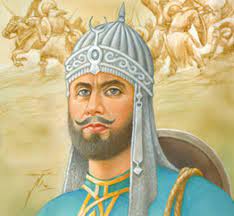 Sher KhanReforms in administration
Sher Shah Suri became the ruler of North India. He waged successful wars in Malwa, Rajasthan and Sind. He was a wise administrator and reorganised the military and the revenue system, improved communications, built roads and introduced the new coin, rupia. His sarais made travelling easy and safe.
Trade and Commerce
To prevent the officers' undue influence, he used to transfer them every two to three years. The emperor was the head of every branch of government. He personally supervised all officers' work from the highest to the lowest. This helped in trade and commerce and served as dak chowks.
Try yourself:Sher Shah Suri was given the title of 'Sher Khan' for ?
Justice
Sher Shah Suri was kept informed about the developments in the empire's defferent parts. He administered justice sternly and fairly and introduced the system of local responsibility. The foundation of administrative system laid by him was continued even after his death with some changes.
Revenue Policy
Sher Shah Suri's weak successors enabled Humayun to regain the last empire. Sher Shah Suri was liberal in his religious outlook. His revenue policy was adopted not only by Akbar but also by the British.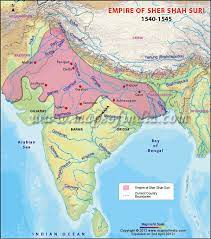 Empire of Sher Khan
Death of Sher Shah
Sher Shah Suri was killed a gunpowder explsion while laying the siege to kalinjar fort in 1545. Sher Shah Suri died in 1545 after a short rule of five years but he established a vast empire and built up a fine and strong administration. The tomb he built for himself at Sasaram is a masterpiece of architecture.
Women Rulers in Medieval India
Rudrama Devi was a monarch of the Kakatiya dynasty in the Deccan Plateau with capital at Warangal of present-day Telangana from 1263 until her death. She was one of the few women to rule as monarch in the Indian subcontinent and promoted a male image.
Akka Mahadevi was a prominent figure of the Veerashaiva Bhakti movement of 12th century Karnataka. Her Vachanas in Kannada, a form of didactic poetry, are considered her most notable contribution to Kannada Bhakti literature.
A few centuries later, Meera in northern India, became a leading Hindu mystic poet of the Bhakti movement.
The Muslim conquest in the Indian subcontinent brought changes to Indian society. The position of Indian women in society deteriorated during this period.
Jauhar which became a custom among Rajputs was performed when they were faced with invaders like Turco-Afghans from the 11th century to avoid being enslaved and lose their honor or be tortured.
During the conquest of Sindh by Muhammad bin Qasim, Rani Bai and other Rajput women had performed the Jauhar.
In Chittor Fort alone, it was committed thrice by many of the wives and children of the Rajput soldiers who died in battles at Chittorgarh Fort. The first time was led by Rani Padmini, wife of Ratnasimha, who was killed in the battle in 1303, and later, by Rani Karnavati in 1537.
The zenana was a Persian tradition brought in by the invading Muslims. Although originally only a feature of Muslim dynasties' courts, it was also adopted by Hindu royal families. While separate spaces for women sometimes did exist in the ancient period, they didn't become a norm until the Muslim period.
Under Akbar, there was a marked focus on secluding women and creating harems. Mughals' policy was also emulated later by others like Chakma Raj and the Sikh kingdoms in Punjab.
A Muslim woman's rights were impacted by the custom of hijab or purdah in Persian. Despite this, women took part in arts, writing, rites, and rode horses while their habits sometimes swayed from the ulama's opinion. The hijab and burqah were practice in West Asia and became a regal practice under the Delhi Sultanate and Mughal Empire.
Hindus in North India later emulated the practice of purdah. The queens often played a part in imperial politics behind the scene. Some communities who adopted Islam have continued their ancestral matrilinear traditions like the Mappila in South India. Ibn Battuta in the Muslim principality of Hannaur witnessed 13 schools teaching Muslim women. Mullahs taught both genders, however, lower-classes were more uneducated.
The observance of purdah was not strict among the Turks. Among the reasons considered for its use are that it represented an elite status during the Muslim period and was also used to guard women and men against looking at each other with lust.
During this period the rulers and nobility sometimes engaged in debauchery and excesses.
Muslim nobility often engaged in lustful debauchery, concubines were not regarded as a shameful act, but a wealth status.
However, purdah was imposed by sultan Firuz Tughlaq. Akbar made it a rule that those women roaming without a veil be made a prostitute. He also directed that they should live within their house and travel under a male's supervision.
Muslim women thus suffered greatly and often denied an education. The upper-class women were better off due to private education and entertainment. The purdah system became weaker as the Mughal empire declined. However, there were women often becoming prominent in the fields of politics, literature, education, and religion also during this period. Razia Sultana (1205–1240) became the only woman monarch to have ever ruled Delhi.
The Gond Rani Durgavati (1524–1564) ruled for fifteen years before losing her life in a battle with Mughal emperor Akbar's general Asaf Khan in 1564. Chand Bibi defended Ahmednagar against the powerful Mughal forces of Akbar in the 1590s.
Jehangir's wife Nur Jehan effectively wielded imperial power and was recognized as the real power behind the Mughal throne. The Mughal princesses Jahanara and Zebunnissa were well-known poets, and also influenced the ruling powers.
Abbakka Chowta was the first Tuluva Queen of Ullal who fought the Portuguese in the latter half of the 16th century. Shivaji's mother, Jijabai, was queen regent because of her ability as a warrior and an administrator. Tarabai was another female Maratha ruler.


Nur Jahan

Keladi Chennamma fought against Bijapur Sultanate and defying Mughal emperor Aurangzeb. Onake Obavva was a woman who fought Hyder Ali's forces single-handedly with a pestle (Onake) in the kingdom of Chitradurga.
Mai Sukhan, with her small Sikh forces, strongly defended the town of Amritsar against external forces. While Velu Nachiyar was one of the earliest Indian queens to fight against the British colonial power in India.
Kittur Chennamma was the Rani of Kittur, who led an armed force against the British East India Company in 1824 in defiance of the doctrine of a lapse to maintain Indian control over the region was defeated in the third war and died imprisoned. In South India, many women administered villages, towns, and divisions, and ushered in new social and religious institutions.
Lakshmibai, the Rani of Maratha-ruled Jhansi, one of the principal leaders of the rebellion who earlier had lost her kingdom as a result of the Doctrine of Lapse.
Try yourself:Who was the Rani of Kittur?