Structure Formulas for Monosaccharides:
Although many of the properties of D(+)-glucose can be explained in terms of an open-chain structure (1, 2, or 3), a considerable body of evidence indicates that the open-chain structure exists, primarily, in equilibrium with two cyclic forms. These can be represented by structures 4 and 5 or 6 and 7. The cyclic forms of D(+)-glucose are hemiacetals formed by an intramolecular reaction of the -OH group at C5 with the aldehyde group. Cyclization creates a new stereogenic centre at C1, and this stereogenic centre explains how two cyclic forms are possible. These two cyclic forms are diastereomers that are different only in the configuration of C1. In carbohydrates, chemistry diastereomers of this type are called anomers, and the hemiacetal carbon atom is called the anomeric carbon atom.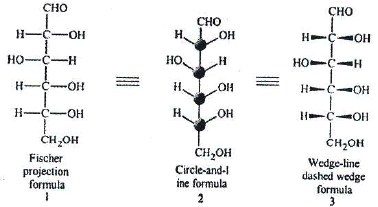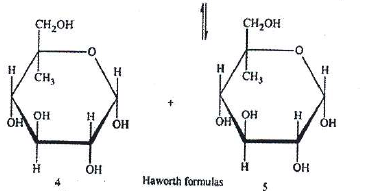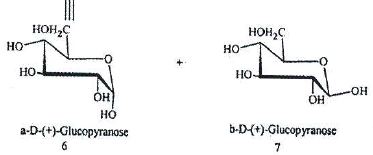 Structures 4 and 5 for the glucose anomers are called Haworth formulas and, although they do not give an actual picture of the shape of the six-membered ring, they have many practical uses. Demonstrates how the representation of each stereogenic centre of the open-chain form can be correlated with its representation in the Haworth formula.
Each glucose anomer is designated as an a anomer or a b anomer depending on the location of the -OH group of Cl. When we draw the cyclic forms of a D sugar: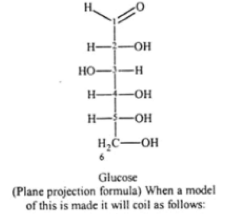 Mutarotation:
Ordinary D(+)-glucose has a melting point of 146°C. However, when D(+)-glucose is crystallized by evaporating an aqueous solution kept above 98°C, a second form of D(+)-glucose with a melting point of 150°C can be obtained. When the optical rotations of these two forms are measured, they are found to be significantly different, but when an aqueous solution of either form is allowed to stand, its rotation changes. The specific rotation of one form decreases and the rotation of the other increases, until both solutions
show the same value. A solution of original D-(+)glucose (mp: 146°C) has an initial specific rotation of 112°, but, ultimately, the specific rotation of this solution falls to 52.7°. A solution of second form of D(+) glucose (mp: 150°C) has an initial specific rotation of 18.7°, but slowly, the specific rotation of this solution rises to 52.7°. This change in rotation towards an equilibrium value is called mutarotation.
The explanation for this mutarotation lies in the existence of an equilibrium between the open-chain form of D(+) glucose and the a and b forms of the cyclic hemiacetals.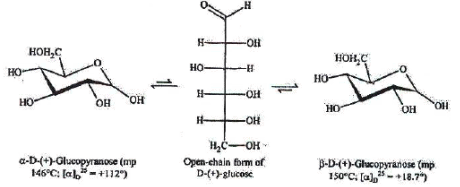 Conversion to Esters:
Treating a monosaccharide with excess acetic anhydride and a weak base (such as pyridine or sodium acetate) converts all of the hydroxyl groups, including the anomeric hydroxyl, to ester groups. If the reaction is carried out at a low temperature (e.g., 0°C), the reaction occurs stereospecifically; the α-anomer gives the a-acetate and the β-anomer gives the b-acetate. Acetate esters are common protecting groups for carbohydrate hydroxyls.

BENEDICT'S OR TOLLENS' REAGENTS: REDUCING SUGARS
Benedict's reagent (An alkaline solution containing a cupric citrate complex ion) and Tollen's solution [Ag (NH3)2OH] _ oxidize and thus give positive tests with aldoses and ketoses. The tests are positive even though aldoses and ketoses exist primarily as cyclic hemiacetals.

Sugars that give positive tests with Tollen's or Benedict's solutions are known as reducing sugars, and all carbohydrates that contain a hemiacetal group give positive tests. In aqueous solution these hemiacetals exist in equilibrium with relatively small, but not insignificant, concentration of noncyclic aldehydes or α-hydroxy ketones. It is the latter two that undergoes the oxidation until one reactant is exhausted.
Carbohydrates that contain only acetal groups do not give positive tests with Benedict's or Tollen's solutions, and they are called non-reducing sugars. Acetals do not exist in equilibrium with aldehydes or α-hydroxy ketones in the basic aqueous media of the test reagents.

Bromine Water : The synthesis of Aldonic Acid
Monosaccharides do not undergo isomerization and fragmentation reactions in mildly acidic solution. Thus, a useful oxidizing reagent for preparative purposes is bromine in water (pH 6.0). Bromine water is a general reagent that selectively oxidizes the -CHO group to a -CO2H group. It converts an aldose to an aldonic acid.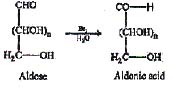 Experiments with aldopyranoses have shown that the actual course of the reaction is somewhat more complex than we have indicated above. Bromine water specifically oxidizes the β anomer, and the initial product that forms is a d-aldonolactone. This compound may then hydrolyze to an aldonic acid, and the aldonic acid may undergo a subsequent ring closure to form a γ-aldonolactone: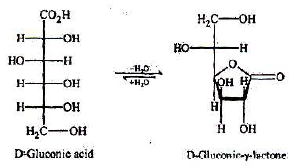 NITRIC ACID OXIDATION: ALDARIC ACID
Dilute nitric acid -a stronger oxidizing agent than bromine water oxidizes the both -CHO group and the terminal -CH2OH group of an aldose to -CO2H groups. These dicarboxylic acids are known as aldaric acids:



or

This aldaric acid obtained from D-glucose is called D-glucoaric acid.
PERIODATE OXIDATION: OXIDATIVE CLEAVAGE OF POLYHYDROXY COMPOUNDS
Compounds that have hydroxyl groups on adjacent atoms undergo oxidative cleavage when they are treated with aqueous periodic acid (HIO4). The reaction breaks carbon-carbon bonds and produces carbonyl compounds (aldehydes, ketones, or acids).

+ HIO4 → 2

+ HIO3 + H2O
Since the reaction usually takes place in quantitative yield, valuable information can often be gained by measuring the number of molar equivalents of periodic acid that is consumed in the reaction as well as by identifying the carbonyl products.
Periodate oxidation are though to take place through a cyclic intermediate:

Before we discuss the use of periodic acid in carbohydrate chemistry, we should illustrate the course of the reaction with several simple examples. Notice in these periodate oxidation that for every C - C bond broken, a C - O bond is formed at each carbon.
1. When three or more -CHOH groups are continuous, the internal ones are obtained as formic acid. Periodate oxidation of glycerol, for example, gives two molar equivalents of formaldehyde and one molar equivalent of formic acid.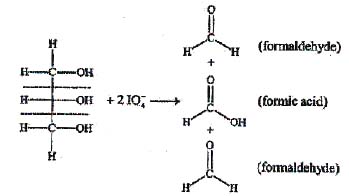 2. Oxidative cleavage also take place when an - OH group is adjacent to the carbonyl group of an aldehyde or ketone (but not that of an acid or an ester). Glyceradehyde yields two molar equivalents of formic acid and one molar equivalent of formaldehyde, while dihydroxyacetone gives two molar equivalents of formaldehyde and one molar equivalent of carbon dioxide.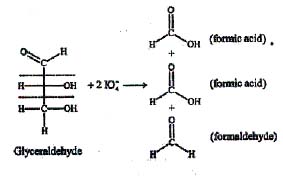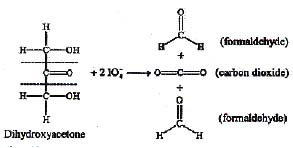 Periodic acid does not cleave compound in which the hydroxyl groups are separated by an intervening -CH2 group, nor those in which a hydroxyl group is adjacent to an ether or acetal.

REDUCTION OF MONOSACCHARIDES: ALDITOLS
Aldoses (and ketoses) can be reduced with sodium borohydride to compounds called alditols: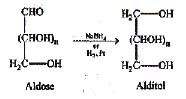 Reduction of D-glucose, for example, yields D-glucitol.
REACTIONS OF MONOSACCHARDIES WITH PHENYLHYDRAZINE: OSAZONES
The aldehyde group of an aldose reacts with such carbonyl reagents as hydroxylamine and phenylhydrazine. With hydroxylamine, the product is the expected oxime. With enough phenylhydrazine, however, three molar equivalents of phenylhydrazine are consumed and a second phenylhydrazeone group is introduced at C2. The product is called a phenylosazone. Phenylosazones crystallize readily (unlike sugars) and are useful derivatives for identifying sugars.

The mechanism for osazone formation probably depends on a series of reaction in which it behaves very much like

in giving a nitrogen version of an enol.
A Mechanism for the Reaction-
Phenylosazone Formation:




Osazone formation results in a loss of the stereogenic centre at C2 but does not affect other stereogenic carbons; D-glucose and D-mannose, for example, yield the same phenylosazone:

This experiment, first done by Emil Fischer, established that D-glucose and D-mannose have the same configuration about C3, C4 and C5. Diastereomeric aldoses that differ in configuration at only one carbon (such as D-glucose and D-mannose) are called epimers. In general, any pair of diastereomers that differ in configuration at only a single tetrahedral stereogenic carbon can be called as epimers.
Epimers:
Many common sugars are closely related, differing only by the stereochemistry at a single carbon atom. For example, glucose and mannose differ only at C2, the first asymmetric carbon atom. Sugars that differs only by the stereochemistry at a single carbon are called epimers and the carbon atom where they differ is generally stated. If the number of a carbon atom is not specified, it is assumed to be C2. Therefore, glucose and mannose are "C2 epimers" or simply "epimers". The C4 epimer of glucose is galactose and the C2 epimer of erythrose is threose.