It is clear from the subject-wise trend of prelims that history is one of the major favorites of UPSC and a lot of questions are asked from this subject. Questions from heritage, art & culture are also a part of ancient history that is asked in UPSC prelims.
The history portion of UPSC IAS Prelims Exam General Studies Paper I Syllabus encompasses questions from Ancient, Medieval, and Modern Indian History and Indian art and culture.
Importance of History as a subject in UPSC

History as a module in General Studies has the most weightage in UPSC ranging around 20 to 25% in prelims and 40% weightage in GS PAPER 1 in mains examination. It would help if you prepare this topic properly as such weightage gives a good chance for your selection in the exam.
How to Prepare for History
EduRev's team has mentored thousands of students in the last 3-years, including Anudeep Durishetty AIR 1 UPSC CSE 2017, and one thing that was common among all the toppers is the strategy that they had to prepare for the exam. So, keeping that in mind, we wish to provide you with relevant information as a UPSC Aspirant, helping you to devise your strategy, which would save tonnes of your valuable and limited time and ensure that you get great marks in the exam by studying what actually matters in the preparation.
Step 1: Understand the Syllabus of History
UPSC has mentioned the History of India and the Indian National Movement in the syllabus which is divided into: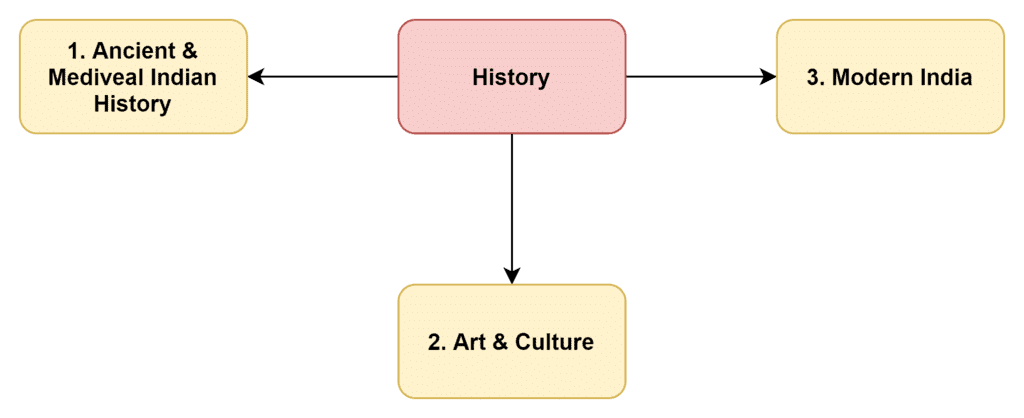 EduRev team has done the research from previous year papers, notes from the best coaching institutes and books recommended by the toppers to compile the syllabus for you:
1. Ancient History: Pre-Historic Times, Indus Valley Civilization, Rig Vedic Period, Later Vedic Period, Jainism & Buddhism, Mahajanpadas, Mauryan Period, Post-Mauryan Period, Gupta Period, Harshwardhana Period, Sangam Period (South-Indian Dynasties) & others.
2. Medieval History: Major Dynasties of Early Medieval India (Pratiharas, Pallavas, Chalukyas, Rashtrakutas), Cholas and South-Indian Kingdoms, Early Muslim Invasions, The Delhi Sultanate, Afghans, Rajputs & Mughals, Establishment of North-Indian Empire, The Mughal Empire, Marathas and the Other Indian States, The decline of the Mughal Empire, Vijaynagar Empire & others
3. Art & Culture: Architecture, Sculpture, Paintings, Pottery Tradition, Numismatics, Performing Arts, Religion and Literature, National and Regional Festivals & others.
4. Modern India History: Advent of Europeans, British Expansion, Administration before 1857, Economic Policies of the British, Impact of British Administration, Revolt of 1857, Administrative Changes after 1857, Development of Civil Services, Development of Education, Development of Press, Socio-Religious Reforms, Peasant Movements, Revolutionary Nationalism, Indian National Movement-I (1905-1918), Indian National Movement-II (1918-1929), Indian National Movement-III (1930-1947), Governors-General and Viceroys of India, Constitutional Development of Indian Constitution & others.
Step 2: Analyze Previous Year Questions (PYQs)
Once you're through the syllabus, pick up the previous year's papers and skim through them to get an understanding of what is actually asked in the exam.
Step 3: Build your Foundation: NCERTs

Step 4: Read Important Reference Books: Spectrum, Nitin Singhania & Others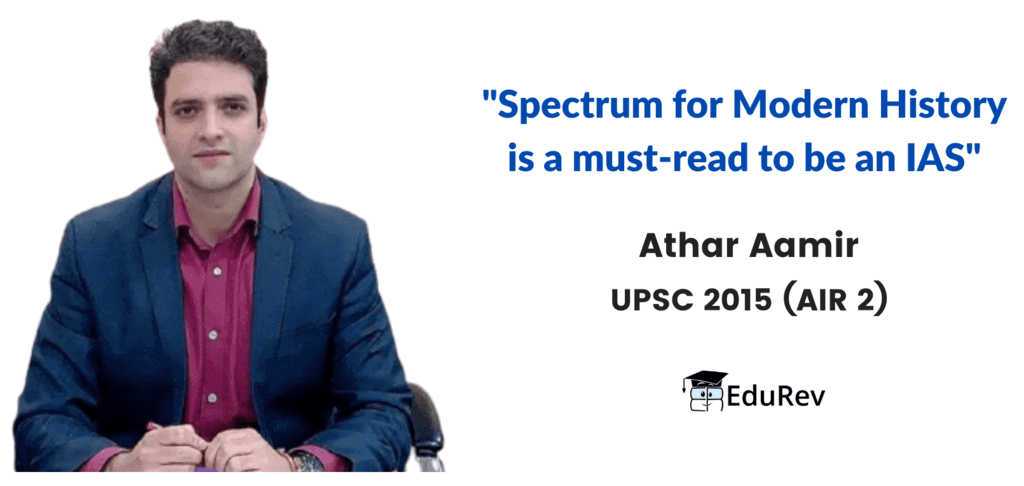 Step 5: Perfect Your Concepts through Video Lectures & Detailed Notes
Step 6: Attempt Topicwise Tests
Step 7: Keep a Check on Newspapers & Current Affairs
Step 8: Improve Your Understanding by Answer Writing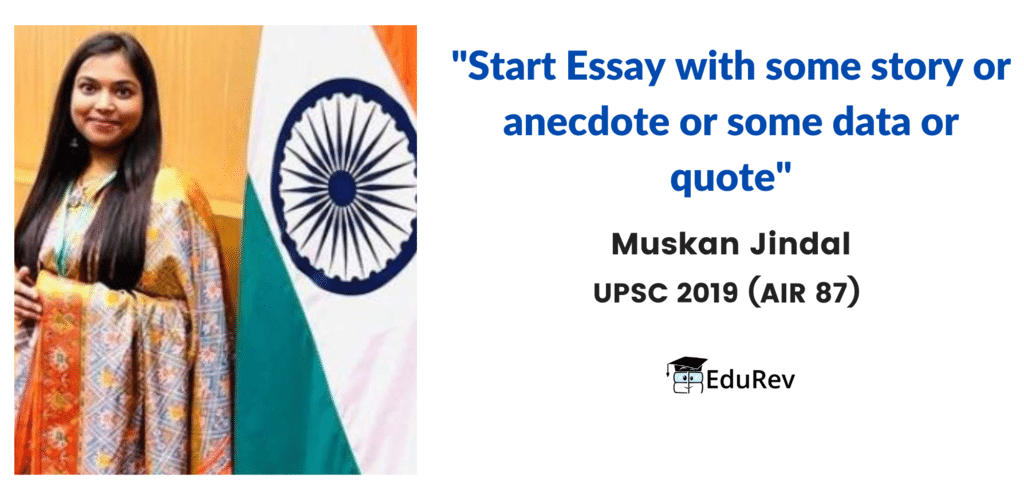 Step 9: Attempt Mock Tests of History
Attempt mock tests to understand your level of preparation and for self-evaluation. You can find subject-wise mock tests of History in the UPSC CSE Prelims Mock Test Series.
EduRev has provided all the study material & tests which matters in your preparation for UPSC, compiled under multiple courses. You can refer to this document "How to study History using the EduRev App? " to understand it better & ace the exam smartly.
Other Important Links
1. Courses for all the subjects with detailed notes, video lectures & tests are available on EduRev:
History for UPSC CSE, Geography for UPSC CSE, Indian Polity for UPSC CSE, Science & Technology for UPSC CSE, Economy for UPSC CSE & others.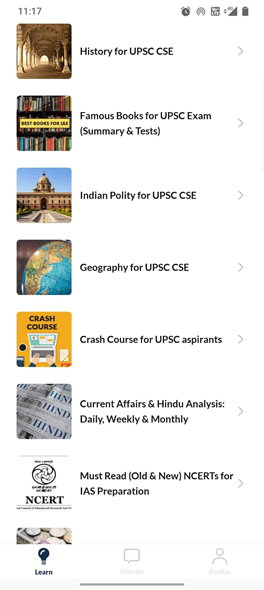 2. Check-Out subject wise Syllabus, Booklist & Strategy from these links:
Happy Learning with EduRev!