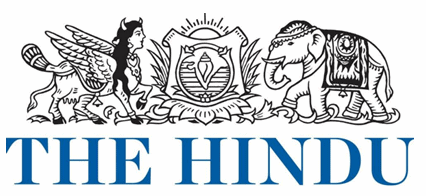 FRONT PAGE
1. News: Monsoon session ends in a flurry of protests
UPSC Syllabus Heading: GS 2
Sub Topic: Parliament and State Legislatures—Structure, Functioning, Conduct of Business, Powers & Privileges and Issues Arising out of these.
Context
(i) Opposition parties held three rounds of protests in Parliament on the last day of the monsoon session, and Leader of the Opposition in the Rajya Sabha Ghulam Nabi Azad met President Ram Nath Kovind, urging him not to give his assent to the three farm bills passed by both the Houses.
(ii) On Wednesday, Parliament passed three Bills — the Industrial Relations Code, 2020; the Occupational Safety, Health and Working Conditions Code, 2020; and the Social Security Code, 2020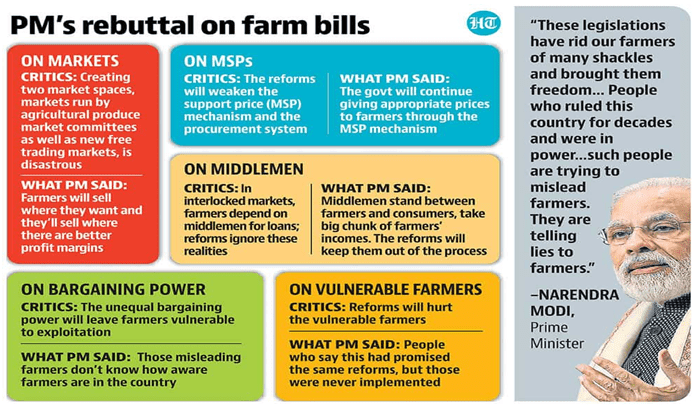 (iii) The Opposition continued its boycott that started on Tuesday over the passage of the three agriculture Bills.
(iv) The Opposition had moved five resolutions, two of which were asking to send the legislations — the Farmers' Produce Trade and Commerce (Promotion and Facilitation) Bill, 2020; and the Farmers (Empowerment and Protection) Agreement on Price Assurance and Farm Services Bill, 2020 — to a Select Committee, and three other resolutions rejecting the Bills. But none of this was considered in the din.

2. News: CAG: Rafale vendors yet to confirm tech transfer
UPSC Syllabus Heading: GS 3
Sub Topic: Achievements of Indians in Science & Technology; Indigenization of Technology and Developing New Technology.
Context
(i) French aerospace major Dassault Aviation and European missile maker MBDA have till date "not confirmed" the transfer of technology for the indigenous development of the engine for the Light Combat Aircraft (LCA) by the Defence Research and Development Organisation (DRDO), under the offset contract relating to the ₹_60,000 crore deal for 36 Rafale fighter jets, the Comptroller and Auditor General (CAG) said in a report tabled in Parliament on Wednesday.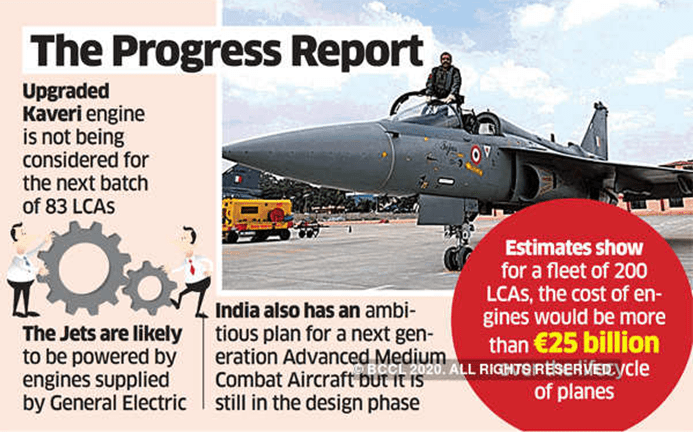 (ii) The report on offset clauses in defence deals observed that in October 2019, the Ministry of Defence (MoD) informed that the vendor had not yet been able to confirm their capability for doing the requisite up-gradation.
(iii) "Thus, it is not clear if this technology transfer will take place, and there is need for MoD/DRDO to identify and acquire the right technologies in order to comply with the directions of Defence Acquisition Council (DAC) given in September 2016,"
(iv) The report said on the offsets in the Rafale deal. In September 2015, Dassault Aviation and MBDA initially proposed to discharge 30% of their offset obligation in the Rafale deal by offering high technology to the DRDO, and as per the contract, acquisition of technology by the DRDO is envisaged, subject to discussions between the vendor and the DRDO, the report said.

Six new technologies
(i) In April 2016, the DRDO identified six new technologies to be obtained from the firms under the offset obligations, but the vendors "did not agree on transfer of five technologies as most of them were not within the vendor's core competence".
(ii) The sixth proposal of the DRDO was to obtain technical assistance for the indigenous development of an engine (Kaveri) for the LCA, which also has not been confirmed so far.

Conclusion
"In many cases, it was found that the foreign vendors made various offset commitments to qualify for the main supply contract but later were not earnest about fulfilling these commitments,"


PAGE NUMBER 5
1. News: Seeing dystopia in India's democracy
UPSC Syllabus Heading: GS 2
Sub Topic: Comparison of the Indian Constitutional Scheme with that of Other Countries.

Context
(i) The United Nations has declared September 15 'International Day of Democracy'. An entry on its website states that this "provides an opportunity to review the state of democracy in the world". To review the state of democracy in India would be timely given the times we are living through. Indeed by now,
(ii) as India meets fresh challenges almost daily, for us to do so is arguably more important than to celebrate independence from colonial rule, which we do out of habit annually. But to review the state of democracy in India we would need to adopt a suitable criteria.

A partial evaluation
(i) Formally, India is a democracy alright. There are multiparty elections with universal suffrage subject only to an age restriction.
(ii) In evaluations of democracy in India, it is often observed, to its credit, that it is the world's largest democracy. Further plaudits are given for the smooth changeover in government after elections, the existence of an independent press and judiciary, and the guarantee of civil liberties justiciable in courts of law. While these are valid observations, the assessment is based on the partial evaluation.
(iii) To an extent, it amounts to admiring a form of government for its own sake without concern for the socioeconomic outcomes that are produced. It is like admiring the architecture of a building without pausing to enquire whether its inhabitants are happy to be living in it.
(iv) Outcomes differ among countries that are democracies. Take for instance the life satisfaction that citizens report. First, it should be noted that this is potentially an important metric as it is based on people's perceptions of what matters most, including the responsiveness of the government to their needs. In the UN's World Happiness Report for 2020, the list of top 10 countries is heavily loaded with the democracies of western Europe.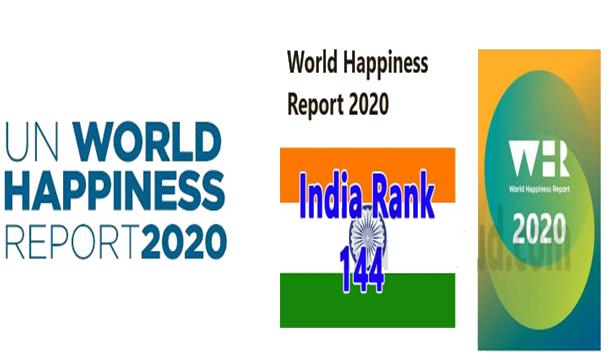 (v) The U.S. barely edges into the top 20. India, on the other hand, is ranked 144 out of the 153 countries evaluated. Further, its ranking has dropped in recent years. We should be giving serious thought to both the fact of India's low ranking on the happiness index and its slide.
(vi) To my mind, the criterion that in a democracy the people must be satisfied with their life is given very little thought these days. It was not so in the early days of our republic.

Built by the people
(i) Two leaders who had recognized this criterion in their engagements with the public were Jawaharlal Nehru and Sarvepalli Radhakrishnan. Nehru was explicit in his speech on August 15, 1947, when he stated that the goal of independence was to create institutions which will ensure justice and fullness of life to every man and woman.
(ii) Note that Nehru had not promised that the government will create these institutions. He was far too aware that democracy is not synonymous with statism; it about the people. Ultimately, the institutions that enable persons to lead fulfilling lives are built by the people themselves.
(iii) Let me give you three examples, all from the United States. In the 1960s, that country saw movements for black empowerment, women's emancipation and sexual liberation. These movements were remarkably successful in the outcomes they achieved while receiving no support from the U.S. state. This is the sense in which it may be said that it is the people who build the institutions that matter.
(iv) That said, however, the state has a role in their building. Laws must not constrain liberty when it is self-affirming and must change when it is realised that they do.

On development
(i) The role of the state does not end with removing restraints though. It extends to the endowment of individuals with capabilities in the sense of Amartya Sen. Prof. Sen had thought of capabilities as the endowments that allow individuals to undertake the functionings, or do the things, that they value.
(ii) We can think of a person's health and education as among the most important inputs into the capabilities that they end up possessing. While radical approaches to empowerment rightly emphasise the importance of self-help,
(iii) Think of a person born into poverty or a woman born into wealth but into a world with social sanction against education for women. Similarly, historically, the caste system in India had excluded a large section from education.
(iv) While private initiative should not be delegitimised, it has had only a limited impact on building capabilities in India as it has focused on those with the ability to pay.
(v) In a move to measure the capabilities of a population, the UN devised the Human Development Index. The main elements of this are health and education. As with the UN's Happiness Index, India fares very poorly in the UN's Human Development Index too. In 2019, India ranked 129th out of 189 countries.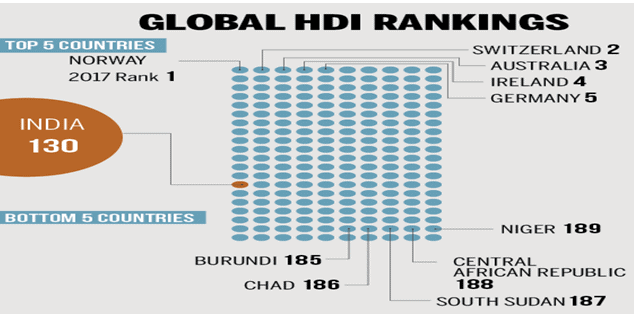 (vi) Judged in terms of human development — and one would be hard put to defend any other sense in which development is to be understood — Indian democracy is severely challenged.
(vii) Democracy it is asserted is a form of government, namely government by discussion.nThe answer to this deflection is that democracy may be a form of government but surely the people have come to adopt this particular form of government with a goal in mind.
(viii) Authoritarianism is not compatible with such a life, only democracy, which at least in principle grants individuals a voice in governance, is. Second,-­­­­­­­­­­­­­­people adopt democracy so that they can participate in their own governance. They cannot but have foreseen that they must be endowed with capabilities if this is to be possible at all.

Neglect and repression
(i) In India, the state's ritualistic attachment with the procedures of democracy has not been matched by an awareness of its implicit goal of a fulfilling life for Indians.
(ii) By the 1950s, freedom of speech had been restricted by the First Amendment to the Constitution and the Directive Principles, that had enjoined upon the state to promote health and education, had been all but forgotten.
(iii) Inevitably, the consequential underinvestment in a public health system has left the country severely unprepared for the emergency when COVID19 struck.
(iv) Not only has the state neglected its responsibility but it has resorted to repression when its inaction is questioned.

2. News: A light touch(Problematic content abounds in the digital space, but regulation must be sagacious)
UPSC Syllabus Heading: GS 3
Sub Topic: Science and Technology- Developments and their Applications and Effects in Everyday Life

Context
The Government has, in recent days, twice signalled that more rules to tackle the problems of unlawful content and harm causing disinformation in the digital media space are in the offing.

The argument on social media regulation
(i) The Centre said that the regulation of web-based digital media is the need of the hour, instead. Without any checks, it told the Court, digital media can spread "venomous hatred", terror and violence.
(ii) The government is working to amend the Information Technology
(Intermediaries Guidelines) Rules, 2011, to make intermediaries more responsive and accountable.
(iii) It is difficult to disagree with the view that the Internet is a space where finding truthful facts can be often challenging, and that polarising opinions, hate speech, and disinformation abound.
(iv) Many lives have been lost to such disinformationfuelled violence in India in recent years.
(v) But it is also difficult to agree with the view that more rules are an answer to an age-old problem, only, now amplified by technology-based platforms. That more regulation will solve this is a fanciful idea.

Conclusion
(i) What is seen lacking is a will to uniformly apply these rules, irrespective of political affiliations.
(ii) The flip side is that a net is a place where there is a free sharing of information and ideas.
(iii) The fear that bringing more rules is a euphemism for censorship cannot be brushed away.
(iv) A large number of these media sites and magazines pursue legitimate journalism initiatives, which not only have the proper mechanisms to deliver quality but also operate with a high degree of accountability

PAGE NUMBER 7
News: The people of nowhere
UPSC Syllabus Heading: GS 2
Sub Topic: Salient Features of the Representation of People's Act.

Context
Those excluded from the NRC in Assam are left with no forum to even assert their 'right to have rights'

National Register of Citizens in Assam issues
(i) The exclusion of 19 lakh people from the National Register of Citizens in Assam stripped them not only of their citizenship but also their bare status as human beings.
(ii) They are left with no forum whatsoever to even assert their "right to have rights."
(iii) This is essentially because once the Foreigners Tribunal decides that an individual is a foreigner, she is sent to a detention camp where she is to be kept until she can be sent back to her country of origin

Conclusion
(i) Natural rights theorists assert that basic rights should be available even if only a single human being remains on earth, but history demonstrates that resistance and political mobilization are the first steps towards asserting such rights.
(ii) This asymmetry is neither new nor unprecedented. It is just a constant reminder of the world order we live in, where the "rightlessness of the stateless is assumed, rather than asserted, let alone argued."
PAGE NUMBER 9
News: Labour Bills passed amid boycott
UPSC Syllabus Heading: GS 2
Sub Topic: Parliament and State Legislatures—Structure, Functioning, Conduct of Business, Powers & Privileges and Issues Arising out of these.

Context
Parliament on Wednesday passed three Bills that complete the government's codification of 29 labour laws into four codes, with the Rajya Sabha passing the Industrial Relations Code, 2020, the Occupational Safety, Health and Working Conditions Code, 2020 and the Social Security Code, 2020.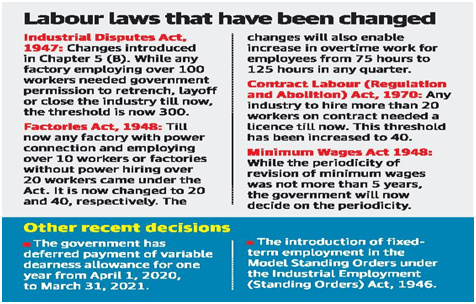 Key particulars
(i) Three labour Bills, the parties said the Bills were passed in the absence of the Opposition parties. "It will be a great blot on our democracy.
(ii) The parties had sent a common memorandum to President Kovind, urging him to return the Bills, arguing that their passage in the Rajya Sabha was flawed.
(iii) Responding to concern that the Industrial Relations Code had imposed a 14day notice period for strikes, Mr. Gangwar said: "The government has not taken away the workers' right to strike."
(iv) The Minister said the changes in the labour laws were needed for the welfare of workers and the promotion of industries.
(v) He said for the first time, 50 crore workers of the organised and unorganized sectors, as well as the self-employed, were covered under minimum wage and social security laws.
(vi) Platform and gig workers were covered under the Social Security Code as well, giving the government the power to formulate social security schemes for them.
(vii) The IR Code will allow companies with under 300 workers to decide on termination and other service conditions of employees without prior approval, as opposed to companies with less than 100 staff as of now.
PAGE NUMBER 13
News: G4 seeks time-bound reform of the Security Council
UPSC Syllabus Heading: GS 2
Sub Topic: Bilateral, Regional and Global Groupings and Agreements involving India and/or affecting India's interests

Context
Foreign Ministers from the Group of 4 — India, Brazil, Japan and Germany — a group that is seeking permanent membership of the UN Security Council (UNSC), met virtually on Wednesday to further their objective.


Key particular
(i) Four countries stressed delivering concrete outcomes, in writing and within a time frame
(ii) Foreign Ministers Meeting that called for a decisive push for UNSC reforms during #UN75.
(iii) Unanimous call for text based negotiations in a fixed time frameto the United Nations,"
(iv) as per a joint press statement released by the Ministry of External Affairs. The G4 will work with other reform-minded countries and groups" to start textbased negotiations (TBN) without delay and seek "concrete outcomes" during the 75th session of the UN General Assembly, which has just begun and lasts until next September.
(v) "G4 Ministers reiterated support for each other's membership to the UNSC "given the capacity and willingness to take on major responsibilities with regard to the maintenance of international peace and security",
(vi) India, which, in January, will commence a two year nonpermanent term on the UNSC, has long sought a permanent seat at the Council and is a proponent of other UNSC reforms — such as increasing the number of permanent (currently five) and nonpermanent (currently 10) seats and ensuring greater representation for Africa
(vii) "Africa needs to be represented in both the permanent and nonpermanent categories of membership of a reformed and expanded Security Council to correct the historical injustice against this continent with regard to its underrepresentation in the Security Council," the G4 countries said. India is a proponent of textbased negotiations at the UN.