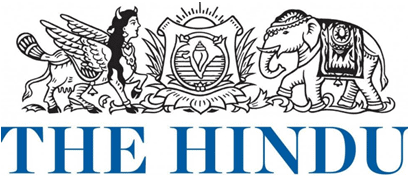 FRONT PAGE
News: India still far from herd immunity, says Vardhan
UPSC Syllabus Headings
Prelims: Current events of national and international importance
Mains: GS 3
Sub Topic: Science and Technology- Developments and their Applications and Effects in Everyday Life

Context
Union Health Minister Harsh Vardhan on Sunday cautioned that the Indian Council of Medical Research's first COVID19 serosurvey should not create a sense of complacency among the people concerning the virus.

Serosurvey
Collection and testing of serum (or proxy such as an oral fluid) specimens from a sample of a defined population over a specified period to estimate the prevalence of antibodies against a given specific infectious pathogen as an indicator of immunity.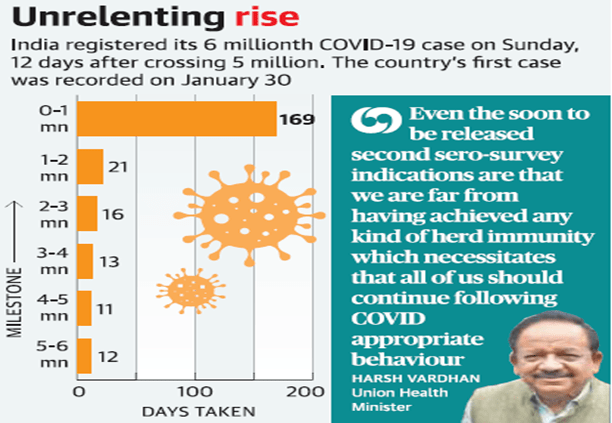 Key particulars
Remdesivir
(i) Remdesivir is an investigational nucleotide analog with broad-spectrum antiviral activity
(ii) it is not approved anywhere globally for any use.
(iii) Remdesivir has demonstrated in vitro and in vivo activity in animal models against the viral pathogens MERS and SARS, which are also coronaviruses and are structurally similar to COVID-19.
(iv) The limited preclinical data on remdesivir in MERS and SARS indicate that remdesivir may have potential activity against COVID-19.

Plasma therapy
(i) The convalescent plasma therapy aims at using antibodies from the blood of a recovered Covid-19 patient to treat those critically affected by the virus.
(ii) The therapy can also be used to immunise those at a high risk of contracting the virus — such as health workers, families of patients and other high-risk contacts.
The Pradhan Mantri Swasthya Suraksha Yojana scheme
It was announced in 2003 with the objectives of correcting regional imbalances in the availability of affordable/ reliable tertiary healthcare services and also to augment facilities for quality medical education in the country.

Try yourself:Consider the following statements:
(i) Remdesivir has been approved by the WHO for COVID-19 treatment.
(ii) The convalescent plasma therapy aims at using antibodies from the blood of a recovered malaria patient to treat critically affected coronavirus patient.
Which of the statements given above is/are correct?
---
PAGE NUMBER 6
News: Diagnosing what ails medical education
UPSC Syllabus Headings
Prelims: Economic and Social Development - Sustainable Development, Poverty, Inclusion, Demographics, Social Sector initiatives, etc
Mains: GS 3
Sub Topic: Indian Economy and issues relating to Planning, Mobilization of Resources, Growth, Development and Employment.

Context
Confusion over policy for human resource development and economic policy is affecting quality, equity and integrity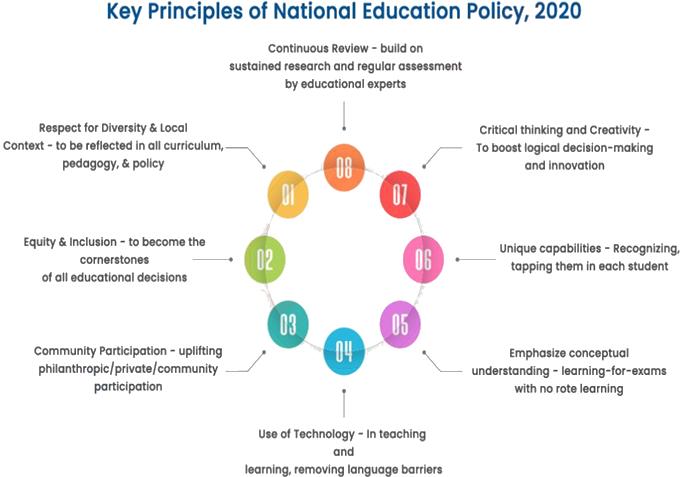 Key particulars
(i) The new National Education Policy (NEP) 2020 is required to undertaking major reforms that bring the highest quality, equity and integrity into the system, from early childhood care and education through higher education".
(ii) It represents the key to a more vibrant, socially engaged, cooperative communities and a happier, cohesive, cultured, productive, innovative, progressive, and prosperous nation".
(iii) It states that the aim is to train health care professionals "primarily required for working in primary care and secondary hospitals."

On private entities
(i) Faced with public demand for high-quality medical care on the one hand and severe constraints on public resources on the other, private entities have been permitted to establish medical educational institutions to supplement government efforts.
(ii) Though they are supposed to be not-for-profit, taking advantage of the poor regulatory apparatus and the ability to both tweak and create rules, these private entities, with very few exceptions, completely commercialized education.
(iii) None of the three stated objectives of medical education has been achieved by the private sector — that is, providing healthcare personnel in all parts of the country, ensuring quality and improving equity.
(iv) It was in this situation that the board of governors, which replaced the Medical Council of India, as an interim before the National Medical Commission became operative, introduced the National EligibilitycumEntrance Test (Undergraduate), or NEET-UG, as a single all India gateway for admission to medical colleges.


National Medical Commission (NMC)
(i) It is an Indian regulatory body of 33 members which regulates medical education and medical professionals.
(ii) It replaced the Medical Council of India on 25 September 2020.
(iii) The Commission grants recognition of medical qualifications, gives accreditation to medical schools, grants registration to medical practitioners, and monitors medical practice and assess the medical infrastructure in India

NEET has worsened equity.
(i) The basic cause of inequity in admission to higher educational institutions is the absence of a high-quality school system accessible to all.
(ii) In medical education, the situation is made far worse by the rent-seeking and profiteering of the majority of private medical colleges.

Way forward
Only a resolute government, determined to ensure that economic policy facilitates quality and equity in education, can do it.

Try yourself:Consider the following statements concerning National Medical Commission:
1. It is an Indian regulatory body of 33 members
2. It replaced the medical council of India in 2015.
Which of the statements given above is/are correct?
---

PAGE NUMBER 7
News: The benefits of a carbon tax
UPSC Syllabus Headings
Prelims: General issues on Environmental Ecology, Bio-diversity and Climate Change - that do not require subject specialisation General Science
Mains: GS 3
Sub Topic: Conservation, Environmental Pollution and Degradation, Environmental Impact Assessment.

Context
Pricing the carbon content of domestic production and imports will help cut effluents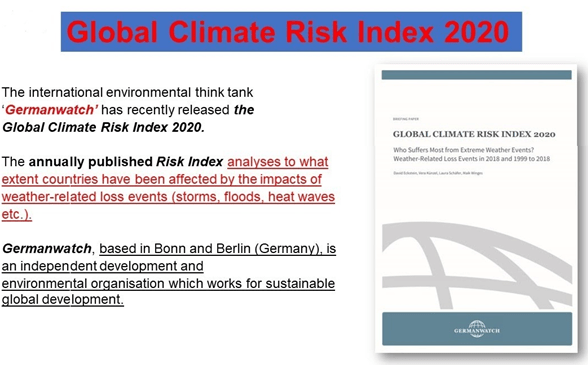 Key particulars
(i) China has announced that it would balance out its carbon emissions with measures to offset them before 2060.
(ii) In carbon emissions ranking China is ranked 1st and USA and India ranked 2nd and 3rd respectively in the global ranking.

Global warming impact
(i) Record heatwaves in Delhi and floods in southwest China, and catastrophic forest fires in California this year are indicative of the existential danger from global warming.
(ii) India ranks fifth in the Global Climate Risk Index 2020

The Global Climate Risk Index
(i) The annually published Global Climate Risk Index analyses to what extent countries have been affected by the impacts of weather-related loss events (storms, floods, heat waves etc.).
(ii) The Global Climate Risk Index (CRI) developed by Germanwatch analyses quantified impacts of extreme weather events.
(iii) Extreme events are analysed both in terms of fatalities as well as economic losses that occurred.
(iv) The analysis is based on data from the Munich Re NatCatSERVICE, which is considered worldwide as one of the most reliable and complete databases on this matter.

Government actions
(i) India has committed to 40% of electricity capacity being from nonfossil fuels by 2030, and lowering the ratio of emissions to GDP by one-third from 2005 levels.
(ii) Government incentives for electric vehicles, and an environmental tax in the 202021 budget.
(iii) A carbon tax at $35 per tonne of CO2 emissions in India is estimated to be capable of generating some 2% of GDP through 2030.

Carbon tax
A carbon tax is a tax on carbon emissions and is a type of pollution tax used to cut CO2 emissions and provide an incentive to switch to cleaner energy.
Try yourself:"The Global Climate Risk Index" is released by which of the following?

PAGE NUMBER 8
News: India, Japan navies match skills in the northern Arabian Sea
UPSC Syllabus Headings
Prelims: Current events of national and international importance
Mains: GS 3
Sub Topic: Security Challenges and Their Management in Border Areas - Linkages of Organized Crime with Terrorism.

Context
The 4th edition of biennial India and Japan naval exercise is underway in the borth Arabian Sea, the Navy said.



Key particulars
(i) This is the first exercise following the conclusion of the mutual logistics support agreement early this month with Japan.
(ii) "JIMEX20 will showcase a high degree of interoperability and joint operational skills through the conduct of a multitude of advanced exercises, across the spectrum of maritime operations,"
(iii) The Navy has deployed indigenous stealth destroyer INS Chennai, stealth frigate INS Tarkash and fleet Tanker Deepak.

Try yourself:The term "JIMEX 20" is sometimes mentioned in the news in the context of the affairs of

PAGE NUMBER 13
News: Clashes erupt between Armenia, Azerbaijan
UPSC Syllabus Headings
Prelims: Current events of national and international importance
Mains: GS 2
Sub Topic: Important International institutions, grouping.

Context
Clashes erupted between Armenia and Azerbaijan on Sunday over the volatile Nagorno-Karabakh region, reigniting concern about instability in the South Caucasus, a corridor for pipelines transporting oil and gas to world markets.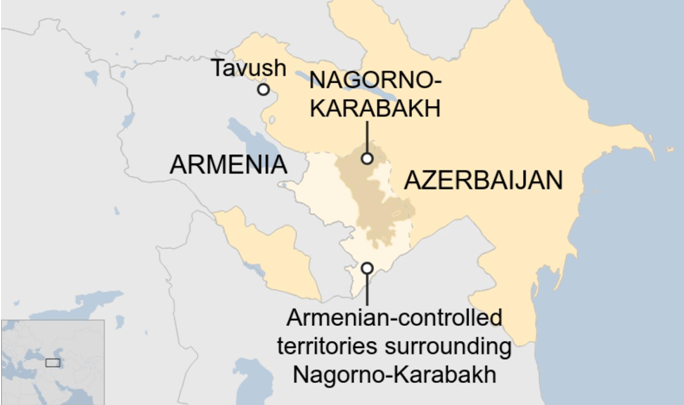 Armenia, and Azerbaijan issue
(i) Territorial disputes and ethnic conflict between Armenia and Azerbaijan in Central Asia is on for approximately four decades now. These have impacted the Nagorno-Karabakh region in the South Caucasus.
(ii) Conflict in the Nagorno-Karabakh region began following the breakdown of the Soviet Union in the late 1980s. The conflict lasted until approximately 1994, with both Armenia and Azerbaijan claiming this strategic territory.
(iii) At that time, the enclave of Nagorno-Karabakh held a referendum. This was boycotted by Azerbaijan.
(iv) In the referendum, people chose independence over joining either of the two countries. The conflict between ethnic Armenians and ethnic Azerbaijanis in Nagorno-Karabakh persisted.
(v) It reached a particular low with Armenia and Azerbaijan accusing each other of having instigated ethnic cleansing. The situation worsened when the Nagorno-Karabakh Autonomous Oblast, an administrative unit, decided to vote to join Armenia.
(vi) This was due to the fact of the large Armenian population there. By 1992, the violence had increased. Thousands of civilians had been displaced, compelling international bodies to take notice.
(vii) In May 1994, thus, Russia mediated a ceasefire between Armenia and Azerbaijan
Try yourself:The Region Nagorno-Karabakh has seen in the news in context conflict between which of the following countries?