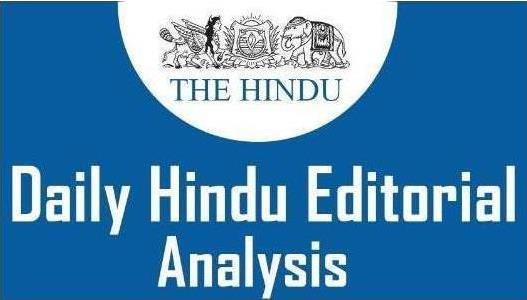 1. The road taken-
GS 2- Important aspects of governance, transparency and accountability
Context
Notifications were issued which intended to acquire agricultural land for the proposed Chennai-Salem greenfield highway.
The Supreme Court has upholded the notification and has both paved the way for completing the land acquisition process and sought to ensure that environmental clearances are obtained before its construction.

National Highways
In India, the major roads are the national highways(NH) and state highways(SH). The former (NH) are built, financed and maintained by the Central government. The latter (SH) are developed by the respective States' public works department.
Constitutional Provisions
National highways will be the highways declared by or under law made by Parliament - Union List under Seventh Schedule.
Article 257 (2): The executive power of the Union shall also extend to the giving of directions to a State as to the construction and maintenance of means of communication declared in the direction to be of national or military importance.
Provided that nothing in this clause shall be taken as restricting the power of Parliament to declare highways or waterways to be national highways or national waterways or the power of the Union with respect to the highways or waterways so declared.
Primary responsibility for development and maintenance of NHs is of the Ministry of Road Transport and Highways.
The Ministry has taken up detailed review of NHs network with a view to develop the road connectivity to Border areas, development of Coastal roads including road connectivity for Non-Major ports, improvement in the efficiency of National Corridors, development of Economic Corridors, Inter Corridors and Feeder Routes along with integration with Sagarmala, etc., under Bharatmala Pariyojana.
National Highways Act, 1956 notifies the NHs in the country.
For the development, maintenance and management of national highways and for matters connected therewith or incidental thereto, National Highways Authority of India (NHAI) was set up by an act of the Parliament, NHAI Act, 1988.
Land for development of National Highways and associated purposes is acquired under Section 3 of the NHs Act, 1956 and compensation is determined in accordance with the First Schedule of the Right to Fair Compensation and Transparency in Land Acquisition, Rehabilitation and Resettlement (RFCTLARR) Act, 2013.
To fully digitize and automate the entire process of land acquisition, BhoomiRashi portal was launched in 2018.
Green Highways (Plantation, Transplantation, Beautification & Maintenance) Policy, 2015- it aims to promote greening of Highway corridors with participation of the community, farmers, private sector, NGOs, and government institutions.
Madras HC Observation
The judgment of the Madras High Court has been set aside in the process by the SC, which had taken a nuanced position in favour of environmental protection, agriculture and preservation of rural livelihoods over the economic benefits of a new highway on virgin land.
The High Court had shown greater sensitivity to possible livelihood and ecological concerns.
It had favoured early judicial intervention, relying on judgments from the U.S. that spoke out against letting projects advance to such a stage that there is irreversible commitment of resources.
SC Observation
SC ruled that it will be premature to expect the authorities to obtain environmental approvals at the stage of identifying the land linked to the proposed alignment of a highway.
Further, the SC rules that once the land was notified for acquisition and surveyed for feasibility, they would have to apply for all statutory clearances.
It would be at the stage of entertaining objections that questions such as whether the project was truly a 'public purpose' could be dealt with.
However, the land could be taken over and construction begun only after the competent authorities give their clearances, along with measures for mitigating and remedying possible environmental damage.
The three-judge Bench has now ruled that the High Court was wrong in holding that clearances under environmental and forest laws were required even before the initial land acquisition notice.
It goes on to uphold the Centre's power to notify any stretch of land, including greenfield land, and not merely a pre-existing road, as a national highway.
SC laid down a general principle in Karnataka Industrial Areas Development Board (2006) that in future, before acquiring land for development, the possible adverse environmental impact should be "properly comprehended" and the acquisition done in a way that did not impair it.
In a departure from this dictum, it now says the statutory framework governing highways and the process laid down for acquiring land for highway projects did not provide for a prior clearance requirement.
Conclusion
The Court's line of reasoning based mostly on development-centric statutes is something of a disappointment when it could have taken, even at this stage, a holistic view of the need for sustainable development.
True, it has left open the question whether the clearances obtained after the lands were notified for acquisition are valid; and the principle that construction of the highways cannot begin without such clearances also stays.
But it is not inconceivable that the Court's position may have rendered the project a fait accompli(done deal).
2. The reality of an India at the crossroads
GS 2- Government Policies and Interventions for Development in various sectors
Context
Faced with the perception of the country becoming a 'diminishing democracy', policymakers must take note of the drift
Increasingly, in recent weeks, India has begun to resemble a war zone, but neither any reassurance nor any attempt at building a 'consensus' addressing current concerns is taking place.
State of Economy, World Ties
The Indian economy is in recession, and is among the worst performing among major nations.
Among key currencies, the Indian Rupee is one of the very few which is depreciating, while the Euro, the Australian and Canadian Dollars, the South Korean Won and the Swiss Franc have become much stronger recently.
India also claims to be among the worst affected by ransomware attacks.
Meanwhile, India is turning increasingly protectionist, coming up with banal explanations to explain this away, contrary to conventional wisdom.
In the meantime, the atmospherics surrounding India's external relations are quite depressing. China remains intransigent and has made known its unwillingness to reach a reasonable settlement of the Line of Actual Control dispute.
India-Pakistan relations could hardly be worse and China has chosen at this moment to sign a new Military Memorandum of Understanding to boost the China-Pakistan relationship.
India's forays in its Near Abroad in West Asia are yet to yield results, even though, on the surface, relations with the United Arab Emirates (UAE) and Saudi Arabia are better.
The reality, nevertheless, is that India does not have enough traction to be able to manoeuvre between different power centres in West Asia which are at various times in conflict.
Consequently, India will find it increasingly difficult to steer between the Scylla of Saudi Arabia, the UAE and Egypt on the one hand and the Charybdis of Turkey, Qatar and Iran on the other.
Line of Actual Control
The Line of Actual Control (LAC) is the separation line that separates Indian-controlled territory from Chinese-controlled territory.
LAC Length: India considers the LAC to be 3,488 km long, while the Chinese believe it only around 2,000 km.
China also claims that the entire Arunachal Pradesh is their territory and calls it South Tibet.
Signs of Rigid Policies
In August-September last year, this issue had briefly surfaced when Delhi decided to dilute Article 370 of the Constitution, and restructure Jammu & Kashmir (J&K) and Ladakh into two Union Territories.
Concerns, however, began to be felt soon after, in the wake of the clampdown in Kashmir, and the incarceration of almost the entire top leadership of the People's Democratic Party and the National Conference party.
The anti-Citizenship (Amendment) Act protests across the country thereafter seemed to confirm such fears.
Compounding this situation lately has been the attempt to impose a sort of 'guided democracy' in J&K, through the instrument of elections to the District Development Council, in the course of which the Opposition Alliance has been smeared with epithets such as "unholy global gathbandhan" working against the national interest, etc.
Current campaign against 'Love Jihad', a term which finds no mention in any lexicon. On the pretext that 'Love Jihad' is a euphemism for conversion, and some States have taken legal steps to prevent it. New laws have also been enacted to enforce this diktat. All this despite the existence of judicial pronouncements declaring the inherent right of any individual to choose whom to marry, irrespective of caste, religion or creed.
Equally worrisome is the extent to which India seems to be regressing when it comes to the treatment of political prisoners in jails. The plight of Jesuit priest, Father Stan Swamy, a victim of Parkinson's disease, which made the headlines is only one instance. Labelling dissenters as urban naxals and the like, and being indifferent to their plight when in custody, marks a sharp decline from past democratic practices.
Introduction of the three Farmer's bills which has been made without the consent or participation by those being affected by it and subsequent farmer protests. This conveys of an India that is intent in pursuing its pre-determined course of action, paying little heed to peoples' demands and protests, much in the nature of autocratic and dictatorial regimes rather than a democracy.
Article 370 of the Indian Constitution
The state of Jammu and Kashmir was conferred with a special status via which it had the power to have a separate constitution, and autonomy over the internal administration of the state and also have a separate state flag.

Electoral Wins at Any Cost
What is evident today is that every election — whether to State Assemblies, District Councils, or even local panchayats — are turning into conflict zones, leading to extremely tense situations.
In many instances, they have become tinderboxes for communal, caste, political and other forms of violence.
While States such as West Bengal and Uttar Pradesh feature prominently in the media in relation to cases of communal and political violence, the reality today is that no State is exempt from this pattern of aggressive electioneering.
Apart from political polarisation, arousing feelings of majority versus the minority have become the stock-in-trade of some parties in elections. Encouraging majoritarian attitudes obscuring ground realities, has hence, become a pernicious trend.
The recently conducted elections to the Greater Hyderabad Municipal Corporation was a classic example. Employing majoritarianism as a tactic, incidentally leading to a polarisation of votes, did produce electoral dividends — but it comes at a high cost. Such tactics cannot but have serious consequences for India as a secular democratic republic.
Social Media Clampdown
India is beginning to clampdown on social media platforms and enact draconian laws towards spread of disinformation. Kerala, a Left bastion, even sought to introduce an ordinance mandating a jail term for any offensive social media post, making the police the arbiter to determine the nature of social media abuse.
Fortunately, this has been withdrawn, but the genie is out of the bottle and quite a few States appear to be contemplating similar measures against fake news.
Conclusion
India must deliberate on the declining range of democracy and work towards an inclusive nature f policymaking practices.
Also, India needs to uphold the democratic values that it stands for as the largest democracy in the world by unhindered practices of rights like the right to protest, right to practice any religion, right to marry of own will, etc.
3. Thousand days of nutrition, and a billion dreams
GS 2- Problems associated with the event and management of services about health
Context
Malnutrition is the single largest threat that blocks the promise of India at the inspiration level. As India goes in realising its billion-plus dreams over successive decade or 2. This dream is determined by however well it nourishes the physical well-being and mental potential of its individuals, chiefly its youngsters. POSHAN Abhiyaan completes 1,000 days in the week, it's time to renew our commitment to nutrition.
What is Malnutrition?
Deficiency disease happens once the body does not get enough nutrients.
Causes of deficiency disease embrace a poor diet, organic process conditions or another illness.
Its symptoms are fatigue, symptom and weight loss.
If it remains untreated then it will cause physical or mental incapacity. As a treatment, there ought to address missing nutrients.
Generally, underfed youngsters tend to disappoint of their real potential. youngsters tend to fall in their physical still as mental potential.
That's as a result of deficiency disease leaves their bodies weaker and move them to sicknesses.
Condition of Deficiency Disease In India
In step with a study in Lancet in 2019, a staggering sixty-eight of 0.04 million deaths of youngsters below 5 years in India was because of deficiency disease in 2017.
In step with Comprehensive National Nutrition Survey, issued by the Ministry of Health and Family Welfare with support of UNICEF in 2017 - concerning half, all youngsters below 5 years within the country were found to be scrubby (too short) or wasted (too thin) for his or her height.
The country has been creating progress on nutrition for the last 20 years.
The Prime Minister launched the Prime Minister's Overarching theme for holistic Nutrition (POSHAN) Abhiyaan in 2018, with this theme a holistic approach to tackle deficiency disease started.
Below this theme, the govt. providing the delivery of essential nutrition interventions.
So that with this theme, additional youngsters have the proper begin in life for optimum growth, health, development and a prosperous future.
Poshan Abhiyan PM Overarching Theme For Holistic Nourishment
POSHAN Abhiyaan was launched in Jhunjhunu district of Rajasthan in March 2018.
Scheme's targets are to reduce:
(a) level of under-nutrition and alternative connected issues,
(b) stunting, under-nutrition, anaemia (among young youngsters, girls and adolescent girls),
(c) and low birth rate.
This theme can monitor and review the implementation of all such schemes and it'll utilize existing structural arrangements of line ministries where offered.
Its giant part involves:
(a) to gradual scaling-up of interventions supported by on-going Integrated Child Development Services (ICDS) Systems,
(b) Strengthening and Nutrition Improvement Project (ISSNIP) to all or any districts within the country by 2022.
(c) to scale back aerobatics in known Districts of Bharat with the very best deficiency disease burden, with the employment of key Anganwadi Services.
(d) Also to make sure holistic development and adequate nutrition for pregnant girls, mothers and kids.
The Ministry of Women and Child Development (MWCD) is implementing POSHAN Abhiyaan.
This theme is achieving its target with success.
Effects of Covid 19 On Children's Nutrition
As we all know that COVID-19 is pushing millions into economic condition, reducing incomes of the many additional and disproportionately touching the poor.
Lockdown throughout Pandemic noncontinuous essential services, such as:
(a) supplementary feeding below Anganwadi centres,
(b) mid-day meals, protection,
(c) micro-nutrient supplementation.
Cooperation of People
Throughout this Pandemic, leaders from the world, civil society, development partners, community advocates and also the non-public sector have moved.
Their cooperation is as a part of 'commitment to action' to hunt and support the govt. during a six-pronged action which will save and rest on the advances, Bharat has created in nutrition.
These clear action points include:
(a) commitments around sustained leadership,
(b) dedicated finances,
(c) multi-sectoral approach,
(d) increased uninterrupted coverage of a vulnerable population below nutrition programmes.
Main Schemes in Country For Kid Wellbeing
The Integrated kid Development theme,
The mid-day meal programme,
Public Distribution System.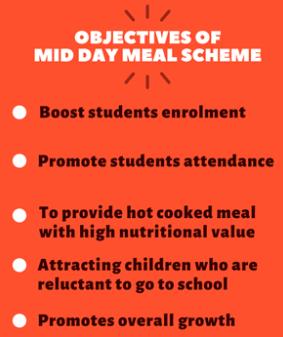 Financial Commitment
The Republic of India must retain its monetary commitments for nutrition schemes.
The Republic of India already runs further funds to preserve organic process security in vulnerable communities, chiefly girls and kids in slum areas, migrants, the population in social group areas and districts with deficiency disease rates.
Due to economic insecurities, ladies forced to urge early wedding, early maternity, discontinue their schooling, and scale back institutional deliveries, cut access to substance supplements, and nutritive food, all of which can worsen deficiency disease.
Suggestion For Improvement
To grasp the depth of the COVID-19-caused nutrition crisis, the country should track nutrition indices through information systems.
Still, as proof through information also will serve to trace the positive impact of POSHAN Abhiyaan.
It takes time for nutrition interventions to yield dividends, however, once individuals accrue, they will bring transformative people shifts.
When filling the nutrition gaps, there'll guarantee a level-playing field for all youngsters and strengthen them.
Conclusion
Youngsters children survive deficiency disease, unable to try to as they might. while not necessary nutrients, the brain of youngsters doesn't develop to the fullest.
Deficiency disease places a burden for Bharat, and build it a prime national priority.
Thus the Republic of India must guarantee coverage of every single kid and mother.
There ought to coverage of twelve months of Poshan Maah (Nutrition Month), fifty-two weeks of breastfeeding weeks and 12 months of net ration.
Fast efforts to deal with these, are required to prevent the condition to deal with.