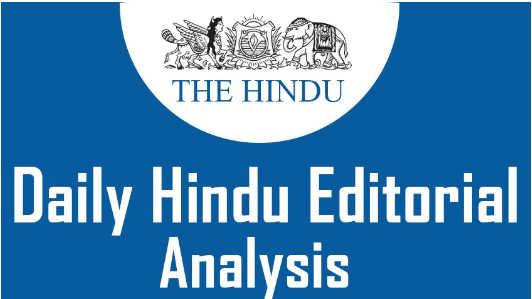 1. ROAD BUMPS-
GS 3- Indian Economy and issues relating to planning, mobilization of resources, growth, development and employment
Context
(i) The Finance Commission's road map is critical amid(amidst) a stand-off between Centre and States.
(ii) On Monday, the Fifteenth Finance Commission submitted its report with recommendations on the formula for sharing the divisible pool of tax revenues between the Centre and the States for the next five years to the President.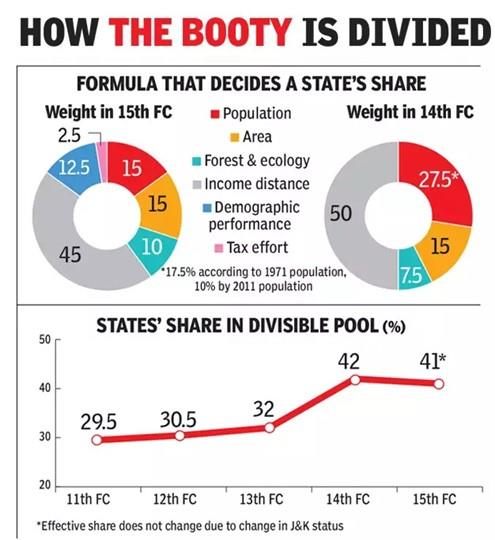 Shortfall In Collection
(i) The panel's proposed fiscal road map, up to 2025-26, will only come into the public domain once it is tabled in Parliament, if not in the winter session, at least before the Union Budget for 2021-22 is presented.
(ii) An action taken report would reveal the government's acceptance or rejection of the panel's prescriptions.
(iii) When the Fourteenth Finance Commission recommended a sharp increase in their take-home cut from 32% to 42% of the divisible pool of revenues and the Centre accepted it, States had obvious cause to be upbeat(cheerful).
(iv) However, their actual shares of total taxes mopped up(collected) have turned out to be far lower as the Centre deployed more cesses(tax on tax) and surcharges(additional tax) to garner additional revenues in recent years.
More Dues And Worries
(i) There are fresh reasons for the States to be anxious about the Commission's revenue sharing recommendations, not in the least because of their recent stand-off with the Centre on how their GST compensation dues will be paid this year.
(ii) While 22 States have now come on board with a solution conjured up(called up) by the Centre, there are still loose ends(no detail) as more dues pile up(accumulate) over the next two years.
(iii) Second, the Centre had tasked the Commission with assessing a few unusual ideas, including the creation of a non-lapsable fund for defence and security spending, and incentivising States for performance on reforms considered desirable by the Centre such as adoption of direct benefits transfer.
(iv) Southern States are worried that the use of 2011 population data, instead of 1971, will penalise them for managing population growth better. All these have the potential to impact States' actual share.
(v) The RBI's assessment of State finances reveals they were already hurting from the slowing economy. The pandemic and the lockdowns have made things worse.
(vi) Last year, this Finance panel had tabled an interim report for 2020-21 by saying a five-year forecast is tough when the economy is slowing down due to the effects of reforms like demonetisation and GST.
(vii) Its final report comes at an even more uncertain time, with the pandemic throwing the global economy into a tailspin(panic mode).
(viii) That the panel has dedicated a volume entirely to States, analysing the development needs of each, is heartening.
(ix) The Centre can allay States' fears further by tabling the report soon so that any anxieties can be debated and laid to rest, and States can also plan upcoming Budgets with less uncertainty.
Conclusion
Being receptive to States' concerns can help forge(build) a fresh cohesive federal compact for the coming years — a double engine that can hasten(hurry) India's return to high growth.

2. DOSE OF OPTIMISM-
GS 2- Issues relating to development and management of Social Sector/Services relating to Health
Context
(i) India must improve its cold chain infrastructure to avail benefits of new vaccines
(ii) Multinational drug company Pfizer has announced promising results from its ongoing phase-3 trial of a potential COVID-19 vaccine.
(iii) However, these early results, of the vaccine candidate being "90% protective" in the trial's volunteers — nearly 40,000 are enrolled — is the only important detail that is public.

No Evidence
(i) Pfizer, which is using a vaccine candidate by German firm BioNTech, had disclosed in September that for a vaccine to be judged 60% effective, 164 volunteers would have to contract COVID-19.
(ii) This includes both the vaccine and placebo groups. The claim of 90% is based on a sample of 94 volunteers but it is not known how many belonged to either group.
(iii) It is also unclear if those who were eventually infected, manifested(reflected) mild or moderate severity of disease.
(iv) Though the results, according to Pfizer, were announced by an expert independent committee, they have not yet been announced by the standard procedure of a peer-reviewed journal.
(v) In short, there is still time to be reliably sure that the results actually hold up in a wider population.
Impact
(i) Pfizer's announcement may not have an immediate impact for India. Unlike 'Covishield' by the Serum Institute or 'Covaxin' by Bharat Biotech Ltd., there are no large phase-3 trials of the vaccine in India.
(ii) While there were early discussions with Pfizer, there is as yet no confirmation on whether India can be assured of early access to even a fraction of the vaccine output in the event it is readied.
(iii) The vaccine candidate is based on an m-RNA technology, which eschews(avoids) the use of an infectious particle, such as a portion of the virus, and uses a piece of RNA that is then made into an antigen by the body's own machinery.
(iv) This reduces the odds of untoward reactions. It also does not need to be cultured in chicken eggs or other mammalian cells, allowing it be made faster and more inexpensively.
(v) Though it is at the frontier of novel vaccine production methods, there are still no commercially available m-RNA based vaccines.
(vi) They also reportedly need to be refrigerated to nearly minus 70°C and India, with its limited cold chain infrastructure, lacks efficient vaccine storage capacity.
Conclusion
(i) However, irrespective of whether and when the Pfizer vaccine is available, there is reason for optimism(more cheer).
(ii) For one, it shows that scientists' basic strategy — of developing a vaccine to target the spike protein of the virus — is correct and given that this is an approach most vaccine developers are following, the chances of several encouraging results are high.
(iii) Given that another firm, Moderna, also employs an m-RNA based approach, it is likely that the new vaccine platform may prove to be a breakthrough approach in developing future vaccines.
(iv) India must keep a close watch on such platform-technology and develop expertise.
(v) It must also not lose an opportunity to improve its cold chain infrastructure which currently is developed only for rudimentary(basic) vaccines.

3. STRENGTHENING PUBLIC HEALTH CAPACITIES IN DISASTERS-
GS 3- Disaster and disaster management
Context
(i) Much of Europe today is witnessing a menacing(threatening) second wave of COVID-19, which is seemingly worse than the first.
(ii) Infections have waned(decreased) in India, although some are anticipating another wave around winter.
(iii) While appearing unlikely, it is impossible to guarantee that a second wave will not be worse for India as well.
(iv) However, one does not get to witness the sharp reaction today that the early days of the disaster evoked, albeit(although) except for the fresh round of lockdowns imposed in parts of Europe.
(v) Neither is a second wave necessarily less dangerous nor is a vaccine freely available, but living with the pandemic for months together has had a desensitizing(distressing) effect on the collective psyche.
(vi) Owing to such 'desensitisation', disasters that are not sudden and striking tend to be minimised.
(vii) Unfortunately, the same has characterised India's disaster management framework in writing off(ignoring) many pressing public health issues.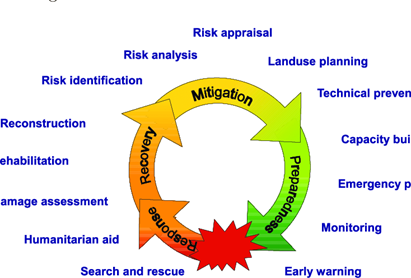 More A Reactive Approach
(i) In 2005, India enacted the Disaster Management Act, which laid an institutional framework for managing disasters across the country.
(ii) What hitherto comprised largely of reactive, ad hoc(temporary) measures applied in the event of a disaster, was to be replaced under the Act with a systematic scheme for prevention, mitigation, and responding to disasters of all kinds.
(iii) Disaster management considerations were to be incorporated(included) into every aspect of development and the activities of different sectors, including health.
(iv) While some headway has indeed been achieved, the approach continues to be largely reactive, and significant gaps remain particularly in terms of medical preparedness for disasters.
(v) The Disaster Management Act is one of the few laws invoked since the early days of COVID-19 to further a range of measures — from imposing lockdowns to price control of masks and medical services.
(vi) The common theme is that the public health angle in disasters and disaster management has been under-emphasised.
(vii) Two important lessons emerge, which will be discussed: first, that health services and their continuing development cannot be oblivious(unaware) to the possibility of disaster-imposed pressures; and second, that the legal framework for disaster management must push a legal mandate for strengthening the public health system.
Drawbacks In Private Sector
(i) Since the capping of treatment prices in private hospitals in May, many instances of overcharging by hospitals in Maharashtra have surfaced, in some cases even leading to suspension of licences.
(ii) It illustrates how requisitioning of private sector services during disasters can hardly be a dependable option in the Indian context.
(iii) This is particularly important since the future development of hospital care services is being envisaged chiefly under publicly financed health insurance, which would very likely be private-sector led.
(iv) Health systems with large private sectors do not necessarily flounder(struggle) during disasters.
(v) But the Indian private sector landscape, characterised by weak regulation and poor organisation, is particularly infelicitous(unsuitable) for mounting a strong and coordinated response to disasters.
Regulation During Disasters
(i) During disasters, the limited regulatory ability could be further compromised.
(ii) While publicly financed insurance could be a medium to introduce some order into this picture, a large majority of private hospitals in the country are small enterprises which cannot meet the inclusion criteria for insurance.
(iii) Many of these small hospitals are also unsuitable for meeting disaster-related care needs.
(iv) And while requisitioning can be done under law, punitive action against non-compliant hospitals becomes tricky during disasters since health services are already inadequate.
(v) Also, development of certain services and competencies that are crucial for disaster response could lag behind.
(vi) Private hospitals are known to prefer lucrative and high-end 'cold' cases, especially under insurance, and are generally averse(against) to infectious diseases and critical cases with unpredictable profiles.
(vii) Eric Toner (2017) describes how disaster preparedness does not make a strong "business case" for hospitals, which prefer to invest in more profitable areas.
(viii) Strong public sector capacities are therefore imperative for dealing with disasters.
(ix) While the Disaster Management Act does require States and hospitals to have emergency plans, medical preparedness is de facto(by fact) a matter of policy, and, therefore, gaps are pervasive(present).
(x) There is a strong case for introducing a legal mandate to strengthen public sector capacities via disaster legislation, including relevant facets such as capacity-building of staff.
(xi) A desirable corollary(result) will be that it will also serve us well during normal times.
Integration With Primary Care
(i) Critics have indicated that the Disaster Management Act fails to identify progressive events (which nevertheless cause substantial damage, often more than sudden catastrophes) as disasters, thus neglecting pressing public health issues such as tuberculosis and recurrent dengue outbreaks.
(ii) Had they been identified as disasters, they would have attracted stronger action in terms of prevention, preparedness, and response.
(iii) Again here, a legal mandate can contribute to strengthening the public health system at the grass-roots level.
(iv) There is also scope for greater integration of disaster management with primary care.
(v) Primary care stands for things such as multisectoral action, community engagement, disease surveillance, and essential health-care provision, all of which are central to disaster management.
(vi) Evidence supports the significance of robust primary care during disasters, and this is particularly relevant for low-income settings.
(vii) Synergies with the National Health Mission, the flagship primary-care programme which began as the 'National Rural Health Mission' concurrently with the Disaster Management Act in 2005, could be worth exploring.
(viii) Interestingly, the National Health Mission espouses(supports) a greater role for the community and local bodies, the lack of which has been a major criticism of the Disaster Management Act.
(ix) Making primary health care central to disaster management can be a significant step towards building health system and community resilience to disasters.
Conclusion
(i) While the novel coronavirus pandemic has waned(reduced) both in objective severity and subjective seriousness, valuable messages and lessons lie scattered around.
(ii) It is for us to not lose sight and pick them up.