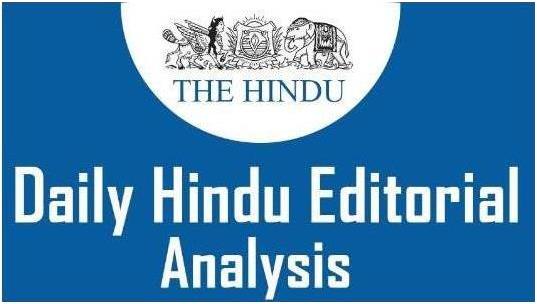 1. Discouraging numbers
GS 2- Issues relating to poverty and hunger
Context
India has had among the worst effects of the COVID-19 pandemic with a debilitating death toll and an economic recession.
There is unreliable evidence that the pandemic and lockdown measures have led to new complications related to food consumption and food security for poor Indians.
Recently, the first-phase data of the National Family Health Survey-5 (NFHS-5) 2019-20 has been released by the Ministry of Health and Family Welfare.
What is National Family Health Survey?
The National Family Health Survey (NFHS) is a large-scale, multi-round survey conducted in a representative sample of households throughout India.
All National Family Health Surveys have been conducted under the stewardship of the Ministry of Health and Family Welfare, Government of India, with the International Institute for Population Sciences, Mumbai, serving as the nodal agency.
ICF International (formerly Macro International), Maryland, USA, provided technical assistance for all four surveys conducted as on date.
Observations
The partially released early data from NFHS-5 for 22 States/Union Territories shows a disappointing record on metrics such as child nutrition and adult anthropometric measurements, suggesting the worsening situation of an already anxious situation.
Data for U.P., M.P. Tamil Nadu, Rajasthan, Punjab, Jharkhand and Odisha is not yet out.
NFHS-5 shows that four key metrics for the nutritional status of children declined in 2019-20 compared to levels in 2015-16 (NFHS-4) in many of the surveyed States.
Gujarat, Maharashtra and West Bengal recorded an increase in the percentage of anaemic and wasted (low weight for height) children compared to even the 2005-06 survey.
In the key indicator of childhood stunting, there has been an increase in 13 of the 22 States/UTs in comparison to NFHS-4, with a noticeable improvement only in Bihar and Assam.
Even here, the reduction in stunting numbers is lower than the government's targets.
Bihar has shown a promising decline of 5.4 % points in stunting, but still retains the highest percentage of stunted children (42.9%) among big States.
Improvements
NFHS-5 also flags improvements in other factors that contribute to malnutrition and poor health outcomes — in access to sanitation and clean cooking fuels.
In indicators related to women's well-being (with variance across States), spousal violence declined in 17 of 22 States/UTs, child marriage declined in 18, and access to bank accounts rose in all of them, compared to NFHS-4.
Dimensions of Food and Nutrition Security
➢ Availability
Availability refers to the physical existence of food. Due to population growth and climate change, the pressure on existing natural resources, namely land and water, increases.
Impacts of climate change are often leading to land degradation, lack of irrigation water, reduced soil moisture and therefore losses of economic livelihoods.
Together with an increase in conflicts over usage of water resources (cultivation of crops for energetic use vs. cultivation of crops for nutritional use, use by other sectors like drinking water, industry and environment), this may be a threat for long-term food security.
The Stockholm International Water Institute (SIWI) emphasizes the growing importance of green water, i. e. the water hidden in the ground as soil moisture (while blue water refers to water available in lakes, rivers and aquifers).
Support of local water user groups and strengthening their planning and management skills can help minimize risks of scarce resources and reduce conflicts.
➢ Access
Access is ensured when all households have enough resources to obtain food in sufficient quantity, quality and diversity for a nutritious diet. This depends mainly on the amount of household resources and on prices.
In addition, accessibility is also a question of the physical, social and policy environment.
Drastic changes in these dimensions may seriously disrupt production strategies and threaten food access of affected households. As an example, developing countries may be affected by severe droughts or floods more and more frequently.
Accordantly, the harvest volume shrinks and the prices for food increase, affecting on the availability and accessibility of food for households. To prevent such negative developments, different technical adaptation measures exist.
The construction of infrastructure such as small dams and reservoirs or water spreading weirs to hold back water and raise the shallow groundwater tables is one of them, dykes and improved drainage systems for floods are other ones.
➢ Use and Utilization
Use describes the socio-economic aspects of household food and nutrition security, determined by knowledge and habits.
Assuming that nutritious food is available and accessible, the household has to decide what food to purchase and how to prepare it as well as how to consume and allocate it within the household.
Another aspect is the biological utilization. This relates to the ability of the human body to take food and convert it. This gained energy is very important when it comes to daily physical activities, for example working in agriculture.
Beside that utilization requires a healthy physical environment and adequate sanitary facilities as well as the understanding and awareness of proper health care, food preparation, and storage processes.
In this context safe drinking water plays an important role, especially for preparing food and creating a healthy environment for the population.
Safe drinking water is connected to groundwater which is often contaminated through human, industrial or agricultural waste water in combination with other factors 884 million people worldwide have no access to adequate drinking water.
➢ Stability
Stability describes the temporal dimension of food and nutrition security, respectively the time frame over which food and nutrition security is being considered.
Stability is given when the supply on household level remains constant during the year and in the long-term. That includes food, income and economic resources.
Furthermore it is important to minimize external risks such as natural disaster and climate change, price volatility, conflicts or epidemics through activities and implementations improving the resilience of households.
Such measure include insurances e.g. against drought and crop failure as well as the protection of the environment and the sustainable use of natural resources like land, soil and water.
Conclusion
Persistence of poor anthropometric measures related to hunger and nutrition suggests that existing programmes to address them, such as POSHAN Abhiyaan, will need a push and focus to meet targets such as the 2%-point decrease in childhood stunting every year.
The complications arising out of the pandemic should make the Centre and States refocus on welfare delivery as a concerted strategy to eradicate hunger and extreme poverty.
This is an imperative that would not just meet the UN's Sustainable Development Goal targets but will also ensure the well-being of citizens in a country.
2. Privacy is a Fundamental Right That the State Must Protect
GS 2- Constitution
Context
An open and transparent government that also respects every citizen's right to privacy is not a contradiction. The state must protect this right.
What is The Issue?
In a recent event, there were issues over a recent Bombay High Court order directing the government to take down the address of a Right to Information (RTI) applicant from its website.
The writers had argued that no 'law or principle of law prevents the state from disclosing such information about the addresses of citizens' and placed the onus on keeping the address private on RTI Applicants by specifying a P.O. box.

Arguments Against Privacy
Public telephone directories and voter lists to point contain addresses and are not always treated as private information.
Disclosure of beneficiary addresses help with transparency and accountability of social welfare programmes and serves public interest.
Section 8(1)(j) of the RTI Act asserts that there is an obligation to disclose personal information where such 'information bears a nexus to public activity'.
Arguments For Privacy
Sometimes published information or that disclosure of addresses may serve little use to public interest in some cases.
A unanimous nine-judge Bench of the Supreme Court of India in Justice K.S. Puttaswamy (Retd) vs Union of India and Ors. (2017) negated these arguments especially in the context of such information being available digitally, where the unforeseeability of extent of harms is aggravated.
Citizens may have an interest in guarding their addresses as private/personal information;
Unauthorised or mandatory disclosure of such personal information may constitute an infringement; privacy being a fundamental right that the state must respect and protect
Address disclosure can easily jeopardize an individual's safety and make him/her a target of violence and retaliation.
High Court Ruling
Questions that relate to the publication of personal information, such as addresses, came up in a suo motu action against the Uttar Pradesh government for putting up posters with the personal details of people accused of allegedly destroying public property during the widespread protests against the Citizenship (Amendment) Act.
These personal details included their photographs, names, and addresses. Following Puttaswamy, the Court found the action of State 'nothing but an unwarranted interference in the privacy of people'.
The High Court observed that there is no law that empowers the state to put up posters with personal details nor any legitimate aim that a democratic state could pursue for which such action can be deemed important and proportionate.
In a counter argument to the Section 8(1)(j) of the RTI Act, it still allows disclosure subject to the public information officer making a case by case judgment on whether the larger public interest is served by disclosing the address of an individual/(s).

Proposed Course of Action
Any state action concerned with the publication of address has to be justified based on the four-pronged test articulated in the nine judge Bench decision of Puttaswamy.
(a) The requirements of the backing of law
(b) The law being in pursuance of a legitimate state purpose
(c) The proposed action having a rational nexus to such purpose
(d) The extent of infringement being necessary and proportionate to purpose constitute that test.
Conclusion
Protection of privacy for individual citizens and transparency of public authorities are two sides of the same coin.
An open and transparent government that also guarantees, respects, protects, promotes, and fulfils every citizen's right to privacy is not a contradiction in terms.
To insist that applicants must waive or make compromises on their right to privacy to exercise their rights under the transparency law is an unreasonable barrier that causes a chilling effect in exercise of those rights, quite significantly harming the very cause that is sought to be championed.
3. The Long Road to Food Security
GS 2- Issues related to poverty and hunger
Context
The global hunger Index placed India at 94th out of 107 countries. This report shows India's malnutrition levels almost twice the level of many African countries.
Other Data Related to Hunger
In the Index, India is much behind Bangladesh, Pakistan and Nepal.
As per a UNFAO report, 194 million people go hungry every day. This number comprises about 23% of the world's undernourished population.

Less Food Production is Not Reason
Now India reached self ­sufficiency in agricultural production but mass hunger is uncontrolled across States.
India produces more than the estimated amount of food which is required for the entire population.
In the year of 2018­-19, India produced 283.37 million tons of food grains.
As well as India ranks first in millets and second in rice and wheat production in the world.
As well as the country's horticultural crops, such as fruits and vegetables, are also in surplus.
Distribution Problem is Main Reason
According to the Department of Consumer Affairs's data, almost 62,000 tons of foodgrains were damaged in Food Corporation of India warehouses between2011 and 2017.
In the year of 2016-­17, over 8,600 tons of food grains were lost.
According to the Indian Council for Research on International Economic Relations's study, there is a proliferation of millions of bogus ration cards. It also states that there is a multitude of genuinely poor families that do not even possess ration cards.
So this data shows that the poor management of the food ecosystem is in India.
To ensure food security the government must ensure remunerative prices for farm produce.
As well as Minimum Support Price(MSP) should be made available to the maximum range of farm products.
These steps can increase the purchasing power of farmers.
Steps in India in This Regard
The Government of India in the mid-1970s launched three important food intervention programmes for food security.
These programmes include the Public Distribution System (PDS), Integrated Child Development Services (ICDS) and Food-for-Work (FFW).
India improves the Public Distribution System and Public Procurement system in the country.
The Supreme Court declared Right to Food as part of Article 21 of the Constitution, that is, the Right to Life.
About Annapurna Scheme
Under this scheme, ten kilograms of food grains are distributed per month to poor persons above 65 years of age, with no or limited subsistence free of cost.
Under this scheme, there is the target of 20% of the number of persons who are eligible for National Old Age Pension, but who are not receiving such pension.
The scheme is implemented with effect from 2001 in Kerala.
This scheme was originally implemented as a Central Sector Scheme, the pattern of central assistance was changed in 2002-03.
Now, this scheme is implemented with additional central assistance.
But the challenge before Kerala is big because the social security pension covers almost all the sections of people in the community.
Hence in the state, almost all eligible people are excluded from the Annapurna Yojana.
Administrative Steps in This Regard
The Global Pulse Confederation says that pulses are part of a healthy, balanced diet and have an important role in preventing illnesses such as cancer, diabetes, and heart disease.
The World Food Programme (WFP) includes 60 grams of pulses in its typical food basket. Which include cereals, oils and sugar and salt.
Price Rise of Essential Commodities ­ Causes and Effects (2020) note given by the Parliamentary standing committee on Food, Consumer Affairs and Public Distribution says that "With the dietary shift in favour of proteins, in an otherwise vegetarian society, the consumption of pulses is growing but the production has not kept pace… However, production of pulses has increased during the last two years which has resulted partly from the continuous increase in MSP, increased procurement, and creation of buffer stock of pulses."