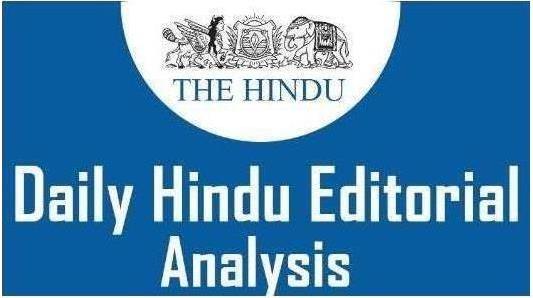 1. RECALIBRATING INDIA-NEPAL TIES-
GS 2- India and its neighborhood- relations
Context
(i) When Foreign Secretary Harsh Vardhan Shringla arrived in Kathmandu on November 26 and spoke in fluent Nepali to the media, there was some hope that the visit would go beyond the traditional exchange of pleasantries.
(ii) When he departed, the hope was that his visit would be the beginning of a continued dialogue between the two countries that have had a strained relationship since the imposition of a five-month-long blockade in 2015 in Nepal.
Historical Ties
(i) Nepal is an important neighbour of India and occupies special significance in its foreign policy because of the geographic, historical, cultural and economic linkages/ties that span centuries.
(ii) India and Nepal share similar ties in terms of Hinduism and Buddhism with Buddha's birthplace Lumbini located in present day Nepal.
(iii) The two countries not only share an open border and unhindered movement of people, but they also have close bonds through marriages and familial ties, popularly known as Roti-Beti ka Rishta.
(iv) The India-Nepal Treaty of Peace and Friendship of 1950 forms the bedrock of the special relations that exist between India and Nepal.
Treaty of Peace and Friendship of 1950
(i) The treaty talks about reciprocal treatment of Indian and Nepali citizens in the two countries, in residence, property, business and movement.
(ii) It also establishes national treatment for both Indian and Nepalese businesses (ie once imported, foreign goods would be treated no differently than domestic goods).
(iii) It also gives Nepal access to weaponry from India.
Importance of Nepal
(i) Nepal shares border with 5 Indian states- Uttarakhand, Uttar Pradesh, West Bengal, Sikkim and Bihar. Hence an important point of cultural and economic exchange.
(ii) Importance for India can be studied from two different angles: a) their strategic importance for India's national security; and b) their place in India's role perception in international politics.
(iii) Nepal is right in the middle of India's 'Himalayan frontiers', and along with Bhutan it acts as northern 'borderland' flanks and acts as buffer states against any possible aggression from China.
(iv) Rivers originating in Nepal feed the perennial river systems of India in terms of ecology and hydropower potential.
(v) Many Hindu and Buddhist religious sites are in Nepal making it an important pilgrim site for large number of Indians.
Domestic Politics In Nepal
(i) The Nepal-India relationship has never been free of controversy as the perspectives of both sides are yet to change. Many in Nepal continue to equate being anti-India with being nationalistic.
(ii) Politicians and political parties whip up such sentiment and compete with each other on who can be more extreme, especially before an election.
(iii) Prime Minister K.P. Oli won the 2017 election partly because he projected himself as someone who stood up to India during the blockade. He again whipped up nationalistic sentiments when he got the Nepal map amended to add new territory.
(iv) This was a good way to deflect attention from the poor management of the COVID-19 pandemic by his government. His government's excuse was that after India released its new map in November 2019, Nepal wanted to discuss the map with India but the latter did not provide any time for a discussion.
Need To Rethink
(i) India continues to think that by providing largesse to Nepal in the form of aid and development projects, it can win Nepali hearts. But despite pouring billions of rupees into Nepal over decades, it has still not been able to do so. Therefore, it needs to reflect on what it is not doing right. Two issues are important to understand here.
(ii) First, all aid to Nepal from countries other than India and China go through the Plans of the Government of Nepal.
(iii) Indian aid is seen in Nepal as a favour bestowed on a constituency it wants to garner support from rather than a contribution to Nepal's planned development.
(iv) Second, India competes with China in providing aid outside government budgets. And China picks up projects of visibility and strategic location. Chinese involvement in Nepal has increased since the April 2015 earthquake and Nepal is surely an area of strategic influence in China's Belt and Road Initiative.
People-To-People Ties
(i) The Foreign Secretary raised the issue of people-to-people exchanges between the countries, a welcome development. In the past two decades, two significant changes have happened in this area.
(ii) First, Indian workers in Nepal constitute a big part of the workforce and send about $3 billion to India every year. In terms of remittances to India, Nepal ranks eighth.
So, the Government of India needs to keep in mind that many households in India are being run with remittances from Nepal.
Second, Nepalis have migrated in the past 20 years to more than a hundred countries; India is not the only country that Nepalis rely on for jobs or education. This is a new Nepal comprising young people with global aspirations. Nearly three-fourths of the population of Nepal is under 35 years of age.
India needs to engage beyond its current constituency, the minuscule proportion of the population who are above 65.
Meanwhile, Nepal needs to plan how it engages with the youth in mainland India for whom Nepal is just like Bangladesh or Myanmar, areas they study about in geography in school but know little about.
Recent Controversy
(i) Recently, Nepal has released a new political map that claims Kalapani, Limpiyadhura and Lipulekh of Uttarakhand as part of Nepal's territory. The area of Susta (West Champaran district, Bihar) can also be noted in the new map.
(ii) Nepal's move came after India' Defence Minister recently inaugurated a motorable link road that connects India and China, significantly reducing the time of Kailash Mansarovar Yatra. The road passes through territory at the Lipulekh pass that Nepal claims as its own territory.
(iii) India rejected the new map of Nepal saying that Nepal's new map involves artificial enlargement of territories, which is not based on historical facts and evidence.
(iv) Earlier, Nepal had protested strongly against India, when India published a new map which showed the region of Kalapani as part of the Indian territory.
(v) Nepal had also expressed displeasure on the 2015 agreement between India and China for using the Lipulekh pass for trade, without consulting Nepal.
Kalapani Dispute
(i) Currently, India and Nepal have border disputes over Kalapani - Limpiyadhura - Lipulekh trijunction between India-Nepal and China and Susta area (West Champaran district, Bihar).
(ii) Kalapani is a valley that is administered by India as a part of the Pithoragarh district of Uttarakhand. It is situated on the Kailash Mansarovar route.
(iii) The Kali River in the Kalapani region demarcates the border between India and Nepal. The Treaty of Sugauli signed by the Kingdom of Nepal and British India (after Anglo-Nepalese War) in 1816 located the Kali River as Nepal's western boundary with India.
The discrepancy in locating the source of the Kali river led to boundary disputes between India and Nepal, with each country producing maps supporting their own claims.
Way Forward
(i) Given the importance of ties with Nepal, often romanticised as one of "roti-beti" (food and marriage), India must not delay dealing with the matter, and at a time when it already has a faceoff with China in Ladakh and Sikkim.
(ii) Since the free movement of people is permitted across the border, Nepal enjoys immense strategic relevance from India's national security point of view, as terrorists often use Nepal to enter India.
(iii) Therefore, stable and friendly relations with Nepal is one of prerequisites which India can't afford to overlook.
(iv) India should also try to convey to Nepal's leadership about the congenial and friendly environment that 6 to 8 million Nepali citizens living in India enjoy.
(v) Therefore, any thoughtless erosion of this centuries old togetherness may prove difficult for both countries.
(vi) The existing bilateral treaties between India and Nepal have not taken the shifting of Himalayan rivers into consideration. A primary reason for this is the lack of an approach where ecological concerns and needs of rivers are often discussed.
(vii) Therefore, India and Nepal should try to resolve the boundary dispute by taking into account all shared environmental characteristics.
Conclusion
(i) There are some fundamentals that we simply cannot forget: geography will not change, the border will remain open as millions of livelihoods on both sides depend on it, and China is going to be a big global player with varied interests in the neighbourhood.
(ii) Therefore, the India-Nepal relationship has to be recalibrated.

2. THE PERILS OF DEREGULATED IMPERFECT AGRIMARKETS-
GS 3- Issues Related To Farm Subsidies & MSP
Barbara Harriss-White, a scholar of India's agricultural markets once observed, "deregulated imperfect markets may become more, not less, imperfect than regulated imperfect markets"
Context
(i) The Farm Acts were legislative misadventures, while much more is needed to address the genuine fears of farmers.
(ii) The eruption of massive farmers' protests across India against the Farm Acts has shocked those in the seat of power in Delhi.
(iii) According to the government, many private markets will be established, middlemen would disappear, farmers would be free to sell to any buyer and farmgate prices would rise.
(iv) But the protesting farmers do not accept these claims. They believe that farmgate prices would fall with the intensification of a corporate presence in agricultural markets.
(v) They also believe that the government, ultimately, wants to phase out the Minimum Support Price (MSP) system.
(vi) The focus here will only be on the Farmers' Produce Trade and Commerce (Promotion and Facilitation) Act, 2020 (FPTC Act)
Farmer's Produce Trade And Commerce Act, 2020
(i) Farmers' freedom: Provision of freedom of choice to the farmers for sale and purchase of produce.
(ii) Liberation from the Cess: Under this act, no cess will be charged from the farmers for sale of their produce. Further there will be a separate dispute resolution mechanism for the farmers.
Apparent Advantages Of The Fptc Act
(i) It provides for barrier-free inter-state and intra-state trade and commerce beyond the premise of APMC notified markets.
(ii) Farmers will receive better prices and will open up space for reduction in marketing costs.
(iii) One nation, one market: The Act will help create One India, One Agriculture Market and will pave way for maximum harvest and benefit.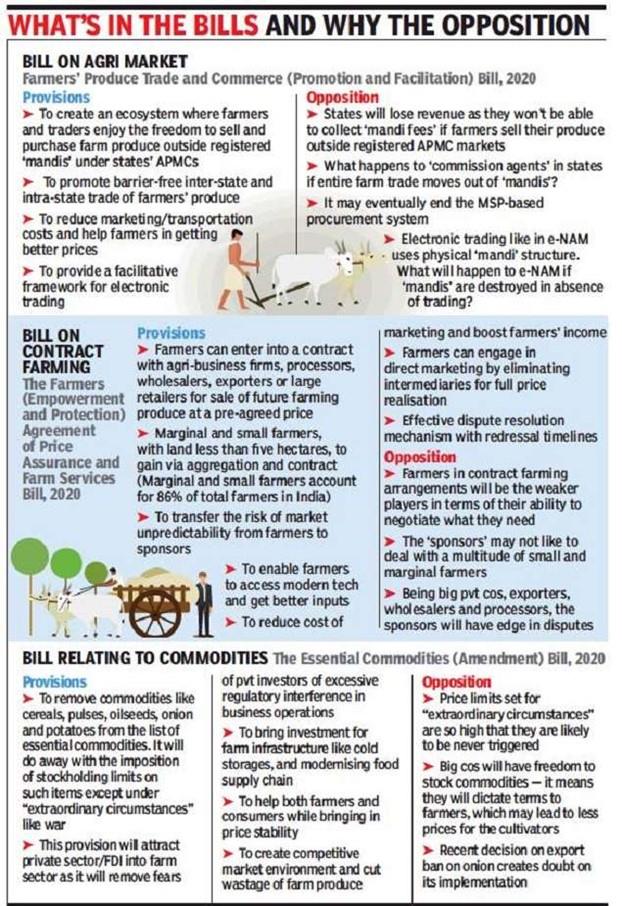 Problems With The Fptc Act
(i) Right of the Centre to enact legislation on agricultural marketing. Article 246 of the Constitution places "agriculture" and "markets and fairs" in the State List.
(ii) But, entry 42 of the Union List empowers the Centre to regulate "inter-State trade and commerce".
What Is Apmc?
Agricultural Produce Market Committees or APMC is the marketing board established by the State governments with the purpose of eliminating farmer exploitation by intermediaries where they have to sell their produce at extremely low prices.
More Mandis Needed
(i) An important assumption behind the FPTC Act is that mandis controlled by Agricultural Produce Marketing Committees (APMC) are monopsonies in rural areas. This assumption itself is specious.
(ii) First, official data show that even for paddy and wheat, respectively, only 29% and 44% of the harvest is sold in a mandi, while 49% and 36% is sold to either a local private trader or an input dealer. In other words, de facto, a large proportion of Indian harvest is not directly sold in a mandi.
Why Do Farmers Sell Outside The Mandis?
Farmers are forced to sell outside the mandis for two reasons.
(i) The first is that there are not enough mandis. In 1976, there were 4,145 large markets in India, with the average area served at 775 kms.
(ii)
The National Commission on Agriculture (NCA) had recommended that every Indian farmer should be able to reach a mandi in one hour by a cart. . Thus, the average area served by a mandi was to be reduced to 80 kms.
For this, the number of mandis was to increase to at least 41,000. But there were only 6,630 mandis in 2019 with an average area served of 463 km2.
Using another set of criteria, a government committee in 2017 had recommended that India should have at least 10,130 mandis. So, by all counts, India needs not less but more mandis.
(iii) The second reason is that most small and marginal farmers, given their small marketable surplus, do not find it economical to bear the transport costs to take their harvests to mandis.
Even if private markets replace mandis, small and marginal farmers will continue to sell to traders in the village itself.
The situation will change only if economies of scale rise substantially at the farm-level.
Current Scenario
(i) De jure too, the freedom to sell outside mandis already exists in many States. Already, 18 States have allowed the establishment of private markets outside the APMC;
(ii) 19 States have allowed the direct purchase of agricultural produce from farmers; and
(iii) 13 States have allowed the establishment of farmer's markets outside the APMC.
(iv) Despite such legislative changes, no significant private investment has flowed in to establish private markets in these States. Private markets have emerged in some pockets for some crops, but these are by no means widespread.
Poor Private Investment
(i) Presence of high transaction costs in produce collection and aggregation.
(ii) When private players try to take over the role of mandis and the village trader, they incur considerable costs in opening collection centres and for salaries, grading, storage and transport. The more the number of small and marginal farmers are, the higher will these costs be.
(iii) Corporate retail chains face additional costs in urban sales and storage, as well as the risk of perishability.
(iv) This is why many retail chains prefer purchasing bulk quantities of fruits and vegetables from mandis rather than directly from farmers.
Transaction Costs
(i) Even if private markets emerge, the size of transaction costs are likely to offset any decline in mandi taxes. As a result, there is no assurance that farmers would receive a higher price in private markets.
(ii) In the existing private markets too, there is no evidence of farmers receiving higher prices than in the mandis.
(iii) In fact, if transaction costs exceed mandi taxes, the costs would be transferred to the farmers as a lower price. This, then, would imply a stronger squeeze on the farmer than at present
Mandi Taxes
(i) Much of the mandi taxes are reinvested by APMCs to improve market infrastructure. A fall in mandi taxes would reduce the surplus available with APMCs for such investment.
(ii) In States such as Punjab, the government charges a market committee fee and a rural development fee. The Punjab Mandi Board uses these revenues to construct rural roads, run medical and veterinary dispensaries, supply drinking water, improve sanitation, expand rural electrification and provide relief to farmers during calamities. Such rural investments will also be adversely affected if mandis are weakened.
What Is Minimum Support Price?
These are the pre-set rates at which the Central government purchases produce from farmers, regardless of market rates, and are declared for 23 crops at the beginning of each sowing season.
The Fate Of Msps
(i) MSPs would continue to survive on paper as the government will have to procure to maintain a minimum buffer stock. However, many policy signals point to a strategic design to weaken the MSPs –
(ii) Input and labour costs are rising sharply in agriculture. This necessitates a regular upward revision of MSPs to keep pace with costs of living. However, MSPs are rising at a far slower rate over the past five to six years than in the past.
(iii) The government has not yet agreed to fix MSPs at 50% above the C2 cost of production. As a result, farmers continue to suffer a price loss of ?200 to?500 per quintal in many crops.
(iv) The Commission for Agricultural Costs and Prices (CACP) has been recommending to the government that open-ended procurement of food grains should end. These policy stances have set alarm bells ringing among farmers.
(v) In Punjab, Haryana and western Uttar Pradesh, most crop sales are at the MSP through procurement centres including the mandis. The farmers in these regions legitimately feel that they have been dealt a double whammy.
(vi) If mandis weaken and private markets do not sufficiently replace them, they fear that the void would be filled by unscrupulous and unregulated traders.
Way Forward
(i) Discussions: Government - farmer interactions can be structured using a broad framework.
(ii) Increase in density: India needs more mandis, expansion of investment in mandi infrastructure and a spread of the MSP system to more regions and crops. This should happen hand-in-hand with a universalisation of the Public Distribution System as an affordable source of food for the poor.
(iii) Better mandis: APMCs need internal reform to ease the entry of new players, reduce trader collusion and link them up with national e-trading platforms. The introduction of unified national licences for traders and a single point levy of market fees are also steps in the right direction.
Conclusion - Burning Issue
(i) The government thinks that the APMC system has "served its purpose" and the States should "reject" and "dismantle" mandis. Such statements betray the real intent of the government, which has not missed the attention of the protesting farmers.
(ii) Further, the branding of protesters as "anti-national" and "Khalistanis" has only helped to further alienate the farmers from the government. The government's legislative adventurism with the Farm Bills was misplaced to begin with. But it is never too late to rethink. Unconditional talks with farmers would be an appropriate starting point.

3. IS A PERSON'S ADDRESS A PUBLIC INFORMATION

GS 2- Indian Constitution – historical underpinnings, evolution, features
Context
Recently, in a case involving activist Saket Gokhale, the Bombay high court ordered the Ministry of Information and Broadcasting to remove Mr Gokhale's contact details from its website. The case was that his address was revealed to the general public when the Right To Information application filed by him was displayed on the Ministry's website.
Privacy is a Fundamental Right
(i) In 2012, justice K S Puttaswamy, a retired judge of the high court, filed a writ petition in the supreme court challenging the constitutional validity of Aadhar scheme introduced by the government.
(ii) In 2015, a bench of three judges passed an order that a bench of appropriate strength must examine the correctness of the decision in M P Sharma v Satish Chandra, District Magistrate, Delhi, 1954 and Kharak Singh v State of Uttar Pradesh, 1964. In particular, it ordered that the court must decide whether we have a fundamental right to privacy.
(iii) In 2017 a 9 judge bench was formed. In a historic decision delivered on August 2017, the bench unanimously recognized a fundamental right to privacy of every individual guaranteed by the constitution, within article 21 in particular and part 3 on the whole. The decision in M P Sharma and Kharak Singh were overruled.
What is Fundamental Rights
(i) Fundamental rights are those rights which are essential for the intellectual, moral and spiritual development of citizen of India. These are enshrined in part 3 of the constitution of India.
(ii) These include individual rights common to most, such as equality before the law, freedom of expression, religious and cultural freedom, freedom of assembly, rights to constitutional remedies for the protection of civil rights using writ.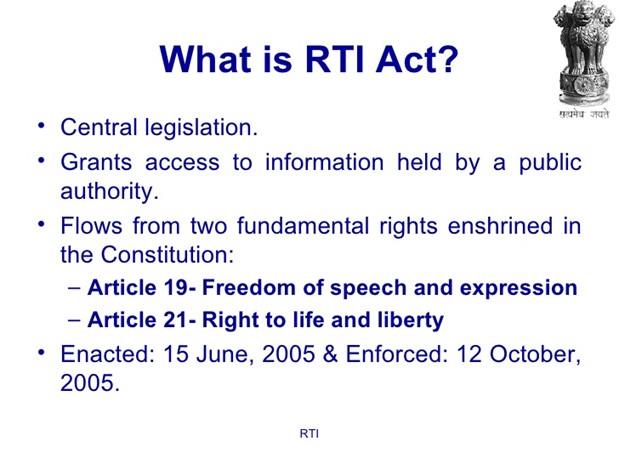 What is Current Situation About Address Information:
(i) The address of people's residence or office has never been considered private under Indian law.
(ii) Back in the day, government telecom service providers used to supply a telephone directories to everyone containing the name, telephone numbers and addresses of every subscriber.
(iii) Electoral voter lists include the addresses of all voters in every ward. These lists are available online in a digital format on the website of the Election Commission.
(iv) Land records, containing details of ownership, are open for public inspection across the country, play a crucial part in ensuring confidence in the volatile land markets in India.
(v) All FIRs must be displayed on the website, according to a Supreme Court justice. These would display the names and addresses of the complainants and the accused.
(vi) Ironically, even the courts, disclose the addresses of litigants in their judgments as a regular practice.
(vii) Many of the new transparency initiatives such as the Jan Soochna Portal in Rajasthan make available the details of all beneficiaries of all welfare schemes administered by the State government.
(viii) As has been demonstrated repeatedly by grassroots activists working on the Mahatma Gandhi National Rural Employment Guarantee Scheme beneficiaries information is critical to weed out ghost beneficiaries.
High Court Judgement In Goenka Case
(i) In its order in Mr Gokhale's case, the Bombay High Court relies heavily on a brief order of the Calcutta high court in the case of Avishek Goenka v. Asish Kumar Roy(2013).
(ii) In the Goenka case, an RTI activist wanted to provide a P.O. Box number as his address while filing an RTI application to not disclose his residential address and protect himself from possible reprisals.
(iii) However, the public authority insisted that he disclose his residential address.
(iv) The Calcutta High Court ruled in favour of the RTI applicant, RTI Act does not require information seekers to disclose personal details except those which may be required for contacting him.
(v) At the same time, the Calcutta high court, confoundingly, also permitted authorities to disallow P.O. boxes and insist on personal details in cases where the Public Information Officers faced "diffIculty".
(vi) This part of the Calcutta High Court's order formed the basis of the Bombay high court's order in Mr Gokhale's case. Both the Calcutta High Court and Bombay high court followed a consequential line of reasoning i.e. the information in question should be treated as private because as private because its disclosure may lead to threats against the RTI applicant.
What is The Provision In Act
(i) In RTI act, it lays down that all information held by the government must be shared with citizens. but the section 8 of the RTI act have some exemption for this.
(ii) The exemption relating to privacy is given under Section 8 (1)(j) which exempts be denied"information which relates to personal information the disclosure of which has no relationship to any public activity interest, or which would cause unwarranted invasion of the privacy of the individual unless the central public information officer or the state information officer or the appellate authority, as the case may be, is satisfied that the larger public interest justifies the disclosure of the information: provided that the information, which can not to denied to the parliament or a state legislature shall not be denied to any person"
Conclusion
As RTI Act is related to our fundamental right of speech right to expression and right to life. On the other hand, Privacy is now a fundamental right. So, cooperation among these rights is the need of the hour.