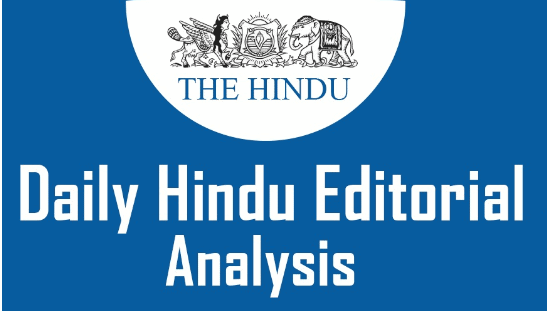 1. A POINT OF ORDER: ON FARM BILLS-
GS 2- Parliament and State Legislatures – structure, functioning, conduct of business, powers & privileges and issues arising out of these
Context
(i) Rajya Sabha Deputy Chairman Harivansh's refusal to conduct a division of votes on two controversial pieces of legislation on Sunday, despite persistent demands from members, was unprecedented(never happened before).
(ii) The Bills in question have been challenged on constitutional and practical grounds, but that is a different point.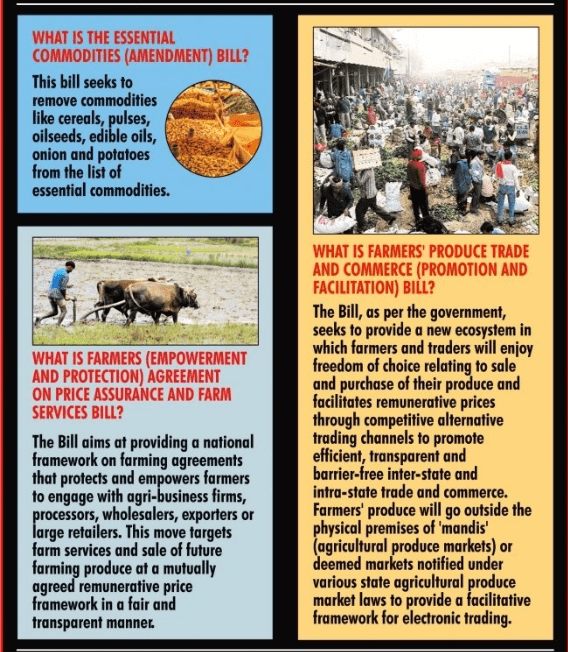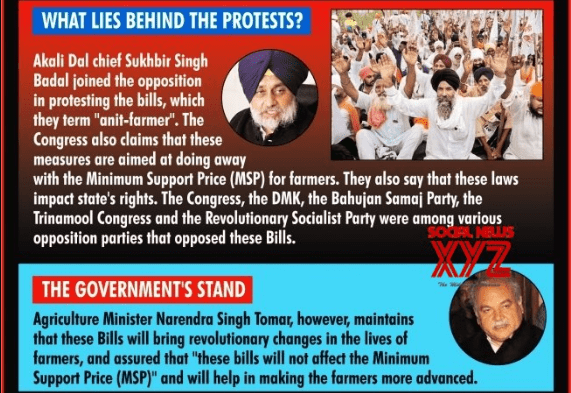 Unconstitutional
(i) The rules of procedure regarding voting are unambiguous(clear) that if a voice vote is challenged, "votes shall be taken by operating the automatic vote recorder or by the members going into the Lobbies".
(ii) Even if a single member demands a division, it is required to be carried out.
(iii) Quite often, a division of vote is demanded even when the outcome is predictable, in order to bring on record the positions of parties and members on a particular bill.
(iv) The explanation that members were not demanding a division from their seats and the House was not in order is disingenuous (not honest).
(v) To begin with, the disorder was triggered by the Chair's refusal to order a division.
(vi) And curiously, the Chair went on to declare the Bills passed amid(among) the din(noise), this time unaffected by disorder.
(vii) Significant amendments(change) were sought and several parties had demanded that they be referred to a parliamentary select committee.
(viii) The government's claim that it had the numbers to pass the Bills is dubious(not sure) in the wake of the skulduggery(trickery) it deployed for their passage.
(ix) In any case, regardless of which side has the majority, procedure is sacrosanct(important) and voting is the foremost tool of establishing parliamentary authority.
(x) It cannot be reduced to an act of benevolence(kindness) by the Chair or the executive.

New Low
(i) The chaos that followed in the Upper House, though not unprecedented, was unsavoury(unpleasant).
(ii) Parliament is a deliberative forum and not a theatre for protest demonstration.
(iii) Regardless of the provocation, the Opposition should have adhered to decorum(polite behaviour) while articulating its concerns.
(iv) But meaningful parliamentary discussions have become infrequent, and the voice of the Opposition is often ignored.
(v) Upper House functions have been significantly curtailed(restricted) by the arbitrary labelling of money bills, which bypass it.
(vi) The flat out denial of a division of votes was a new low in parliamentary history.
(vii) Not stopping there, eight Opposition members were suspended for one week while notice for a no-confidence motion against the Deputy Chairman was rejected at the threshold by Chairman M. Venkaiah Naidu.
(viii) Opposition parties have now petitioned(request) President Ram Nath Kovind to not give assent to the two Bills passed by voice vote.

Conclusion
(i) There must be immediate efforts led by the executive to restore the effective and meaningful functioning of Parliament.
(ii) Parliament must not abridge right of MPs to take a stand in debates and votes.

2. IN THE AIR: ON CDC'S ACKNOWLEGEMENT OF COVID-19 SPREAD THROUGH AEROSOLS-

GS 2- Issues relating to development and management of Social Sector/Services relating to Health
Context
The Centers for Disease Control and Prevention (CDC) is revising its guidelines to acknowledge the spread of the novel coronavirus through aerosols(droplets), and to point to inhalation of particles as a common way the virus spreads.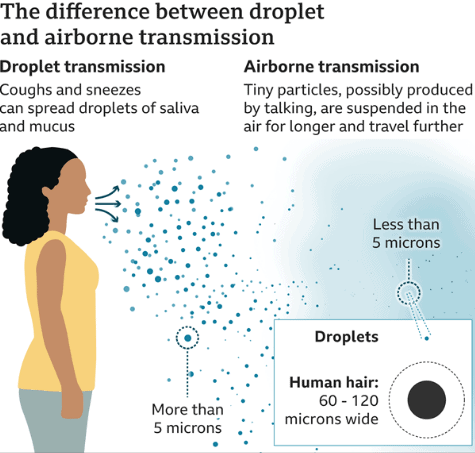 Airborne Transmission
(i) A draft of the proposed changes to its recommendations, which was later withdrawn pending finalisation, confirmed that airborne particles can spread even by breathing, remain suspended in air and be inhaled.
(ii) This comes after a body of evidence provided sufficient indication of aerosol (less than 5 microns) transmission, especially in closed settings with poor ventilation and after prolonged contact with an infected person.
(iii) In February, researchers from the Wuhan Institute of Virology, in a paper published in Nature, first proposed airborne transmission.
(iv) The paper also identified and characterised the novel coronavirus and confirmed the receptor to which the virus binds.
(v) The WHO had, on July 9, acknowledged that the virus can be airborne in closed settings after an open letter by more than 200 scientists appealing to the medical community and national and international bodies to "recognize the potential for airborne spread of COVID-19".

Precautionary Principle
(i) Beginning with the cruise ship, Diamond Princess, large outbreaks have been documented in churches in South Korea and Singapore.
(ii) Prisons, old-age homes, ski resorts in Austria and even choir practice in a church in Mount Vernon, Washington, providing strong evidence of aerosol transmission in certain closed settings early during the pandemic.
(iii) It is therefore bewildering(confusing) that both WHO and the CDC refused to adopt the precautionary principle and caution people even while collecting data to confirm or refute that possibility.
(iv) However, even in the absence of guidelines from the global bodies, many countries had on their own denied permission for certain enclosed settings to operate, thus averting(preventing) innumerable outbreaks and cases.
(v) With aerosol transmission now being confirmed and its spread to distances beyond six feet also known, the only way to prevent infection till such time and probably even when vaccines become available is through universal masking.
(vi) Timely cautioning by global bodies of an aerosol transmission possibility might have encouraged universal mask wearing early on, thus preventing thousands of cases.
(vii) Universal masking can avert infections, and if infected, the amount of viral load one is exposed to will be less, thus leading to only asymptomatic infections or mild disease.
(viii) Unlike Diamond Princess, universal masking in another ship led to 81% of infections being asymptomatic.
(ix) There have been similar results in other cases where universal masking was practised.
(x) With aerosol transmission now being established as a common way of spread in certain settings, the best way to avoid getting infected is by staying clear of crowded, closed settings that have poor ventilation.

Conclusion
With more evidence of aerosol transmission, physical distancing and masking are crucial.

3. INDIA AND THE ABRAHAM ACCORDS-
GS 2- Effect of policies and politics of developed and developing countries on India's interests, Indian diaspora
Context
(i) The White House ceremony on September 15 marking the formal normalisation of Israel's ties with the United Arab Emirates (UAE) and the Kingdom of Bahrain has created a significant inflection point in regional history and geopolitics.
(ii) Indeed, it helped ring in the Jewish new year (Rosh Hashanah 5781) last weekend with some extra cheers!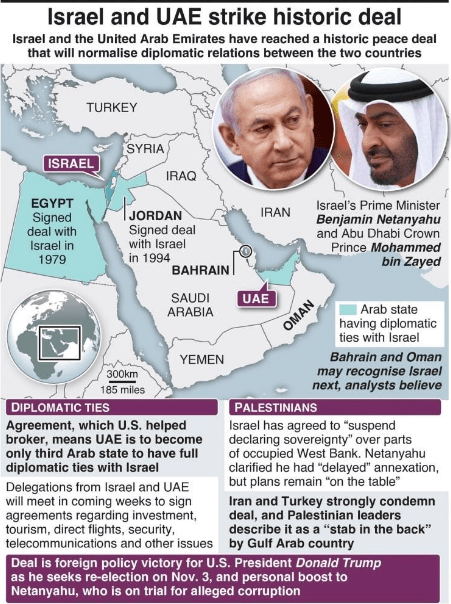 Two New Friendships
(i) The two Gulf states have, thus, joined Egypt and Jordan which had their peace treaties with Israel in 1979 and 1994, respectively.
(ii) Still, several nuances(shade) make the September 15 reconciliation(reunion) different.
(iii) For one, the UAE and Bahrain do not have any territorial dispute with Israel, nor have they ever been at war with it.
(iv) Although formally committed to an Arab consensus(agreement) over a two-state resolution of the Palestine cause, these two countries have steadily, albeit(although) furtively, moved towards having substantive(firm) links with Israel in recent years.
(v) Hence, the 'Abraham Accords' entered with the UAE and Bahrain are 'peace-for-peace' deals without any physical quid pro quo(give and take) by Israel.
(vi) Multiple drivers are likely to spur(push) the two new friendships to grow faster and deeper than the 'cold peace' Israel has had with its two Arab neighbours.
(vii) Externally, Israel, the UAE and Bahrain share the common threat perception(sight) of Iran against the backdrop of the ongoing diminution(reduction) of Pax Americana in the region.
(viii) Internally, while all three have their respective hotheads opposing this reconciliation, these seem manageable.
(ix) They are relatively more modern societies which share the overarching(important) and immediate priority of post-pandemic economic resuscitation(bring).
(x) They have lost no time to set up logistics such as Internet connectivity and direct flights to pave the way for more active economic engagement.
(xi) If these sinews evolve, other moderate Arab countries are likely to join the Israel fan club.
(xii) Israel's détente(easing of relations) with Egypt and Jordan did not have any major impact on India as our ties with them were relatively insignificant.
(xiii) However, now India has stronger, multifaceted(many aspects) and growing socioeconomic engagements with Israel and the Gulf countries.
(xiv) With over eight million Indian diaspora(migration) in the Gulf remitting annually nearly $50 billion, annual merchandise trade of over $150 billion, sourcing of nearly two-thirds of India's hydrocarbon imports, major investments, etc., it is natural to ask how the new regional dynamic would affect India.

Implications For India
(i) Geopolitically, India has welcomed the establishment of diplomatic relations between the UAE and Israel, calling both its strategic partners.
(ii) In general, the Israel-Gulf Cooperation Council (GCC) breakthrough widens the moderate constituency for peaceful resolution of the Palestine dispute, easing India's diplomatic balancing act.
(iii) However, nothing in West Asia is monochromatic: The Israel-GCC ties may provoke(incite) new polarisations(divisions) between the Jihadi fringe and the mainstream.
(iv) The possibility of the southern Gulf becoming the new arena of the proxy war between Iran and Israel cannot be ruled out, particularly in Shia pockets.
(v) India would have to be on its guard to monitor and even pre-empt(stop) any threat to its interests in the Gulf.
(vi) Even more important for India is to manage the economic fallout of the Israel-GCC synergy.
(vii) With defence and security cooperation as a strong impetus, both sides are ready to realise the full potential of their economic complementarity.
(viii) The UAE and Bahrain can become the entrepôts to Israeli exports of goods and services to diverse geographies.
(ix) Israel has niche(suitable) strengths in defence, security and surveillance equipment, arid farming, solar power, horticultural products, high-tech, gem and jewellery, and pharmaceuticals.
(x) Tourism, real estate and financial service sectors on both sides have suffered due to the pandemic and hope for a positive spin-off from the peer-to-peer interactions.
(xi) Further, Israel has the potential to supply skilled and semi-skilled manpower to the GCC states, particularly from the Sephardim and Mizrahim ethnicities, many of whom speak Arabic.
(xii) Even the Israeli Arabs may find career opportunities to bridge the cultural divide.
(xiii) Israel is known as the start-up nation and its stakeholders could easily fit in the various duty-free incubators in the UAE.
(xiv) Israeli foray(raid) into the Gulf has the potential to disrupt the existing politico-economic architecture India has carefully built with the GCC states.
(xv) India has acquired a large and rewarding regional footprint, particularly as the preferred source of manpower, food products, pharmaceuticals, gem and jewellery, light engineering items, etc.
(xvi) Indians are also the biggest stakeholders(corporation) in Dubai's real estate, tourism and Free Economic Zones.

Conclusion
(i) In the evolving scenario, there may be scope for a profitable trilateral synergy, but India cannot take its preponderance(prevalence) as a given.
(ii) It needs to keep its powder as dry(be careful) as the shifting sands of the Empty Quarter.