1. DIPLOMATIC OFFENSIVE-
GS 3- Security challenges and their management in border areas
Context
(i) More details are coming in of a planned terror strike in Jammu and Kashmir by four men, believed to be members of the Pakistan-based Jaish-e-Mohammed.
(ii) These men were gunned down by security forces last week.
(iii) And the discovery of a tunnel in the Samba sector from where the men are supposed to have infiltrated(entered) into India has alarmed many.
(iv) The government has decided to step up its diplomatic campaign to hold Pakistan accountable.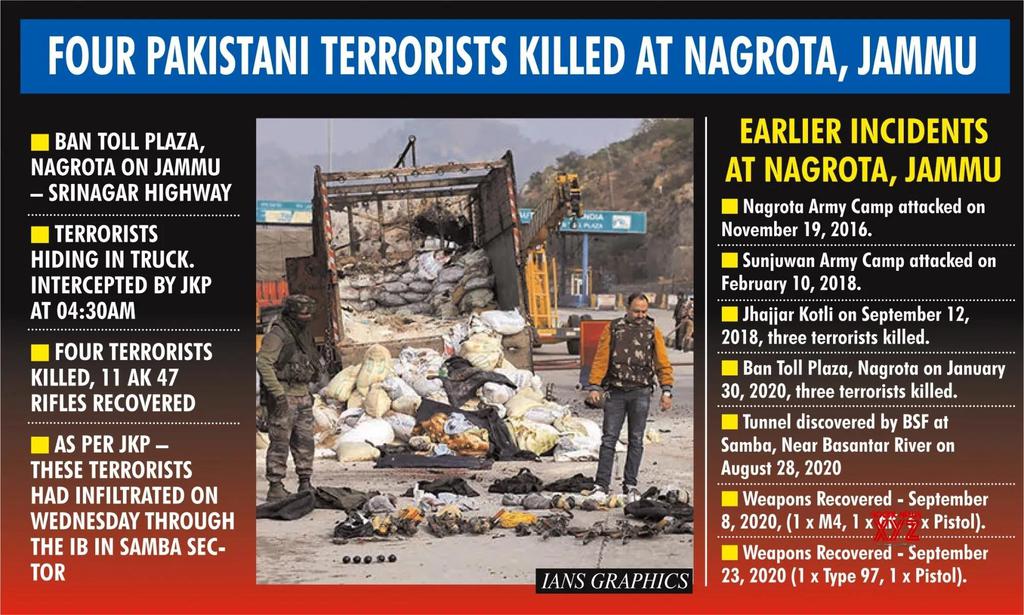 Passing The Details On
(i) On Monday, Foreign Secretary Harsh Shringla briefed a select group of Ambassadors on the plot, which the government believes was planned on the same scale as last year's Pulwama bombing that killed 40 Central Reserve Police Force personnel, and timed for the anniversary of the 2008 Mumbai attacks.
(ii) The envoys were part of the first batch of diplomats being briefed.
(iii) Indian missions have also been instructed to pass on details of the "information docket" handed over, which includes details of the encounter in Nagrota between the suspected terrorists hiding in a truck and security forces.
(iv) That this was no ordinary encounter was evidenced from PM's statement, calling it a "nefarious(dangerous) attempt to target grassroots level democratic exercises in J&K", a reference to the District Development Council elections due to start on.
Multi-Pronged Strategy
(i) By apprising the international community, it would seem the government has a multi-pronged(level) strategy.
(ii) The first imperative(need) is to ensure that the full implications of the aborted(halted) attack and what could have occurred are understood worldwide, and the threat India continues to face from cross-border terror is acknowledged.
(iii) In addition, any actions India takes against terror threats the Army perceives along the LOC this point on will be considered retaliatory(consequence).
(iv) The second is to put Pakistan, which has itself been making allegations about a terror threat from India, squarely on notice.
(v) Pakistan still faces the final FATF decision in February 2021 on whether it will be blacklisted for its inability to curb terror financing and to shut down groups such as the JeM and the LeT.
(vi) However, the Modi government must also remember that invoking(using) the international community can be a double-edged sword in its bilateral conflict with Pakistan, that could invite discomforting interventionary interest.
(viii) Eventually, India's success lies in protecting its borders, as done in Nagrota, and by providing a peaceful and stable environment in J&K so as to restart the much-delayed democratic process there, despite all attempts to derail it.
Conclusion
India did well to highlight the terror threat from Pakistan amid steps along the border.

2. DANGEROUS SUGGESTION-
GS 2- Government policies and interventions for development in various sectors and issues arising out of their design and implementation
Context
(i) Most often, reports prepared by the RBI's internal working groups barely(hardly) draw much attention beyond the relevant circles in the banking and financial services industries and rarely ever evoke(bring in) protest.
(ii) But the strong reactions to an internal panel's report on November 20, almost a full month since the group of central bank officials had submitted their recommendations on October 26, come as no surprise.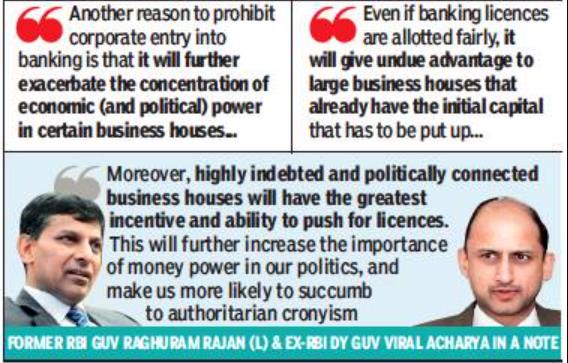 Reviewing Norms
(i) The panel, which was tasked with reviewing ownership norms and corporate structure for private sector banks, has made worthwhile suggestions including ways to harmonise licensing norms for all banks including older legacy lenders and newer entrants.
(ii) While the panel's appointment in June — at a time when the country was in the throes of coping with the severe economic fallout of the COVID-19 lockdown — got little attention, its suggestion that corporate or industrial houses be allowed to promote banks has triggered widespread concern.
(iii) And among those with reservations are at least three former senior central bankers and a global credit rating agency.
(iv) Most intriguing(interesting) is that the panel, which consulted with experts ranging from former RBI officials to legal and finance professionals, clearly acknowledges that all but one of these outside experts were unequivocal(indisputable) in their opinion that given the prevailing far-from-ideal corporate governance culture, corporates ought to be barred from promoting banks.
Major Concern
(i) The difficulty in ring-fencing "the non-financial activities of the promoters with that of the bank", was flagged by these experts as the central concern, a fear that was echoed by S&P Global Ratings too.
(ii) Former RBI Governor Raghuram Rajan and former Deputy Governor Viral Acharya who was appointed by the Modi government after Mr. Rajan had left the central bank in a joint article on LinkedIn have termed the proposal a 'bad idea' and questioned its rationale.
(iii) Acknowledging the RBI group's caveats(gaps) including its assertion that corporates only be allowed as promoters after "necessary amendments to the Banking Regulation Act, 1949" are enacted to safeguard against connected lending, the two economists have, however, pointed to the bailouts of Yes Bank and Lakshmi Vilas Bank as examples of the heightened risk posed by any move to loosen bank licensing norms.
(iv) For all its regulatory powers and supervisory capabilities, the RBI failed to spot the build-up of troubled exposures at Yes Bank in time.
(v) The dangers posed to overall financial stability by letting industrial houses have access to relatively inexpensive capital in the form of household savings through banks, howsoever legally regulated, are far too great to risk at the altar of liberalisation of ownership norms.
Conclusion
(i) The RBI's decision makers need to reject this suggestion outright and place it where it belongs — the shelf.
(ii) Industrial houses should not have access to household savings through their own banks.

3. WITH LAND RIGHTS, BUT NO LAND-
GS 2- Government policies and interventions for development in various sectors and issues arising out of their design and implementation
Context
(i) Tribal politics in the erstwhile(former) State of Jammu and Kashmir was focused on the twin issues of political reservation and enactment/extension of the Forest Rights Act (FRA) of 2006.
(ii) Mainstream political parties, which are now arguing for these rights for the Adivasis in J&K, failed to provide them these rights when they were in power for years.
(iii) This failure continues to aggravate(worsen) the problems of the Adivasis in J&K who were provided reservations in jobs, but no political reservation though this was constitutionally mandated.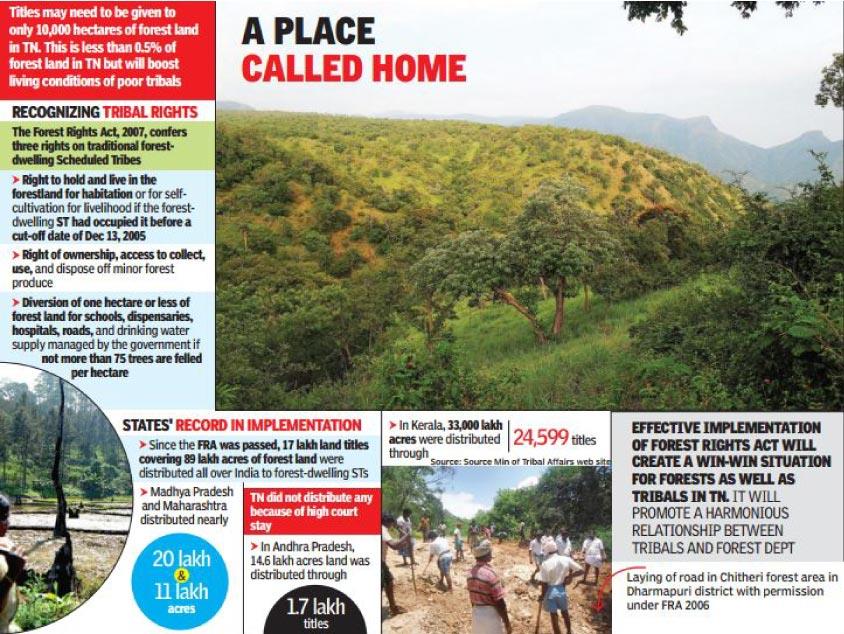 Marginalisation
(i) It is this lack of political reservation that has been a major reason for their marginalisation(side-lining).
(ii) The Adivasis have had to largely depend on non-tribal leadership to represent their issues and demands.
(iii) Lack of political reservation meant that their issues were never adequately represented in the Legislative Assembly.
(iv) The vote share of Adivasis is a major deciding factor in almost 21 Assembly constituencies, yet they remain politically marginalised.
(v) After the abrogation of J&K's special status, there was no delay in providing political reservation for the Adivasis.
(vi) Its actual impact will be seen only after elections are conducted for the Legislative Assembly of the Union Territory of J&K.
(vii) However, similar urgency wasn't shown in the extension of the FRA to J&K after the abrogation(end) of special status though many other Central laws were extended to the Union Territory.
More Evictions
(i) In fact, the FRA should have been in place in J&K long time ago — nothing in Article 370 prevented the Legislative Assembly from enacting a similar law.
(ii) Adivasi lands have not been protected, nor have these communities been given ownership rights.
(iii) Instead, evictions of Adivasis have intensified in the last few years. The FRA would have provided Adivasis in J&K access and ownership rights, forest-based livelihood rights, and minor forest produce rights.
(iv) Adivasis, especially nomads, have neither land rights nor rehabilitation rights.
(v) The J&K government has now decided to implement the FRA. On November 18, the J&K Chief Secretary reviewed the implementation of the FRA.
(vi) It has been decided that the survey of claimants by the forest rights committees for assessing the nature and extent of rights being claimed at the village-level would be completed by January 15, 2021.
(vii) Subsequently, the claims would be scrutinised(examined) by the sub-divisional committees, which will then prepare a record of forest rights by or before January 31, 2021.
(viii) District-Level Committees will give the final approval and grant forest rights by March 1, 2021.
Proving Ownership
(i) Implementing the FRA is a welcome step. However, instead of alleviating(reducing) fears of displacement and disempowerment, the law has only increased those fears.
(ii) This is primarily because this is happening against the backdrop of the J&K government's decision on October 31 to declare the State Land (Vesting of Ownership to the Occupants) Act, 2001, also known as the Roshni Act, null and void.
(iii) This Act has been controversial due to the questionable transfer of ownership of state land to many influential people, including Ministers, legislators, bureaucrats, and police officers.
(iv) Some say that it provided ownership rights to many poor, landless Adivasis as well; now the land will be retrieved(taken back) from them.
(v) In such a scenario, the Adivasis will fail to prove their claims of ownership under the FRA.
(vi) Further, in the last few weeks, the eviction(removal) and demolition drives against nomads have intensified without any rehabilitation plans in place. The FRA, then, is unlikely to benefit such poor, landless Adivasis.
Conclusion
(i) In the rest of India, the FRA provided and recognised the forest rights of forest dwellers who had occupied forest land before December 13, 2005. No such cut-off date has been mentioned in the case of J&K.
(ii) Without a cut-off date, with land being retrieved after declaring the Roshni Act null and void, and with forceful evictions taking place, many tribal families are unlikely to benefit from the implementation of the FRA.