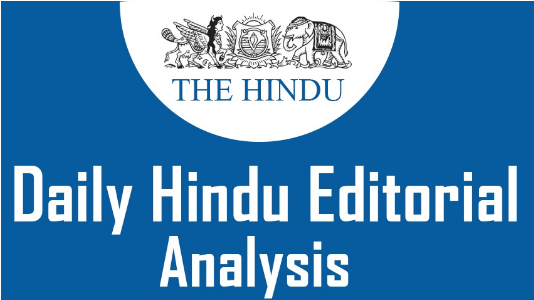 1. STAR STATUS-
GS 2- Important aspects of governance, transparency and accountability, e-governance
Context
The Supreme Court's stay on the revocation(cancellation) of the status of former Madhya Pradesh CM Kamal Nath as a 'star campaigner' for the Congress brings to the fore the power of the Election Commission of India and its role in ensuring a clean campaign.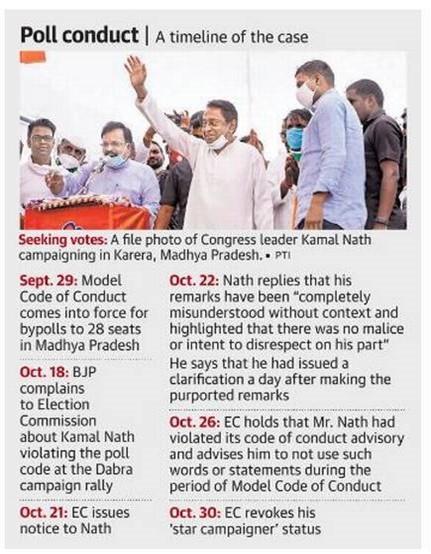 Exceeding Jurisdiction
(i) Chief Justice S.A. Bobde appeared convinced that the ECI has no such power, and ordered a stay on its order.
(ii) Mr. Nath earned the ECI's rebuke(criticism) after a distasteful personal remark about a BJP woman candidate while campaigning for a by-election to the Madhya Pradesh Assembly recently.
(iii) The Commission's order dated October 30 said it was revoking his status as a leader of a political party (star campaigner).
(iv) Section 77 of the Representation of the People Act, 1951, which relates to a candidate's election expenditure, does leave it to the political party itself to decide who its "leaders" are and allows every party to submit a list of such 'star campaigners' to the election authorities.
(v) However, it should be noted that the 'star campaigner' status comes with a clear privilege: the expenditure incurred on the campaign done by those from the list of star campaigners is not included in the expenditure of the candidate concerned.
(vi) In effect, an order of the ECI revoking the star status is actually a withdrawal of the right to campaign without incurring electoral expenditure on the candidates' account.

Citing Sc Observations
(i) It stands to reason that the ECI, in exercise of its general and plenary power of control and direction over elections, ought to have the power to revoke the status of a campaigner, if there is an apparent breach of campaign norms or the Model Code of Conduct.
(ii) After all, the star status ensures that some leaders can charter helicopters and travel extensively to cover more territory and constituencies without breaching any individual candidate's spending limit.
(iii) The ECI has cited the clause in the MCC that bars candidates from resorting to "criticism of all aspects of the private life, not connected with the public activities" of other leaders and party workers.
(iv) Even though the model code is not statutory, it has been generally recognised that the election watchdog should have some means of enforcing its norms.
(v) In past orders, the ECI has cited the Supreme Court's observation that when laws are absent, the ECI can invoke its residuary power to meet an infinite variety of situations that cannot be foreseen by lawmarkers.
(vi) It is indeed debatable whether the ECI has been exercising its powers in an even-handed way in recent years.
(vii) However, it is equally important that the ECI's power to enforce poll norms and clean campaigns is not unduly abridged(cut).

Conclusion
ECI's power to ensure a clean campaign should not be unduly abridged.

2. FIXING THE RULES OF THE ECONOMY-
GS 3- Indian Economy and issues relating to planning, mobilization of resources, growth, development and employment
Context
(i) India has an incomes crisis: incomes of people in the lower half of the pyramid are too low.
(ii) The solutions economists propose are: free up markets, improve productivity, and apply technology.
(iii) These fundamentals of economics must be re-examined when applied to human work.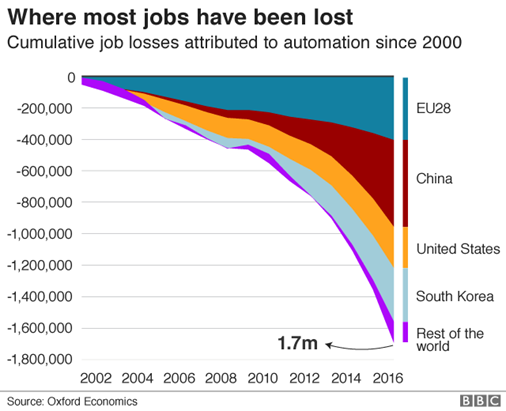 Three Solutions
(i) Economists say markets should be freed up for agricultural products so that farmers can get higher prices; and freed up for labour to attract investments.
(ii) Without adequate incomes, people cannot be a good market for businesses. In fact, it is the inadequate growth of incomes that has caused a slump(reduction) in investments.
(iii) Ironically, the purpose of freeing up markets for labour is to reduce the burden of wage costs on investors just when wages and the size of markets must be increased.
(iv) Human rights must prevail over economic considerations. Good markets enable smooth transactions between buyers and sellers of commodities.
(v) However, humans are not commodities, like agricultural produce and minerals are. Humans must not be put up for sale to the highest bidders which was the practice in slave markets.
(vi) Human rights activists fought a long, hard battle to abolish(end) the idea that humans can be considered as commodities in markets.

Improving Productivity
(i) Improvement of 'productivity' is key to economic progress. Productivity is a ratio of an input in the denominator and an output in the numerator.
(ii) The larger the output that is produced with a unit of input, the higher the productivity of the system.
(iii) Economists generally use labour productivity as a universal measure of the productivity of an economy.
(iv) The number of people in the system (the country/the economy) is the denominator, and the gross domestic product the people produce is the numerator.
(v) Companies also measure their productivity similarly, by dividing the total output of the enterprise by the numbers of workers employed.

Strategies Involved
(i) Companies can apply two broad strategies for improving their productivity. They can take the managerially more difficult route of increasing the total output of the factory while maintaining the number of workers.
(ii) This may require adding more machines and technology to supplement the capacity of workers to increase total output. This is a good strategy for capital-rich enterprises and countries.
(iii) Alternatively, employers can enhance their workers' skills and create a culture of continuous improvement in the factory, whereby workers and managers cooperate to improve the capability of their system, and squeeze(attract) more output from limited capital resources.
(iv) This is the strategy of 'total quality management', with which Japanese companies reduced their costs and improved the quality of their products in the 1960s and 1970s, becoming the most competitive enterprises in the world.
(v) The Japanese companies had lifetime employment contracts with their workers.
(vi) They invested in their workers; and the workers — the companies' 'appreciating assets' — grew their capabilities as well as contributed to the improvement of the total productivity of their enterprises.

Hire And Fire Strategy
(i) Humans are the only 'appreciating assets' an enterprise has. They can improve their own abilities.
(ii) The values of machines and buildings depreciate(reduces) over time, as any accountant knows. Whereas human beings develop when they are treated with respect, and are provided with environments to learn.
(iii) The lazy management strategy for improving productivity is to reduce the denominator, i.e. the number of workers.
(iv) Hire them when times are good, and fire them when the company cannot compete any more.
(v) Governments of countries cannot apply the 'hire and fire' strategy to improve a nation's productivity that companies can.
(vi) A company can fire people it is not able to use productively any more. They are off the company's accounts.
(vii) The company's owners hope someone else will take care of them. Such 'used and discarded workers' are no longer their responsibility.

Malaise Brewing Beneath
(i) However, if a country is not productive, in terms of GDP per unit of population, its government does not have the luxury of firing citizens. Where will they go? Who will take care of them?
(ii) In desperation, they may try to migrate to other countries, which are reluctant to have them because they will have to provide them with productive jobs when there are not enough jobs for their own citizens.
(iii) For capital-scarce and human resource-abundant countries, such as many developing countries, the correct ratio of productivity is output per unit of capital.
(iv) This must be the driver of business as well as national strategies. This was the strategy of 'Japan Inc.' to make Japan an industrial power house.
(v) This was E.F. Schumacher's insight also. Schumacher was an economist ahead of his time. He understood where capitalism powered with technology would be heading.
(vi) In his essay, he wrote: "If we define the level of technology in terms of 'equipment cost per work-place', we can call the indigenous technology of a typical developing country (symbolically speaking) a £1-technology, while that of the modern West could be called a £1,000-technology.
(vii) The current attempt of the 'developing 'countries, supported by foreign aid, to infiltrate the £1,000-technology into their economies inevitably kills off the £1-technolgy at an alarming rate.
(viii) It destroys traditional workplaces at a much faster rate than modern workplaces can be created and producing the 'dual economy' with its attendant evils of mass unemployment and mass migration".
(ix) Schumacher had warned there was a malaise(evil) brewing(developing) beneath the drive to 'Westernise' and 'technologise' economies.
(x) The harsh lockdown of the economy in India to prevent the spread of COVID-19 caused the malaise to spill out for everyone to see.

The Social Contract
(i) A good job implies a contract between workers and society. Workers provide the economy with the products and services it needs.
(ii) In return, society and the economy must create conditions whereby workers are treated with dignity and can earn adequate incomes.
(iii) Good jobs require good contracts between workers and their employers.
(iv) Therefore, the government, to discharge its responsibility to create a good society for all citizens, and not only for investors, must regulate contracts between those who engage people to do work for their enterprises, even in the gig(temporary) economy.
(v) The economist Dani Rodrik, an authority on industrial policy and international trade, advocates reforms that will induce firms to employ more numbers of less skilled workers.
(vii) He says, to increase productivity of firms, "too often they [governments] subsidise labour-replacing, capital-intensive technologies, rather than pushing innovation in socially more beneficial directions to augment rather than replace less skilled workers."

Conclusion
(i) A turbo-charged, financial globalisation has made life very easy for migrant capital, while making the lives of migrant workers more precarious(dangerous).
(ii) The power to fix the rules of the game has become concentrated with wealthy investors and large multinational corporations.
(iii) The rules do not favour workers and tiny enterprises because they have too little power.
(iv) Large enterprises employ fewer people within their own organisations; therefore, labour unions have lost their traditional support bases.
(v) The power balance must shift. Small enterprises and workers must combine into larger associations, in new forms, using technology, to tilt reforms towards their needs and their rights.