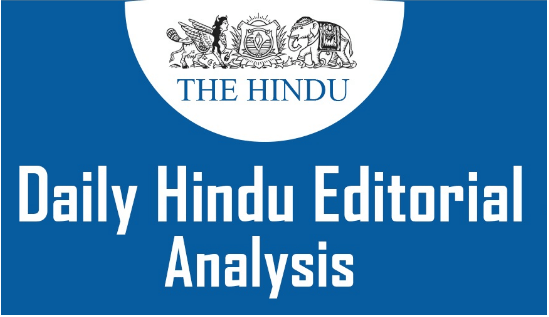 1. A NEW DIMENSION: ON INDIA-U.S.-AUSTRALIA-JAPAN QUADRILATERAL-
GS 2- Bilateral, regional and global groupings and agreements involving India and/or affecting India's interests
Context
(i) Chief of Defence Staff stated on Thursday that India believes the Quad would be a "good mechanism" to "ensure Freedom of Navigation Operations" (FONOPs) in the Indian Ocean and surrounding oceans including the Indo-Pacific.
(ii) This will be seen as a significant shift of the government's posture towards the India-U.S.-Australia-Japan Quadrilateral (Quad).

The Quadrilateral Security Dialogue and the Indo-Pacific
The Indo-Pacific idea expands the conceptual region of Asia-Pacific to include India and the Indian Ocean. The QSD translates this understanding into strategy, envisaging the two oceans as a single security space, which includes India and Japan, is bridged by Australia, and is undergirded by U.S. maritime dominance to balance against the Western Pacific's rising power, China.


Diplomacy- Way Out
(i) Unless he misspoke, the suggestion is that India is now prepared to join Quad military patrols, which marks a departure from its earlier reticence(holding back) and public statements by the leadership.
(ii) The Indian Navy has not taken part in any joint patrols outside of the Indian Ocean, and even within it, held its first one, with France, only recently.
(iii) In terms of the engagement with the Quad, India has not yet formally announced a decision to include Australia in the annual Malabar exercises with the U.S. and Japan, although it is expected to do so.
(iv) However, the move from conducting exercises together to joint operations would take time, something that makes the CDS's assertion significant.
(v) It is easy to surmise(guess) that his contention that the Quad operations are needed to ensure there is no "fear of any other nation singularly trying to dominate the oceans", is a veiled(indirect) reference to China.
(vi) It is also clear that the LAC tensions and clashes, as well as the PLA's refusal to implement border agreements, have convinced New Delhi that new strategies will be required to deal with Beijing.
(vii) India continues to engage China diplomatically, and External Affairs Minister and Defence Minister have spoken of the importance of a resolution through talks.
(viii) There is no doubt that an outcome of the tensions will be a strengthening of India's ties with global powers such as the U.S., as well as formations like the Quad.
(ix) An indication of this is the government's plans to host a ministerial-level meeting of the Quad in the next month, possibly when the India-US "2+2" meet of Foreign and Defence Ministers is held.

Shedding Reticense
(i) While India considers its options, it is necessary to remember some of the reasons for its reticence in terms of militarising the Quad in any way.
(ii) Prime Minister Modi said in 2018 that India sees the Indo-Pacific as a "geographical concept", not a "strategy or a club of limited members", and it would be important to know whether that formulation has changed.
(iii) India is the only Quad member not already tied in a treaty alliance with the others, and Mr. Jaishankar's statement that India would never be part of any "alliance system" would run counter to what the CDS suggests.
(iv) Finally, India is the only country in the Quad that shares a land boundary with China, and it is unclear how the militarisation of the Quad in Indo-Pacific waters would alleviate the territorial threat it faces.
(v) If, however, New Delhi's view of its Quad engagement has shifted, clarity and an expansion of Gen. Rawat's statement are essential.

Conclusion
Militarisation of the Quad will not alleviate the territorial threat India faces from China.

2. APPROPRIATE STRATEGY: ON INDIA BANNING MORE CHINA APPS-
GS 2- Government policies and interventions for development in various sectors and issues arising out of their design and implementation
Context
The blocking of a hundred more Chinese mobile applications suggests that the Indian government, not for the first time in recent months, wants to make it amply clear that it will not shy away from leveraging its position as a massive market for technology in dealing with potentially dangerous geopolitical issues.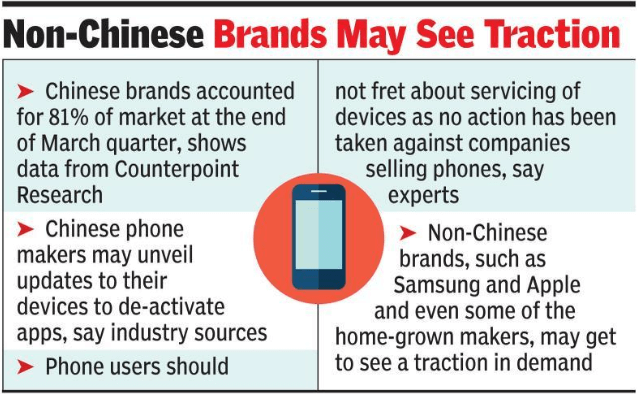 Banning
(i) Since June, when border tensions between India and China turned ugly, the government has till now stepped in thrice to block many Chinese applications in one go.
(ii) In the latest such decision, on Wednesday, it blocked 118 apps, including the widely popular gaming app, PUBG, as well as WeChat Work and Baidu, owing to these being "prejudicial(risk) to sovereignty and integrity of India, defence of India, security of State and public order".
(iii) Over 200 Chinese apps, which were accessed by millions of Indian users, have been blocked in all till date.
(iv) The decision has been taken based on several complaints, a press release said, of these apps "stealing and surreptitiously(hiding) transmitting users' data in an unauthorized manner to servers which have locations outside India".
(v) It could be argued that loss of access to the Indian market will sharply affect the ambitions of the Internet giants emerging from China, but it remains to be seen if this tech-side intervention is effective as a counter in a geopolitical fight.
(vi) Also, how far can India go to keep the Chinese players, who are well entrenched in the global tech supply chain, off the Indian market without prejudicing its own growth?

Due Process
(i) It is difficult to argue against decisions that are taken on the plank of national security.
(ii) But it would be well argued that the Indian approach should have followed due process, where the focus was on ensuring compliance with the law.
(iii) Instead, the Indian response to complaints has been to straight away block these apps en masse(in large numbers).
(iv) Meanwhile, millions of Indians who were engaging with these platforms, some gainfully, have to scramble(move here and there) for alternatives.
(v) To add to this, the data protection law, a dire(crucial) need in this age, is not yet there.
(vi) All this does not bode well for a country with aspirations of global leadership of tech, an industry which thrives on global networks and rules.
(vii) Ironically, China, which for years has unleashed widespread censorship of information and kept apps from outside off its Internet, has found a rare chance to take the moral high ground.
(viii) It has criticised India's move, accusing it of "abusing the concept of national security".
(ix) The last thing India needs is to be compared with China as far as its Internet regulation goes. It certainly needs a more considered approach to tech regulation.

Conclusion
Whatever the threat from Chinese apps, India needs a better approach to tech regulation.

3. PARLIAMENT STIFLED, BUSINESS, AND A WORD OF ADVICE-
GS 2- Important aspects of governance, transparency and accountability
Context
(i) The upcoming monsoon session of Parliament, from September 14, is emblematic of the issues faced by legislatures during the novel coronavirus pandemic.
(ii) How do these bodies fulfil their central role in a democracy while maintaining health safety of legislators and the staff working in the legislatures?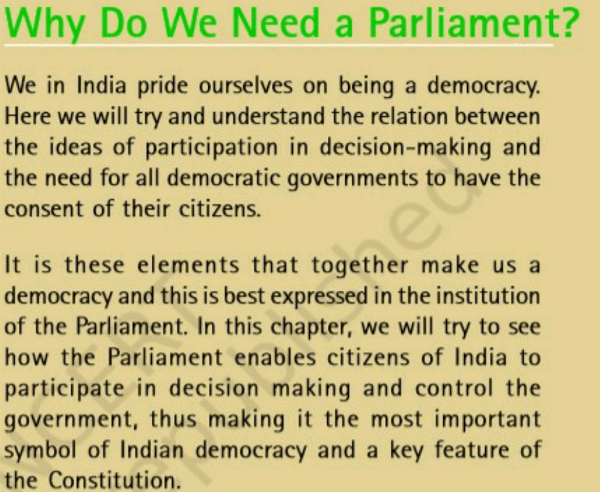 Accountability
(i) Several States have held very short sessions — some met just for a day — in which they ratified a number of ordinances(a temporary law), and hardly questioned any executive action over the last few months.
(ii) Parliament will maintain physical distancing, has truncated(cut short) the Zero Hour (in which members raise issues pertinent to their constituents and of wider public interest), and cancelled Question Hour (in which Ministers have to answer questions raised by members).
(iii) At the risk of stating the obvious, let us quickly recap the roles of the key organs of state. The government has the mandate to take decisions and perform various public tasks.
(iv) It is accountable to the legislature which can question it, and, as an extreme step, even replace it.
(v) The legislature is accountable to citizens through regular elections and can be voted out if it is not perceived to be making laws and policies beneficial to the public.
(vi) Finally, constitutional courts are expected to ensure that all actions are made within the boundaries of the Constitution and laws made by the legislature.

The Case Of Contact Tracing
(i) Our Parliament has allowed its role to be diluted over the last few decades. It has not questioned and monitored the activity of the executive.
(ii) One example will illustrate the contrast between the actions of the British Parliament and ours.
(iii) When the idea of a contact tracing app was mooted, the United Kingdom's joint parliamentary committee on human rights examined the proposals.
(iv) In a report, it recommended that an app could be used only if there was a specific primary legislation to enable it, and such legislation should ensure that data is collected only for the limited purpose of preventing the spread of COVID-19.
(v) It also prohibits sharing the data with third-parties, upload the data to a central database only if the person is tested or suspected to be positive, and limit the time for which any data was stored.
(vi) The Minister would have to report every 21 days on the efficacy of contact tracing as well as data security and privacy.
(vii) India, in contrast, rolled out Aarogya Setu through executive decision, and has created a grey zone on whether it is mandatory (for example, while flying, or on metro rail when operations resume next week).
(viii) All this has been done without a specific legislation or any parliamentary oversight.
(ix) In fact, parliamentary oversight has been largely absent through the last six months.

A Slew Of Notifications
(i) Parliament will be meeting after 175 days, the longest gap without intervening general elections and just short of the six-month constitutional limit.
(ii) Parliamentary committees did not meet for about four months, and after that have had only in-person meetings, which have led to low attendance, given travel risks and restrictions.
(iii) This is unlike many other countries where both the plenary and committees have adopted technology to enable members to participate from home.
(iv) In this period, over 900 central and nearly 6,000 State government notifications have been issued which are related to managing the pandemic. This is in addition to notifications on other subjects.
(v) The absence of a functioning Parliament or Committees implies that there has been no check or guidance on government action.
(vi) When it meets, Parliament should look at the government's response to the crisis.
(vii) However, the function would become more of a post-mortem analysis rather than an ongoing guidance mechanism.
(viii) Contrast this with a well-functioning committee system such as the British example of the contact tracing app which guides government action before the event.
(ix) The only thing one can do later if things go wrong is to rue the loss.

Court Interventions
(i) The lack of parliamentary oversight has been compounded by judicial intervention in many policy issues.
(ii) For example, the government's actions related to the lockdown and the hardships caused to migrants should have been questioned by Parliament.
(iii) Discussions in parliamentary forums would have helped the government get feedback on the ground situation across the country and fine-tune its response.
(iv) However, this was taken to the Supreme Court, which is not to balance policy options.
(v) Directions of the Court have to be followed which removes flexibility needed to tackle evolving issues with implementation.
(vi) To take another example, the Court decided to limit the period in which telecom companies have to pay their dues to the government, and overruled a cabinet decision.
(vii) This is a policy matter that balances interests of telecom companies, consumers (who suffer through price hikes or potential formation of a monopoly), and banks (which may face defaults by telecom companies).
(viii) This issue is best judged by the government with oversight by Parliament. Of course, if there is illegality (say, corruption), then the matter should be judged by courts.

Short Session, Much Business
(i) Parliament should recover lost ground by fulfilling its constitutionally mandated role.
(ii) It has a large number of issues to discuss in the short 18-day session.
(iii) The fact that the two Houses are working in shifts to use the same physical space limits the scope of extended sittings on any day.
(iv) In the period since the last session, the government has issued 11 ordinances.
(v) Five of these relate to the COVID-19 crisis and the lockdown: extending tax filing dates, moratorium on new insolvency cases, protection for health workers, and temporary cuts in salaries and allowances of Members of Parliament and Ministers.
(vi) Of the other six, two relate to supersession of the Boards of the councils that regulate homoeopathy and Indian systems of medicine, one allows the Reserve Bank of India to regulate cooperative banks (a similar Bill is pending in Parliament), and three relate to agricultural markets (allowing contract farming and trading outside mandis).
(vii) While the ordinances related to COVID-19 have a temporary application, Parliament should refer those with long-term implications (such as the farming and the banking ones) to the respective committees for detailed scrutiny.

Core Issues
(i) Several events have taken place over the last six months that need thorough discussion.
(ii) This includes ways to tackle the spread of the novel coronavirus and limit mortality(death), and possible paths in the months ahead that could guide government action.
(iii) Economic growth, which has been decreasing for the last couple of years, has had a sharp fall in the first quarter of this fiscal year.
(iv) This has far-reaching implications for creating jobs, stability of the banking system, and government finances.
(v) The government is likely to bring in a supplementary budget; indeed, a fresh look at the Union Budget may be required given the changes in basic assumptions since January.
(vi) The situation at the China border also needs to be discussed.

Conclusion
(i) The absence of Question Hour and a shorter Zero Hour restricts the ability of Members of Parliament to hold the government accountable and represent public interest.
(ii) That said, Members of Parliament must use other available interventions to ensure that new laws and expenditure proposals are passed only after detailed discussion.
(iii) Parliamentarians have a duty towards Indian citizens to fulfil their role in scrutinising the work of the government and guiding policy.
(iv) Despite the curtailed session and the constraints due to the coronavirus, they should make the best of the limited time to do so. They need to wrest back their rightful role in our democracy.