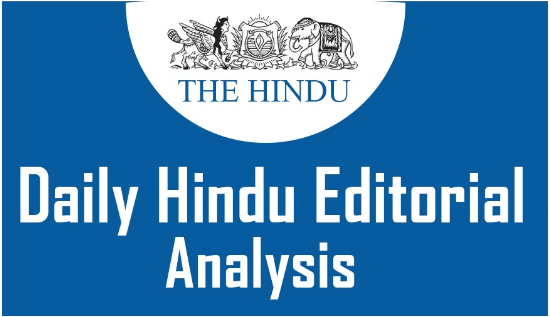 1. TEST BY CHOICE: ON RISING CORONAVIRUS CASES IN INDIA-
GS 2- Issues relating to development and management of Social Sector/Services relating to Health
Context
(i) On September 4, India crossed four million novel coronavirus cases, 13 days after crossing three million on August 22.
(ii) On Saturday, the fresh cases reported surpassed China's total recorded cases (90,070) so far.
(iii) On Sunday, India surpassed Brazil to record the second highest number of cases in the world.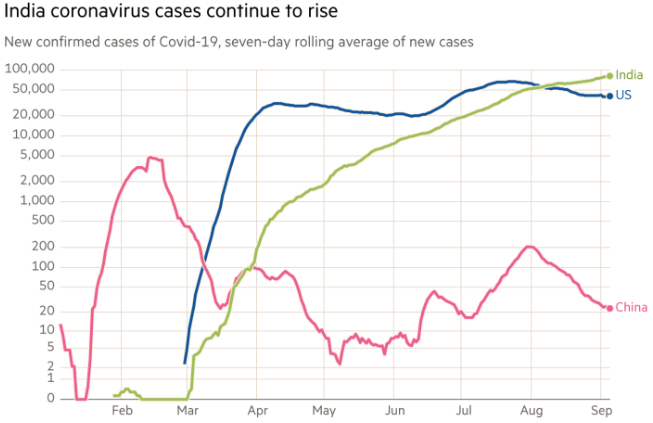 Surge In Cases
(i) Since August, India has been reporting the highest number of cases each day, which has been steadily increasing.
(ii) From over 50,000 in the last week of July to over 60,000 in the first week of August, over 70,000 in the fourth week, before jumping to over 80,000 cases in September.
(iii) Though the number of tests done each day has been over one million for the past week, the test positivity rate nationally is still high at 7.7%, indicating that testing has to be ramped up(increased).
(iv) Though the testing done each day by many States has been growing, nearly 50% of them are rapid antigen, of only about 50-60% sensitivity.
(v) Unfortunately, with no repeat testing of negative cases and only a small percentage of people with symptoms but negative results being validated with a RT-PCR, many of the infected are not being diagnosed.

Reducing Test Positivity Rate
(i) The ICMR's latest advisory provides for testing on demand to "ensure higher levels of testing".
(ii) While ramping up testing is needed, testing on demand by anyone might not be the correct approach to adopt.
(iii) The ICMR is theoretically making India's 1.3 billion people eligible for a test, even when there is no capacity to undertake this.
(iv) With States not validating the negative results from rapid antigen tests with RT-PCR, non-directed tests on demand might help more in increasing the number of tests done each day and hence in reducing the test positivity rate than in early detection and containment.
(v) The focus must remain on diagnosing the most probable cases listed out by the ICMR — those with symptoms or at high risk.
(vi) Since many of those infected have mild or no symptoms, tests on demand might be particularly helpful in detecting cases that might otherwise have been missed.
(vii) But such a strategy should be restricted to clusters, hotspots, and containment zones, besides dense urban areas with anticipated high transmission in the unlock phase.
(viii) Else, States might be forced to use their discretionary power to deny tests for people not exhibiting symptoms or in low-risk categories, or selectively charge for testing to pay for procurement of testing kits and to avoid more pressure on the testing infrastructure.
(ix) There is also the possibility of an over-reliance on antigen testing to cope with the growing demand for testing

Conclusion
India needs a more nuanced(careful) approach to COVID-19 testing.

2. CHINA'S LAC AGGRESSION, INDIA'S OBFUSCATION-
GS 3- Security challenges and their management in border areas
Context
(i) BJP and the government led by it seem to be sending out confusing signals about the ongoing India-China stand-off on the Line of Actual Control (LAC).
(ii) Media reports about the Chinese aggression started trickling in from April this year, and yet there continues to be little clarity even today either in the country's strategic community or the general public on the exact nature of developments on the China-India border.
(iii) Did the Chinese soldiers indeed cross the LAC and capture Indian territory?
(iv) Is the People's Liberation Army (PLA) currently in possession of Indian territory?
(v) What exactly are the two sides talking about in their discussions pertaining to 'disengagement'? How does New Delhi plan to retake lost territory?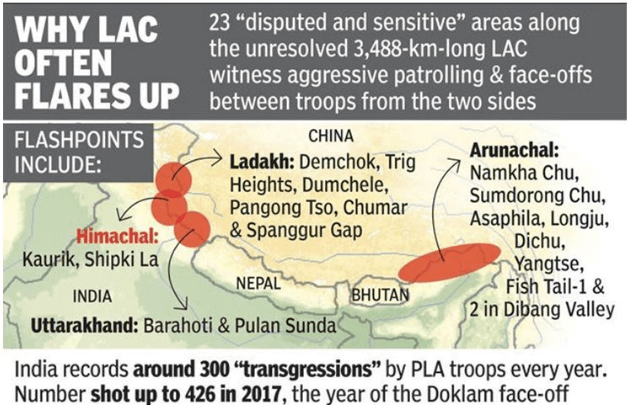 Unanswered Questions
(i) The PM had claimed on June 20 that "neither has anyone intruded into the Indian territory nor has anyone captured any military posts".
(ii) The Ministry of External Affairs' press note of June 17 had said that "the Chinese side sought to erect a structure in Galwan valley on our side of the LAC".
(iii) Adding to this confusion, India's Foreign Secretary Harsh Shringla said as recently as in early September that it "cannot be business as usual" with China until the status quo(existing affairs) is restored on the disputed border.
(iv) One thing that emerges from these and other contradictory statements is that something is not adding up vis-à-vis the government's claims about the LAC.
(v) Basic questions continue to remain unanswered.

Soft Steps, Domestic Politics
(i) What is also becoming clear is that the government is seeking soft measures in stitching together a response to China.
(ii) The government's approach, as the External Affairs Minister stated the other day, is that "a solution to the situation has to be found in the domain of diplomacy".
(iii) Put differently, the BJP government has, on the one hand, decided not to reveal the exact nature of the situation on the LAC and, on the other hand, is attempting to negotiate Chinese withdrawal from Indian territory rather than using kinetic means or tit-for-tat measures to reclaim its territory.
(iv) The BJP government's inability to take a factual and unambiguous position on the LAC flows directly from its domestic political calculations.
(v) Acknowledging Chinese possession of Indian territory is bad optics for a party whose hardcore supporters revel in the military bravado of the party.
(vi) Objective facts about adverse(serious) territorial possession matter, but not to everyone.
(vii) In BJP strongholds in the Hindi heartland, upbeat from the inauguration of the Ram temple and the Article 370 'victory', what essentially matters is 'feel good' optics and high-pitched rhetoric about a strong and unrelenting national leadership; not factual, actual positions on the ground regarding India's national interest.
(viii) Therefore, even if the BJP's critics, some 'pestering' quarters in the media, and the Opposition cry foul about the government's handling of Chinese aggression on the LAC, it would hardly make any political difference to the party.
(ix) The BJP is simply not bothered about how it is perceived other than among its core support base.
(x) More so, its rather bold policies in Kashmir and towards Pakistan over the years have created sufficient political cushion to absorb a few misadventures or pushbacks, even if they were to become public knowledge.
(xi) Obfuscation(hiding) of facts or confusing signals about the LAC stand-off, therefore, serve an important purpose.

Two-And-A-Half Front Situation
(i) Yet another reason why there is a deliberate attempt to refrain from disclosing full facts of the Chinese action on the LAC to the public is also the recognition within the establishment about the reality of a "two-and-a-half front situation".
(ii) Not that the Indian military and political leadership have not spoken about it before; but it is far easier to talk about fighting a two-and-a-half front war than actually fighting, and winning, it.
(iii) Today, we are literally facing a "two-and-a-half front situation" — a restive Kashmir, an aggressive China and a Pakistan that never misses an opportunity to get at India — together forming a formidable(strong) national security challenge.
(iv) While Pakistan's interference in Kashmir is too well-known to be mentioned here, China may have emerged as a third key player in the Kashmir conflict.
(v) This has diplomatically emboldened Pakistan, and it would be unwise for us to rule out more China-Pakistan military and diplomatic coordination against Indian interests in the years ahead.
(vi) Not that the two had not collaborated before, but this might see an increase in the days ahead.
(vii) New Delhi's strategists may have read this situation correctly.
(viii) If so, it makes perfect sense for the political masters to underplay its gravity and seek a diplomatic solution to address the most dangerous piece in the "two-and-a-half front situation" — i.e. Chinese aggression on the LAC.
(ix) In doing so, a confusing narrative is certainly helpful for domestic signalling.

West's Support Is Limited
(i) India's inability to clearly articulate, identify and address the Chinese threat is also a function of another sobering realisation within the establishment regarding the limited utility when it comes to Euro-American assistance in checking China in South Asia.
(ii) In an international system that is preoccupied with the domestic political, economic and public health worries of COVID-19, there is little enthusiasm to resolutely stand by India in pushing back China.
(iii) The unpredictability of U.S. President adds to Indian woes, and until a new President is sworn in in January 2021, Washington DC's ability to make up its mind and act on it vis-à-vis China-India affairs would be limited.
(iv) New Delhi does recognise this lukewarm global mood, and so does Beijing.
(v) Picking a fight with China, therefore, is not the wisest strategy; obfuscating(hiding) the exact nature of the China threat is indeed a much better strategy.
(vi) In democracies, sometimes partisan political interests trump(win over) national interests, and a deeply divided political landscape accentuates such partisan considerations.
(vii) The BJP's diplomatic approach to deal with China's aggressive land grab also stems from a capacity deficit.
(viii) While a bean counting of the Chinese and Indian military capabilities might lead us to believe that we are not militarily far inferior to China, what might offset this consideration is China's growing capabilities in domains such as cyber and space.
(ix) India's naval capabilities may be stronger in the Indian Ocean.
(x) The growing Chinese naval capabilities and its increasing reach in the wider region around India are also likely to dampen(hurt) India's enthusiasm about the Euro-Atlantic focus on the Indo-Pacific and the Quad.
(xi) Quadrilateral Security Dialogue(QUAD) is an informal strategic dialogue between the U.S., India, Japan, and Australia as tools to check China in the maritime space.

Way Forward
(i) If India is serious about checking China's maritime influence in the region, it would need to invest in more resources to improve its naval capabilities. But where will the money come from?
(ii) The combined effect of a pre-existing economic slowdown and the impact of COVID-19 on the economy means that the government would struggle to meet its basic expenditure needs for the foreseeable future.
(iii) Defence expenditure is bound to take a back seat, and the China threat is unlikely to make a difference.

3. EMPOWER THE YOUTH FIRST-
GS 2- Important aspects of governance, transparency and accountability
Context
(i) On Independence Day, the Prime Minister belaboured(detail discussion) his government's idea of an 'Atmanirbhar Bharat'.
(ii) In today's India, we can achieve that goal of self-reliance only if we enhance our citizens' capabilities.
(iii) Given our demographic composition, we must begin by empowering our youth.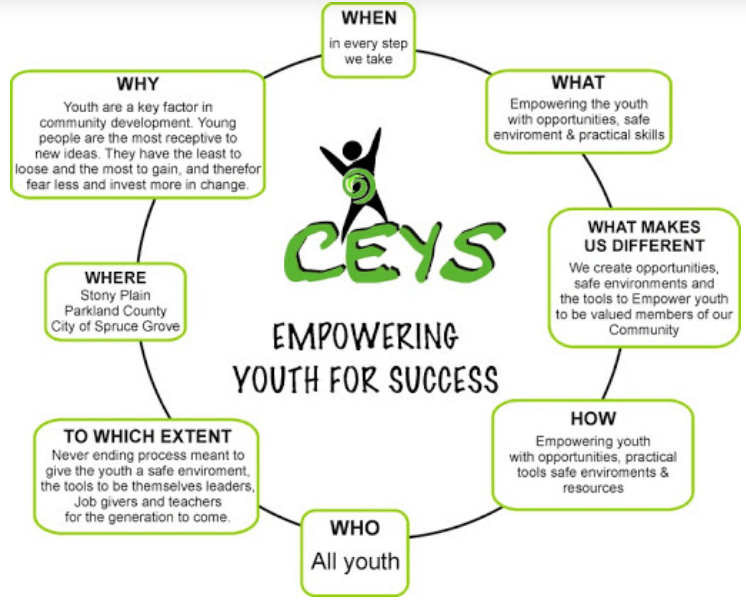 Are We Investing In Our Youth?
(i) The 2014 National Youth Policy (NYP) defined youth as persons between 15 and 29 years. This cohort(call) accounted for 27.5% of the population then.
(ii) According to the NYP report, the Central government spends about ₹2,710 per youth on education, skill development, employment, healthcare and food subsidies.
(iii) The total amount is pegged at more than ₹90,000 crore.
(iv) Assuming that States spend an equal amount, the total investment in our youth would be under 1% of the GDP, hardly commensurate(in proportion) with their population and potential.
(v) A World Bank report pegged the projected cost (read: loss) of not investing in children and youth at 4% of the GDP every year.
(vi) Of this, the costs of unemployment account for 0.6%. As of 2017-18, youth participation in India's labour force was 38.3%.
(vii) Drawing from the 2018 State of Working India Report, we peg the youth unemployment rate to be at least 18.3% (3.47 crore youths).
(viii) About 30% of youth fall under the 'neither in employment nor in education' category and 33% of India's skilled youth are unemployed.
(ix) Further, around 50 lakh youth are expected to be entering the workforce annually. Following the COVID-19 lockdown, the CMIE estimated a loss of 14 crore jobs in April alone of which 2.7 crore concerned youth.
(x) These numbers, coupled with impending grim(serious) implications of the pandemic, have landed us in uncharted turbulent(disturbed) economic waters.

The Way Forward
(i) The aspirational younger generation born after 1991 invariably hold the key to India's economic and political future.
(ii) India has just a decade's time to seize the opportunity and realise this youth demographic dividend.
(iii) Therefore, it is an appropriate time to launch an Indian Youth Guarantee (IYG) programme, akin(related to) to the European Union Youth Guarantee (EU-YG) but tuned to our country's context.
(iv) EU-YG emerged in 2010 at a time when youth unemployment rates were soaring above 20%.
(v) An IYG initiative, with statutory backing, can function as a facilitatory framework for ensuring gainful and productive engagement of youth.
(vi) At a time of fiscal stress, one way to allocate budgetary resources would be to create a Youth Component Plan, earmarking a specific percentage of funds under a separate head on the lines of the Special Component Plan for the Scheduled Castes and the Tribal Sub-Plan.
(vii) The Youth Component Plan would be formulated by States/Union Territories/Central Ministries to channelise flow of outlays and benefits proportional to the percentage of youth population based on sub-regional requirements.
(viii) IYG should not be just another budgetary scheme.
(ix) Its strategic goal should be to ensure that within a fixed time frame, young people graduating from college or losing a job either find a good quality job suited to their education and experience or acquire skills required to find a job through an apprenticeship.
(x) An important aspect of IYG should be to rope in(involve) the district administration and local bodies for effective outcomes.
(xi) Existing youth schemes and skilling infrastructure need to be dovetailed(joined) and streamlined while leveraging industry to enable an in situ(appropriate) empowerment of youth.

Learning From Mgnrega
(i) The Mahatma Gandhi National Rural Employment Guarantee Act (MGNREGA) has been very effective in providing rural livelihood security and social protection.
(ii) Yet only about 4% of youth in the labour force have been impacted by it.
(iii) While an urban youth employment programme will be a new intervention, we believe that rural youth employment should be instituted alongside MGNREGA.
(iv) IYG needs to be implemented across the country to address youth unemployment particularly given the rapid structural changes in the economy.
(v) How would such a guarantee identify the needs of the youth?
(vi) The Youth Development Index (YDI) in India serves as an advisory and monitory tool for youth development.
(vii) It helps recognise priority areas, gaps and alternative approaches specific to each State.
(viii) The index also packs a new dimension of social inclusion to assess the inclusiveness of societal progress due to prevalence of systemic inequalities.
(ix) In short, YDI can be revisited and deployed to play a vital role in crafting a region-specific IYG.

Conclusion
A focus on our youth is the first step towards self-reliance. It is time we summon the political will to guarantee our youth a viable future.