Evidences Regarding Decline of IVC and Post Harappan Period & its Characteristics

The Harappan culture seems to have flourished until 1900 B.C. The post-urban phase of the Harappan culture is also known as the sub-Indus culture or the late Harappan culture.
➢ Changes in urban cities in Post – Harappan
The Mature urban phase marked by systematic town planning, extensive brickwork, art of script, standard weights and measures, distinction between the citadel and the lower town, use of bronze tools and redware pottery painted with black designs practically disappeared in the post-Harappan Phase.
The post-urban Harappan settlements have been discovered in the Swat valley. Here the people practiced a developed agriculture and cattle breeding together with pastoralism. They used black-grey burnished ware produced on a slow wheel. Also, most late Harappan sites excavated in Punjab, Haryana, Uttar Pradesh are mostly rural settlements.
Kalibangan and Banawali are two sites which has presence of full transformation of Harappan culture from pre-harapan to post-harappan phase.
➢ Changes in tools and pottery
The late Harappan is primarily chalcolithic in which tools of stone and copper are used. Metal objects requiring complicated casting are not found during this period. The pottery found in the late Harappan phase lacked the intricate designs which were present in the early and mature Harappan phase.


Chalcolithic tools of Post-Urban Phase of Harappan culture
In the late Harappan phase no object for measuring the length is noticed. Also some places lacked the cubical stone weights which were present in the Harappan phase. Generally, all late Harappan sites lack human figurines and characteristic painted designs.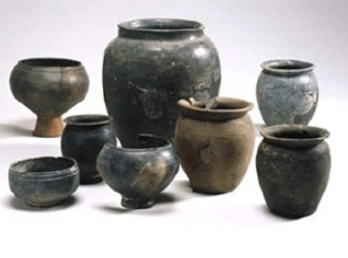 Black Grey burnished Ware
At several places, Grey Ware (GW) & Painted Grey Ware (PGW), generally associated with the Vedic people, have been found in conjunction with some late Harappan pottery. This marks the beginning of Vedic age also.
New types of axes, daggers, knives with midribs appear in the upper levels of Mohenja-daro. This indicates that signs of insecurity and violence seem to have appeared during post harappan period.
➢ Changes in trade relations
The post-urban phase of Harappa saw the end of the Indus trade with the West Asian centre. Lapis lazuli, chart, carnelian beads and copper and bronze vessels are either absent or scarce as trade items.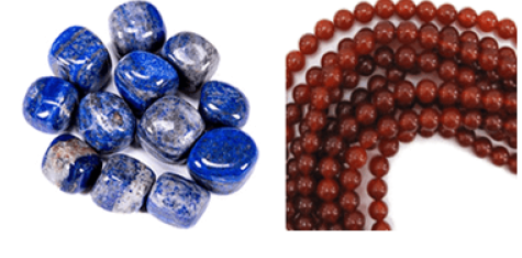 Lapis Lazuli and Carnelian beads
Theories of Decline of Indus Valley Civilization

From the above changes between the mature Harappan and the post Harappan period it is clear that the IVC had started to decline around 1900 BC. These are the four popular theories with their particular evidences and limitations that try to explain as to why and how IVC declined:-
(A) Invasion of Aryans
The theory suggests that there was a possible war between the people of IVC and the Aryans who were the horse riding barbarians from the present day Iran.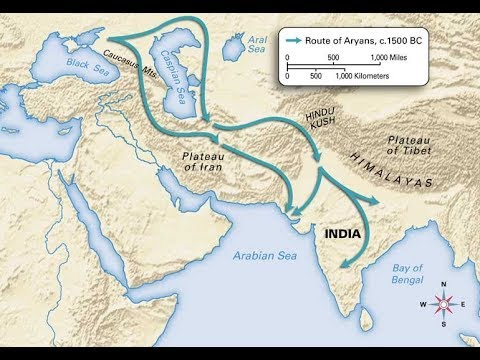 Map of Invasion of Aryans
Possible Route of Aryan Invasion

Try yourself:The discovery, in the upper levels of a Harappan site, of human skeletons lying pell-mell, with a skull having injury mark, shows the invasion and massacre. What is that site?
(B) Great Floods, Ecological, Hydrological and Geological Destruction
It is hypothesized that overutilization of resources of the Indus river basin led to changes in rainfall patterns. Some also believe that the fertility of soil decreased to an extent that it became difficult for increasing population to be supported by agriculture. It is also postulated that people of that time were not well equipped to cope up fully with natural disasters such as floods, draughts and earthquakes.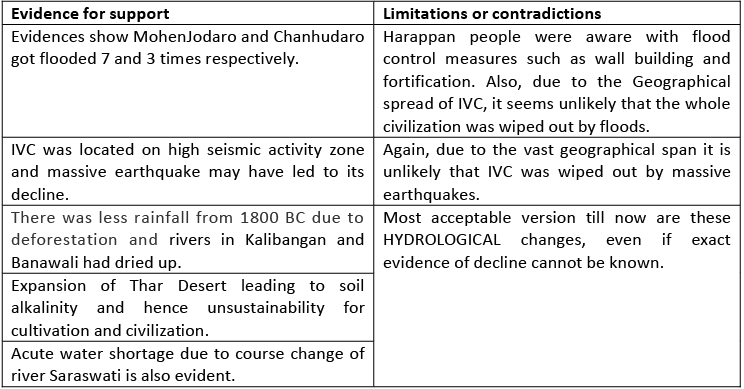 Try yourself:Post-Harappan culture has been found in
Try yourself:Which one of the following was the most suitable reasons, which made the Harappans move away from their urban settlement?
(C) Gradual Decline due to Inherent Weaknesses
At Mohenjo Daro, Jhukar, Chanhudaro, and Amri, there is evidence of a gradual deterioration in the last phases of Harappan occupation. Decline of trading activities and consequential precarious economic conditions may have led to the downfall.

Note: Gordon Childe, Australian-born British historian, linguist, and archaeologist, combined the third theory with the first one and said,"The Indus Civilization perished as a result of internal decay accelerated by the shock of barbarian raids."
Essence and Legacy of IVC Culture In Contemporary Times in Different Contexts

Although it has been nearly 4000 years of IVC flourishment, but its penetrative influence because of its rich legacy and essence has allowed it to play a continuous part in our lives in different domains.
(A) Religious Relevance
Popular worship of Lord Shiva in present times is a manifestation of concept of prototype Shiva portrayed through different symbols and artifacts originating during IVC times.
Horned God with a large horned headdress crown in IVC paved way for present-day Trident symbol of Shiva. Figure is surrounded by 4 wild animals(elephant, tiger, rhino and buffalo)and beneath which two deer are depicted just as the representation of the first sermon of Budhha in Deer Park, Sarnath.
Stone Phallus, an insignia of lord Shiva worshipped nowadays, form the parts of IVC ruins.
Several other ritual items like statue of mother Goddess, Lingas, Yonis and Swastikas form the integral component of Hindu religious and spiritual domain till date.
Practicing Worship of trees like Pipal and cattle in form of Nandi(symbol associated with Shiva) in present times has its roots in IVC only.
Yogic Posture seated in a low throne found in IVC relics symbolizes the importance of harappan period in upholding the rich heritage of yoga in Indian culture.
We find a more readily identifiable dancing figure in an incomplete male torso in grey stone from Harappa. The body is twisted into a pose which has invited comparisons with the great Chola icons of Shiva ie Nataraja.
(B) Economic Relevance
IVC economy trends and foundations are clearly visible in present day scenario.
Standardization of weights and measurements (eg. 16 annas as basic unit of Indian rupee) originated in IVC only. Similarly Binary System and many scientific measurements instruments of that period are still in vogue.
Foundation of International trade was laid in those times. Similarly construction of an artificial shipbuilding dockyard and shipbuilding evidences near Lothal form the basis of present day shipping and maritime industry.
Utility of potter's wheel, carts and boats stretch very much in the present.
Ploughed field in Kalibangan indicate the existence of soil aeration practice in agriculture which is practiced till today.
(C) Social Relevance
Trends, practices, beliefs and styles of popular social culture in IVC times are still richly prevalent.
Note:-
The book "Mohenjodaro: A 5000-years old legacy" says that the descendants of the Mohenjodaro people still exist as a minority tribe of fishermen called 'Mohanas'. Mohenjo-daro, the modern name for the site, has been variously interpreted as "Mound of the Dead Men" in Sindhi, and as "Mound of Mohan" (where Mohan is Krishna)
Try yourself:Which of the following statements shows that there is the legacy of IVC still continues in the economic, social and religious fabrics of our society?