Balance of Trade
The term 'trade' refers to buying and selling of goods. However, when it is performed on an international scale, it is called imports and exports. Balance of Trade (BOT) mentions the import and exports made by a nation's economy within a specific year. BOT only records tangible items.
Balance of Trade or Trade balance is also called an International trade balance.
Balance of trade (BOT) is the difference between the value of a country's imports and exports for a given period and is the largest component of a country's balance of payments (BOP).
(i) Balance of Payment is a combination of accounts that shows the commercial transactions concluded by a country within a specific period with other countries. These accounts reflect every monetary transaction, i.e. commodities, services, and incomes during that period.
(ii) The Balance of Payment (BOP) combines every private and public investment to find out the money inflow and outflow in an economy over a specific period. The ideal status of BOP should be zero, which indicates that the money coming into the country is equal to the money going out of the country. However, this situation is highly unlikely. Therefore, if it is negative, then it indicates deficit, and if positive, it means a surplus.
BOT portrays the variability of imports and exports made by a country during a period. In case a country achieves an equal status in terms of imports and exports, then this situation is regarded as Trade Equilibrium.
However, if the former surpasses the latter, then it creates a Trade Deficit, which is not a favorable situation for a country. On the other hand, if the export value exceeds that of imports, then it creates a Trade Surplus, which puts an economy in a favorable situation.
The balance of trade of a nation is a part of the current account. The current account also comprises other transactions like the income from the NIIP or the net international investment position and international aid. When a country's current account is in surplus, its net international asset position rises accordingly.
In 2012-13, India had a huge trade deficit, import exceeds export by around $ 195.6 billion.
A trade deficit can be for two reasons;

Not enough domestic production for consumption
(i) For instance, India may be producing a lot of milk but still not enough for the total milk demand in the country. As such, India may choose to import milk.
(ii) Crude oil, pulse, and edible oil production are not enough to meet the domestic demand, we need to import.
Costly domestic production is a result of consumers choosing foreign goods.
In the case of Steel, we have enough capacity for production but the cost of production is higher as compared to China, hence Indian consumers such as automobile companies are buying Chinese steel at a cheaper rate for the same quality.
India's Trade Surplus
India had a trade surplus with nine of the 20-odd countries in the Indo-Pacific region, which covers countries from the western shores of the American continent to the eastern coast of Africa, in 2020, a study by the industry chamber Confederation of Indian Industry (CII) showed.
India's trade with select Indo-Pacific economies increased eight times over the last 19 years, reaching $262 billion in 2020 from $33 billion in 2001, with the US being the largest trade partner with a dominant share of 29% in 2020.
The Indo-Pacific region comprises Australia, Bangladesh, Chile, Colombia, France, Fiji, India, Indonesia, Japan, Kenya, South Korea, Maldives, Mauritius, Malaysia, Mexico, Singapore, Sri Lanka, Thailand, Vietnam, the UAE, and the US.

It consists of 44% of world surface area and accounts for 62% of global gross domestic product (GDP), with more than 50% of global trade traversing through its waters.

As per the study, India had a trade surplus with eight countries – Kenya, Mauritius, France, Fiji, Bangladesh, Sri Lanka, Maldives, and the US – from 2016 to 2020.
India's imports from these economies accounted for 36% of its global imports in 2020.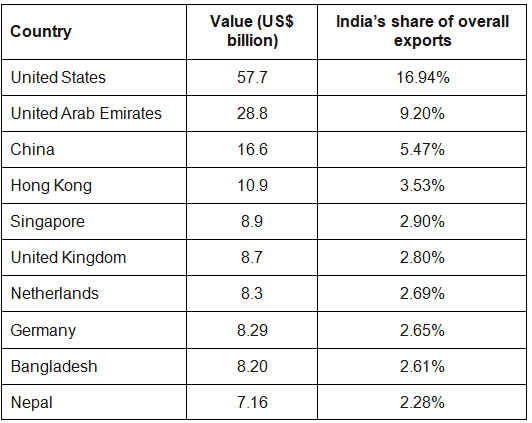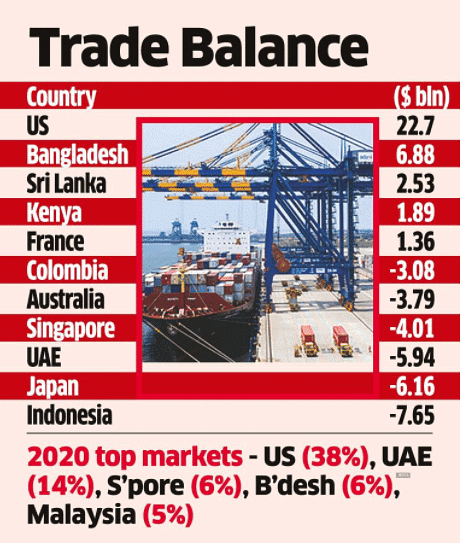 India's Trade Deficit
North-East Asia constituting of China, Japan, Korea RP, Hong Kong, Taiwan, etc. accounted for the trade of USD 124.95 billion in 2015-16 which was 19.42% of India's total trade.
Exports to NEA countries were USD 30.84 billion (11.76% of India's exports) and imports from NEA countries were USD 94.11 billion (24.7% of India's imports).
India's trade deficit with NEA countries in 2015-16 stood at USD 63.28 billion which is 53.3% of India's total trade deficit (USD 118.72 billion).
China accounts for 56.6% of NEA's total trade, while Hong Kong, Japan, and Korea contribute 14.5%, 11.6 %, and 13.3 % respectively. Taiwan, Mongolia, Macau & DPR Korea make up the balance 4%.
While China constitutes 10.99 % of India's total trade, it accounts for over 44.38 % of our trade deficit.
Apart from trade, the NEA countries together are amongst the most dominant economic players in the world at present with total exports of USD 4233 billion & imports of USD 3548.7 billion, and USD 7781.6 billion of total trade.
China, Korea, Taiwan, and Hong Kong are leading economies with high growth rates; they could be significant investment partners for India. Engagement with NEA is also integral to India's 'Act East Policy' which seeks to expand India's economic engagement beyond the traditional spheres of North America and Europe.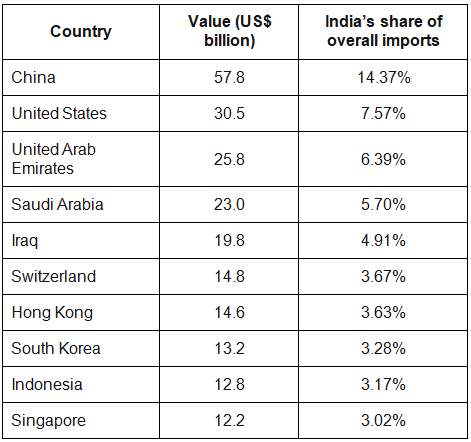 Largest trading partners with India
India's largest trade partners with their total trade (sum of imports and exports) in billions of US dollars for the financial year 2019–20 were as follows: