NERVOUS TISSUE
Nervous tissue originates from ectoderm and is specialized for receiving stimuli (Excitability or Irritability) and transmit message (conductivity).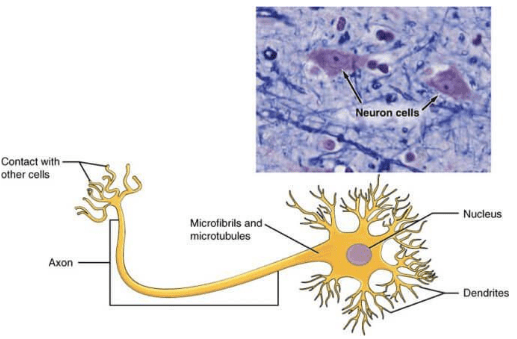 Fig: Nervous system
Nerve cell is made up of cell body & cell process – (Dendron and Axon = Neurites)
(i) Cell body or Cyton or soma or perikaryon:-
It contains uninucleated cytoplasm.
Except centriole, all cell organelles are found in cytoplasm.
Centriole is absent or immaturely present in the nerve cell thus cell division is absent.
Some other cell organelles like Nissl's granule and Neurofibril are also found in nerve cell.
Nissl's granules:
Endoplasmic reticulum coils around the ribosome and form granule like structure called as Nissl's granules or Tigroid body.
It is the centre of protein synthesis.
Chemically – Ribonucleoprotein containing Iron.
Site – Cyton & dendron (Rod shape)
Many small fibrils are found in the cytoplasm called neurofibrils, these help in internal conduction in the cyton.
Cell processes:
(i) Dendron:– It is small cell process. It's fine branches are called dendrites. Some receptors are found on the dendrites, so dendron receive the stimuli & produce centripetal (towards the cell body) conduction.
(ii) Axon (Long process = Axon = Nerve fibre) – It is longest cell process of cyton, its diameter is uniform. It contain axoplasm.
Nissl's granules are absent in the axoplasm. (Axoplasm of axon contains only neurofibrils and mitochondria).
Axon is covered by axolemma. Part of cyton where axon arises called axon hillock.
The axon hillock is the neuron's trigger zone, because it is the site where action potential are triggered.
The terminal end of axon is branched in button shape branches which are called as Telodendria.
More mitochondria are found in the telodendria which synthesize Acetylcholine (Ach) with the help of choline acetyl transfer ase enzyme.
ach is stored in the vesicles.
Axon is the functional part of nerve cell, therefore term nerve fibre usually refer to Axon.
Differences between Axon & Dendron:
| | |
| --- | --- |
| Axon | Dendron |
| It is always single. | One or more. |
| It has Neurofibrils but no Nissl's granules. | It has both. |
| It is long sized process. | Small sized |
| Nerve impulse travels away from the cell body. (Centrifugal) | Nerve impulse travels towards the cell body.(Centripetal) |
Axon is covered by a layer of phospholipids (sphingomyelin) which is called as medulla or myelin sheath.
Medulla is covered by thin cell membrane, which is called as neurilemma or sheath of schwann cells.
The neurilemma is composed of schwann cells.
Schwann cell takes part in the deposition of myelin sheath (myelinogenesis).
Myelinogenesis in the Peripheral nervous system (PNS):– In the peripheral nerves, myelinogenesis begins with the deposition of myelin sheath in concentric layer around the axon by schwann cells.
Myelin sheath is discontinuous around the Axon. These interruptions where Axon is uncovered by myelin sheath are called node of Ranvier.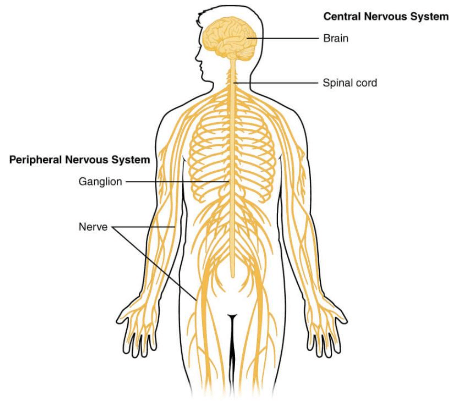 Fig: Central nervous system and Peripheral nervous system
Myelinogenesis in the Central nervous system (CNS) :– Neurilemma or schwann cells are not present therefore myelinogenesis process occurs with the help of oligodendrocytes (Neuroglia).
Neurons in which myelin sheath is present, are called medullated or myelinated neurons. In some nerve cells where myelin sheath is absent, called as non medullated or non myelinated neurons.
Collaterals of Axon – These are small process or branches of axon. It's structure is similar to axon. It help in the conduction of nerve impulse in more area.
Gray matter:– It is composed of nerve cells. It consist of cytons & non-medullated nerve fibres (Grey fibers).
White matter – It contain myelinated nerve fibres (White fibres).

TYPES OF NEURONS: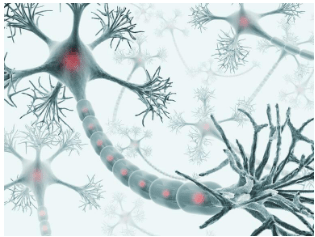 Fig: Neurons
Apolar/Nonpolar Neuron:– No definite dendron/axon. Cell process are either absent or if present are not differentiated in axon and dendrons. Nerve impulse radiates in all directions. e.g. Hydra, Amacrine cell of Retina.
Pseudounipolar:– In this type, nerve cell has only axon but a small process develop from axon which act as dendron. e.g. Dorsal root ganglia of spinal cord.