The IAS prelims exam round consists of two papers. The Prelims is essentially an eliminating round in which, from about 5 lakh people (on average) who take the exam, only about 10 – 15 thousand clear it. The marks secured in this exam decide whether aspirants can go on to the next stage or not. It is important to prepare well and have a comprehensive understanding of the subjects covered in this exam. Here, we bring you an analysis of the trends in marks distribution according to various subjects covered in the exam over the past decade.
Topic-Wise Weightage (2020)
Polity: The GS Paper 1 of UPSC Prelims 2020, maximum questions were from Polity which is about 16 questions influenced by current affairs. The questions covered areas of Preamble, Fundamental Rights, DPSP, Basic Structure, Union Government.
With the entire paper focusing on conceptuality, there were questions from MPLAD, Parliament sessions, and interestingly from Parliamentary Democracy, Gandhism, Constitutional Government, Marxism as well. Overall. the difficulty level; of Polity ranged from easy to moderate.
Economy: The economy section had 14 questions on Gold Tranche, FDI, TRIMS that were direct or conceptual. The questions on the monetary policy of RBI, the role of cooperative banks were wholly easy to moderate.
Science: The science section had 10 questions mostly influenced by Current Affairs in Science and Technology in areas of Artificial Intelligence, Blockchain Technology, Nanotubes. Questions were easy if aspirants managed to keep track of Tech-based questions while preparing.
History and Geography: There had been 18 questions in History, from Ancient, Medieval, and Culture with a blend of easy, moderate, and tough levels of questions. The geography section had 10 questions on Geography and Agriculture some being technical as of types of soil, climate, and fertilizer of crops while others are geographical location-based. Overall the level had been moderate for aspirants who prepared for Geography.
Environment: The environment section has become a staple for UPSC exams that had 17 questions plainly based on Current Affairs, pollutants, National Parks and Bio Fuels. Candidates with memorizing power and logical reasoning abilities can wildly guess to earn a few points.
Current Affairs: Current Affairs section is where UPSC saves its surprises for the aspirants. This year, there were 15 questions from Current affairs, Government Schemes like Kisan Credit Card, and animal cells and vaccines as influenced by COVID.
Topic-Wise Weightage (2019)
History: Almost all the questions were asked from Medieval and Modern India. Some of the questions in Modern India are from the Swadeshi Movement and Charter Act of 1813.
Geography: The questions were asked on crop production, summer solstice June 21 and glacier. Environment - Biosphere reserve, endangered species, Ramsar Convention, pollution, etc.
Economy: Ease of doing business, purchasing power parity, AIIB, Union Budget, etc.
Indian Polity: Article 142, the office of profit, Governor, fifth and ninth schedule, etc. Science Technology - LTE & VOLTE, digital signature, RNA interface technology, etc.
Current Affairs: Around three questions were asked regarding international relations. Some questions on agreements and trending topics.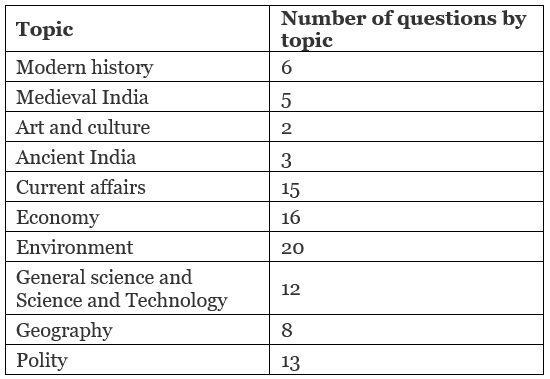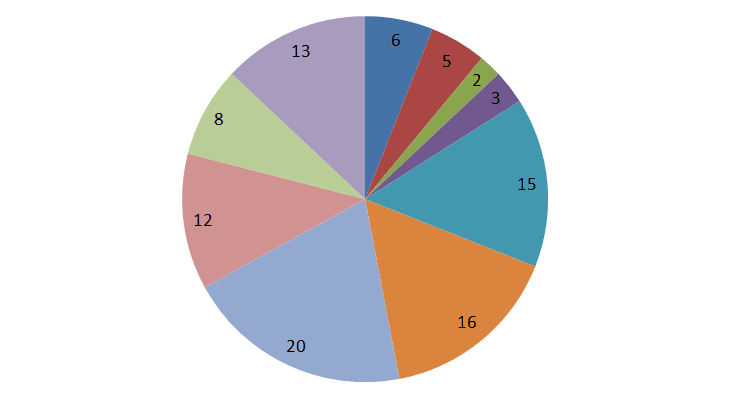 Topic-Wise Weightage (2018)
Polity: The major chunk of questions came from the Polity section. The majority of the questions asked were concept-based, but the root of the questions was current affairs. So the nature of polity questions was current affairs-based conceptual questions.
Example - Money Bill, BPL, Right to Education, Aadhar Card, FRBM and so on.
Economy: The next major chunk of the question asked in this year's Prelims exam was from the Economy section. This section saw a mix of both conceptual-based and current affairs-based questions. Someone with good command over the economy subject would have been able to answer questions with less effort since most of the questions asked from this section were of moderate difficulty.
Geography: In this year s Geography section, UPSC asked more map-based and factual questions. Usually, UPSC asks conceptual-based questions from the Geography section, but this year it changed the trend drastically.
Environment: Questions from the Environment section were asked based on current affairs. Almost all questions from this section were from the last 1-2 year current affairs issues. For example - conservation agriculture, Sixth Mass Extinction, GM mustard, carbon fertilization, prosopis juliflora, etc.
Science and Tech: Almost all questions asked from S and T section this year were based on current issues and burning topics. Most of the questions asked in this section were on expected lines, for example, questions like the Internet of Things, 3D printing, the theory of relativity, IRNSS etc.
History: In the 2018 Prelims question paper, the number of questions asked from the history section was comparatively higher when compared to previous years' papers. Most of the questions asked in this section were factual in nature and few questions were difficult to answer, for example, actions taken by the British after the Santhal Rebellion.
Art and Culture: Questions from Art and Culture section were less and the questions were simple in nature, but finding the correct answer has made this section difficult since the questions are fact-based, like GI Tags, cultural history questions, etc.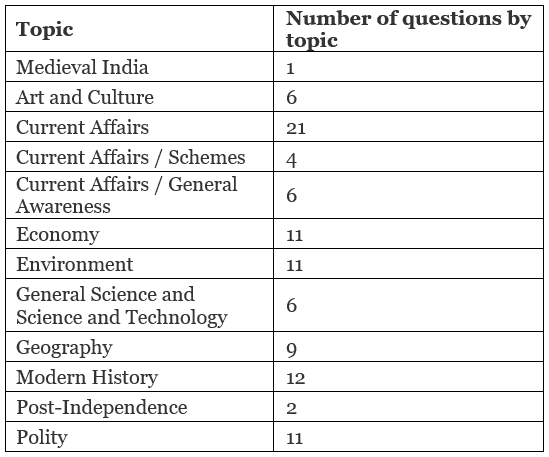 Topic-Wise Weightage (2017)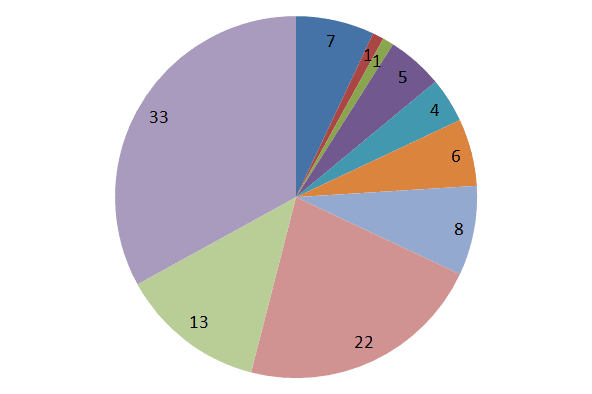 Topic-Wise Weightage (2016)